HAZWOPER Train the Trainer Program
Obtaining Hazardous Waste Operations and Emergency Response (HAZWOPER) certification from OSHA is one of the most critical safety protocols your firm can achieve. Many companies opt for pricey 3rd-party training solutions, just because an expensive course is (incorrectly) correlated with a better training course.
But that's not the case – did you know there's a smarter (and less expensive) solution for this type of training? Your company will benefit with our HAZWOPER train the trainer class!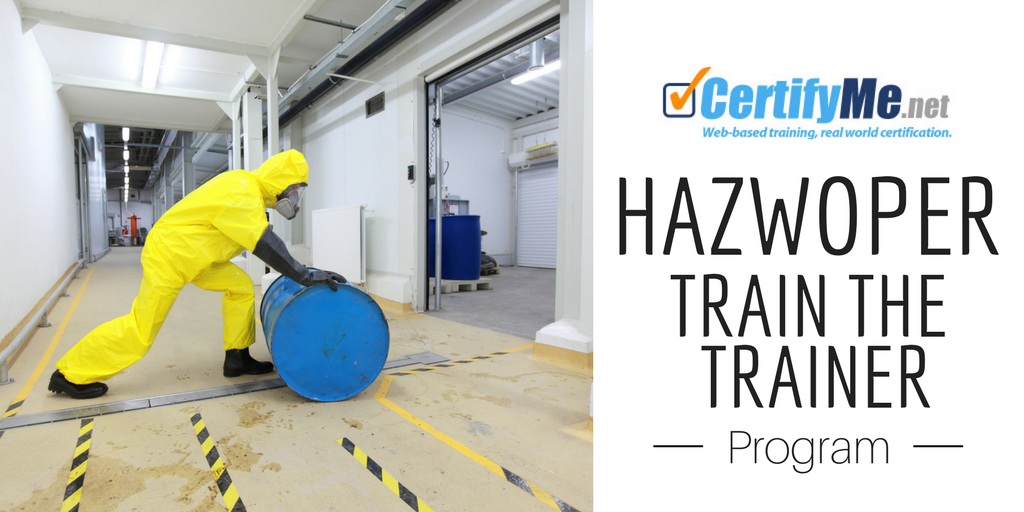 CertifyMe.net, the leader in online OHSA compliant forklift training, provides any employee the tools, resources and up-to-date material to successfully meet all the requirements to safely operate powered industrial trucks. Combined with HAZWOPER training approved by OSHA, this is the perfect 1-2 punch for a more efficient, safer workforce!
If your employees are involved with the removal, storage or transport of hazardous material, HAZWOPER training is a must. CertifyMe offers three different types of HAZWOPER training:
HAZWOPER 8-hour refresher course. This training aligns with OSHA requirement 29 CFR 1910.120, which lays out all the specific training for hazardous material certification.
HAZWOPER 40-hour course. If you're going to take one HAZWOPER course, this is the one. It covers all the key safety protocols for clean-up operations, along with the storage, disposal and treatment of hazardous materials. Many forklift drivers at chemical plants are required to take this training.
HAZWOPER Train the Trainer – HAZWOPER train the trainer certification is part of a complete OSHA compliant safety program. Keep reading to learn more about this course.
Why is 40 hour HAZWOPER train the trainer instruction so important? This is the most in-depth hazardous material training your employees are likely to take. With this training in place, you'll have the confidence in knowing that all of your workers – including forklift operators – know exactly what to do with any type of hazardous material.

HAZWOPER Train the Trainer – The Key for Proper Hazardous Material Information & Training
Our popular Train the Trainer forklift classes are valued for their in-class content, and also for their return on investment. OSHA requirements stipulate that forklift training and HAZWOPER training can originate from any on-site resource.
With our HAZWOPER Train the Trainer certification, you can designate a safety resource to train other employees on the critical concepts of OSHA guidelines 1910.120 (a) (1) (i-v) and 1926.65 (a) (1) (i-v), which regulate the handling of hazardous materials. Once you have HAZWOPER your train the trainer class completed, you'll enjoy greater flexibility and more peace of mind when it comes to OSHA HAZWOPOER safety guidelines.
Some advantages of our HAZWOPER Train the Trainer course include:
Self-teaching convenience. With CertifyMe.net, your HAZWOPER training resource knows your staff – because they're part of your staff. This promotes and encourages strong self-teaching within your employee and co-worker ranks.
Always-available expertise. HAZWOPER concerns can surface at any time. One of your forklift drivers might have a question about transporting a chemical barrel. Or, a mysterious liquid may prompt concerns in your warehouse or loading dock. With HAZWOPER Train the Trainer certification, hazardous material training is always right around the corner.
Budget friendly training. With our HAZWOPER train the trainer course, you'll avoid many of the direct expenses associated with offsite training, plus your company will have that extra measure of compliance for OSHA audits and investigations! All in all, our HAZWOPER train the trainer certification saves money, both in the short-term and the long run!
Valuable HAZWOPER training expertise – whenever you need it. With our Train the Trainer program from CertifyMe.net, there's no more worrying about getting training from an outside source. This will save your company from the expensive, often frustrating process of trying to figure out the latest & greatest OSHA requirements, and also getting each of your forklift drivers trained with this knowledge. Our Train the Trainer HAZWOPER forklift training puts all the knowledge and OHSA expertise right in your own backyard. It's hard to top that peace of mind!

If you'd like to connect with our HAZWOPER experts at CertifyMe.net, please call our office at 888-699-4800, or check out our forklift training page for more information. Sign up for our HAZWOPER Train the Trainer class and get started – at the end of the day, your company's forklift fleet should be OSHA compliant. We'll help your company get up to speed with the latest guidelines, right from one of your own employees – all with our HAZWOPER Train the Trainer certification. Thanks for considering CertifyMe.net for all of your HAZWOPER Train the Trainer requirements.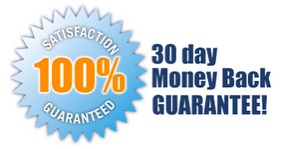 5 EASY STEPS!
Follow step-by-step instructions to get OSHA compliant!
This low-cost program can be completed anytime, anywhere!

Get Started Now By Registering Your Company For Free!
FREE 3 Year Renewals
Instant Access 24/7
Print Your Proof of Training
OSHA Accepted Nationwide
*If you are an individual not currently employed by a company use your personal name in
the 'Company Name' field.