Limited Time Offer! Free Covid-19 safety course with purchase of any Forklift or Aerial Lift Certification!
Access your free Covid-19 safety course in your members area once you have completed your purchase.

Forklift Certification and Training
Approximately one out of every six work-related fatalities is related to using forklifts. Considering the risks associated with this machinery, it's not all that surprising that OSHA has very specific rules and regulations that employers and employees are expected to follow anytime a forklift is on a job site.
One of the most significant and mandatory forklift rules involves forklift certification and training.
If you plan on using a forklift at any job site, knowing how to certify your employees is essential. CertifyMe.Net offers a certification and training program to help you get your whole team OSHA-compliant. That way, you can avoid any OSHA fines or consequences. You'll also ensure your employees are as safe as possible while working around this equipment.
Learn more about OSHA's forklift certification requirements below.


Forklift Certification: Importance and Benefits
Under the law, all employers have a legal duty to provide for the safety and care of their employees. This duty of care extends to making worksites safe, including ensuring all employees are fully equipped to handle work-related hazards.
When using machinery like forklifts on the job, that duty of care means employers should invest in forklift training for their employees.
Forklift certification is also mandatory under OSHA's rules and regulations. OSHA certification is required for any employee that plans on operating a forklift. Failure to adhere to safety rules and regulations could result in fines or other consequences. OSHA can shut down job sites that refuse to follow safety regulations.
What's more, educating employees will help your team avoid potential accidents. Certification improves your job site safety, reduces accidents, and keeps you compliant.
OSHA Forklift Certification Online
Here at CertifyMe.Net, our forklift certification program will ensure that your team is compliant and safe. Employees will first go through our approved OSHA forklift certification online course materials. While going through this training material, your employees will learn more about forklift operation, the safety standards they should follow, and how to navigate tricky situations.
When your team gets their OSHA forklift certification online, their training is much more convenient. The educational material can be reviewed anytime and anywhere with internet access. This flexibility is beneficial for both employers and employees. Self-paced learning is also easier for individuals who may struggle with traditional in-person learning.
As employees go through our comprehensive materials, they'll be asked to complete a few online assessments. These quizzes are designed to ensure that employees absorb the course material and understand what's being presented.
How to Get Forklift Certification Courses for Your Whole Team
The forklift certification process doesn't end after the employee goes through the online course materials. To ensure that the employee understands the material, they must go through an evaluation with a certified trainer.
This evaluation should help the employee show their competence. They'll need to prove that they can operate a forklift safely.
When learning how to get forklift certifications for your whole team, consider hiring a certified trainer on your staff. To certify one of your existing employees, offer them ourtrain the trainer kit. Your employee will be viewed as a trained and certified trainer and evaluator upon completion.
OSHA Forklift Certification Cost
The cost of certifying your team depends on several factors. These include the company you work with and the type of certification program you buy. For example, with an in-person certification program, you'll need to consider the upfront costs of the program and the costs of lost production time for your team. This doesn't include transporting employees to the training site and re-certifying later.
Since the average forklift certification cost for your whole team is often large, you want to make the right choice when deciding on a school.
With CertifyMe.Net, you pay a one-time price to train an unlimited number of employees. With our train the trainer kit, you can pay one fee for your trainer to certify an unlimited number of employees.
Even better, forklift recertification is free.
OSHA Forklift Certification Test
Choosing the right forklift school is essential because your employees must be fully aware of how to operate the forklift, the hazards they face, and the proper safety procedures they should follow. The certification test will cover these topics, whether you seek training online or in person. The in-person evaluation will require the employee to show competence in these areas.
Listening to and studying the educational material is the best way to prepare for your evaluation.

Forklift Certification and Training Frequently Asked Questions
Do you have more questions about the certification process? Learn answers to some of the most frequently asked questions below, or check out our OSHA blog for more free resources about forklifts, OSHA, and certifying your team.
What Does it Mean to be Forklift Certified?
OSHA will consider you certified when you've undergone formal forklift training, passed an evaluation from a certified trainer, and had your employer certify the whole process. Many employers provide their employees with certificates, operator cards, or other proof of training, but this is not a requirement.
What are OSHA's Requirements on Forklifts?
Per OSHA's standards, any individual seeking to operate a forklift must be certified. Moreover, the employee must be trained on the specific type of forklift used.
OSHA requires employees to ensure that all forklifts on the job site are cleaned often, appropriately maintained, and inspected regularly. Any unsafe forklift should be removed from the jobsite.
What's the Big Deal About Being Forklift Certified?
Seeking out a forklift certification for operators is more than a legal compliance issue. This training ensures that employees know what they're doing when operating machinery. It keeps employees safe, prevents accidents, and helps prevent property damage.
What are Common OSHA Forklift Violations?
The top OSHA forklift violation committed by employees is unsafe operation. Unsafe operation can happen due to distractions, inattention, a lack of knowledge, intoxication, or a willful failure to follow safety procedures.
Another common violation comes from a failure to provide refresher training to employees. Certifications expire every three years. The third most common violation happens when employers fail to seek operator certifications for their team.

Are You Ready to Get Your Team Forklift Certified?
Forklift certification is mandatory if you plan on having this equipment at your job site, and for good reason. OSHA makes this a requirement because forklifts are dangerous. If employees aren't aware of the proper way to use these machines or if they're haphazard, then forklifts can quickly cause an accident. Even worse, a worksite accident could be fatal.
Outside of the risk of an accident, you should also want to remain compliant with OSHA's standards to avoid fines and other problems. The last thing you need is for your job site to be shut down due to not following safety standards.
The good news is that you can obtain your entire team's certifications using our training kit. Our team is committed to providing quality training and ensuring workplace safety wherever forklifts are involved. Contact our team now if you have more questions about our courses and products.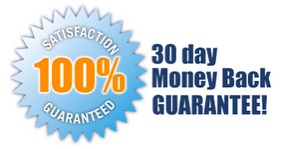 5 EASY STEPS!
Follow step-by-step instructions to get OSHA compliant!
This low-cost program can be completed anytime, anywhere!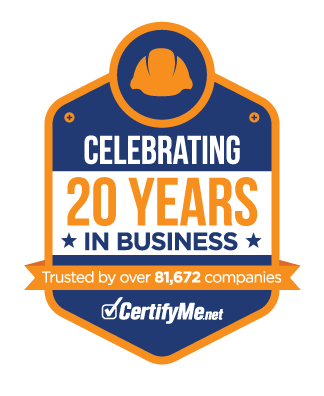 Get Started Now By Registering Your Company For Free!
FREE 3 Year Renewals
Instant Access 24/7
Print Your Proof of Training
OSHA Accepted Nationwide
*If you are an individual not currently employed by a company use your personal name in
the 'Company Name' field.