Limited Time Offer! Free Covid-19 safety course with purchase of any Forklift or Aerial Lift Certification!
Access your free Covid-19 safety course in your members area once you have completed your purchase.

Forklift Certification and Training
How Forklift Certification Works:
Name: How It Works
Duration: 1 Minute, 53 Seconds

With CertifyMe.net Online Forklift Certification, you can…
✓ Certify forklift operators without leaving your facility.
✓ Print your certificates and wallet cards TODAY!
✓ Promote SAFETY in your organization
✓ Stop worrying about OSHA citations.
Certify your forklift operators TODAY online.
AVOID OSHA CITATIONS WITH OUR FORKLIFT CERTIFICATION TRAINING:
OSHA can impose a $7,000 fine for each untrained operator (up to $70,000 fine for willful violations). Without proper OSHA forklift certification, employees and employers can be liable for significant fines. For workers without forklift training, one fine can literally wipe out a year's worth of salary – and much more! Don't put your workplace and your employees in jeopardy; get OSHA forklift certification today.
Satisfies . . .
✓ Liability Insurance
✓ Worker's Comp
✓ OSHA Field Inspectors
CONSIDER THIS:
Next year, 100,000 injuries involving forklifts will be reported. 100 workers will lose their lives.
OSHA's regulatory reference:
Cal OSHA Title 8 Section 3668
OSHA Standard 29 CFR 1910.178
Benefits of using CertifyMe.net and forklift certification training:
✓ Forklift Operator Training and Evaluation can be conducted when most convenient for the employer and the operators. Anytime and anywhere.
✓ Outside forklift certification training programs can cost hundreds to thousands of dollars depending on your location and number of people that must be certified.
✓ Forklift operators never leave the jobsite, minimizing employee downtime and potential liability.
✓ Everything you need for forklift operator training in one simple and easy to use package.
All curriculums offered in Spanish. Register NOW or contact us for special group discounts and multiple locations.
How does CertifyMe.net Work for your Forklift Operator Training?
Your trainee operators may access our forklift training and certification program online at any time of the day or night. This usually takes between 60 and 90 minutes to complete. We provide everything you need to deliver the information they need to recognize safety hazards in the workplace and to operate specialized equipment. CertifyMe.net has everything you need to train your forklift drivers. OSHA compliance is easier and more affordable than you think!

What Do We Teach?
The online OSHA forklift certification training from CertifyMe.net teaches each main type of forklift, allowing workers to receive the exact type of forklift training they need, while saving money and time by bypassing the training they don't need.
We teach the following types of forklifts and provide certifications for each:
✓ Warehouse Forklifts, Classes 1, 4, 5
Electric Motor Rider Trucks, Internal Combustion Engine Trucks-Cushion Tires, Internal Combustion Engine Trucks-Pneumatic Tires
✓ Pallet Jacks and Order Pickers, Classes, 2, 3
Electric Motor Narrow Aisle Trucks, Electric Motor Hand or Hand/Rider Trucks
✓ Rough Terrain Forklifts, Class 7
Electric and Internal Combustion Engine Tractors
Each course can be completed online, with both English and Spanish options available.
It's mandatory that you train your forklift operators.
OSHA Regulations
OSHA ISSUES NEW REGULATIONS FOR FORKLIFT OPERATORS
December 1, 1998
Are You in Compliance? The Employer is Responsible for OSHA Compliance for all its Lift Truck Operators.
On December 1, 1998, the Occupational Safety and Health Administration (OSHA) published a standard that revised the existing requirements of 29 CFR 1910.178 and issued new requirements to improve the training of powered industrial truck operators.
The standard becomes effective on March 1, 1999 with mandatory compliance by December 1, 1999. This new standard is intended to reduce the number of injuries and deaths that occur as a result of inadequate operator training. The powered industrial truck operator training requirements will apply to all industries except agricultural operations.
1. The employer must evaluate the operators' performance before allowing any employee to use a vehicle in the workplace, except for training purposes.
2. The employer may designate any qualified employee as Trainer/Evaluator. There are no special or additional "Train the Trainer" requirements.
3. OSHA does not certify, accredit or approve any trainers or training programs for powered industrial trucks. The responsibility for compliance with the requirements of the OSHA standard rests with the employer.
REQUIREMENTS OF THE NEW STANDARD
Who should conduct the training?
Persons with the necessary knowledge, training, and experience to train powered industrial truck operators and evaluate their competence must conduct all training and evaluation.
The OSHA rules state: "Training and evaluation shall be conducted by a person with the knowledge, training and experience to train powered industrial truck operators and evaluate their competence". This means that any adequately proficient and experienced lift truck operator can become a forklift safety trainer for your company.
Outside qualified training organizations can provide evidence that the employee has successfully completed the relevant classroom and practical training. However, each employer must ensure that each powered industrial truck operator is competent to operate a truck safely, as demonstrated by the successful completion of the OSHA forklift training and evaluation.
OSHA forklift training requirements also provide an outline of the topics that must be included in the written, verbal, and practical training. CertifyMe.net has made sure that our affordable program includes all necessary components employees need to successfully and safely operate forklifts. We meet all OSHA requirements, while providing the content we know is both essential and most helpful to aspiring operators, completely accessible online and at your own pace.

GENERAL TRAINING REQUIREMENTS
The new standard requires employers to develop and implement a training program based on the following general principles:
Safe truck operation
✓ Types of vehicle(s) being used in the workplace
✓ Hazards of the workplace created by the user of the vehicles
✓ General safety requirements of the OSHA standard
General requirements for training and evaluation are:
✓ Formal (lecture, video, interactive computer, etc.) training
✓ Practical training using demonstrations and exercises
✓ Employers must certify that each operator has received the training
✓ Employers must evaluate each operator's performance at least once every three years
Refresher forklift operator training is needed whenever an operator demonstrates a deficiency in the safe operation of the truck, such as:
✓ The operator is involved in an accident or near-miss incident
✓ The operator has been observed using the vehicle in an unsafe manner
✓ An evaluation has determined the need for additional training
✓ There are workplace changes that can affect vehicle operation
✓ The operator is assigned to use a different kind of truck
Refresher training is also required at least every three years, even if the operator has not been found operating the forklift unsafely or been involved in an accident.
OSHA states that an employer does not need to retrain an employee in the operation of a powered industrial truck if the employer certifies that the operator has been evaluated and has proven to be competent to operate the truck safely. However, the employer is fully responsible for documentation certifying that the required training and evaluation has taken place for all truck operators.
TEMPORARY EMPLOYEES
OSHA has issued several letters of interpretations on the subject of training of temporary employees. Basically, there is a shared responsibility for assuring employees are adequately trained. The responsibility for providing training should be spelled out in the contractual agreement between the two parties. The temporary agency or the contracting employer may conduct the training and evaluation of operators from a temporary agency as required by the standard; however, the host employer (or other employer who enters into a contract with the temporary agency) must provide site-specific information and training on the use of the particular types of trucks and workplace-related topics that are present in the workplace.
DOCUMENTATION REQUIREMENTS
The OSHA standard requires that the employer certify that each operator has received the training and has been evaluated. The written certification record must include the name of the operator, the date of the training, the date of the evaluation, and the identity of the person(s) performing the training or evaluation.
Employers who evaluate the operator' s performance more frequently than every three years may retain the most recent certification record; otherwise, certification records must be maintained for three years.
ADDITIONAL OSHA INFORMATION
For more information, contact your local or Regional OSHA office (listed in the telephone directory under United States Government – Department of Labor – Occupational Safety and Health Administration).
OSHA also has a Home Page on the Internet. Click here to visit the OSHA website.
More Forklift Certification and Training Information:
Promote Safety the Smart Way
With CertifyMe.net's forklift training and certification program, you can promote safety in your workplace, certify forklift operators without sending them away for training and print certificates and operator cards on the same day. Our forklift operator training and certification satisfies the requirements of Worker's Comp, OSHA field inspectors and Liability Insurance.
OSHA Forklift Training and Certification
In cases of willful violations, OSHA fines can escalate to $70,000. In the coming year, there will be 100,000 reported forklift accidents in which 100 workers will lose their lives. Forklift training and certification by CertifyMe.net will help your company avoid an OSHA citation. Our forklift training and certification involves training, certification and documentation.
Receiving the Operator Certification and OSHA Forklift Certification
When the on-site evaluation is completed, the employer can print out a temporary certificate and operator card and have the employee sign off on both. The certificate goes into your safety file and the card is kept by the operator. CertifyMe.net will send the original certificate and operator card through the mail. What's more, we offer free three-year forklift recertification renewals of forklift operator training and certification. CertifyMe.net is the only provider to offer this facility. We provide 24/7 support.
Learn more about us by simply calling 1-888-699-480 or get started here. Whatever your company's OSHA forklift training requirements are, CertifyMe.net offers the expertise and comprehensive instruction to help you achieve OSHA compliance without breaking the bank. Contact CertifyMe.net today to implement your own OSHA forklift certification program.

To Learn More About Forklift Certification and Training, Read These Great Blog Posts
Do you want a new career? Learn why you should train to become a forklift operator and get started by completing your forklift training and receiving your certification. Forklifts are an essential tool used on all kinds of worksites. Employers need workers with the proper forklift training to operate these machines, and to provide their business with the most efficient, productive, and safety-oriented workplace as possible. What does this mean for you? A safer environment and higher pay with more frequent promotions!
Forklift operator training and certification can save lives. The most common forklift accidents occur from tip overs, workers being crushed under the lift, and workers being struck by the lift. Unfortunately, these accidents most often result in serious injuries or fatality. The good news is, many accidents can be avoided with proper forklift training, and that's why CertifyMe.net is dedicated to helping people get appropriate OSHA compliant forklift certification.
Get a deeper look into our forklift training programs and learn more about how we can provide you with the knowledge you need to operate forklifts and the certification most desired by employers. Our forklift operator training is easy, convenient, and the best thing you can do to protect your safety as a forklift operator and land a great career.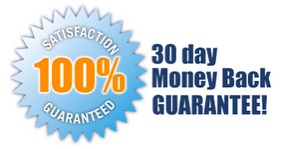 5 EASY STEPS!
Follow step-by-step instructions to get OSHA compliant!
This low-cost program can be completed anytime, anywhere!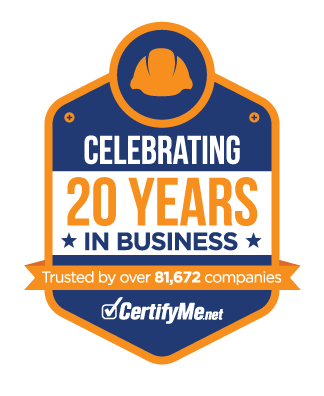 Get Started Now By Registering Your Company For Free!
FREE 3 Year Renewals
Instant Access 24/7
Print Your Proof of Training
OSHA Accepted Nationwide
*If you are an individual not currently employed by a company use your personal name in
the 'Company Name' field.