Limited Time Offer! Free Covid-19 safety course with purchase of any Forklift or Aerial Lift Certification!
Access your free Covid-19 safety course in your members area once you have completed your purchase.

Online Forklift Training: Don't Lose Your Head
Posted by: admin on March 29, 2012
Skilled forklift operators are always in demand throughout the U.S. Warehouses, dockyards, and construction projects are just some of the many job sites that rely on forklifts to get the job done.
At the same time, driving a forklift can be a risky job. The equipment is bulky and heavy. The trucks often carry heavy loads. They often work in cramped spaces that make it hard to maneuver. Tip overs can occur when a load becomes unbalanced. It only takes one mistake to cause serious injury or even death.
All of these are good reasons for online forklift safety training. But they're not the only ones.
5 Good Reasons for Online Lift Training
To protect forklift operators and nearby workers, online forklift safety training is a must. It teaches workers how to identify and avoid job site hazards that can result in serious accidents. Five of the most common forklift hazards include:
Difficult handling. Driving a forklift is not like driving a car. Forklifts are often called upon to work in tight spaces with limited access. Rear-end steering provides a tight turn radius for the front of the forklift. But the rear of the truck tends to swing wide during turns. It takes online forklift training and practice to safely steer a forklift.
Blind spots. The main purpose of a forklift is to move loads from one place to another. But those loads can often restrict the line of sight for the driver. Forklifts are often driven in reverse, which can also create blind spots. Online lift training teaches forklift drivers how to safely handle blind spot situations.
Load stability. An unstable load can cause forklifts to tip over. This can occur for many reasons. Driving up or down on a ramp. Driving on wet, oily surfaces, or on rough terrain. Taking turns too quickly. Or not balancing the load before moving it. The heavier the load, the greater the need for stability.
Driving too fast. Forklifts don't go very fast, but their weight creates a lot of momentum. It can take longer to stop if the need for sudden braking arises. Forklifts can cause a lot of damage even when they impact objects at low speed.
Inadequate lighting. Dimly lit areas make it harder for forklift drivers to see. This can easily result in collisions to objects and people. Without online forklift safety training, many companies would overlook this potential hazard.
More Reasons for Online Forklift Safety Training
Clearly, safety is the number 1 reason to enroll your forklift workers in online lift training. But there's another good reason – it's the law. OSHA requires all forklift operators to be trained and certified. They must also take renewal training every three years. Employers that ignore these regulations can face penalties, including costly fines. Injuries caused by untrained forklift drivers can also result in very expensive lawsuits.
Forklifts can kill or maim forklift workers for life. Without the proper OSHA forklift certification training from a qualified trainer, you could be playing with your own life, or your employees' lives if you're an employer. Why would you want to risk it?
Take the case of a Houston food supplier that was cited for multiple amputation hazards. Amputation isn't a minor injury. We're talking about a life-changing event that could render an employee unable to work forever. In this case, the plant was investigated after multiple employees complained of near-amputation incidents while operating machinery.
With forklift training and other online lift training in a self-paced classroom setting, workers have no reason to worry about this type of event. A chain of command should be put in place so that workers know who to go to when safety issues are present onsite. Amputation should never be a consequence of daily activity on the job in any career. The fact that the employees had to complain in the first place shows how employers often neglect online forklift training.
Once a serious accident happens, it can't be reversed.  When it comes to proper forklift training and certification, prevention is the name of the game. Don't neglect online forklift safety training. Having a forklift operator lose a limb or a life isn't worth it.
Why Take Online Forklift Training From CertifyMe.net (CM)
There's no rule that says forklift training has to be taken online. But there are a lot of good reasons for doing so, especially with CM:
✓ No travel. CM online training can be taken anywhere you have an Internet connection. This avoids the time and expense of sending workers to onsite training.
✓ OSHA approved. CM online forklift training meets all the required OSHA guidelines.
✓ Quick and easy. CM training is available 24/7. Workers can take the courses at their convenience. Most can be completed in about one hour.
✓ Instant certification. When workers pass the course, they can print temporary certification cards right away. Permanent cards arrive in the mail within a few weeks.
✓ Free renewal training for life. Once your company signs up with CM, workers can take the 3-year renewal training at no cost.
Why wait? Enroll your workers in CM online forklift safety training and they can be certified in as little as one hour! Get started today by enrolling your company online or calling us at 1-888-699-4800.
Welcome to CertifyMe.net
CertifyMe.net has offered online forklift certification since 1999. With Our Convenient online program. your employess can earn their certification in an hour or less.
Browse Online Certifications:
This low-cost program can be compeleted anytime, anywhere!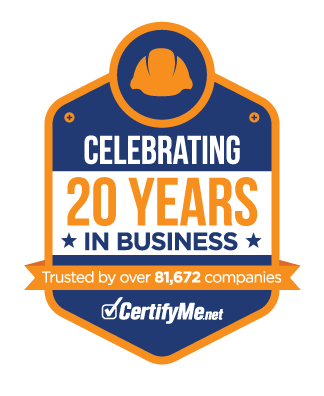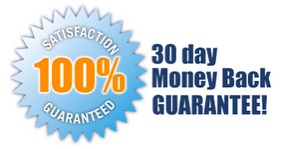 Connect with Us


Get Started Now By Registering Your Company For Free!
FREE 3 Year Renewals
Instant Access 24/7
Print Your Proof of Training
OSHA Accepted Nationwide
*If you are an individual not currently employed by a company use your personal name in
the 'Company Name' field.