Limited Time Offer! Free Covid-19 safety course with purchase of any Forklift or Aerial Lift Certification!
Access your free Covid-19 safety course in your members area once you have completed your purchase.

Understanding Online Forklift Training
Posted by: admin on February 24, 2012
Forklifts are a vital tool in the U.S. supply chain and around the world. Without them, moving products from point A to point B would be slower and less efficient. Forklifts are durable, they can last 10 years or more if well-maintained and they can be used in many different work environments. This is the main reason forklifts are used in so many industries.
Forklifts are also large, heavy pieces of equipment and are often used for work in tight areas with little room to maneuver. They lift, lower and move heavy loads and they can tip over if not handled properly, all of which can lead to serious injury or death in an accident. This blog will explain why forklift training and certification is so important. It will also cover the advantages of online training.
Why Forklift Training Is Essential
Using a forklift on the job is risky business. That's why safety is always the top priority when operating one. Part of forklift training involves learning what makes them dangerous.
Forklifts can weigh more than four tons. Some can travel up to 18 miles per hour. That may not seem like a lot, but four tons traveling at 18 miles per hour can cause a lot of damage to people and products. Forklifts also have brakes in the front. Heavy weight on the forks can make them hard to handle.
Unlike cars, forklifts are turned by the rear wheels. This causes the rear of the truck to swing outward, which increases the risk of tip overs. In fact, tip overs are the most common forklift accident. Forklifts can lift heavy loads at a considerable height. And having the load on the front of the truck can obstruct the driver's line of sight.
These risks contribute to some unpleasant statistics.  Each year, forklift accidents in the U.S. cause:
✓ An average of 85 deaths
✓ Almost 35,000 serious injuries
✓ More than 61,000 non-serious injuries
In many cases, the underlying cause of forklift accidents is lack of training. OSHA estimates that proper training of operators could prevent 70% of forklift accidents.
What Does Online Forklift Training Cover?
Most online training for forklifts cover everything workers need to know to safely operate a forklift. Topics include:
✓ OSHA safety guidelines. This covers what OSHA expects from employers and workers regarding forklift safety.
✓ How to safely operate a forklift. This includes everything from what type of clothing to wear to starting the forklift, making sure loads are balanced and much more.
✓ Inspecting forklifts. Trucks should always be inspected before starting a job. This involves checking the brakes, steering, tires, controls, warning signals, fluids and other metrics.
✓ How to avoid job site hazards. This part of the training is vital for helping to prevent accidents. It teaches drivers how to identify common forklift hazards and how to avoid or protect against them.
✓ Refueling the forklift. Internal combustion forklifts can run on gasoline, propane or diesel. These days, more and more trucks are battery powered. Online forklift training teaches how to safely refuel the type of truck you work on.
Keep in mind that there are many types of forklifts. In fact, they come in seven different classes. Each class is designed for certain types of work environments and job tasks. They also have different features and capabilities. When signing up for online forklift training, be sure the course covers the type of truck(s) you use.
The Advantages of Online Training
For a long time, there were only two options for forklift training. Workers could attend off-site training. Or, employers could schedule training sessions onsite. Offsite training required travel and other expenses. Onsite training didn't require travel time. But it still took workers away from the job to attend the training.
Thanks to the Internet, there is now a third option – online forklift training. This convenient option comes with many benefits. The #1 benefit is improved safety at your workplace. Workers that are trained and have their forklift certifications are less likely to get into accidents. With improved safety comes many other benefits.
✓ Avoid OSHA fines. OSHA requires all forklift workers to be trained and certified. When untrained workers cause accidents, the employer can be liable for costly fines.
✓ Lower medical and insurance costs. Fewer accidents means less medical expenses. If all your forklift workers are trained and certified, your insurance firm is more likely to lower the cost of workers' comp.
✓ Less employee and truck downtime. Having employees out due to forklift injuries can reduce productivity. It also avoids the cost of hiring replacement workers and renting a truck while the damaged one is repaired.
✓ Lower maintenance and repair costs. Fewer accidents means fewer unexpected repairs.
These aren't the only advantages of online forklift training. Workers can take the training anywhere they have Internet access. This means they can take the training on their own time rather than work time. Employers don't have to pay the costs of travel, food, lodging or other expenses.
Get Fast, Affordable Training and Forklift Certification With CM
A leader in online forklift training, CertifyMe.net has trained workers in more than 28,000 companies. Our courses can be completed in about an hour. They cost much less than on- or offsite training. Upon completing the course, workers can instantly print and download their forklift certification cards.
There's more to like about forklift training. We provide everything you need in one package. You don't have to buy books or DVDs to complete the training. We also offer "train the trainer" courses for foremen and managers. We even offer free lifetime recertification, which is required by OSHA every three years.
For cost-effective training that helps protect your workers and your bottom line, visit CertifyMe.net online today.
Welcome to CertifyMe.net
CertifyMe.net has offered online forklift certification since 1999. With Our Convenient online program. your employess can earn their certification in an hour or less.
Browse Online Certifications:
This low-cost program can be compeleted anytime, anywhere!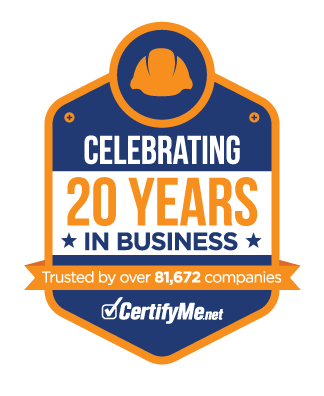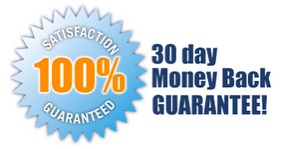 Connect with Us


Get Started Now By Registering Your Company For Free!
FREE 3 Year Renewals
Instant Access 24/7
Print Your Proof of Training
OSHA Accepted Nationwide
*If you are an individual not currently employed by a company use your personal name in
the 'Company Name' field.