Limited Time Offer! Free Covid-19 safety course with purchase of any Forklift or Aerial Lift Certification!
Access your free Covid-19 safety course in your members area once you have completed your purchase.

Asbestos Awareness Certificate Training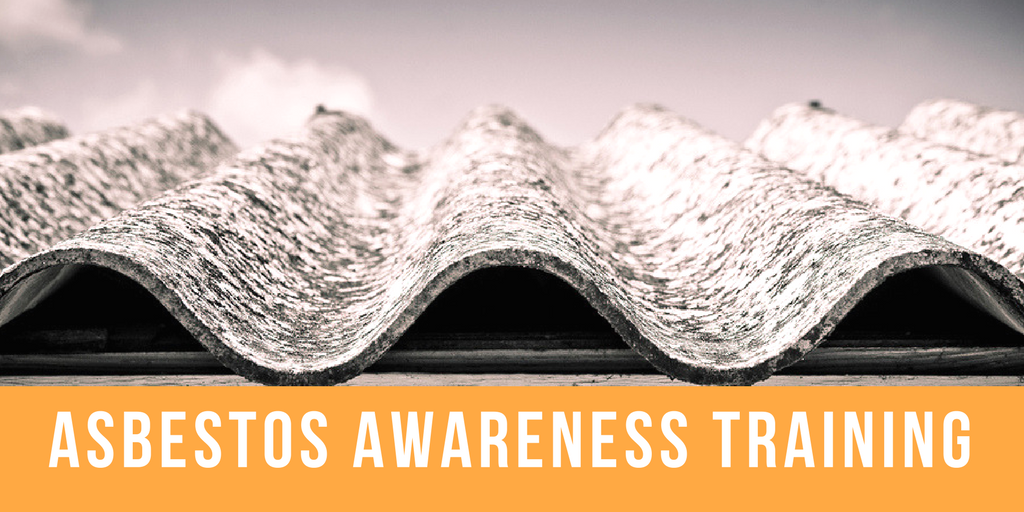 Asbestos awareness is an important part of safety training for workers throughout all kinds of industries. Construction industry employees are particularly affected by products and structures containing asbestos, and it's important that these workers receive comprehensive asbestos awareness training so they know the risks associated with handling asbestos and how to protect themselves against its potentially debilitating effects. Employers are also affected, since under OSHA regulations, they're required to provide OSHA asbestos awareness training for all their employees.
Whether you're an operator wondering "how to get my asbestos awareness certificate" or "where can I get asbestos awareness training near me," or a business owner with the same questions who's trying to arrange asbestos awareness training for his or her employees, CertifyMe.net has the answers.

About Asbestos and Where it's Found
Asbestos is a group of naturally occurring minerals that are durable, flexible, and resistant to chemicals, heat, and electricity. At one time, asbestos was frequently used to insulate homes and other buildings. It's also often found in older cement pipes and vinyl floor tiles, and has been used in insulation,  shingles, roofing felts, acoustical ceiling tiles, drywall and used for fireproofing when sprayed on walls and ceilings. When inhaled or ingested, asbestos fibers can embed themselves in respiratory or digestive tissues, which can lead to sometimes fatal disabilities including asbestosis, gastrointestinal cancer, lung cancer and mesothelioma.
Under regulations established by OSHA, it's the employer's responsibility to make their workers aware of the risks associated with asbestos by providing them with asbestos certification training. Through CertifyMe.net's online asbestos training with classes that can be taken anytime and anywhere, we offer an affordable, convenient and easy to implement solution, which is our OSHA-approved asbestos awareness refresher training program.
Does CertifyMe.net Have Asbestos Awareness Certificate Training Near Me?
Since our training and certification classes are online, we're never more than a couple of keyboard clicks away on a smartphone, tablet of similar digital device!
CertifyMe.net, the undisputed leader in OSHA certification and online learning, offers comprehensive, easy to follow asbestos awareness training program that's designed to help your employees become OSHA compliant through our certification process. Our asbestos certification training is just one of several online courses we offer, and is an ideal companion training course for our other safety training and certification classes. Through our no-nonsense approach to online asbestos awareness training, CertifyMe.net will efficiently and affordably prepare your employees to work around hazardous materials in a variety of roles, including driving forklifts.
We break down online asbestos certification to the simplest and most easily learned format, so your business can become OSHA compliant with a minimal investment in time and company money. Forget about renting offsite facilities or bringing in expensive third party in-person instructors – enroll your employees in CertifyMe.net's online asbestos awareness course today!
Just like our popular forklift operator training modules, our asbestos awareness certificate training is given in a convenient online format. The course can be taken anytime and anywhere there's an internet connection, so each of your workers can arrange to complete the online classes around his or her own schedule rather than the other way around. Using a smartphone, tablet or other digital device, your employees can access our OSHA compliant asbestos certification training materials 24/7.
OSHA Asbestos Classifications
OSHA's definition of asbestos and its various classifications for the construction industry can be found in subpart Z 29 of the 1910 CFR Part 19226.1101. This standard covers asbestos training requirements, as well as regulates the extent of asbestos exposure during the construction, repair, maintenance, alteration, renovation or demolition of any structure containing asbestos. Under the OSHA standard, construction jobs are defined and categorized into the four following classifications:
Class I
Includes the most dangerous types of asbestos work, which involves the removal of thermal insulation containing asbestos, along with sprayed-on or troweled-on surface insulating and fireproofing materials. Class I asbestos jobs involve working in close proximity to this extremely dangerous material, and therefore any Class I job requires the most thorough and up to date training available. CertifyMe.net provides the level of training needed to keep your employees safe while working on Class I asbestos jobs.
Class II
Asbestos work involves the removal of asbestos contained in flooring, ceiling tiles, siding, roofing, or transite boards and pipes, but not thermal insulation systems. The work usually takes place following construction or during cleanup activities.
Class III
Involves repair and maintenance work where asbestos-containing materials (ACMs) are known or presumed to be present are
Class IV 
Work includes the custodial cleanup of ACM waste and debris from construction work, maintenance or repairs. Class IV work involves cleaning contaminated hard surfaces, carpeting and thermal system insulation surface materials containing asbestos. Our online asbestos training includes coverage of this important construction work classification.
Employers need to keep in mind that Class I involve the most dangerous type of work in the field of asbestos-related jobs. With CertifyMe.net's OSHA asbestos awareness refresher training, your workers will have a solid foundation of the knowledge and job-ready skills to handle any task that involves working with ACMs, so sign them up today for our asbestos awareness course.
Do Your Workers Need to Take Our Asbestos Awareness Course?
Employees who work with products and materials that contain asbestos or work in places where asbestos has been used or stored are particularly vulnerable to its affects. Our interactive asbestos awareness online course will teach your employees about the various hazards of working with asbestos-containing materials. The course also covers the requirements for Class IV maintenance staff and custodians who frequently come into contact with ACMs, such as ceiling tiles, vinyl flooring, and insulation. CertifyMe.net's asbestos awareness courses are perfect for any company involved in asbestos removal, construction, disaster recovery, fire restoration and more:
Here' a partial list of the topics covered in our asbestos awareness:
✓ Hazards of asbestos and the possible effects of being exposed
✓ OSHA's regulations as they apply to asbestos
✓ Products and materials that contain asbestos
✓ Where asbestos containing materials (ACMs) are found
✓ Limiting exposure to ACMs
✓ Air monitoring for asbestos
✓ Asbestos decontamination methods and procedures
Asbestos awareness is an important part of safety training for construction workers, as well as workers in related fields. It's important for employees to learn about the risks of handling asbestos and how to protect themselves with comprehensive asbestos awareness training such as is offered by CertifyMe.net.

FAQs About Our Asbestos Awareness Training
Here are some questions we're frequently asked about CertifyMe.net's online Asbestos Awareness Training Classes, along with our answers:
Q: What is an asbestos awareness certificate?
A: The certification is evidence of you or your workers having successfully completed asbestos awareness training from an OSHA-approved provider such as CewrtifyMe.net. It's required for all workers whose jobs frequently put them in contact with asbestos or asbestos containing materials.
Q: How do I get my asbestos awareness certificate?
A: When you or your workers train with CertifyMe.net, it's simple! Just follow these five easy steps to get your business certified.
1. Start by registering your company
2. Enroll yourself or your operators
3. Have students log in to the online training modules
4. The class and test take about 60 minutes, but can be taken any time and any place that's convenient, since all materials are available online 24/7)
5. Download and print the OSHA compliant asbestos awareness certification.
That's all there is to it!
How much do asbestos removal workers earn?
Although wages vary somewhat by geographic area, according to online placement agency ZipRecruiter, the average annual wage for U.S. asbestos removal workers is $37,521, or about $18 per hour.
Enroll Your Employees in Asbestos Awareness Training with CertifyMe.net Today
Still have questions about our online asbestos certification & training process? Contact CertifyMe.net today at (888) 699-4800 to speak with one of our asbestos awareness training experts and enroll your employees in our OSHA compliant asbestos certification course for a safer, healthier and more productive workplace. Your employees can complete their asbestos certification training online in virtually no time at all – at a very affordable rate!

Thanks for considering CertifyMe.net for all of your asbestos awareness certificate requirements.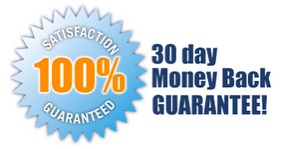 5 EASY STEPS!
Follow step-by-step instructions to get OSHA compliant!
This low-cost program can be completed anytime, anywhere!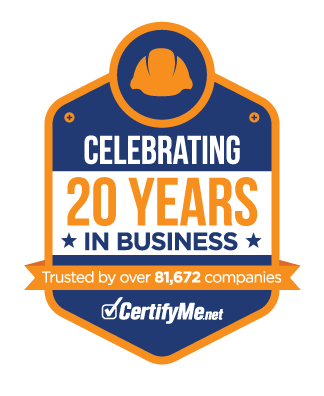 Get Started Now By Registering Your Company For Free!
FREE 3 Year Renewals
Instant Access 24/7
Print Your Proof of Training
OSHA Accepted Nationwide
*If you are an individual not currently employed by a company use your personal name in
the 'Company Name' field.