Limited Time Offer! Free Covid-19 safety course with purchase of any Forklift or Aerial Lift Certification!
Access your free Covid-19 safety course in your members area once you have completed your purchase.

OSHA Certifications
When it comes to workplace safety and compliance, OSHA certifications play a vital role. CertifyMe offers a convenient and accessible training option by offering these certifications online.
Workplace safety is important. OSHA (Occupational Safety and Health Administration) sets standards and regulations for safe working conditions. By gettingOSHA certifications, individuals gain the knowledge and skills to identify potential hazards, prevent accidents, and promote safety.
Our OSHA certification online programs cover various industries and job roles. No matter your industry, specialized courses are tailored to your specific needs. These programs provide comprehensive training materials, interactive modules, and assessments. Completion of the program ensures safety procedures and compliance requirements are understood.
What Is OSHA Certification?
OSHA certification shows workers and employers understand safety rules and can prevent accidents. It's required by law in many jobs, especially those with potential hazards. OSHA certification helps employers follow the rules and avoid penalties. It means knowing how to stay safe and protected at work. Forklift certification is necessary to keep everyone safe. Being certified also ensures workplaces follow the law. For further insight, see our OSHA blog.
OSHA Certification Online
Obtaining OSHA certification online has many advantages. One major benefit is the flexibility and convenience it offers. With online training, you can learn at your own pace and choose the best time for you. Study after school or on weekends without interrupting your daily routine.
CertifyMe is a platform that provides OSHA certification online. The process is straightforward. Sign up on our website, select the desired certification program, and begin training. The online courses include interactive lessons, quizzes, and exams to test your knowledge. Once you complete the training and pass the exam, CertifyMe will issue your OSHA certification online., You can then print or download your certificate.
Types of OSHA Certifications
CertifyMe offers a wide range of various types of OSHA certifications. Whether you're looking for insight into operating a pallet jack, rough terrain, or sit down forklift, our resources are here for you. With our learning materials you can become an expert across multiple forklift types or specialize in the specific lifts you need. Whether you rely on aerial lifts, need HAZMAT training, or need the most straightforward forklift certification courses, CertifyMe can help. We also offer a Train the Trainer course, so you can bring future forklift training in-house.
What Is OSHA Certification Good For?
OSHA certification brings many benefits to individuals and businesses. For individuals, it improves workplace safety. Employees learn to recognize and prevent hazards. This means fewer accidents and injuries on the job. Businesses also benefit because OSHA certification helps them comply with safety regulations, reducing the risk of penalties and fines. Certified employees enhance a business's reputation and credibility. Employers prefer to hire individuals with OSHA certification because they know how to keep the workplace safe. This increases employability and opens up more job opportunities.
OSHA Training School
CertifyMe is a trusted online OSHA training school. Our convenient, affordable resources make training to operate forklifts more accessible than ever. Learn new skills from anywhere with an internet connection. Our OSHA online certification can bring workers into compliance with federal regulations and help promote a safer work environment. Qualified instructors guide trainees through the fundamentals. Comprehensive course materials ensure trainees understand how to safely and effectively use forklifts. Interactive learning tools make training a compelling and practical use of employee time. There's a reason so many people opt to train with CertifyMe!
People Also Ask
What does it mean to be OSHA certified?
OSHA is a government agency in the United States that sets regulations and guidelines for safe and healthy working conditions. OSHA certification shows a person has received training on workplace safety practices, hazard identification, and OSHA regulations. It signifies that the individual has the knowledge and skills to maintain a safe working environment.OSHA-certified employees can help prevent accidents, and respond to potential hazards. Employers often require OSHA certification in industries with potential risks to ensure compliance with safety standards.
Is an OSHA certificate worth it?
Yes, obtaining OSHA certification is definitely worth it. Many industries have legal requirements for OSHA certification. By getting the certification, you ensure compliance with these regulations and avoid potential penalties and fines. OSHA certification also provides you with knowledge and skills to effectively identify workplace hazards and implement safety measures. Reducing the risk of accidents and injuries leads to a safer working environment.
What are the benefits of being OSHA certified?
For starters, trained and certified workers tend to be more efficient. When you know how to use a forklift, you won't waste time figuring out the fundamentals. Certification is also associated with safer workplace practices. By educating yourself on the risks, you'll know how to avoid workplace injuries and fatalities. There's also the legal side to consider. People who operate forklifts without certification may face expensive fines and legal penalties.
How long does OSHA certification last?
OSHA certifications are valid for three years. After that point, you'll need to recertify. Lifetime renewals are free for CertifyMe trainees.

Pursue Your OSHA Certification Now
OSHA certification is vital for workplace safety. It helps individuals learn how to prevent accidents and identify hazards.It creates a safer working environment. It also ensures compliance with regulations, avoiding penalties and fines. OSHA certification increases employability, making job opportunities more accessible.
Enrolling in OSHA certification online is a great option. CertifyMe provides convenient and comprehensive training online to reap these benefits. By choosing CertifyMe, individuals can learn at their own pace and enhance their knowledge. Enroll in CertifyMe's online OSHA certification courses today to improve your safety skills and career prospects. Please contact us with any questions you might have!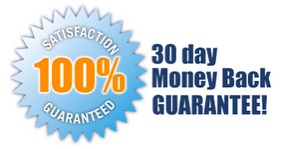 5 EASY STEPS!
Follow step-by-step instructions to get OSHA compliant!
This low-cost program can be completed anytime, anywhere!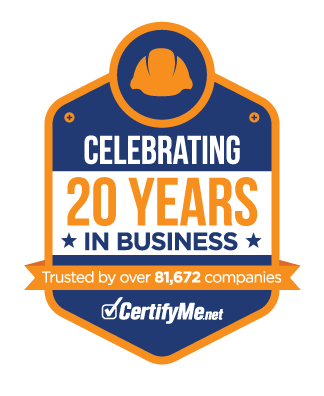 Get Started Now By Registering Your Company For Free!
FREE 3 Year Renewals
Instant Access 24/7
Print Your Proof of Training
OSHA Accepted Nationwide
*If you are an individual not currently employed by a company use your personal name in
the 'Company Name' field.