Limited Time Offer! Free Covid-19 safety course with purchase of any Forklift or Aerial Lift Certification!
Access your free Covid-19 safety course in your members area once you have completed your purchase.

Sit Down Forklift Certification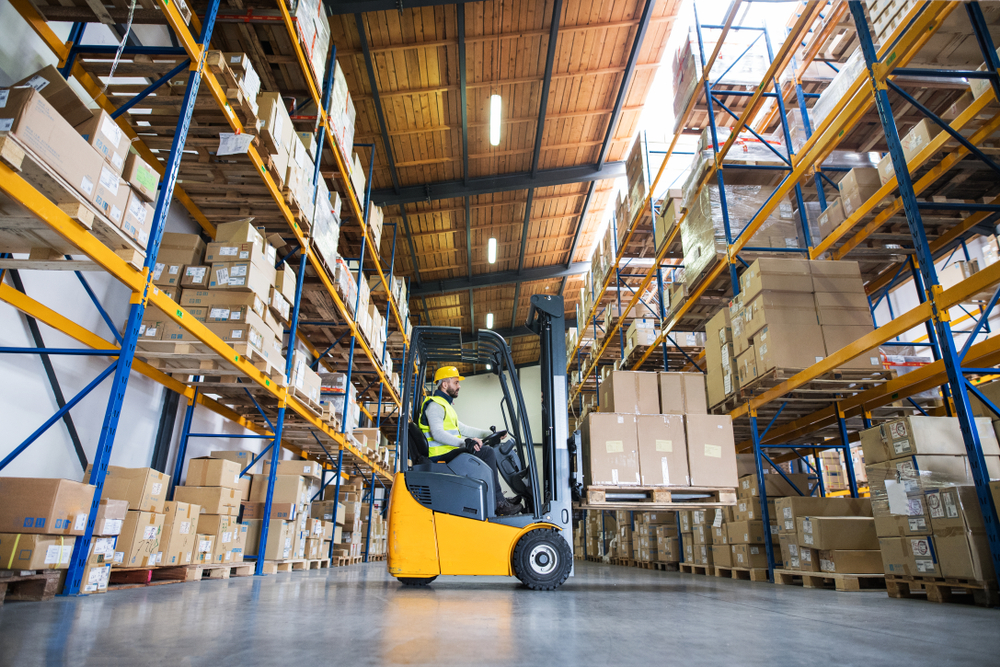 The sit down forklift is one of the most popular types of forklift. It's used in many places. You can get certified to operate this forklift in about an hour with CertifyMe.net. To learn more about sit down forklift certification and what it takes to drive these machines safely, keep reading.
Understanding Sit Down Forklift Certification
Sit down forklift certification is important for the safety and competence of operators. Certification can help reduce the number of accidents and injuries in workplaces. By getting proper training, operators gain the necessary knowledge to responsibly handle forklifts.
Sit down forklift certification gives operators a complete understanding of the forklift's controls, functions, and safe operating practices. It covers essential topics like load handling techniques, maneuvering in tight spaces, and accident prevention. With training, operators can confidently navigate different workplace challenges. This ensures their safety and that of those around them.
Sit down forklifts are among the most commonly used forklift types. They are versatile and capable of lifting heavy loads to different heights. They are invaluable in material handling tasks.
In contrast to stand up forklifts, sit down forklifts offer greater stability and ease of use. They are suitable for both indoor and outdoor applications. Their design allows operators to sit inside a protected cab, providing better visibility and protection during operation.

Sit Down Forklift Jobs
Certified sit-down forklift operators have plenty of job opportunities across different industries. They can work in warehouses, distribution centers, manufacturing plants, and construction sites. These operators play a vital role in moving and organizing materials, which is essential for smooth operations in these settings. They may also be involved in loading and unloading trucks, stacking goods on shelves, and transporting items to various locations. With their sit down forklift certification, operators can confidently apply for these positions and showcase their skills to potential employers.
Skilled sit-down forklift drivers are in high demand in the workforce. Many industries rely on the expertise of these operators to ensure efficient and safe material handling. With the increasing need for faster logistics and distribution, businesses seek qualified forklift operators who can handle tasks accurately and swiftly.
Apart from sit-down forklift operators, reach forklift drivers also play a significant role in material handling operations. Reach forklifts are designed to lift loads to higher heights, making them suitable for accessing tall shelves and tight spaces. Certified reach forklift drivers are sought after by employers in warehouses and distribution centers where vertical space optimization is crucial.
Sit Down Forklift Training Rules
When operating a sit down forklift, safety is paramount. Essential rules include wearing personal protective equipment, conducting pre-shift inspections, and maintaining clear visibility. Operators must follow speed limits, keep a safe distance from other vehicles, and avoid carrying unstable loads. Proper training from a sit-down forklift training program ensures operators understand these guidelines to prevent accidents.
OSHA sets standards for sit-down forklift operations to reduce injuries and fatalities. Adhering to these guidelines helps prevent accidents caused by negligence or improper handling. Proper training and certification through a sit down forklift training program ensure operators follow OSHA regulations and use best practices, creating a safer workplace for everyone.
Enrolling in a sit-down forklift training program is essential for operators who want to learn the necessary knowledge to operate a forklift. Such training programs cover safety guidelines, equipment operation, and hazard identification. By completing training with Certify Me, operators become certified and demonstrate their competence in operating sit-down forklifts safely.
How to Turn On a Sit Down Forklift
To start a sit-down forklift, ensure the parking brake is engaged. Then, adjust the seat and mirrors for comfort and visibility. Next, insert the key and turn on the ignition. Check the dashboard for warning lights. After that, press the brake pedal and shift the gear to neutral. Start the engine and proceed to test the horn and lights. Inspect the controls, pedals, and steering carefully. Examine the tires and lift mechanism. Lastly, review the load capacity plate. Remember to perform pre-operation checks before using the forklift to ensure safe operation.
During startup, prioritize safety by wearing a seatbelt and keeping hands and feet inside the cabin. Never bypass safety features or override warning signals. Look around for any obstacles or potential hazards. Ensure there are no people nearby before moving the forklift. Use caution on uneven or slippery surfaces. Avoid sudden movements or excessive speed.
Sit Down Forklift Training Cost
Sit-down forklift training costs vary, but its value to operators and employers is significant. Certified operators gain essential skills, reducing accidents and injuries. Employers benefit from increased productivity and compliance with safety regulations, creating a safer and more efficient work environment. Despite the initial investment, the training pays off with safer operations and reduced costs.
Sit Down Forklift Certification FAQs
Is a sit down forklift better than a stand up forklift?
In a sit-down forklift, the operator sits and usually faces forward. To drive in reverse, they turn their upper body to look behind the forklift. In a stand-up forklift, the operator stands on their feet and can turn around or twist their whole body to see what's behind them.
What class is a sit down forklift?
Class IV forklifts are indoor sit-down forklifts powered by internal combustion engines. These engines use diesel, LP gas, gasoline, or compressed natural gas as fuel.
Are all sit down forklifts the same?
Sit-down forklifts come in three or four-wheel types. The three-wheel option is ideal for tight spaces. These forklifts are more comfortable for the operator.

Earn Your Sit Down Forklift Certification Today!
The best way to ensure you're at the top of any employer's wish list is to have the most recent OSHA sit-down forklift training available. And CertifyMe.net, with our convenient, learn-as-you-go learning format, is the leader in OSHA compliance.
It's easier than you think to get sit-down forklift certification:
Browse our complete lineup of sit-down forklift certification courses, and you can enroll your workers today!
In just five easy steps, your workers will be on their way to becoming an OSHA-compliant sit-down forklift operators. Also, your business can maintain a safe, productive work environment and avoid OSHA compliance penalties.
We also offer lifetime support, along with free sit-down forklift renewal training! If you have any questions about our OSHA certification or sit-down forklift jobs, give us a call today at 1-888-699-4800, or visit our contact page for other ways to get in touch with the premier OSHA online training experts.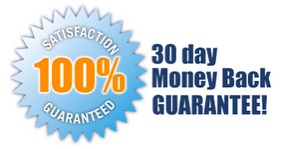 5 EASY STEPS!
Follow step-by-step instructions to get OSHA compliant!
This low-cost program can be completed anytime, anywhere!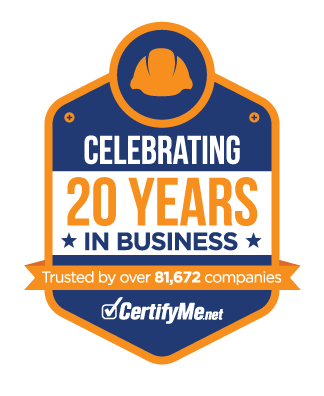 Get Started Now By Registering Your Company For Free!
FREE 3 Year Renewals
Instant Access 24/7
Print Your Proof of Training
OSHA Accepted Nationwide
*If you are an individual not currently employed by a company use your personal name in
the 'Company Name' field.