Limited Time Offer! Free Covid-19 safety course with purchase of any Forklift or Aerial Lift Certification!
Access your free Covid-19 safety course in your members area once you have completed your purchase.

An Overview of Sit Down Forklifts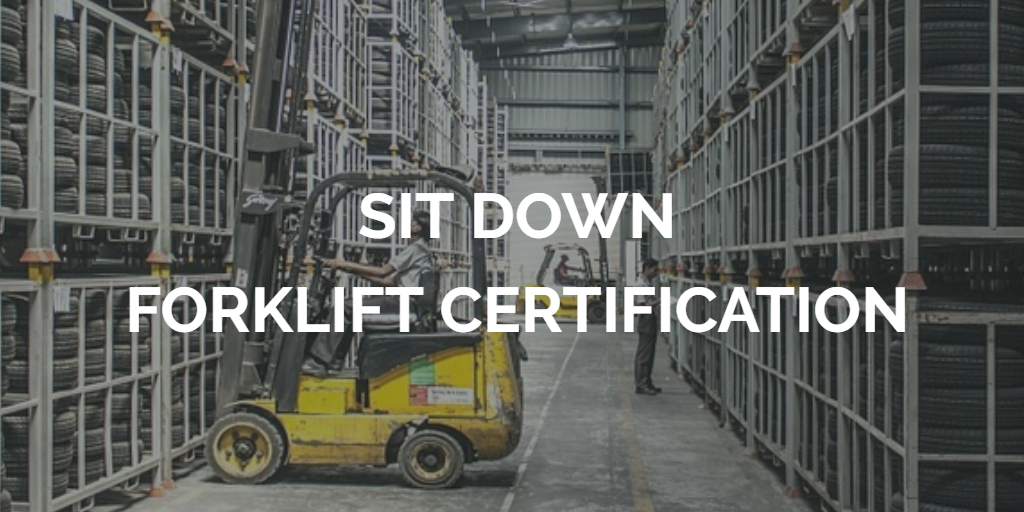 One of the most common types of forklifts – in fact, the most widely used throughout the world – is the sit-down forklift. With CertifyMe.net, you can earn your sit-down forklift certification in about an hour's time. Keep reading to discover all there is to know about sit-down forklifts and the requirements for driving them.
What is a Sit-Down Forklift?
There are two primary types of forklifts: sit-down and stand-up models. Sit-down forklifts usually have three or four wheels. As the name indicates, they require an operator to remain seated while the lift is in use. 
Most forklifts on the market today (both gas-powered and electric) are classified as sit-down forklifts.  They're used in warehouses, construction sites, on hazardous waste cleanup sites, dockyards, ports, and terminals. 
It doesn't matter which type of sit-down forklift you use – training is required by law. And CertifyMe.net can help with all of your training requirements.

How to Drive a Sit-Down Forklift
Curious about how to drive a sit-down forklift? Start by climbing in and buckling up. Turn the key to start the engine, then shift into neutral. Release the emergency brake, then shift into the direction you want to move. Press the gas to move, but be sure to use your horn when passing through busy areas. When you're ready to use the forks, raise or lower them to match the height of the pallet. Then drive forward to insert the forks. 
Many people assume that driving a forklift is as easy as driving a car. In fact, rear-wheel steering makes the task much more challenging. You've got to slow down as you turn and remember to leave ample room for rear-end swing. Part of the challenge of operating a sit-down counterbalance forklift is maintaining stability. Avoid lifting or lowering the forks while moving, as you'll decrease your stability and obscure your visibility. 
While there are some general sit-down forklift best practices to follow no matter what, equipment features vary dramatically from one manufacturer to the next. That's why it's so important to get properly trained and earn your sit-down forklift certification before operating these machines. Fail to comply with OSHA requirements for lift operation and your business could face expensive penalties and fines. 
Sit-Down Forklift Operator Certification Requirements
If your employees are required to use a forklift for an extended period of time, sit-down forklifts may be the best choice for your business. Before you invest in sit-down forklifts, you must require your workers to earn OSHA certification.
Sit-down forklift certification is mandatory, regardless of your company's industry, size, or location. Fortunately, sit-down forklift training is readily available.
CertifyMe.net enables your entire sit-down forklift fleet to become OSHA-compliant, for much less money than you think! With our affordable training courses and lifetime support, CertifyMe.net is proud to be your training partner from this day forward!
We offer convenient online certification opportunities for lift operators. If your organization needs to train multiple employees, our Train the Trainer option may be a good investment. Affordable and easy to complete, CertifyMe.net is the answer to all your sit-down forklift certification requirements. Other benefits include:
Greater confidence: Once your employees are properly trained in accordance with OSHA guidelines, they'll have the confidence to perform their everyday work tasks better than ever before!

Firm foundation of knowledge: CertifyMe.net has different training packages to cover a wide range of sit-down forklift jobs. From safety supervisor (our Train the Trainer course) to regular forklift tasks, we'll give your workers the knowledge and skills they need to succeed.

Convenient online classes: We provide our sit-down forklift training online. This ensures your workers can complete our training program anywhere there is an internet connection, at any time they choose.
Penalties for Organizations That Fail to Certify Sit-Down Forklift Operators
Some lift operators mistakenly believe they don't need to have a license to drive sit-down forklifts at work. In fact, OSHA frequently levies expensive fines and penalties for businesses without certified lift operators on staff. A study conducted by CertifyMe.net found that out of 100 participants, 53 had their safety plans audited by OSHA. 85 had received an OSHA fine at some point, and of those 85 fines, 57 of them were more than $100,000. Given how much money is on the line, it pays to invest in sit-down forklift certification for the whole team.

Your Go-To Source for Sit-Down Forklift Training
The best way to ensure you're at the top of any employer's wish list is to have the most recent OSHA sit-down forklift training available. And CertifyMe.net, with our convenient, learn-as-you-go learning format, is the leader in OSHA compliance.
It's easier than you think to get sit-down forklift certification:
Browse our complete lineup of sit-down forklift certification courses, and you can enroll your workers today!

In just five easy steps, your workers will be on their way to becoming an OSHA-compliant sit-down forklift operators. Also, your business can maintain a safe, productive work environment and avoid OSHA compliance penalties.
We also offer lifetime support, along with free sit-down forklift renewal training! If you have any questions about our OSHA certification or sit-down forklift jobs, give us a call today at 1-888-699-4800, or visit our contact page for other ways to get in touch with the premier OSHA online training experts.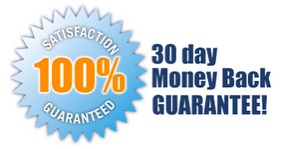 5 EASY STEPS!
Follow step-by-step instructions to get OSHA compliant!
This low-cost program can be completed anytime, anywhere!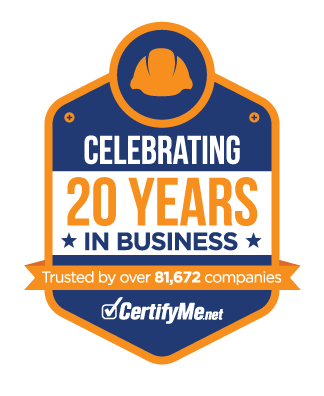 Get Started Now By Registering Your Company For Free!
FREE 3 Year Renewals
Instant Access 24/7
Print Your Proof of Training
OSHA Accepted Nationwide
*If you are an individual not currently employed by a company use your personal name in
the 'Company Name' field.