Limited Time Offer! Free Covid-19 safety course with purchase of any Forklift or Aerial Lift Certification!
Access your free Covid-19 safety course in your members area once you have completed your purchase.

OSHA Forklift Certification Requirements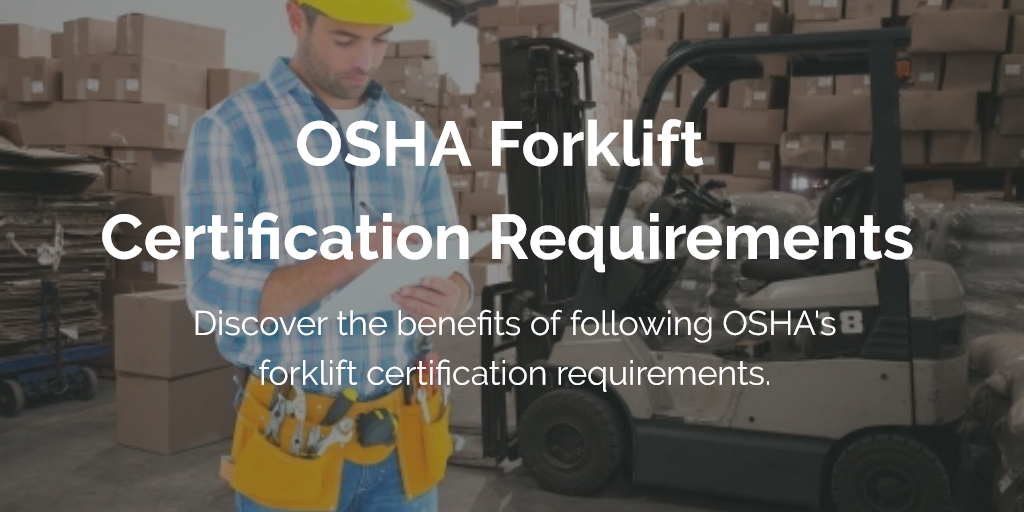 OSHA forklift certification requirements are designed to ensure worker safety in every professional setting. Fail to comply with OSHA's regulations and your organization could be at risk of expensive penalties and fines. Beyond the financial ramifications, there's also safety to consider; OSHA estimates that 70 percent of forklift accidents in the U.S. are preventable. 
What are OSHA's Forklift Certification Requirements?
OSHA forklift certification requirements are simple:
New operators must complete forklift training and become officially certified

Certifications must be updated every three years with additional training programs

Trainees may only operate forklifts under direct supervision of certified employees

Anyone who trains and passes their evaluation must have proof of their certification
For additional guidance on OSHA forklift certification requirements, see the official OSHA website.
How to Become OSHA Compliant
OSHA forklift training requirements are fairly straightforward. Aspiring forklift operators must complete training, take an exam, and then pass an in-person driving test. When it comes to actually completing these training requirements, you've got a couple of options from which to choose:
In-Person Training
Send your aspiring forklift operators to in-person training, where they'll receive the traditional classroom learning experience. While often expensive and time-consuming, such training programs fulfill forklift operator training requirements in one fell swoop. 
In-House and Online Training
Many companies are opting to provide in-house training to meet OSHA forklift certification requirements. Our Train the Trainer course is a great way to educate a dedicated employee on the hands-on assessment portion of the certification process. Why spend extra time and money sending employees to an in-person training when you can educate them in-house instead? OSHA requires a hands-on assessment after the training course is completed. It can be conducted by any experienced lift operator you have on site. 
When combined with our online curriculum that can be accessed 24 hours a day, this option proves more affordable and more convenient than traditional in-person learning. It's less stressful than classroom learning and participants can take the final exam as many times as they need to. In-house training is a great way to ensure your entire team is OSHA-compliant. 
OSHA Forklift Training Requirements FAQ
You may have questions about forklift license requirements and similar topics. Read our FAQ below to get the insights you need to learn about all aspects of forklift certification.
What are the Consequences of Not Following OSHA Forklift Certification Requirements?
According to OSHA under the Occupational Safety and Health Act of 1970, any employer who willfully or repeatedly violates any standard or rule described in this Act, including not meeting forklift certification requirements, may be penalized with a fine of not more than $70,000 for each violation, and not less than $5,000 for each violation.
What are the Benefits of Following Forklift Certification Requirements?
In short, it means you're OSHA compliant. Once you have your OSHA forklift certification card  and follow proper certification requirements, the benefits include:
Safe Work Environment: Trained forklift operators can take the necessary precautions to guard against accidents, injuries, and fatalities.

No Compliance Penalties: OSHA-compliant forklift operators are licensed to use a lift. This means you won't have to worry about OSHA penalties otherwise caused by letting unauthorized workers operate lifts.

Increased Productivity: Since trained forklift operators know the ins and outs of how to use a lift, they can perform everyday tasks correctly. The result: your business can boost its productivity.
What Does it Mean to be an OSHA-Certified Forklift Operator?
OSHA compliance is a must for any business that hires workers that use forklifts every day. By completing OSHA-compliant training, workers can receive insights on how to safely operate different types of forklifts. The training verifies that forklift operators know exactly what to do to maintain a safe, productive work environment.
What Will Happen if Workers Operate a Forklift Without a License?
Businesses that let workers operate a forklift without a license can put operations, their employees, and their customers in danger. Unlicensed forklift operators are susceptible to mistakes that lead to accidents. If a forklift accident occurs, it can lead to equipment damage, injuries, or fatalities. When the accident involves an unlicensed forklift operator, it can lead to OSHA penalties, too.
Is it Worthwhile to Enroll My Entire Staff in Forklift Certification Training?
Your goal is to maintain workplace safety. To accomplish your goal, it can be beneficial to enroll all of your workers in OSHA-compliant forklift certification training. Workers can use the training to improve safety across your work environment. Over time, they can help your business avoid forklift accidents and optimize its productivity.

Meet OSHA Forklift Certification Requirements with Help From CertifyMe.net
If you're still feeling unsure about OSHA forklift training requirements, allow CertifyMe.net to take the lead. Our online training covers all OSHA requirements and includes recertification training, so workers can easily recertify at any time throughout their career. Whether you're an individual looking to get certified for a new job or a manager hoping to certify an entire team of employees, CertifyMe.net has the options you need to be OSHA-compliant.
If you have any questions about forklift certification requirements, OSHA training, or if you're ready to become compliant, contact CertifyMe.net today. You can also call our OSHA forklift certification requirements experts at 1-888-699-4800. Don't put your safety program on hold any longer.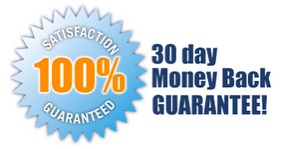 5 EASY STEPS!
Follow step-by-step instructions to get OSHA compliant!
This low-cost program can be completed anytime, anywhere!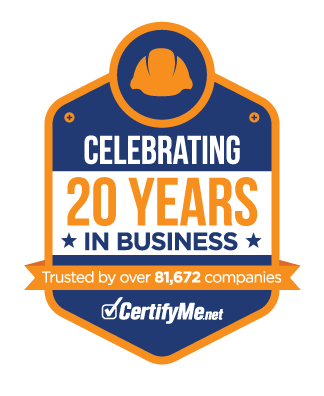 Get Started Now By Registering Your Company For Free!
FREE 3 Year Renewals
Instant Access 24/7
Print Your Proof of Training
OSHA Accepted Nationwide
*If you are an individual not currently employed by a company use your personal name in
the 'Company Name' field.