Limited Time Offer! Free Covid-19 safety course with purchase of any Forklift or Aerial Lift Certification!
Access your free Covid-19 safety course in your members area once you have completed your purchase.

Understanding Different Types of Forklifts
Posted by: admin on August 31, 2022
Enter any warehouse, construction site, or military base in the country and odds are good that you'll find a forklift of some kind. While you might be generally aware of what these machines do, many are curious to know just exactly what is a forklift? Forklifts rely on hydraulics and pulley systems to lift heavy materials across distances. They're useful for projects that need materials placed in specific ways, and can significantly cut down the time and effort required to lift, carry, and transport goods. This helpful infographic can help you understand the different kinds of forklifts and their applications.

Types of Forklifts
There are as many different types of forklifts as there are different uses for them. Whether you're fulfilling orders in a warehouse, transporting materials across a construction site, or painting a mural on the side of a building, there's an ideal forklift for the job. Keep these options in mind as you decide which to use for your duties:
Some job sites require the use of rough terrain forklifts. Ideal for rugged, outdoor terrain that might be rocky or uneven, these machines are designed to weather it all. Tires make all the difference in this forklift type; most rough terrain forklifts are equipped with oversized wheels designed to withstand punctures from small rocks. They're common on construction sites, but can be useful in any environment with uneven, unstable, or bumpy terrain. Because rough terrain forklifts are often used in unpredictable environments, it's important to be cautious about tip-overs. These kinds of lifts are more prone to such accidents. 
A sit down forklift allows operators to get off their feet as they work. If you need to drive a lift for an extended period of time, it's best if you can sit while doing so. Sit down forklifts are also considered safer when driving on slippery surfaces. Of all the different types of forklifts, this kind is among the most popular. It's also one of the safest, so if you're hoping to avoid workplace accidents, be sure to buckle up before getting to work. 
Stand-up forklifts are another popular option. Significantly shorter than their sit-down equivalents, these forklift types make it easier to get off and on. With no seatbelt to remove and put on, you can hop on and off with ease. You also don't need to apply a parking brake, as it is automatically employed every time you come to a stop. They're ideal for loading and unloading products in a warehouse, but also come in handy when you're scanning barcodes and stacking inventory.
Of all the best types of forklifts to use outdoors, diesel forklifts rank high. They're built to handle rough terrain, can withstand a wide range of weather conditions, and provide consistent levels of power. Of course, there are some drawbacks to using this kind of machinery – diesel forklifts emit heavy fumes and can be quite loud. The real advantage of these forklifts is that they can work for long periods without running out of fuel. Re-fueling is as easy as gassing up your car, too. 
Electric forklifts, on the other hand, take some time to re-fuel once their batteries have run out. Still, they're rising in popularity because of their lower noise levels and fume-free experience. Smaller than their diesel equivalents, electric forklifts are easy to maneuver in and out of tight spaces. They're also easy to control, as they don't require the use of a clutch. With fewer moving parts to maintain and repair, electric forklifts have shorter periods of downtime than other types of forklifts.
Also known as a reach truck, narrow aisle forklifts are a great choice for those working in warehouse settings. They can be driven directly down a narrow aisle without requiring operators to turn to pick orders. An articulating mast allows the operator pick from both sides of the aisle. For this reason, they're frequently used to pick orders and stock shelves.
If you need to lift, transport, and unload large, awkwardly sized loads, a side loader forklift may be your best bet. Frequently used in lumber yards and steel service centers, these types of forklifts are ideal for moving bulky loads through tight passages. Because side loader forks are located on the side, the operator has a clear view of all directions. 
Heavy duty projects call for heavy duty forklifts. These powerful machines can lift upwards of 125,000 pounds, making them essential to job sites like steel mills, warehouses, lumberyards, and oil refineries. Special training is often required for these forklift types, as they can be quite dangerous when used improperly.Pallet Jack Forklifts
Also known as a pallet truck or pallet pump, pallet jacks are perhaps the most basic forklift type. They're powered by electricity and are designed to be used indoors. Manual versions require users to pump a handle up and down to move pallets. No matter which kind your workplace employs, it's important to be properly trained before using a pallet jack.
Fulfilling orders would be impossible without the humble order picker forklift. They're designed to take operators up to the rack with or without a load. The forks hold a load that is being added to, not being put away. Ideal for applications that require operators to be at the same level as the inventory, these forklifts help increase efficiency.

Learn to Operate All Types of Forklifts
The Occupational Health and Safety Administration requires all forklift operators to be fully trained and certified before they begin using any type of forklift. If you oversee forklift operators, it's important you see to their certifications personally. Fail to certify your employees and you could face expensive OSHA fines and penalties. The risk of workplace accidents and injuries also go up when you fail to properly train your workers.
CertifyMe.net offers a range of convenient online training courses for new and experienced forklift operators alike. If you're hoping to get your workforce certified, we can help. Learners can train online with our forklift operator training courses. Bring training in house with our Train the Trainer course. Either option helps bring you closer to OSHA compliance. No matter which type of forklift you aim to master, allow CertifyMe to guide you through industry best practices Reach out today for guidance on which training courses are necessary for certification – our OSHA experts can point you in the right direction. CertifyMe.net has the resources you need. To learn more, reach out online or give us a call at 1-888-699-4800.
Welcome to CertifyMe.net
CertifyMe.net has offered online forklift certification since 1999. With Our Convenient online program. your employess can earn their certification in an hour or less.
Browse Online Certifications:
This low-cost program can be compeleted anytime, anywhere!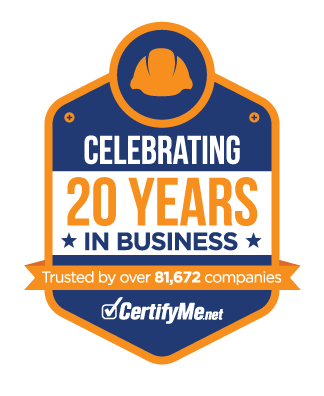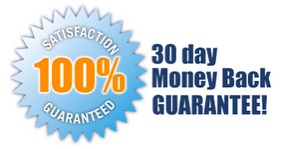 Connect with Us


Get Started Now By Registering Your Company For Free!
FREE 3 Year Renewals
Instant Access 24/7
Print Your Proof of Training
OSHA Accepted Nationwide
*If you are an individual not currently employed by a company use your personal name in
the 'Company Name' field.