Limited Time Offer! Free Covid-19 safety course with purchase of any Forklift or Aerial Lift Certification!
Access your free Covid-19 safety course in your members area once you have completed your purchase.

How to Get Forklift Certified: It's Easy with CertifyMe.net!
Learn How to Get Osha Compliant Forklift Certification The Easy And Affordable Way With Our 1 Hour Online Training
Certify Your Employees to Operate a Forklift Today!
Are you a manager, supervisor or foreman who needs to get your operators forklift certified?
✓ You can have them certified in 1 HOUR with CertifyMe's online Forklift Training and Certification Program.
✓ This program is 100% OSHA-compliant. It provides all the training your employees need to safely operate up to 7 classes of powered industrial trucks per OSHA standards.
✓ On completion, you (or your employees) can instantly print their forklift licenses and operator cards. Hard copies, including laminated wallet cards, arrive by mail in about a week.

How to Get a Forklift License
You may have already asked the question: Where can I get forklift certified? CertifyMe.net makes it easy to ensure your employees are OSHA complaint. We have a proven, preferred 5-step process to get all of your workers trained with the latest OSHA safety guidelines! Before starting your forklift operator certification, properly assess your company's training needs. CertifyMe.net offers training for all kinds of lifts: pallet jacks, stand-up forklifts, rough terrain, and all other types of powered industrial trucks! Forklift operator certification at CertifyMe.net includes:
2. Operator registration
3. Student login
4. One-hour online curriculum and test
5. Print training credentials
And that's it! If you're not sure how to get forklift certified, start right here at CertifyMe.net!
Why Trust CertifyMe.net?
✓ No-travel online training saves time and money compared to in-person training
✓ Certifies your forklift operators in one day
✓ Instantly print proof of certification
✓ Available for 3 types (and 7 classes) of forklifts. Save money by using only what you need.
✓ Available in English and Spanish
✓ Trusted by 28,032+ companies (no OSHA violations on our tab)
✓ FREE 3-Year Renewals for Life: we'll email you when it's time for each employees' free renewal
✓ 100% Money-Back Guarantee on all training — no questions asked
One of the most common questions we receive is, where can I get forklift certified? The answer is simple: CertifyMe.net, the leader in online forklift training and certification.
How Long Does it Take to Get Forklift Certified? The 2 Phases of Forklift License Training
OSHA regulations require two phases of training to become forklift certified: classroom-style training and a hands-on evaluation. And our forklift operator certification doesn't take that long; our training usually take a few days at the most, and operators can print their operator cards once they're done!
Our forklift operator certification features:
✓ The classroom-style training is 100% online (and still OSHA-compliant).
✓ This gives your workers the convenience of learning and passing the test from their phones, a tablet or computer. And it saves your company money because there's no travel and no time away from work.
✓ Once the training is complete, a hands-on skills evaluation takes place. And after a successful evaluation, you can print the certification cards immediately – no waiting around for cards to arrive in the mail.
Here are the 2 phases of forklift certification:
Phase 1: Online Forklift Training and Test
From any internet-connected device, your employees simply take the forklift training program followed by a short test – each online. They WILL pass because they can correct any wrong answers during the test. This portion takes about one hour.
Phase 2: Hands-on Employer Evaluation
After the test, there's a printable operator checklist and evaluation form to conduct the evaluation.
According to OSHA, "Hands-on evaluation by an employer may be conducted by any individual with the experience, training and knowledge to train and evaluate forklift operators and assess their competence."
In other words, no special certification is required to conduct the evaluation. Any qualified employee can do it.
With the CertifyMe Online Forklift Training and Certification Program, your operators can easily and affordably get certified in an afternoon. If you're not sure how to get forklift certified or have questions about how long does it take to get forklift certification, CertifyMe.net is here to help!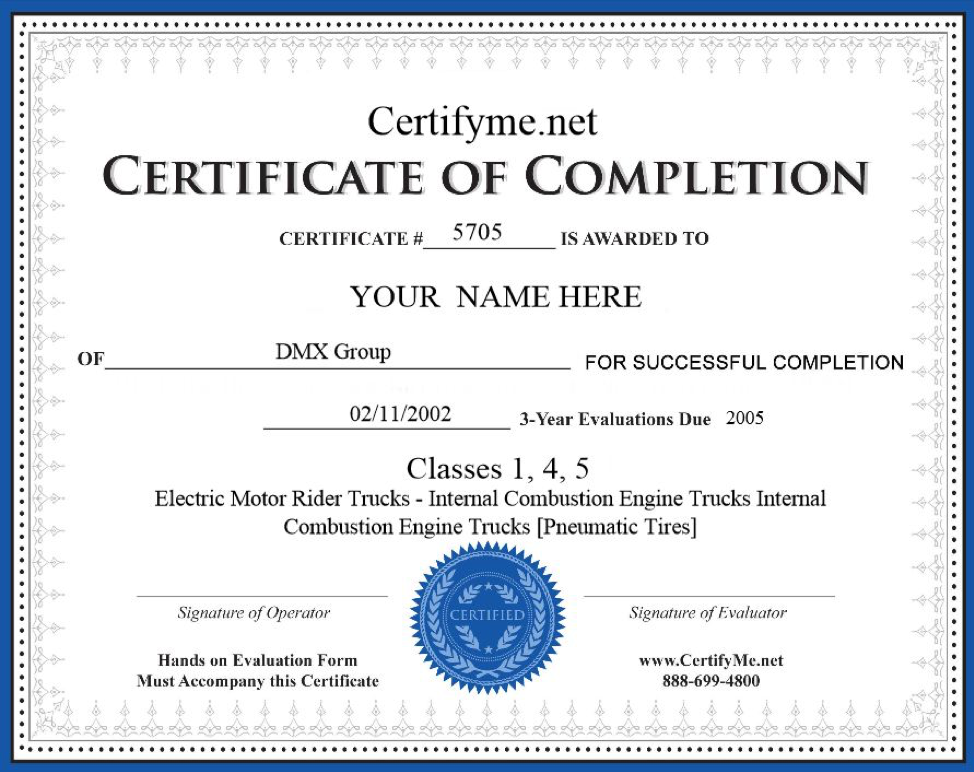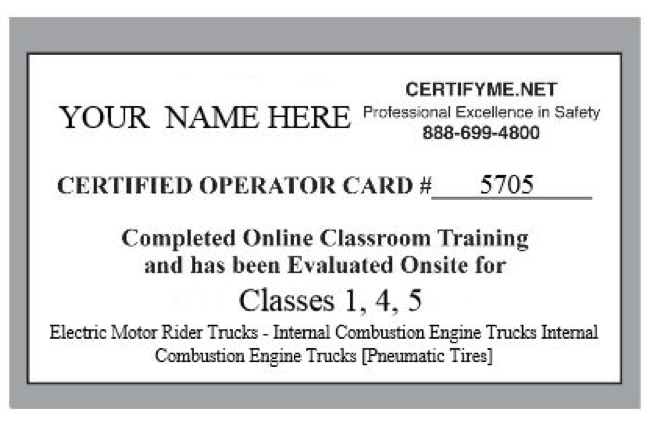 Can You Get Forklift Operator Certification Online?
Yes – that's our specialty at CertifyMe.net! According to OSHA, only properly trained employees can operate forklifts. After our online training and hands-on evaluation, your employees are considered OSHA compliant and can legally drive any type of forklift!
The Right Forklift Class for Each Employee
CertifyMe offers 3 forklift training programs, one for each of the 3 types of forklifts.
Simply choose the program that's right for each of your operators. Best of all, if you're not exactly sure where to get forklift certified, no worries – all of our courses are online!
Warehouse Forklifts
✓ Class 1: Electric Motor Rider Trucks
✓ Class 4: Internal Combustion Engine Trucks
✓Class 5: Pneumatic Tire Internal Combustion Engine Trucks
Pallet Jacks and Order Pickers
✓ Class 2: Electric Motor Narrow Aisle Trucks
✓ Class 3: Electric Motor Hand or Hand/Rider Trucks
Rough Terrain Forklifts
✓ Class 7: Electric and Internal Combustion Engine Tractors
These separate training programs are designed to save your employees time and save your company money.
The Importance of OSHA Compliance: Staying Safe with Forklift Training from CertifyMe.net
OSHA's purpose is to keep employees safe and provide comprehensive forklift operator certification. To carry out that purpose, OSHA keeps a close eye on employers to be sure they follow its safety regulations. Violations can vary from $3,000 to $30,000 per unlicensed forklift operator.
Forklift certification is all about safety – and there's nothing more important than the safety & well-being of your workers! If you want to know how to get forklift certified, you're in the right place! CertifyMe.net has the training courses you need to keep your employees safe, and also avoid crippling OSHA fines and penalties!
CertifyMe.net shows you how to get a forklift license. Simply sign up and register today and get started. Our program is affordable, convenient, and easy to follow!
Stay Safe – Prevent Injuries, Death and Lawsuits
Forklift certification is a tiny investment that protects your employees and your company. The training ensures your employees know how to safely operate their equipment, which results in several benefits:
✓ Keeps employees safer from injury or death
✓ Prevents accidents that can destroy inventory
✓ Prevents costly OSHA fines
✓ Reduces the risk of lawsuits
Those are just a few reasons why companies trust CertifyMe.net – we'll show you how to get forklift certified!
FAQs: How Long Does it Take to Get Forklift Certified and More!
If you're not sure where to get forklift certified, or your company needs immediate help with compliance and safety, here are some of the most common queries we receive:
Q: Do I need forklift safety training and forklift operator certification?
A: Yes, it's required by OSHA.
Q: How long does it take to get forklift certified?
A: With some training companies, it could take days or weeks. With CertifyMe.net, any employee can become certified in one day or less (typically just one hour), depending on how much free time they have.
Q: Where can I get forklift certified – does CertifyMe.net have a home office?
A: Since our training is online based, your workers can complete their training anywhere there's a reliable internet connection.
Q: What's all involved with OSHA compliant forklift training?
A: We provide training materials, and your forklift operators take a written test. Afterwards, you'll perform a skills evaluation to see how much they've learned. Afterwards, they'll receive their forklift license!
Q: Is it OK to have an untrained employee to a quick, one-time forklift maneuver?
A: No. All forklift operators must be trained and certified. With CertifyMe.net, we give you the control, so you always know who is qualified to operate powered industrial trucks.

Not Sure Where to Get Forklift Certified? Sign up with CertifyMe.net Today!
CertifyMe.net is the answer to the question, Where can I get forklift certified? Click here to review our courses and pricing. To speak with our OSHA safety experts about how to get forklift certified, please call 1-888-699-4800.
Or, get started today and enjoy the peace of mind – and complete compliance – that comes with our forklift training! We look forward to helping with your forklift certification today! If you're not sure how to get a forklift license, let CertifyMe.net handle everything for your company! Register your company to handle all of your forklift operator certifications!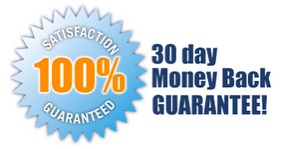 5 EASY STEPS!
Follow step-by-step instructions to get OSHA compliant!
This low-cost program can be completed anytime, anywhere!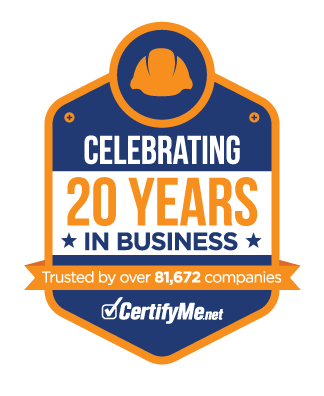 Get Started Now By Registering Your Company For Free!
FREE 3 Year Renewals
Instant Access 24/7
Print Your Proof of Training
OSHA Accepted Nationwide
*If you are an individual not currently employed by a company use your personal name in
the 'Company Name' field.