Limited Time Offer! Free Covid-19 safety course with purchase of any Forklift or Aerial Lift Certification!
Access your free Covid-19 safety course in your members area once you have completed your purchase.

Why Order Picker Training Matters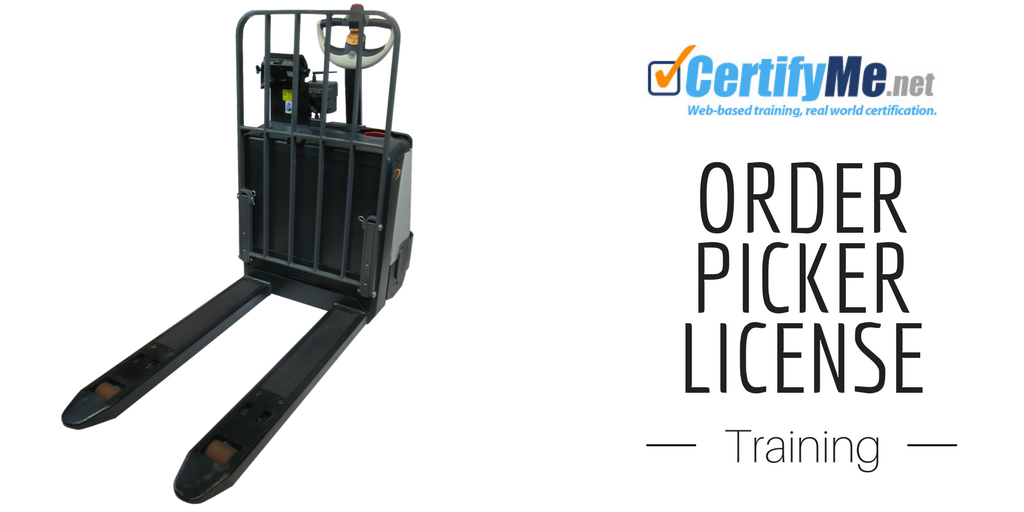 Order pickers are the backbone of successful order fulfillment operations. If you've ordered something online this year, odds are good the product was selected by a professional order picker. This profession is indeed one of the most common careers in the forklift industry. Many people don't realize this job exists, nor do they know what order picker training is required.
Your employees need an order pick license to operate any type of pallet jack or order picker, and CertifyMe.net can help them become OSHA compliant with our Pallet Jacks and Order Pickers training!

What is an Order Picker?
Just what is an order picker, anyway? Order pickers do exactly what their name implies – they "pick" orders in a warehouse for stores, other distribution centers, retail centers, and more. Typically, order pickers are given a list of products to retrieve from a warehouse. Once this itemized list of goods (for example, a grocery order for a local store) is collected – usually on a motorized pallet jack – the order picker gets the pallet(s) ready for loading onto a truck. 
This involves driving the pallet jack throughout the warehouse, collecting different products on the order sheet, and safely getting out of the warehouse to load the orders onto a truck or other shipping vehicle. Some order pickers actually load their pallets into trucks. While not an inherently dangerous job, professionals need order picker training to help avoid accidents and injuries at work.
Order Picker Working Conditions
The types of conditions that order pickers work in are as varied as the different types of warehouses or distribution centers. Some order pickers are in a climate-controlled environment, while others work in sub-freezing temperatures. Weathering warehouse conditions often boils down to wearing the right clothing to work. Performing order picking duties should be relatively comfortable. Because the pallet jack does the heavy lifting, workers aren't subjected to the same wear and tear that they once were. So long as you earn your order picker certification and learn the proper way to perform your duties, you may enjoy a long, healthy career in this field.
Order Picker Forklift Training Requirements
To obtain an order picker license, you need to pass OSHA's minimum safety training requirements, which fall under their Powered Industrial Truck safety guidelines. According to OSHA regulation 29 CFR 1910.178(l)(3)(ii), their overall safety rules for operating powered industrial trucks help improve order picker forklift safety. Many factors impact an order picker's workplace setting, including:
Surface conditions – since many order pickers work in sub-zero conditions, workers must deal with occasional ice and other tricky (read: slippery) situations.
People traffic – knowing how to avoid pedestrians in a warehouse or similar setting is crucial for safe order picker duties.
Load handling – from pallet jacks to forklifts, an order picker must know the proper way to handle a variety of front and rear-facing cargo loads.
Exiting and entering warehouse. Order pickers and pallet jack operators are constantly entering and exiting their work area. OSHA's order picker safety rules help explain some different safety concepts regarding this part of the job.
And that's just the beginning of an order picker's training. Order picker forklift safety is just as important as regular forklift rules and regulations. OSHA has identified other key areas to account for, and only the best training can catch everything. If you want to achieve your order picker license and give yourself a great chance to secure employment, CertifyMe knows all the important OSHA safety legislation – and it's included in our forklift training and certification. Once you have your order picker forklift safety training, you're well on your way to becoming the best pallet jack operator and order picker you can be!
Benefits of Our Order Picker Training Courses
With CertifyMe.net, you'll have a proven training expert in all things related to OSHA compliance. Here are some advantages of our order picker forklift training courses:
Affordable prices. For just $59.95, you'll have a complete, OSHA compliant course.

Anytime convenience. Your order picker lift operators complete the courses anywhere, anytime, thanks to our convenient online format.

Complete compliance. Our order picker training classes meet all OSHA compliance requirements.

Free three year renewals. That's right – whenever your order picker lift operators need retrained, CertifyMe.net has the required paperwork to ensure their licenses are updated and ready to go!
What's at Stake with Order Picker Training
OSHA requires all order pickers to get fully trained and certified before they begin using pallet jacks. Without proper training, workers may hurt themselves or slow down productivity. Learning to use pallet jacks is a relatively straightforward process, but without formal order picker training in place, businesses may face expensive fines and penalties. That's why so many companies opt to partner with CertifyMe.net for their order picker license needs. Get certified online or bring training in house with our convenient Train the Trainer course. 
Order Picker FAQs
Are you considering a job as an order picker? Here are the answers to a few frequently asked questions about the job and earning your order picker certification:
Is an Order Picker License Necessary?
Order picker training is essential. OSHA requires all workers using pallet jacks to be officially certified before they use such machinery. Training can also teach you how to work more efficiently, boosting your rate of productivity.
Does Order Picking Require A Lot of Strength?
Working in a warehouse typically demands a bit of strength – you may be asked if you can lift at least 50 pounds during the application process. Once on the job, though, you'll be delighted at how useful pallet jacks can be. These forklifts take much of the hard work out of the job. 
What Skills Do I Need to Become an Order Picker?
If you're an organized person, odds are good that you're a natural at order picking. The job requires you to put together orders and keep tabs on inventory. Order picker training can help you prepare for the demands of this job.

Start Your Order Picker Training Today
If you're ready to start a new career as an order picker, begin your order picker training today! Our convenient online training makes it easy to learn new skills from the comfort of home. We'll help you earn your order picker license and re-certify for free every three years. With a great selection of powered industrial truck OSHA training courses, we can help you and your co-workers become compliant today. For more information on order picker trucks and order picker forklift training, please call us at 1-888-699-4800 or contact us online.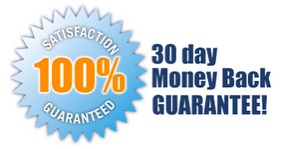 5 EASY STEPS!
Follow step-by-step instructions to get OSHA compliant!
This low-cost program can be completed anytime, anywhere!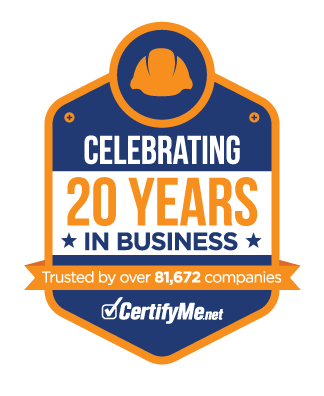 Get Started Now By Registering Your Company For Free!
FREE 3 Year Renewals
Instant Access 24/7
Print Your Proof of Training
OSHA Accepted Nationwide
*If you are an individual not currently employed by a company use your personal name in
the 'Company Name' field.