How to Keep a Warehouse Cool During Hot Weather | Infographic
Posted by: admin on July 12, 2018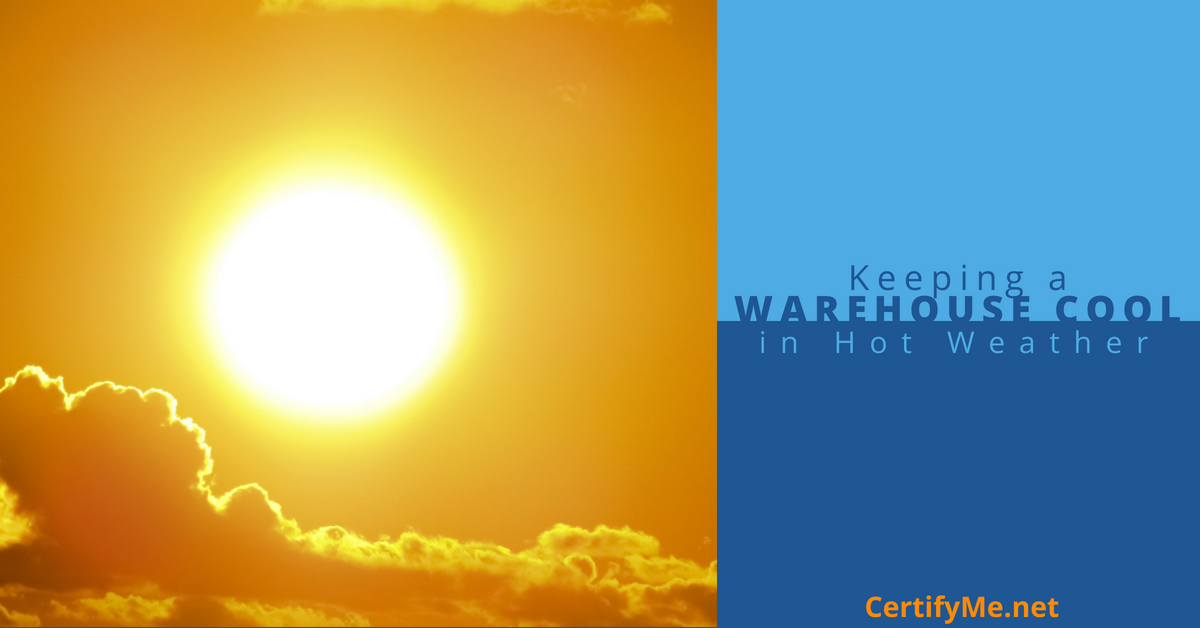 Most warehouses aren't air-conditioned, due largely to the cost of cooling big, high-ceilinged areas. Rays beating down on a warehouse roof during long summer days when the sun is at its most intense can make it unbearably hot inside. It can also be dangerous. Extreme heat can cause fatigue and heat exhaustion. In some cases, this can result in life-threatening heat stroke.
Heat can also affect worker morale and productivity. It's important to take steps to lower the temperature as much as possible during the dog days of summer. Here are some tips to make warehouses more productive, comfortable, and safer places to work during hot weather:

Click image to enlarge
Share this Image On Your Site
Fans. Installing High volume/low speed (HVLS) overhead ceiling fans will keep the air moving. They're a good for cooling large areas. Some HVLS fans are as large as 24 feet in diameter, and can keep the air circulating over more than 20,000 square feet of space. HVLS fans can lower temperatures by 7°F or more. Small, portable fans will help cool down workers in areas such as assembly lines or packing stations.
Insulation. Insulating a building's ceiling and outer walls will keep cooler, nighttime air from escaping during the day. Insulation will help year-round since it also keeps heat in during cold winter days. Other benefits of insulation include added fire protection and keeping noise levels down.
Portable Air Conditioners. Use small air conditioners to cool down workers in areas where they're needed the most, such as near heat-generating machinery. They cost less to operate and are more efficient than air conditioning an entire building. Portable A/C units can be either rented or bought.
Dehumidifiers. In warm, humid climates, dehumidifiers will take moisture out of the air, and make it feel cooler and more comfortable. Dehumidifiers aren't recommended for use in hot, dry climates since they will have the opposite effect.
Truck Shelters. Truck shelters are used in shipping & receiving areas to create a seal between the warehouse wall and the back of the truck. They help keep the hot air outside on summer days and hold the heat in during the winter. Make sure overhead loading dock doors are also properly sealed.
Vinyl Strip Curtains. Strip curtains on entry doors and overhead dock doors can help keep out hot air, while letting people and products pass through. Clear vinyl strip curtains can also be used inside the warehouse to help keep heat from moving between different areas.
Re-roof. When it's time to replace the roof on your building, look into having a "cool" roof installed. Temperatures on ordinary roofs can reach 190°F or more on hot summer days. A lot of this heat will be transferred through the roof and into the warehouse. Because cool roofs are light colored, much of the heat will be reflected rather than absorbed. Although re-roofing is expensive, cool roofs can save money in the long run. They'll both reduce energy costs and outlast standard roofs.
Tips for Working in a Hot Warehouse
Workers are happier and more productive when they're comfortable. That's why it's important to take measures to keep the warehouse as cool as possible during the summer months. It's not just comfort. Excessive heat can be dangerous. It can affect the health and safety of warehouse workers. High temperatures and humidity can lead to heat exhaustion, leaving some employees unable to work. This hurts not only the employee but also productivity.
It's important for employees to know the symptoms of heat exhaustion. Heat can make workers less alert and possibly cause fainting, which is dangerous in a warehouse setting. Signs of heat exhaustion include confusion, reddish skin, fever, and nausea. Other symptoms are weakness, dizziness, vomiting, and heavy sweating.
Workers also need to know ways to avoid heat exhaustion. These include drinking plenty of water and wearing loose-fitting, light-colored clothing. Be sure there's enough water kept nearby. It's important that employees are given enough break time to cool down during hot weather. It's also important that medical supplies are on hand to treat workers who faint or show other signs of heat exhaustion or heat stroke. If there are symptoms such as shock, convulsions or loss of consciousness, get immediate medical attention.
Avoiding Heat-Related Hazards in a Warehouse
OSHA doesn't have specific regulations that cover working in hot surroundings. They do, however, require employers to maintain a workplace free from hazards that can cause physical harm or death. This includes hazardous heat-related activities and conditions.
OSHA requires employers to keep records of serious injuries or incidents in the workplace. This includes heat stroke and other heat-related issues if treatment beyond basic first aid is needed.
CertifyMe.net is the leading online forklift certification specialist. Since 1999, we've trained thousands of clients. CM also provides safety training online. Our courses are fast, convenient, and affordable. All materials are available online 24/7. Courses can be taken at your convenience using a digital device. Training can be completed at any time and anywhere there's an Internet connection available. To learn more about our OSHA-approved training, call one of our Safety Representatives at 888-699-4800 or contact us online today.
Learn More About Staying Cool in a Warehouse
Whether you're an employer or employee, it's important to know what steps to take to remain safe, cool and comfortable during the hot summer months. In this post, you'll find what you need to know to help avoid heat-related issues in the workplace and possible OSHA fines. Click here to read the entire blog. You'll learn more about the dangers of working in the summer heat and who's most at risk. You'll also find out how to recognize the symptoms and the steps to take to avoid heat exhaustion or heat stroke.
Visit this page to learn about CertifyMe.net's online heat stress training course. Topics covered include how to avoid heat-related incidents in the workplace, along with the actions to take if they do occur. As with all CertifyMe.net's online training courses, the instruction can be completed in as little as one hour using a smartphone, tablet, PC or laptop. CM training and certification is also convenient and affordable. What's more, the three-year recertifications OSHA requires are free for life. To read more about CertifyMe.net's online heat stress training, click here.
5 EASY STEPS!
Follow step-by-step instructions to get OSHA compliant!
This low-cost program can be completed anytime, anywhere!



Get Started Now By Registering Your Company For Free!
FREE 3 Year Renewals
Instant Access 24/7
Print Your Proof of Training
OSHA Accepted Nationwide
*If you are an individual not currently employed by a company use your personal name in
the 'Company Name' field.