Limited Time Offer! Free Covid-19 safety course with purchase of any Forklift or Aerial Lift Certification!
Access your free Covid-19 safety course in your members area once you have completed your purchase.

Tips for a Cool Warehouse in Summer | Infographic
Posted by: admin on August 1, 2022
Let's face it — most warehouse employees do not like to work in extreme heat. But if you've ever worked in a warehouse, you know that extreme heat is sometimes unavoidable. As the employer, it is your job to protect your workers, your products and materials, from the effects of high temperatures. A cool warehouse can make for a safer work environment for everyone. Of course, achieving a cool space is often harder than we expect.
Extreme heat can cause fatigue and heat exhaustion. When workers feel tired, they can lose focus on the task at hand and make mistakes that lead to accidents and injuries. Additionally, heat exhaustion can sometimes result in heatstroke, which is life-threatening. It can also affect worker morale and productivity. If you're searching for warehouse cooling tips, the following infographic can shed some light on your options:

Click image to enlarge
Share this Image On Your Site
Tips for a Cool Warehouse 
Understanding the unique layout and design of your warehouse is the first step towards a cooler environment. Even the slightest of adjustments can have a big impact on your workplace. Try these warehouse cooling solutions the next time your space becomes overwhelmingly hot:
1. Fans
Installing high volume/low speed (HVLS) overhead ceiling fans will keep air moving and is one of the best answers on how to cool a warehouse in summer. Some HVLS fans are as large as 24 ft. in diameter, and they can keep the air circulating over more than 20,000 square feet of space. HVLS fans can also lower temperatures by 7°F or more. Small, portable fans will help cool down workers in areas such as assembly lines or packing stations as well. A cool warehouse may just be one fan away!
2. Insulation
Insulating a warehouse's ceiling and outer walls will keep cool, nighttime air from escaping during the day. Insulation will help year-round since it also keeps heat in during cold winter days. Other benefits of insulation include added fire protection and keeping noise levels down.
3. Portable Air Conditioners
Knowing how to cool down a warehouse often boils down to smart use of technology. Use portable air conditioners to cool down workers in areas where they're needed the most, such as near heat-generating machinery. Portable air conditioners cost less to operate and are more efficient than air conditioning designed to cool down an entire building. They can also be rented or purchased.
4. Dehumidifiers
In warm, humid climates, dehumidifiers remove moisture from the air and make it feel cool and comfortable. Dehumidifiers aren't recommended for use in hot, dry climates; in these climates, dehumidifiers may make air feel hot and humid.
5. Truck Shelters
Truck shelters are used in shipping and receiving areas, and they enable workers to create a seal between a warehouse wall and the back of a truck. These shelters help keep hot air outside on summer days and hold heat inside during winter. When using truck shelters, ensure overhead loading dock doors are properly sealed. Warehouse cooling solutions don't have to reinvent the wheel. Just providing a bit of shade and insulation can make all the difference.
6. Vinyl Strip Curtains
Strip curtains on entry doors and overhead dock doors can help keep out hot air while letting people and products pass through. Clear vinyl strip curtains can also be used inside a warehouse to help keep heat from moving between different areas.
7. Roof
When it's time to replace your warehouse's roof, check out "cool" roof options. Traditional roof temperatures can reach 190°F or more on hot summer days, and much of this heat will move from the roof to the warehouse. On the other hand, a cool roof is light-colored, so heat can be reflected away from your cool warehouse. Keep in mind that even though re-roofing is expensive, it can save you money in the long run. In fact, a cool roof may help you reduce your energy costs, and it may last longer than a standard roof.
8. Install Screen Doors
One option you might not think of is to have screen doors installed in your warehouse. Just like with a home, these doors allow air to flow through while keeping other things or people out. If your business is in an industry that requires a secure warehouse, leaving a door open may not be an option. Screen doors can offer an alternative while meeting regulations.
9. Protect Cold Storage
Another consideration for how to cool a warehouse without AC is protecting any cold storage you have on-site. Whether you have refrigerated products or use refrigeration for materials, you need to ensure that a power outage doesn't cause the refrigeration system to fail and lose your products. Regular maintenance is critical for these components. You may also want to ensure you have enough backup generators to keep this area operating in a power outage.
10. Monitor Warehouse Supplies
Monitor all warehouse supplies and materials to ensure they can withstand high temperatures and humidity. If your warehouse regularly reaches extreme temperatures in the summer above what certain products or supplies are guaranteed for, you may find they are defective. Supplies and materials stored at temperatures above what is recommended could cause your products to fail. You'll either need to find a way to keep them in a cool warehouse or store them elsewhere.
Anytime your warehouse is providing storage for any items with a maximum temperature, you may want to consider installing an alarm system. The alarm can sound if the area reaches a temperature above what you designate as safe. This allows you to implement emergency procedures to protect your workers, materials, products, and your business.
Warehouse Cooling Options for Small, Large Spaces
A cool warehouse is possible, but your strategy for bringing down the temperatures depends largely on the size of your space. Start by determining whether the entire warehouse needs cooling or if just a certain section needs to be cooled. Since you may need to rent or lease a cooling system, do some research on your space and exact needs. 
Tips for Small Areas
Small warehouse areas of 5,000 sq. ft. or less are often much easier to cool off than larger spaces. A small warehouse cooling unit may be enough to bring down the temperature in such a setting. Spot coolers and portable evaporative coolers, also known as PECs, can usually get the job done quite effectively. 
Spot coolers are powerful tools that work well in spaces ranging from 200 sq. ft. to 2,000 sq. ft. Simply plug them into an outlet and vent the exhaust through a window. A drop ceiling away from the cooling area can also help with ventilation. 
PECs, on the other hand, work well in spaces ranging from 1,000 sq. ft. to 5,000 sq. ft. They need both electricity and tap water to perform, but can reduce temperate by as much as 20 degrees. These warehouse cooling solutions are a must for small spaces.
Tips for Large Areas
Working in a space with more than 5,000 sq. ft.? You'll want to explore warehouse cooling solutions like air conditioners and swamp coolers. 
A swamp cooler works well in areas that range from 1,000 sq. ft. to 5,000 sq. ft. It can lower temperatures by up to 20°F, even in an outdoor space.
For areas larger than 5,000 sq. ft., combining two or more swamp coolers can bring the temperature down. Swamp coolers are energy-efficient, too.
Trailer-mounted air conditioning units also tend to work well for cooling large spaces. These warehouse cooling systems are set up outdoors and provide indoor cooling through 20-in. ducts. They come in three sizes: 5, 10, and 25 tons. These units can be stacked on top of each other to cool large areas, and they have their own internal electric systems to prevent power surges. Furthermore, trailer-mounted air conditioning units can be installed on a temporary or permanent basis
Why Warehouse Cooling Matters
Warehouse workers are happier and more productive when they're comfortable — that's why it's important to maintain a cool warehouse during hot weather. While you're waiting for your space to cool down, it's important to keep an eye out for signs of extreme heat. 
All warehouse workers should be able to identify the symptoms of heat exhaustion. Signs to look for include confusion, red skin, fever, and nausea. Also, workers should watch for weakness, dizziness, vomiting, and heavy sweating.
To avoid heat exhaustion, ensure workers drink plenty of water and wear loose-fitting, light-colored clothing. Give workers enough break time to cool down during hot weather as well. Keep medical supplies on hand to treat workers who show signs of heat exhaustion or heat stroke. If workers go into shock, have convulsions, or pass out, call for medical help right away.
Safety training can have far-flung effects on warehouse workers, particularly when it comes to mitigating the effects of heat exhaustion and heat stroke. Workers who know the warning signs of heat exhaustion and heat stroke can quickly identify the warning signs of either condition in themselves or others. Plus, these workers may be able to provide tips and recommendations to help keep a cool warehouse and limit the impact of extreme heat in their work environments.

The Connection Between Safety and a Cool Warehouse
When workers are provided with a cool warehouse in which to work, they'll be more focused on the task at hand. Overheated employees may lose concentration and become lax on safety requirements. While the aforementioned warehouse cooling solutions are a great place to start, it's equally as important to train workers to employ safety best practices no matter the setting. 
CertifyMe.net is a leading provider of workplace safety training programs for forklift operators and other warehouse employees. We offer extensive forklift safety training courses that teach workers the ins and outs of OSHA compliance, as well as provide employees with the insights they need to mitigate workplace safety dangers. To learn more about our course offerings or to sign up one of our courses, please contact us online or call us today at 1-888-699-4800.
Welcome to CertifyMe.net
CertifyMe.net has offered online forklift certification since 1999. With Our Convenient online program. your employess can earn their certification in an hour or less.
Browse Online Certifications:
This low-cost program can be compeleted anytime, anywhere!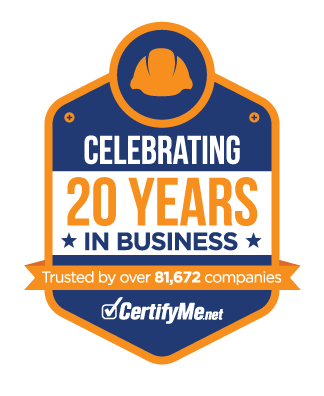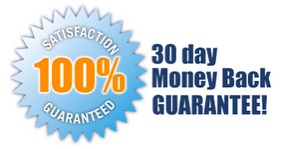 Connect with Us


Get Started Now By Registering Your Company For Free!
FREE 3 Year Renewals
Instant Access 24/7
Print Your Proof of Training
OSHA Accepted Nationwide
*If you are an individual not currently employed by a company use your personal name in
the 'Company Name' field.