Limited Time Offer! Free Covid-19 safety course with purchase of any Forklift or Aerial Lift Certification!
Access your free Covid-19 safety course in your members area once you have completed your purchase.

HAZWOPER Certification and Training
Safe Employers Prevent Accidents With Our 100% OSHA Compliant Online HAZWOPER Certification Course!
Don't waste time and money sending employees off-site for training when they can learn online on their own time with this OSHA Compliant  Hazwoper Course!
Upon successful completion of this online Hazwoper Training and Certification, you will receive an IMMEDIATE certificate of completion which is accepted by OSHA as documentation of training.

Who is this Hazwoper Training Course for?
Our online certification is designed for general site workers engaged in hazardous substance removal or other activities which expose or potentially expose workers to hazardous substances or waste. This HAZWOPER course covers all material required under 29 CFR 1910.120(e)(3) of OSHA's Hazardous Waste and Emergency Response Standard.
If you or your employees are in any way in contact with or responsible for:
✓  hazardous waste clean-up operations
✓  emergency response operations
✓  voluntary clean-up operations
✓  storage, disposal, or treatment of hazardous substances
✓  uncontrolled hazardous waste sites
…then this OSHA Compliant HAZWOPER Course is for YOU! Register here NOW.
Pricing for HAZWOPER Certification
Our top of the line OSHA compliant Online Hazwoper Trainings are currently on sale for:
✓ 40-Hour – $199
✓ 24-Hour – $149
✓ 16-Hour – $114
✓ 8-Hour – $75
For more information about these courses, call our training consultants directly at 888-699-4800 or email sales@certifyme.net
To get started, begin by creating your online training account with us here:
HAZWOPER Certification Course Overview:
The online learning modules are designed to meet the requirements of OSHA regulations 29 CFR 1910.120(e)(3) of OSHA's Hazardous Waste and Emergency Response Standard. Our user-friendly, easy to use online HAZWOPER certification is 27 sections streamlined and straightforward in a way that makes understanding the material SIMPLE and EASY for anyone! The Hazwoper training course includes:
Course Welcome
Overview of the OSHA Hazwoper Statute
Requirements of the Hazwoper Training
Organizational Structure Part of the Site Program
Comprehensive Work plan
Site-Specific Safety and Health Plan (Part 1)
Site-Specific Safety and Health Plan (Part 2) Personal Protective Equipment
Site Safety and Health Plan (Part 3) General Procedures
Site Safety and Health Plan (Part 4) Medical Surveillance
Hazardous Waste Site Inspection Plan Pre-Entry
Personal Protective Equipment (PPE) Requirements for Initial Hazardous Waste Site Entry
Monitoring Requirements For Initial Site Entry
Risk Identification Requirements
Employee Notification Requirements
Site Control Requirements
Training Requirements
Medical Surveillance Requirements
Engineering Controls, Work Practices and Personal Protective Equipment (PPE) for Employee Protection
Engineering Controls, Work Practices and PPE for Substances Not Regulated in Subparts G and Z
Monitoring Requirements
Monitoring Requirements for High-Risk Employees
Informational Programs
Handling Drums and Containers
Decontamination
Facilities Requirements
New Technology Programs
Emergency Response Program to Hazardous Substance Releases
Learn to protect yourself, protect others and enjoy a healthy and SAFE workplace…become HAZWOPER certified today!

Our 100% Happiness Guarantee
In the very unlikely event that this course does not meet your expectations and provide you the HIGHEST quality online HAZWOPER certification training available for any reason whatsoever, we'll refund you the full price. NO QUESTIONS ASKED. That's how confident we are that you'll be happy and satisfied with our OSHA compliant HAZWOPER Instruction!
HAZWOPER Certification Course FAQ's:
What is HAZWOPER?
The Hazardous Waste Operations and Emergency Response (HAZWOPER) standard is established by the U.S. Occupational Safety and Health Administration (OSHA). Also known as the HAZWOPER standard, this set of rules is the basis for HAZWOPER safety training. This type of specialized training is for any employee that is exposed (directly or indirectly) to any hazardous substances.
OSHA lists these types of activities into five different categories:
1. Any type of work involved with a 1976 guideline known as the Resource Conservation and Recovery Act (RCRA)
2. Emergency response activities where hazardous substances are present
3. Work for treatment, storage, and disposal facilities for hazardous material and substances
4. Voluntary operations and clean-u activity at any uncontrolled hazardous waste site
5. Clean-up work required by a local, state, or federal governing body at a recognized uncontrolled hazardous waste site (differs slightly from the last type of activity)
Is this course OSHA Compliant? 
Yes, this online HAZWOPER course was created by experts in online education and built around the most up to date OSHA requirements needed for becoming HAZWOPER certified. You can rest assured that EVERYTHING you need to know for OSHA compliant rules and regulations will be delivered in the most convenient and straightforward way possible.
Can I retake the test if I fail the first time? 
Students must receive a 70% score to pass the final exam. In the event that you do not pass the online HAZWOPER Certification you can retake as needed to meet the minimum score required for passing the final test and quizzes.
Do I get a certificate of completion? 
Upon successful completion of the course, you will get an immediate certificate you can print out and will also receive a laminated certification card within 5-7 business days, which is accepted by OSHA as proof of certification.
How Long is 40 Hour HAZWOPER Course Good For?
This training is valid for a period of three years, upon successful completion. All of our training, including OSHA 40 Hour HAZWOPER training, is good for three years. Remember, we also offer free lifetime renewals on our HAZWOPER training and other OSHA safety training modules. With our course, you'll get the upfront service you need, along with the lifetime support that only CertifyMe.net provides! We're your lifetime HAZWOPER training partner! If your company requires 40 Hour HAZWOPER training, look no further than CertifyMe.net.
Are there any prerequisites for this course?
There are no prerequisites for this online HAZWOPER course.
How long does this HAZWOPER certification last? 
Once an employee has received an initial 24 or 40-hour certification it is required that an 8-hour refresher course is taken after each 12 month period to remain current with OSHA regulations.
Where Can I Find HAZWOPER Training Near Me?
If any of your employees are involved with the aforementioned tasks and duties related to hazardous materials, HAZWOPER training is required – no questions asked!
The HAZWOPER 40-hour course is the most comprehensive type of OSHA hazmat training. Any forklift driver involved with a clean-up operation at uncontrolled hazardous waste sites requires HAZWOPER OSHA instruction. Once you've completed this course, you'll have the proper knowledge to handle any hazardous waste cleanup activity with forklifts. Most forklift drivers do not have HAZWOPER training – online, in class, or anywhere. Sign up with CertifyMe.net, and you'll have all the HAZWOPER certification requirements to successfully complete important cleanup projects!
How is the online HAZWOPER course delivered? 
Our online HAZWOPER course is 27 packed lessons delivered in our online training website at certifyme.net. This course was created by the instructional staff of Certifyme.net in connection with field professionals whose dedicated experience in practical theory and online learning technology makes your process of certification and training as streamlined, convenient, and cost-effective as possible. Start your online HAZWOPER Certification NOW
Why is HAZWOPER certification necessary?
According to OSHA guidelines 29 CFR 1910.120 and 29 CFR 1926.65, all employees involved with hazardous waste management – including forklift operators – are required to have up-to-date HAZWOPER training. Without 40-hour HAZWOPER training and OSHA HAZWOPER certification, your company is at risk for safety violations, accidents, injuries and more. Don't put off your safety training another day – sign up with CertifyMe.net today!
Who needs HAZWOPER certification? 
All of your forklift drivers involved with job site cleanup activities, industrial waste management, and other hazardous waste activities need HAZWOPER training. This isn't optional – it's mandatory, and OSHA checks to ensure companies are hiring properly trained personnel. Even if you only deal with hazardous waste activities a few days per year on the job, you need HAZWOPER certification!
How is your safety program benefited? 
For one, OSHA HAZWOPER training means that you'll avoid costly fines and penalties associated with not having the training. Plus, your safety program will have all of the HAZWOPER safety bases covered, at all times. And that's important because hazardous waste management rules and regulations are some of the most constantly reviewed and rapidly changing in the industry – meaning any industry!

HAZWOPER Online Training
CertifyMe.net offers HAZWOPER online training for your entire company. Instead of attending off-site seminars or other expensive training sessions, we provide everything you need to ensure OSHA HAZWOPER compliance.
Sign up with our HAZWOPER online training today, and ensure your company is 100% OSHA compliant!
What You'll Learn With our Online Training
With our HAZWOPER training, your workers will learn the following concepts:
✓ Hazardous waste site cleanup operations
✓ TSD (treatment, storage, and disposal) facility HAZWOPER operations
✓ How the Resource Conservation and Recovery Act (RCRA) impacts HAZWOPER activities
✓ General emergency response operations related to hazardous substances
✓ And much more
CertifyMe.net has the complete HAZWOPER training your company needs to stay safe on the job!
CertifyMe.net also offers an 8-hour HAZWOPER refresher course to make sure your certification is up to date and you continue to meet all HAZWOPER training requirements. Also check out our a HAZWOPER train the trainer course.
Our top of the line OSHA compliant Online Hazwoper Trainings are currently on sale for:
✓ 40-Hour – $199
✓ 24-Hour – $149
✓ 16-Hour – $114
✓ 8-Hour – $75
For your complete HAZWOPER training online, nobody beats CertifyMe.net. Check out our entire course selection and pricing to get started today!

HAZWOPER Training Online at CertifyMe.net
Where can you find all HAZWOPER requirements? How about HAZWOPER certification near me? OSHA's own HAZWOPER guidelines are a great resource, and CertifyMe.net takes care of all of your training needs with a convenient online course. If your company needs HAZWOPER training, look no further than CertifyMe.net. With free three year renewals, your training will never lapse with CertifyMe.net.
To get started with your HAZWOPER OSHA training today, check out our forklift training and certification page, or call our HAZWOPER certification consultants directly at 888-699-4800. CertifyMe.net looks forward to meeting all of your company's HAZWOPER certification needs!
Along with our HAZWOPER certification, CertifyMe.net has a complete assortment of affordable, accessible, OSHA compliant training courses for your entire forklift training needs. Check out our pricing and course offerings here! Thanks for considering CertifyMe.net for your HAZWOPER certification requirements.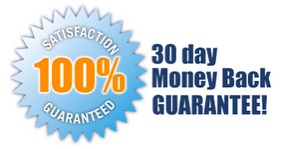 5 EASY STEPS!
Follow step-by-step instructions to get OSHA compliant!
This low-cost program can be completed anytime, anywhere!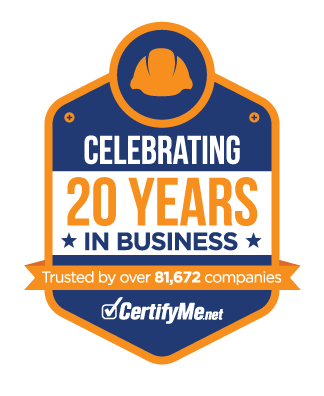 Get Started Now By Registering Your Company For Free!
FREE 3 Year Renewals
Instant Access 24/7
Print Your Proof of Training
OSHA Accepted Nationwide
*If you are an individual not currently employed by a company use your personal name in
the 'Company Name' field.