8 Hour HAZWOPER Refresher Training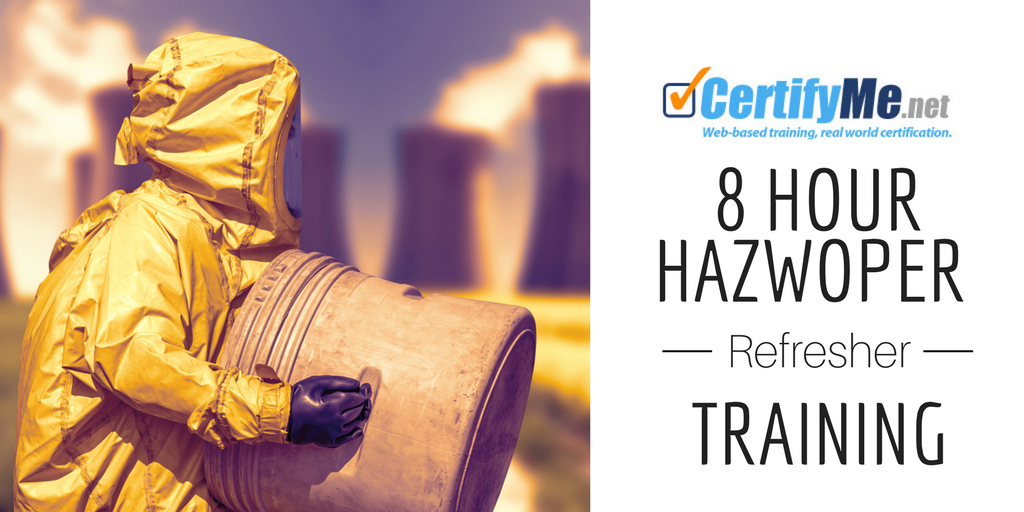 Getting hazardous materials from point A to point B is a lot harder than it sounds. Simply transporting or storing hazardous waste (or other chemicals) requires a specific type of training by the U.S. Occupational Safety and Health Administration (OSHA) called Hazardous Waste Operations and Emergency Response, or HAZWOPER for short. Upon receiving your HAZWOPER certification, refresher training may be necessary.
CertifyMe.net has the HAZWOPER training your company needs to become – and remain – OSHA compliant. What's more, we offer 8 hour HAZWOPER refresher testing, too!

The Importance of HAZWOPER Training and the 8 Hour HAZWOPER Refresher Test
HAZWOPER training is required by the OSHA for any worker – including forklift drivers – involved in the transport, storage or handling of hazardous materials. This training, which includes online HAZWOPER refresher courses, is the responsibility of employers. For example, clean-up operations require more in-depth instruction than other tasks. A forklift driver at a grocery store, meanwhile, may not require the level of detail required for other types of HAZWOPER training. Regardless of your specific HAZWOPER needs, CertifyMe.net has an 8 hour HAZWOPER refresher course that's ideal for all types of workers, including forklift drivers! With our 8 hour HAZWOPER refresher test, all of your employees will stay up-to-date and compliant.
If your employees require online HAZWOPER refresher training, it's your responsibility to provide this. With CertifyMe.net, all of your OSHA 8 hour refresher training is taken care of. Don't take chances with this critical OSHA training – sign up today for your HAZWOPER refresher instruction!

Companies that Required HAZWOPER Certification and 8 Hour HAZWOPER Refresher Test
Just some of the worksites that may require HAZWOPER training (including the 8 hour HAZWOPER refresher test, which we'll review in a minute) include:
Chemical processing plants. This category includes both plants and storage facilities. If your employees need updated training, HAZWOPER refresher training is a great idea. Entry-level HAZWOPER jobs are always in demand here!
Construction sites. Some building areas require the presence of hazardous materials, and these type of worksites need forklift drivers, industrial powered truck operators and other employees that have the latest HAZWOPER requirements. These construction sites include highway construction projects, residential improvements, industrial construction, and more! If you employ construction workers that use forklifts in these situations, sign up with online HAZWOPER refresher training today at CertifyMe.net!
Retail facilities. Big-box stores, outlets and other facilities typically keep chemicals on hand for cleanup, waste management and other activities. If your forklift drivers are involved with hazardous waste transport or storage, HAZWOPER training and refresher courses are mandatory. With our 8 hour HAZWOPER refresher online course, you'll make yourself more attractive in the eyes of employers, too!

Scientific testing.

 From large pharmaceutical companies to high school chemistry classes, chemicals are used in various educational, instructional, and research pursuits. It helps to have proper HAZWOPER credentials to properly store and manage chemicals. And with our 8 hour HAZWOPER refresher testing, you'll become OSHA complaint in an entry level HAZWOPER job in no time at all!
Industrial clean-up sites. Whenever there is an industrial accident, natural disaster (including fires, floods, hurricanes, etc.) and other unconventional circumstances, a particular site may be deemed a controlled or uncontrolled hazardous waste operation. HAZWOPER training is mandatory for any forklift driver (or other workers) involved in a clean-up effort. An 8 hour HAZWOPER refresher test ensures that any training is up-to-date and valid. Industrial clean-up work is often hazardous, so give your employees their OSHA 8 hour refresher training ASAP! CertifyMe.net helps with all of your HAZWOPER training needs.
Heavy duty equipment maintenance. The cleaning and refurbishment of large industrial equipment (including airplanes, cranes, steel mill machinery, heavy duty construction equipment, and more) sometimes requires chemicals for cleaning, painting, and other tasks. Many heavy duty equipment facilities require the storage and transport of chemicals – which makes our 8 hour online HAZWOPER training a great idea!
All of these sites require initial HAZWOPER training and 8 hour HAZWOPER refresher testing. CertifyMe.net offers all of this, plus any other forklift training you may need!
8 Hour HAZWOPER Training Refresher Training
Once your forklift drivers or other employees obtain their HAZWOPER training, OSHA demands regular refresher instruction. The 8 hour HAZWOPER refresher training is one of the most popular types of recertification.
Similar to our forklift refresher training, CertifyMe.net provides an online 8 hour HAZWOPER refresher training for anyone involved in the storage, transport, and handling of chemicals.
The OSHA HAZWOPER 8 hour refresher course is ideal for any forklift driver or other worker that needs to maintain their HAZWOPER credentials. Plus, an 8 hour HAZWOPER refresher course can help any employee working toward their 24 hour or 40 hour HAZWOPER training certification.
The 8 hour HAZWOPER refresher test includes many key safety concepts, including the proper way to remove hazardous waste and protect against exposure to different hazardous materials. Our HAZWOPER refresher meets all the requirements laid out in OSHA 29 CFR 1910.120.
Our HAZWOPER refresher course is designed with compliance in mind – all of our training material features easy-to-learn concepts, key safety issues, and other important concepts. Once you're done with our 8 hour HAZWOPER refresher test and training, you're cleared to handle and store all chemicals which fall under HAZWOPER requirements.
Call CertifyMe.net Today for 8 Hour HAZWOPER Refresher Tests!
Our OSHA-compliant coursework ensures that all of your industrial powered truck operators receive on-point, accurate, easy-to-digest safety training. What's more, our 8 hour HAZWOPER refresher course is compliant with the most recent OSHA legislation, so you don't have to worry about "bridging the gap" between the last round of legislation and today's changes to any OSHA laws.
For safety purposes, it's important to keep up to date with your HAZWOPER credentials. This includes the 8 hour HAZWOPER refresher test. Many companies rely on CertifyMe.net for their OSHA certifications. And now with our 8 hour HAZWOPER refresher course, you'll have everything you need for OSHA compliance – right here at CertifyMe.net!

Non-Compliance is Too Expensive – Sign up with CertifyMe.net for your 8 Hour HAZWOPER Refresher Test
We're your best option for everything related to OSHA 8 hour refresher training needs. All of our courses – online HAZWOPER refresher training, forklift safety instruction, and more – are developed by our in-house OSHA safety experts. We know what OSHA wants you to know – and that's the most important part of getting your employees the training they need to be productive and successful…and safe!
Call our HAZWOPER refresher training consultants today at 888-699-4800, or check out our training courses to get started today. We look forward to working with you for all HAZWOPER training classes!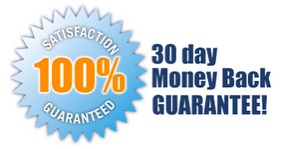 5 EASY STEPS!
Follow step-by-step instructions to get OSHA compliant!
This low-cost program can be completed anytime, anywhere!

Get Started Now By Registering Your Company For Free!
FREE 3 Year Renewals
Instant Access 24/7
Print Your Proof of Training
OSHA Accepted Nationwide
*If you are an individual not currently employed by a company use your personal name in
the 'Company Name' field.