Limited Time Offer! Free Covid-19 safety course with purchase of any Forklift or Aerial Lift Certification!
Access your free Covid-19 safety course in your members area once you have completed your purchase.

An In-Depth Look at Pallet Jack Certification
Need Pallet Jack Certification? (Updated 2021)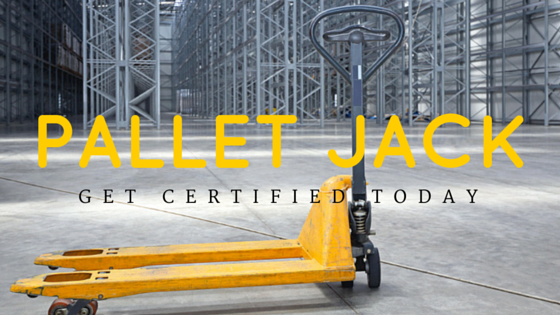 Do you need pallet jack certification? Does your company have any gaps with pallet jack certification training or electric pallet jack training? CertifyMe.net offers a wide variety of courses to handle all of your safety and compliance needs.
Since the U.S. Occupational Safety & Health Administration requires all employers to provide training, you might be wondering how you can receive this critical instruction without breaking your budget. We have the courses required to get your forklift operators trained and compliant!
With CertifyMe.net, you'll enjoy:
Online convenience. Your employees take their training courses whenever it's convenient!
Great prices. Why spend thousands on OSHA pallet jack certification training when CM has everything you need for a fraction of the price?
Lifetime support. Whatever you need, we're here to help. Your purchase of our pallet jack certification training and electric pallet jack training includes free renewal training as well!
Get your company registered and sign up today with CertifyMe.net!
What Is an Electric Pallet Jack?
Most pallet jacks are powered by electricity – specifically, with a rechargeable battery pack. Since pallet jacks are usually used indoors – warehouses, distribution centers, big box retailers, etc. – they're designed to have no gas emissions. If your company uses electric pallet jacks, you need to provide training and pallet jack certification for every driver.
How to Drive an Electric Pallet Jack
Pallet jack training requirements are met once workers fully understand the hazards associated with pallet trucks and how to recognize and avoid them. CertifyMe.net has all the electric pallet jack training requirements to ensure your workers know how to properly operate this type of powered industrial truck.
Here are the first steps for driving an electric pallet jack safely:
Know the pallet jack's maximum lifting capacity and do not exceed it.
Review the manufacturer's instructions and operator manual.
Perform an equipment inspection to make sure there are no broken, missing, or worn-out parts.
Get to know the electric pallet jack safety features.
Make sure your hands and feet are clean and dry, and that you aren't wearing any loose clothing that could get caught on something.
At this point, a worker is almost ready to use a pallet jack. As long as he or she has completed OSHA-compliant pallet jack training, this worker is good to go to safely operate their machine.
Tips for Operating a Pallet Jack
Safely operating a pallet jack requires a worker's full attention. Pallet jack certification training provides workers with insights they can use to focus on the task at hand. It also offers safety tips that workers can use every time they operate a pallet jack.
There are many things that pallet jack operators can do to minimize risk when they use their lift. These include:
Unplug the electric battery charger and stow the charging cord properly.
Make sure the forks are in the lowest position.
Grasp the controller handle firmly.
Twist the controller to move the pallet jack forward, and twist it in the opposite direction to move the jack backwards.
Steer towards the pallet jack you want to move.
Slide the pallet jack forks under the pallet slowly and evenly.
Raise the pallet off the ground slowly, just high enough to clear it from the ground and stabilize it.
Transport the pallet to the desired location.
Lower the pallet to the ground and retract the forks while reversing the forklift.
Plug the pallet jack back into the battery charger when not in use.
The aforementioned tips are valuable and must be followed every time an operator uses a pallet jack — without exception. Because, operators who use these tips are well-equipped to avoid pallet jack tip-overs and other accidents.
What's Included in Pallet Jack Training?
CertifyMe.net, the leader in power pallet jack certification training, offers the following training content:
✓ Electric pallet jack training
✓ Regular pallet jack training
✓ General power pallet jack instruction
✓ Safety techniques for your warehouse
✓ Pedestrian safety
✓ And much more
Upon completion of pallet jack training, workers will receive a pallet jack license. This authorizes workers to legally operate pallet jacks at worksites and remains valid for three years.
Why Every Worker Needs Pallet Jack Certification
Simply put, your forklift operators aren't legally cleared to work without employer-provided training. No training, no work. No training, compromised safety. No training, more chance of costly OSHA fines and penalties.
Sign up today for any of our pallet jack certification classes (Class 2 and 3 shown below). We also offer a full selection of powered industrial truck certification for all of your compliance requirements!
Class 1, 4 & 5 Warehouse Forklifts –
$59.95
Class 1: Electric Motor Rider Trucks
Class 4: Internal Combustion Engine Trucks – Cushion (Solid) Tires
Class 5: Internal Combustion Engine Trucks – Pneumatic Tires
Learn more about our warehouse forklift course here.
Class 2 & 3 Pallet Jacks & Order Pickers –
$59.95

– perfect for warehouse forklift certification
Class 2: Electric Motor Narrow Aisle Trucks
Class 3: Electric Motor Hand or Hand/Rider Trucks
Learn more about our pallet jack certification here.
Class 7 Rough Terrain Forklifts –
$59.95
Class 7: Electric and Internal Combustion Engine Tractors
Learn more about our rough terrain forklift course here.
In-House Training Solution – Qualified Trainer/Evaluator Certification –
$149.00

Pallet Jack Certification and Training FAQs
If you have questions about pallet jack certification and training, there is no need to stress. Read our FAQs below to get the insights you need to make an informed decision regarding pallet jack training.
Q: Does OSHA require pallet jack training?
Yes, forklift and pallet jack training is required by OSHA. Without training, your employees aren't able to operate any pallet jack or other powered industrial truck.
Q: How long is a pallet jack certification good for?
Forklift and pallet jack training, including electric pallet jack training requirements, are good for three years. After three years, your employees require renewal training, which CertifyMe.net provides!
Q: What is the difference between a pallet jack and a forklift?
Forklifts are used to lift pallets and other cargo to elevated heights, while pallet jacks simply lift pallets off the floor. Pallet jacks are commonly used by "order pickers" in warehouses to fulfill orders from stores, retailers and other facilities where the products are sold to customers.
Q: Do you push or pull a pallet jack?
Both. Non-powered pallet jacks are pulled or pushed, while electric pallet jacks are driven, similar to a forklift. With pallet jack certification from CertifyMe, your employees will know exactly how to operate any type of pallet jack!
Q: Is a pallet jack safe?
The safety of a pallet jack often depends on the operator. By requiring workers to get OSHA-compliant pallet jack safety training, you can ensure your employees can properly operate a lift. The result: your pallet jack operators will know what to do to avoid pallet jack hazards and accidents.
Q: What factors should I consider before I buy a pallet jack?
Consider a pallet jack's load capacity, fork length, and other equipment specifications. Your pallet jack should empower workers to safely lift loads. In addition, verify that your workers receive OSHA-compliant training before purchasing a pallet jack. Failure to comply with OSHA pallet jack training requirements can put workers and others in danger. It can also result in compliance penalties.
Q: Are electric pallet jack training requirements the same as regular forklift and pallet jack training?
Yes, although your electric pallet jack model may have specific charging and battery usage issues. Always check your operator's manual and consult with your safety supervisors to ensure you have the information you need.
Q: In which cases do you use a forklift instead of a pallet jack?
Forklifts are used to lift pallet and cargo onto trucks & shelves. While Class 3 pallet jacks only lift pallets slightly off the floor for transport, forklifts are used to manage cargo on multiple levels. Some pallet jacks (Class 2 – see below) operate more like forklifts, since they can access high warehouse shelves.
Two Types of Pallet Jacks Are Available
CertifyMe.net teaches workers about motorized pallet jack training, including class 2 electric motor narrow aisle trucks, and class 3 electric motor hand or hand/rider trucks. Ride on pallet truck, motorized pallet truck, and power pallet truck are other names used to describe a class 2 or class 3 electric pallet truck. Hand pallet truck training describes class 3 pallet trucks which require manual force, making them suitable for short-distance traveling and lighter loads.
These pallet jacks include high lift straddle jacks, order pickers, reach type outriggers, side loaders, turret trucks, swing mast and convertible turret/stock pickers, low lift pallet jacks, and rider trucks. This class of pallet jack is made for its reach capabilities, able to access the top shelf in a warehouse. The slim design allows them to navigate warehouse aisles easily and safely. Weight capabilities range from 3,000 to 5,000 pounds.
These pallet jacks include low lift platforms, low lift walkie pallet jacks, high lift counterbalanced, and low lift walkie/ricer pallet jacks. This type of electric pallet jack, otherwise known as a walkie, isn't designed with a mast and uses pallet forks or a platform to lift and carry loads only inches off the ground. Class 3 motorized power pallet jacks with masts are either counterbalanced or use outriggers or straddle arms. Weight capabilities range from 2,000 to 8,000 pounds. CertifyMe.net has electric pallet jack training and electric pallet jack certification (part of our Class 3 instruction) to help anyone become OSHA compliant – for less money that you thought possible!
Different Types of Pallet Jack Training Are Available
Called by many different names like power jacks, pump trucks, pallet pumps and power trucks, pallet jacks come in two main types: hand-powered and electric.
Electric Pallet Jack Training
Our motorized pallet jack training and electric pallet jack certification teaches how to operate a pallet jack that is powered by an electric motor. Electric pallet trucks lift heavier loads and travel longer distances than manual pallet pumps. There are multiple types of electric pallet jacks that motorized pallet jack training teaches, including:
End-controlled and center-controlled riders
Walkie stackers
Reach pallet trucks
And many others
Optimized for various tasks and workplace settings, these different types of electric pallet trucks can make workplace practices easier, faster, and more productive. But, only if workers have completed their power jack training, or power pallet training. If you need electric pallet jack compliance and training, CertifyMe.net has everything you're looking for. Our courses will get you on track for your electric pallet jack certification in no time at all!

Choose CertifyMe.net for Electric Pallet Jack Training and Hand Pallet Jack Training
If you'd like to learn how to use a pallet jack, CertifyMe.net will show you how! Not only that, but you'll be up to speed on all the latest OSHA rules and regulations. From electric pallet jack training to a valid electric pallet jack certification (you can print it as soon as you're done with training), we have you covered!
CertifyMe.net offers online motorized pallet jack compliance and training and hand pallet truck training that takes only about one hour to complete, can be accessed on any device with the internet, and each equipment class costs only $59.95. Workers have the option to take either English or Spanish instructions and can print their certificate immediately after completing the course. Also, CertifyMe.net takes OSHA standards and regulations very seriously and ensures all training programs are compliant by meeting absolutely all pallet jack training requirements.
Whether you need to learn how to use a pallet jack or want to get your electric pallet jack certification, we can help. Give us a call today at 1-888-699-4800 to learn more. Or, click here for complete pricing information.
Thanks for considering CertifyMe.net for your powered industrial truck and electric pallet jack compliance and training needs! Register your company today and ensure you're OSHA-compliant!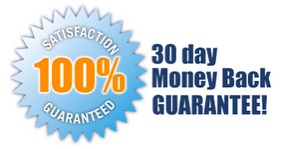 5 EASY STEPS!
Follow step-by-step instructions to get OSHA compliant!
This low-cost program can be completed anytime, anywhere!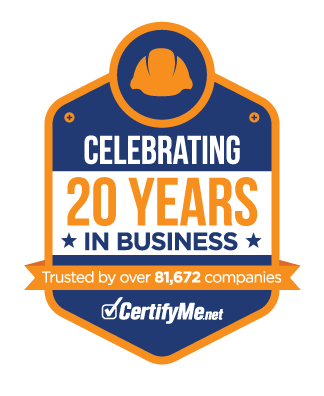 Get Started Now By Registering Your Company For Free!
FREE 3 Year Renewals
Instant Access 24/7
Print Your Proof of Training
OSHA Accepted Nationwide
*If you are an individual not currently employed by a company use your personal name in
the 'Company Name' field.