How to Transport a Forklift
Posted by: admin on February 16, 2018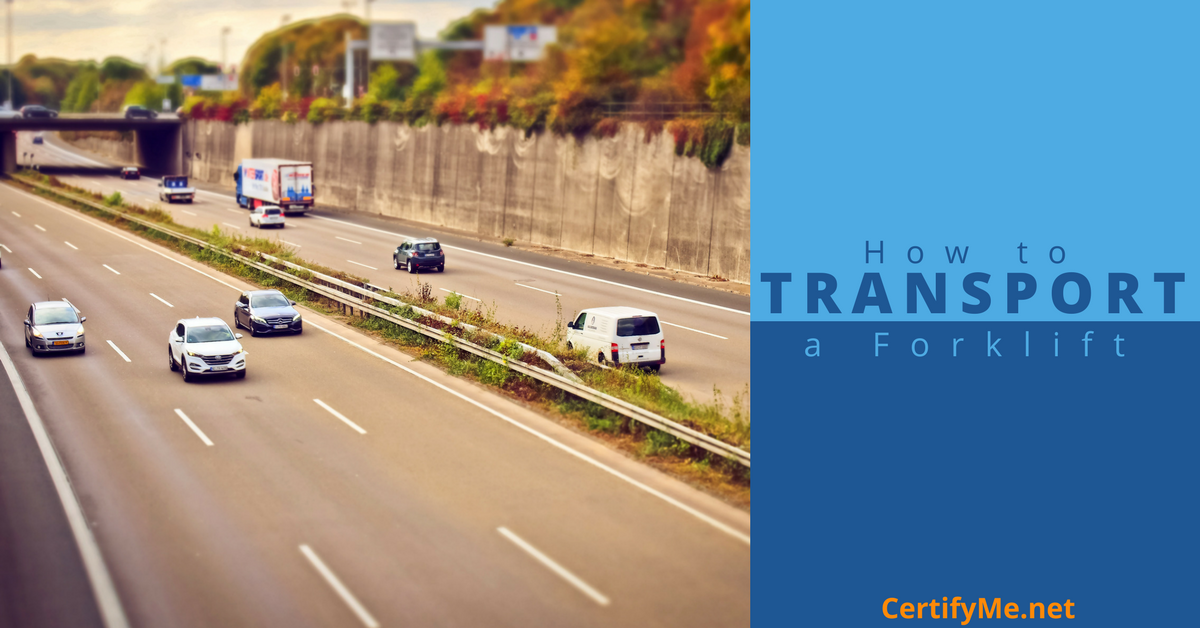 Forklifts are efficient machines used on many different work sites, from construction sites to warehouses. While they come with their share of dangers and safety protocols on the job, getting them to and from the worksite can be a whole other challenge. Forklifts are not legally classified as automobiles, so they can't be driven on a road like a vehicle. Transporting a forklift needs to be done safely and efficiently, and our how to tow a forklift guide can show you how.
How Are Forklifts Used and Why Are They Transported?
Forklifts come in electric, propane, and diesel. They're used to support new builds, aid in maintenance, work in loading docks, and perform a major role in warehouses and distribution centers. While forklifts are typically used in a defined work area, some have to be transported offsite. Tractor-trailer rigs or flatbeds are often used to transport a forklift between locations.
Forklifts are also used in residential capacities, to aid in the work on rural farms and landscapes, and to move heavy objects like rocks, dirt, and large plant life. They are transported by means of towing everyday, and it's important to understand how to tow a forklift safely to avoid damaging the equipment and causing harm to employees.
How to Tow a Forklift 101
Review the weight of the forklift. First things first, you need to make sure that the flatbed or rig you want to use is rated for the weight capacity of the forklift. Forklifts weigh 9,000 pounds on average and use hard wheels, which is a part of the reason why they aren't licensed for road use. They can also cause damage to a transport vehicle.
Secure the transport vehicle and forklift before loading. Make sure that the forklift is in good condition before loading it onto the transport vehicle. Make sure that the wheels are chocked to prevent them from rolling. If the trailer isn't already attached to a truck, you'll need to put a nose jack under the front of the trailer. This will prevent it from tipping.
Load the forklift. Drive the forklift onto the truck or in the trailer in reverse. You always want the forks of a forklift to be pointing away from the drivers of the transport vehicle to prevent severe injury or fatality in the case of an accident.
Center the forklift. Center the forklift side to side in or on the transport vehicle. Lower the forks to the floor and tilt them forward. Place wood blocks behind each wheel of the forklift for stabilization. Fasten the blocks in place by driving screws into the blocks and into the wooden floor of the transport.
Shut off the fuel supply. Disconnect the propane tank from the forklift before traveling with a forklift. For gasoline and diesel powered forklifts, make sure the tank is secured and that no fuel can splash out of the tank when traveling. Disconnect the battery terminal to prevent arcing.
Use chains and come-alongs for security. Fasten the forklift with chains and come-alongs and secure the chains or nylon straps to the edges of the truck bed and tighten. Create four anchor points at each corner of the vehicle using at least two chains.
Note the clearance. Before you're ready to take off, check the clearance of the vehicle. If the top of the forklift is taller than the transport vehicle, you need to know this to prevent hitting overpasses or bridges.
The Importance of Proper Forklift Training
It is required that all workers who operate forklifts receive training and certification to protect their safety on the job. But in addition to understanding how to operate a forklift safely, workers also need to know how to tow a forklift safely. Tip-overs and collisions are two of the most common types of forklift accidents, and they often result in serious injuries and even deaths. Forklift training equips operators with the knowledge and real-life skills they need to operate forklifts in many different capacities, to prevent accidents.
CertifyMe.net is one of the only online programs that teaches workers everything they need to know to become skilled and certified operators, that also complies with OSHA regulations. Workers will complete our program knowing exactly how to drive a forklift outdoors and inside, and how to tow a forklift.
Here are our different forklift classes we offer online:
Warehouse Forklifts, Classes 1, 4, 5
Pallet Jacks and Order Pickers, Classes 2, 3
Rough Terrain Forklifts, Class 7
Become a forklift expert and prevent accidents with the online OSHA-compliant programs from CertifyMe.net!
5 EASY STEPS!
Follow step-by-step instructions to get OSHA compliant!
This low-cost program can be completed anytime, anywhere!



Get Started Now By Registering Your Company For Free!
FREE 3 Year Renewals
Instant Access 24/7
Print Your Proof of Training
OSHA Accepted Nationwide
*If you are an individual not currently employed by a company use your personal name in
the 'Company Name' field.