Limited Time Offer! Free Covid-19 safety course with purchase of any Forklift or Aerial Lift Certification!
Access your free Covid-19 safety course in your members area once you have completed your purchase.

Everything You Need to Know About Forklift Transport
Posted by: admin on February 16, 2018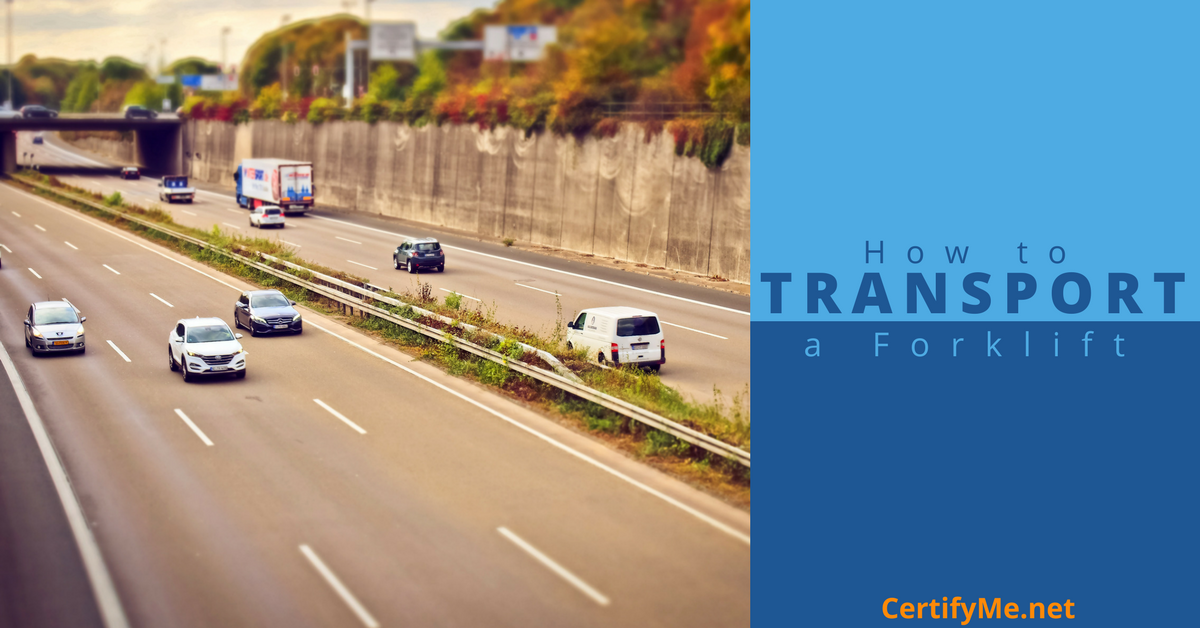 Forklifts are not legally classified as automobiles, so they can't be driven on a road like a vehicle. Transporting a forklift needs to be done safely and efficiently, so we've put together this "How to Transport a Forklift Guide" to show you how.
An In-Depth Look at Forklift Transport
Forklift transport is one of the most underappreciated skills involved with heavy-duty machinery. While it might not be the most common practice – since most forklifts on site will never leave their general work area – it's sometimes required to optimize asset workflow, assist in times of peak activity, or undertake forklift moving duties.
If you're not sure how to move a forklift, or if you need assistance in learning how to transport a forklift, keep reading! CertifyMe.net also has the OSHA-compliant training courses you need to teach your forklift operators how to maintain a safe, productive workplace. Check out our courses and sign up today!

How to Move a Forklift
Forklifts can be dangerous — even when they are not in use. For instance, if you need to transport a forklift to a worksite, you need to plan ahead. With the right approach to forklift transport, you can safely bring a forklift to any worksite.
Popular Forklift Towing Options
Some of the best options that you can use to transport a forklift from one worksite to another include:
1. Flatbed Tow Trailer
A flatbed tow trailer offers a fast, cost-effective option for transporting a forklift. If you choose this option, ensure the flatbed tow trailer has the weight capacity to accommodate your lift. Also, verify the lift is well-rigged before the trailer departs.
2. Flatbed Tractor Truck
A flatbed tractor truck is a great option if you need to transport multiple forklifts at the same time. It offers ample space and a substantial weight capacity to accommodate one or more forklifts. Additionally, a flatbed tractor truck has a low deck, so it usually has no trouble with clearance when it travels under bridges or tunnels.
3. Tilt Tray Truck
A tilt tray truck can typically carry up to four forklifts, depending on the size of the lifts and their weight. The truck has a tilt tray bed for easy loading and unloading of lifts, too.
4. Automated Tailgate Truck
An automated tailgate truck has a hydraulic-operated tailgate, so the tailgate can be seamlessly lowered and elevated as needed. Like a tilt tray truck, an automated tailgate truck makes it simple to load and unload forklifts.
Evaluate the aforementioned options closely before you make your final decision regarding forklift transport. This will ensure that you can identify which transport option is suitable based on your forklift's weight and size. Plus, you can minimize the risk of forklift transport delays or safety issues.
Why Do You Need to Plan Ahead for Fork Truck Transport?
Forklifts are not classified as automobiles, and they can't be driven on the road. Thus, if you need to get a forklift to a worksite, you need to know how to transport a forklift without putting yourself and others in danger.
It may seem easy to transport a forklift to a worksite, but you need to plan accordingly. If you understand the options available for forklift transport, you can get your forklift to your desired destination as quickly and safely as possible.
How to Safely Transport a Forklift
Some companies specialize in forklift transport and have the necessary equipment to move your forklift to your worksite. However, there may be times when it's more cost-effective to transport a forklift on your own.
Attention to safety is crucial if you select a company to move your forklift or relocate your lift on your own. If you prioritize safety, you can identify any dangers before you load your lift onto a trailer and take it to a new location. You can also ensure that your lift safely arrives at its final destination, so you can begin using it right away.
Forklift Towing Tips
When it comes to forklift towing, err on the side of caution. Because, if you prioritize safety during forklift transport, you can limit the risk of forklift accidents or damage during transport.
How to move a forklift isn't rocket science. All you need is some common sense, proper safety precautions, and the equipment to make it happen. Without the proper planning and foresight, it's nearly impossible to safely move a forklift. Now, let's look at seven forklift towing tips you can do to safely move your forklift to your worksite.
1. Weigh Your Forklift
Weigh your forklift and ensure your forklift trailer is rated for the weight capacity of the forklift itself. Check your forklift trailer's maximum capacity; trailer capacities vary, and you should verify the capacity based on the manufacturer's specifications. Along with weight, verify the length of your forklift trailer.
2. Inspect Your Forklift
Ensure your forklift is in good condition before loading it onto the transport vehicle. The wheels should be chocked to prevent them from rolling. If the trailer isn't already attached to a truck, put a nose jack under the front of the trailer to prevent it from tipping.
3. Load Your Forklift
Drive your forklift onto the truck or into the trailer in reverse and ensure its forks are pointing away from the transport vehicle. Review recommended forklift transport policies, depending on your jobsite requirements.
4. Center Your Forklift
Center the forklift side to side in or on the transport vehicle. Lower the forks to the floor and tilt them forward. Place wood blocks behind each wheel of the forklift for stabilization. Fasten the blocks in place by driving screws into the blocks and into the wooden floor of the transport vehicle.
5. Shut Off the Fuel Supply
Disconnect the propane tank from your forklift before you depart. For gasoline- and diesel-powered forklifts, ensure the tank is secure, so no fuel can splash out of the tank during transport. Disconnect the battery terminal to prevent arcing. Furthermore, if you are transporting an electric forklift, recharge the battery before you depart.
6. Use Chains and Come-Alongs
Fasten the forklift with chains and come-alongs, secure them to the edges of the truck bed, and tighten them. Establish four anchor points at each corner of the vehicle using at least two chains or come-alongs.
7. Check the Vehicle Clearance
Assess the clearance of the vehicle. If the top of the forklift is taller than the transport vehicle, avoid overpasses or bridges.
Forklift Transport FAQs
If you still have questions about forklift transport, there is no need to worry. Here are answers to some of the most common questions regarding forklift truck towing and how to safely move a lift from one worksite to another.
Q: How much does it cost to transport a forklift?
A: The cost of forklift transport varies based on the type of lift, the travel distance, and other factors. On average, fork truck transport can cost anywhere from $200 to $1,500.
Q: Is towing with a forklift legal?
A: It is illegal to tow with a forklift. Those who try to tow with a lift can put themselves and others in danger. In addition, they may receive OSHA fines and penalties.
Q: How do you load a forklift on a flatbed?
A: Careful planning is key to safely load a forklift on a flatbed. First, you should evaluate the weight capacity of the flatbed. If your flatbed cannot handle the weight of your forklift, you should consider other options. To load your lift onto a flatbed, put a nose jack under the front. Ensure the nose jack is within an inch of contact with the flatbed, as this helps prevent your forklift from tipping over during transport. Finally, back your forklift onto the flatbed. Keep the forks pointed toward the rear to improve stability.
Q: How do you secure a forklift for transport?
A: Chocked wheels can stop your forklift from rolling during transport. You can place wooden blocks behind your forklift's wheels and secure them to the base of the vehicle you're using to transport your lift. Chains and straps can also be used to further secure your forklift for transport. They allow you to secure anchor points at each corner of your forklift to limit movement during travel.
Forklift safety certification training answers these questions and many others relating to forklift transport. It can even offer insights to help you make an informed decision regarding whether to seek out additional help to tow your forklift.
Getting Help with Fork Truck Transport
By hiring a forklift towing company, you're assured of receiving expert support with moving your forklift to your worksite. The company will dedicate time and resources to prepare your forklift for your move, as well as ensure that your forklift reaches your worksite safely and on schedule. Meanwhile, once your forklift reaches your worksite, your staff needs to use it safely.
Thanks to a forklift safety training program, workers can learn how to properly operate a forklift.
A forklift safety training program is beneficial, as it empowers workers with comprehensive forklift operation tools, tips, and resources. The program also encourages workers to engage in an open discussion about workplace safety. That way, workers can collaborate with one another and build a work environment where safety comes first.
Should You Enroll in a Forklift Safety Training Program?
Forklift transport can be challenging, regardless of whether you do it on your own or hire a forklift towing company. Yet, it is crucial for any company that needs to move a forklift to do so safely. Otherwise, the risks associated with improper forklift transport are significant.
Ultimately, if you use the aforementioned tips, you'll be well-equipped to transport a forklift on your own. On the other hand, if you are still uncertain about moving a forklift on your own, it may be beneficial to work with a forklift towing company.
Sign Up for Forklift Safety Training Courses from CertifyMe.net
If you are on the lookout for forklift safety training classes, check out CertifyMe.net. We offer online courses that teach workers everything they need to know to become skilled and certified forklift operators. Our courses also comply with OSHA regulations and are available across various forklift classifications.
To find out more about our forklift safety training courses, please contact us online or call us today at 1-888-699-4800.
Welcome to CertifyMe.net
CertifyMe.net has offered online forklift certification since 1999. With Our Convenient online program. your employess can earn their certification in an hour or less.
Browse Online Certifications:
This low-cost program can be compeleted anytime, anywhere!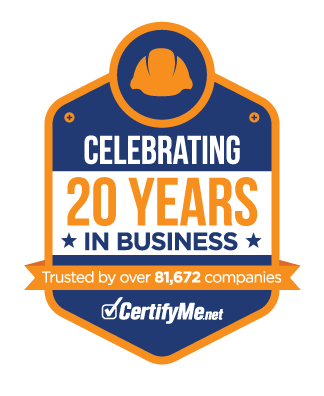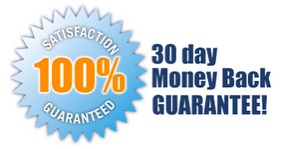 Connect with Us


Get Started Now By Registering Your Company For Free!
FREE 3 Year Renewals
Instant Access 24/7
Print Your Proof of Training
OSHA Accepted Nationwide
*If you are an individual not currently employed by a company use your personal name in
the 'Company Name' field.