Limited Time Offer! Free Covid-19 safety course with purchase of any Forklift or Aerial Lift Certification!
Access your free Covid-19 safety course in your members area once you have completed your purchase.

Safety & Use Tips for Forklift Extensions
Posted by: admin on April 15, 2022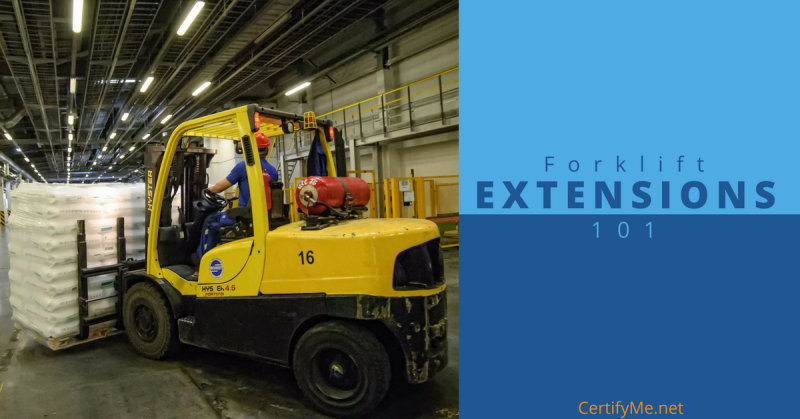 Sometimes, a forklift needs a little extra reach to access pallets. That's exactly why forklift fork extensions, commonly referred to as forklift extensions, were created. From unloading trucks to retrieving or loading in extra-deep warehouse bays, the fork extensions for a forklift are utilized when the existing reach just won't suffice.
Aside from adding much-needed length, a forklift extension also provides load stability and helps reduce the risk of an accident, thanks to the considerable leverage provided by extensions for a forklift.
Different sizes and load capacities of forklift extenders are available for various applications. For example, rough terrain forklift fork extensions differ from indoor warehouse lift extensions. Each type of job has its own safety requirements for forklift extenders, but OSHA has minimum safety requirements for fork extensions.
When used properly, forklift extensions are a great way to increase productivity. However, when used improperly, they're capable of compromising safety.
CertifyMe.net, the leader in online-based OSHA forklift compliance and training, offers a complete selection of courses to ensure your company is on track with safety training. Since forklift extensions are a critical element of operating powered industrial trucks, we created this page to offer safety tips, general information on forklift fork extensions, and how your company can get compliant today!

The Basics of Extensions for a Forklift
Forklift extensions are made with heavy-duty steel and have a safety heel restraint. Yet, they come with a few safety concerns. Forklift extensions can make a load unstable. Loading too much on forklift extensions can cause a lift to tip over. Fork extensions can even impair a driver's vision.
Another common attachment is the forklift boom extension. This type of extension is mounted on the forks and can be telescoping. This means the boom can be extended to increase its length and used to handle long loads.
Forklift extensions are easy to use. They simply slide over the existing forks and lock in place under a fork hanger. Some heavy-duty forklift fork extensions have a welded notch on the end for added stability.
What Is Considered a Forklift Extension?
A forklift extension is a forklift accessory designed to improve the reach and load-bearing potential of a lift. The extensions used vary based on the type of lift. Furthermore, forklift extensions are labeled according to the manufacturer, loading capacity, and other identifying features.
Forklift certification training offers insights into fork extensions and other lift accessories. The training teaches forklift operators how to safely use and maintain different lift accessories. It also verifies that forklift operators can comply with OSHA requirements.
How Are Forklift Extenders Used?
Forklift extensions offer cost-effective solutions to increase the reach of a lift. They are best suited for occasional large loads that need a long fork. Fork extensions are made for light loads. If the load exceeds the maximum load center, longer forklifts are safer than fork extensions.
Using forklift extensions can save time and storage space. It can also lower labor costs and improve productivity. Fork extensions save space by allowing for double-deep pallet racks at each side of an aisle. This can increase warehouse capacity by up to 30% compared to single-deep racking.
Forklift extensions can help operators save time. This is due to the fact that these extensions allow operators to:
Handle different load sizes and shapes with one truck
Load and unload more pallets per pick than ever before
Load and unload trailers from just one side
No matter the size, a load should never exceed the maximum load weight limits. Long forks on a forklift are not intended for everyday use. They will wear out quickly if used too much.
Are Forklift Extensions Legal?
Forklift boom extensions are legal, but they come with rules to prevent accidents. They should not exceed 1.5 times the length of the forks and must be able to support an evenly distributed load of three times its rated capacity. And, the rated load center should equal 50% of the fork extension's load supporting length.
Forklift extenders should be clearly stamped and labeled with the following:
Individual load rating
Supporting fork size
Manufacturer's mark
Serial number
Year it was made
Required blade cross-section and minimum blade length for the parent fork
If forklift fork extensions aren't installed at the factory, the truck should be marked to identify:
Any attachments
Approximate weight of the lift truck
Approximate combined weight of the attachment and truck at max elevation with the load laterally centered
Any changes that affect the capacity or safety of the forklift must have written approval from the company that makes the forklift. This helps ensure that workers will not exceed forklift load limits for any type of forklift extenders. Using fork extensions without written approval violates OSHA standards.
How to Install Forklift Extensions
Fork extensions fit over the front of a forklift, and they must be installed properly. Otherwise, the extensions could fall off or get damaged while in use.
Typically, fork extensions can be placed over the tops of a fork and locked at the base of the blades. Various mechanisms are used to secure the extensions in place, including loops and pins.
It is critical to follow the installation instructions provided with forklift extensions as well. Also, forklift operators must ensure that the extensions are securely in place before they use their lift or its extensions.
Safety Tips for Using Forklift Extensions
Fork extensions can be hazardous. The biggest danger associated with fork extensions: decreased lifting capacity due to the attachments' weight. Other dangers include forklift tip-overs and falling loads. Fork extensions can also increase the load center by moving the load further away from the fulcrum point. This puts a truck at greater risk of a tip-over.
To help prevent accidents when using a forklift extension, forklift operators should:
Review the forklift's weight capacity and avoid overloading your forklift. You should always refer to the load chart that outlines the max lift limits at different load centers.
Use forklift extenders built to match the width of the fork. The inside width of the fork extension should not exceed the width of the fork by more than half an inch.
Avoid picking up a load with the tip of the extension. The center of the load must be over the fork, and it should not exceed 50% of the length of the fork extension.
Know the mechanical limitations of the forklift extenders.
Treat an unloaded forklift with fork extensions as partially loaded.
Train workers on the limitations of long lifts on a forklift.
Retrain workers if a new attachment is added to a forklift.
Inspect forklift extensions every six months and look for problems with load-bearing components and cracks in load-bearing welds.
The aforementioned tips can help workers safely use forklift fork extensions. In addition, enrolling workers in an in-depth forklift certification training program can reinforce the value of these tips. The program can also ensure that workers are well-equipped to avoid forklift accidents.
Forklift Extensions FAQs
There is a lot to like about forklift extenders. In order to get the most value out of your extenders, you should learn as much as possible about them. Now, let's look at some of the most common questions surrounding forklifts and forklift extensions.
How do you put in forklift extensions?
To install forklift extensions, you'll need to lift a forklift truck's forks approximately 1-in. from the ground. Next, lift the nose end of a forklift extension at a 45° angle. Place the opposite end of the extension onto the tip of the fork. Slide the extension onto the fork until it reaches the fork's heel. Remove the lock pin, ensure the extension is fully back to the fork's heel, and reinstall the pin. Install both extensions, then align the lift's forks with the open end of the extensions. Drive the lift forward until the extensions reach the heel of the forks. Raise the extensions a few feet and pull them outward to verify they are properly in place.
Read the forklift extensions manufacturer's installation instructions. They provide a step-by-step guide to install forklift extenders.
Do extensions for forklifts need to be certified?
It is recommended to have your extensions certified and inspected at least twice per year.
How much can a 5,000-lb. forklift lift?
A forklift with a weight capacity of 5,000 lbs. can usually lift that amount of weight with 48-in. forks. If the lift's forks are extended to 60-in., its weight capacity may fall to 4,000 lbs.
Can forklift forks be welded?
Forklift forks can be welded. However, any welding or other forklift repairs or maintenance should be performed by an expert technician.
What is the maximum length of forklift extensions?
A: Time for a quick forklift extension calculation. As a general rule of thumb, a forklift extension shouldn't exceed 1.5 times the length of the regular fork. Thus, if a forklift's forks are 6 feet long, the extensions for that forklift are 9 feet. Please remember that forklift fork extensions are for light or regular loads. Check your lift's maximum load capacity, and if the load is too heavy, use another forklift with longer forks or a heavier lifting capacity.  
How do I choose the right forklift extensions for my truck?
A: It's important to understand the forklift extension calculation above: never use fork extensions for a forklift that are greater than 1.5 times the length of the existing forks. Other than that, it helps to do a little research when buying extensions. If you're not ready to purchase a forklift extension, renting is always a possibility!
How long are the forks on a forklift?
The length of the fork varies depending on the size of the lift. Common forklift lengths include 48-, 72-, and 96-in.
Forklift safety training addresses these questions and many others. It allows workers to learn the ins and outs of safe use of forklift extensions and comply with OSHA regulations.

Why You Need Forklift Safety Training
Are you aware of OSHA forklift rules? They apply to much more than just forklift fork extensions. If your company needs assistance with compliance, check out our blog on OSHA forklift rules. It covers some of the most common OSHA safety guidelines. Knowing what OSHA expects can help prevent accidents and keep your workers safe.
Some of the OSHA forklift rules reviewed include:
Basic guidelines

Designations

The importance of power supplies and batteries

Proper lighting techniques

Loading and unloading
CertifyMe.net offers extensive online training courses that provide tips for working safer every day. These tips include:
How to inspect forklifts

How personal protective equipment (PPE) impacts forklift safety

Checking fluid and battery levels

Why workers should use measured and steady braking
To learn more or to sign up for our courses, please contact us online or call us today at 1-888-699-4800.
Welcome to CertifyMe.net
CertifyMe.net has offered online forklift certification since 1999. With Our Convenient online program. your employess can earn their certification in an hour or less.
Browse Online Certifications:
This low-cost program can be compeleted anytime, anywhere!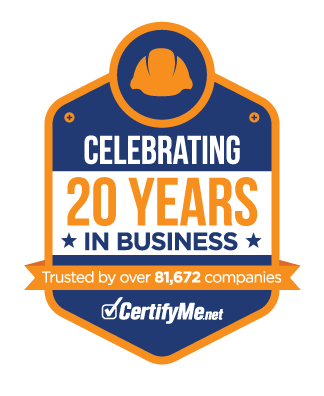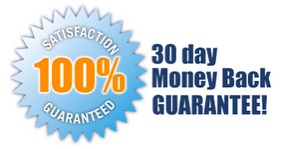 Connect with Us


Get Started Now By Registering Your Company For Free!
FREE 3 Year Renewals
Instant Access 24/7
Print Your Proof of Training
OSHA Accepted Nationwide
*If you are an individual not currently employed by a company use your personal name in
the 'Company Name' field.