Limited Time Offer! Free Covid-19 safety course with purchase of any Forklift or Aerial Lift Certification!
Access your free Covid-19 safety course in your members area once you have completed your purchase.

How to Determine a Hazardous Load
Posted by: admin on June 30, 2017
(Updated July 2020)
How to Determine a Hazardous LoadForklift operators may be tasked with handling hazardous loads, so it's important to manage these loads with the utmost care, in compliance with OSHA guidelines. Otherwise, if you ignore dangerous load signs, you could put yourself and others in danger.

Common Dangerous Load Signs and How to Respond to Them
Before you can safely handle the hazardous load, you need to know dangerous load signs. Thanks to safety training, you can learn tips to help you quickly identify hazardous load signs and minimize risk across your work environment.
Ultimately, any load can be hazardous, regardless of whether it contains dangerous materials. The danger comes when the load itself is packaged and shaped in a way that can cause a forklift to become unstable.
In any of the following instances, an operator must proceed with caution and slowly and carefully manage a forklift to avoid tip-overs:
The load is off-center.
The load is too heavy and exceeds the lift's weight limits.
The load is damaged or has loose parts.
A forklift operator must be careful when lifting any load. If an operator moves an unstable load incorrectly, the load could fall off the forklift and hurt the operator or other workers. Or, if a load is stacked on a warehouse rack, it could fall and injure or kill workers on foot.
If a load is physically hazardous, operators must determine whether it is safe to maneuver the load. For operators who believe a load can be safely moved but is uneven or has loose parts, they must assess the safest way to accommodate the load.
The Material Inside of a Load: What You Need to Know
In a situation where you are handling a load containing hazardous materials, extra precaution is necessary to avoid accidents and injuries.

Hazardous materials are classified as:
Explosives
Gasses
Flammable liquids
Flammable solids
Oxidizers and organic peroxides
Poisonous material
Radioactive material
Corrosive material
Environmentally hazardous material
Hazardous materials require extra care, and forklift operators must know the proper precautions for handling, lifting, and stacking loads that contain hazardous materials to avoid serious accidents and injuries. Forklift safety training can help you to identify hazardous load signs and determine how to properly and safely handle them.
Tips for Handling Hazardous Load Signs
Once you've carefully assessed a load and identified hazardous load signs, you need to know the steps for approaching and handling the load safely.
Below is a list of tips and recommendations for handling different types of dangerous loads. In addition to using these tips and recommendations, requiring your forklift operators to enroll in a safety training course may be beneficial to help reduce or eliminate dangers across your workplace.
Handling a Physically Dangerous Load
Securing a load, so it is stable on the forklift. Operators should not carry damaged loads unless they are secured by wrapping or banding.
All loads should be centered as much as possible to create stability. When handling off-center loads, use caution. Attempt to distribute the heaviest part of the load as close as possible to the forklift's front wheels. Operators must always approach loads slowly and carefully.
Never overload a forklift, as this can cause a forklift to tip-over and lead to serious injuries or fatalities. If a load is off-center, distributed incorrectly, or is too big for a forklift, it has the potential to exceed the capacity of the forklift and cause the lift to become unstable. Thus, forklift operators need to follow these rules for both normal loads and hazardous load signs at all times.
Additionally, it's always a good idea to ensure a forklift load is tilted back with the forks positioned low during transportation to prevent the load from falling off the front or side of the forks.
Handling a Load That Contains Hazardous Materials
When handling a load that contains hazardous materials, use the correct type of forklift. Forklifts are designated as DY (diesel powered trucks that have safeguards without any electrical equipment and with added temperature limitation features), EE (electrically powered trucks that have electric motors and all other electrical equipment enclosed), and EX trucks (electrically powered trucks that have electrical fittings and equipment that can be used in certain atmospheres containing flammable vapors). You must learn about the different forklift designations, then select a lift that can be used for a specific purpose. If you fail to do so, you risk using a forklift that is ill-equipped to handle loads that contain hazardous materials.
When using a diesel powered forklift to handle loads that contain hazardous materials, workers need to be careful when they refuel their lifts. A forklift must be refueled at specially designated locations, with the power switch off. Internal combustion engine forklifts cannot have any open flames or sparks. This could be dangerous while refueling and when handling the load, depending on the type of hazardous material it contains.
Why Forklift Certification Training Is Key for Your Business
Forklift operators may handle a wide range of loads on a daily basis. Yet, if they do not know how to properly manage these loads, they are unable to do their jobs safely and effectively.
With forklift certification training, your employees can learn how to detect hazardous load signs and much more. This training is simple to complete, and the benefits of it are long-lasting. In fact, if your employees begin forklift safety training, they can make your work environment safer and more productive than ever before.

Sign Up for Forklift Certification Training with CertifyMe.net
CertifyMe.net prioritizes forklift operator safety, and we are here to take the guesswork out of forklift certification training. We offer extensive safety training courses designed to teach forklift operators how to safely perform everyday tasks and eliminate on-the-job dangers.
We are happy to provide additional information about our forklift certification training courses. To find out more about our safety training courses or to sign up for a course, please contact us online or call us today at 1-888-699-4800.
Welcome to CertifyMe.net
CertifyMe.net has offered online forklift certification since 1999. With Our Convenient online program. your employess can earn their certification in an hour or less.
Browse Online Certifications:
This low-cost program can be compeleted anytime, anywhere!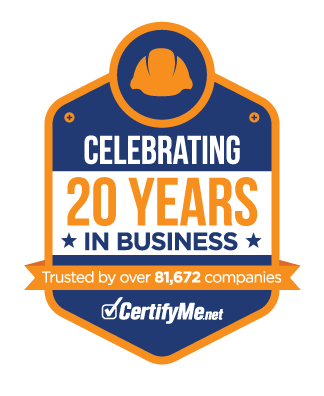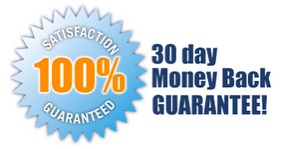 Connect with Us


Get Started Now By Registering Your Company For Free!
FREE 3 Year Renewals
Instant Access 24/7
Print Your Proof of Training
OSHA Accepted Nationwide
*If you are an individual not currently employed by a company use your personal name in
the 'Company Name' field.