What to do When an Accident Occurs in the Workplace
Posted by: admin on March 23, 2017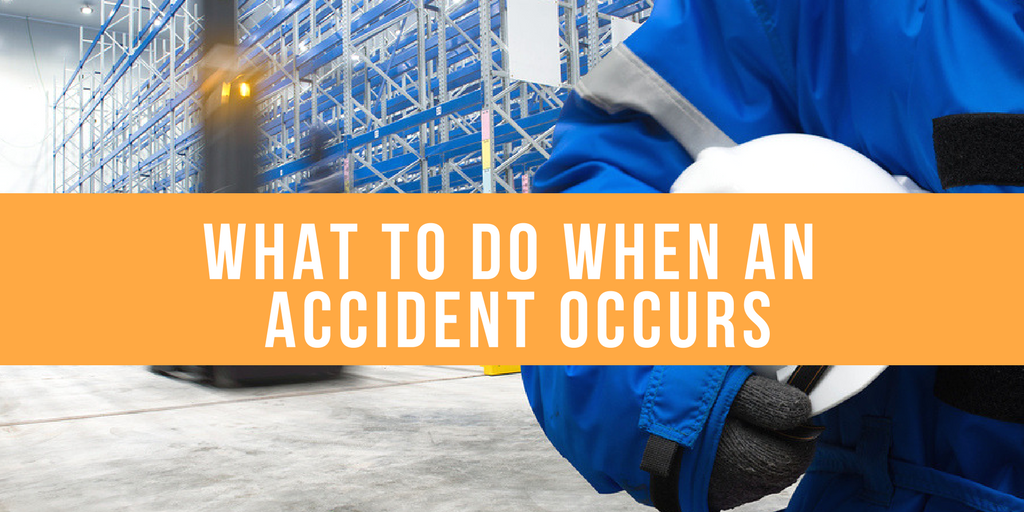 Accidents happen every day on worksites across the U.S., and they often involve heavy pieces of equipment like forklifts. According to OSHA, there were 4, 836 worker fatalities in 2015, which equals about 13 deaths per day. Amongst OSHA's list of the top ten most frequently cited violations and hazards, powered industrial trucks were listed as number six. While accidents do happen, serious injuries and fatalities can be prevented and it's important to have a plan in place for responding to accidents the right way.
Creating Safety in the Workplace
The Occupational Safety and Health Act was created to give all workers a safe workplace and reduce the number of annual injuries and fatalities. According to the act, all employers must provide employees with a safe work environment and protect them from hazards. They must also properly examine a workplace for safety, provide employees with tools and safety training in a language they can understand, and more. For a full list of employer responsibilities, go here. For the full list of employee rights, review the "Know Your Rights" section on this page.
To further help create a safe workplace, OSHA suggests companies invest in a safety and health program. Investing in a top quality and cost-efficient forklift training program for employees can protect your business, your workers, and prevent costly fines.
What to Do When an Accident Occurs
Even with these rights and responsibilities of employees and employers, accidents still happen and it's important to understand how to respond.
In the case of a worker being injured on the job, here are the necessary steps to take:
Get Medical Attention. If an employee, find a supervisor, get medical assistance, or call 911.
Report the Accident. This step is very important and should be completed as soon as possible. Employers should speak with witnesses of the accident to get their accounts, take photos where the accident took place, and comply with all OSHA reporting and recordkeeping regulations.
For a complete list of all reporting policies, click here.
File Workers' Compensation Reports (If applicable in your state.)
Determine the Liability. As the employer, you may need to cover medical expenses and disability leave for the employees affected in the accident. If the accident was a result of an OSHA violation, the employer may also have to pay for additional compensation and employee benefits.
If you have any other questions about what to do in the case of an accident in your workplace, visit the OSHA website, or call the OSHA office nearest you.
To comply with OSHA regulations for providing compliant forklift training to your employees, visit CertifyMe.net and create an account. Your workers can be trained and certified in as little as one hour.

5 EASY STEPS!
Follow step-by-step instructions to get OSHA compliant!
This low-cost program can be completed anytime, anywhere!



Get Started Now By Registering Your Company For Free!
FREE 3 Year Renewals
Instant Access 24/7
Print Your Proof of Training
OSHA Accepted Nationwide
*If you are an individual not currently employed by a company use your personal name in
the 'Company Name' field.