Stand Up Forklift Training – Contact CertifyMe Today!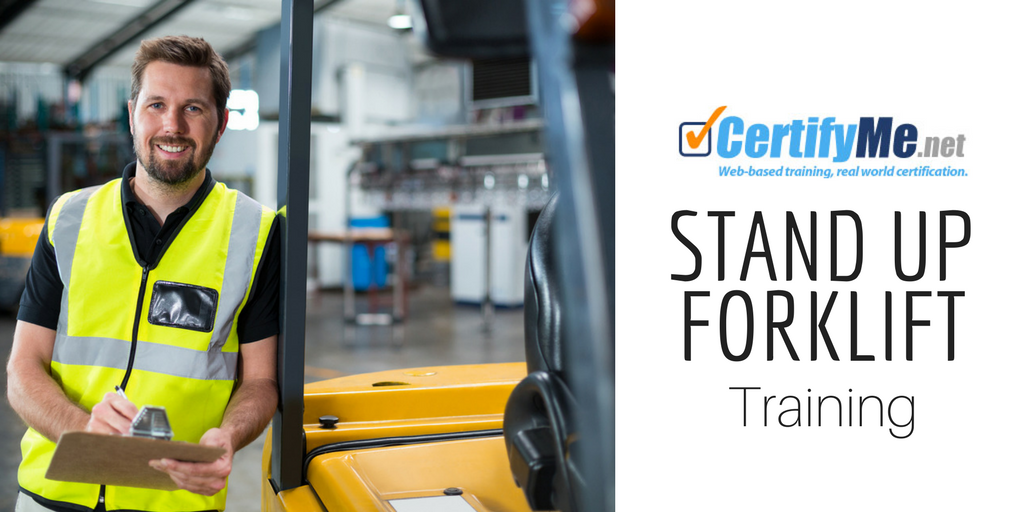 From loading and unloading, stacking products, scanning barcodes, dealing with shrink wrap, and more, stand up forklifts have improved the productivity for many warehouses and other workplaces for decades. Learn more about stand up forklifts and why you need stand up forklift training if you want to operate them for your job!

Benefits of Standup Forklift Training from CertifyMe.net
In addition to these features, you'll also enjoy these benefits of our program:
Learn from any device with an internet connection– whenever, wherever
Complete the training in as little as one hour!
Save time and money by not having to travel to an offsite training facility and using time-off, or losing productivity during work hours
Learn every component of how to drive a stand up forklift
Receive all handouts, tests, and checklists you need to complete your training, including the information for the OSHA-required practical skills evaluation
Be 100% OSHA-compliant!
What is Stand Up Forklift Certification and Why Do You Need It?
Learning how to drive a stand up forklift will take a lot more than just reading a step-by-step instruction. If you want to use stand up forklifts at your job, or for a new job, you need proper stand up forklift training and certification. This specialty course will teach you exactly how to operate a stand up forklift, in all applications like narrow aisles and on ramps, how to perform equipment inspections, how to assess the surrounding environment, and how to avoid hazards to prevent accidents.
You'll come away from the course well equipped to drive stand up forklifts in a professional setting, and have the knowledge to prevent accidents that can lead to damage, injuries, and fatalities. You'll also be OSHA-compliant to ensure you are up-to-date on all the most important industry and safety regulations.
Stand Up Forklift Classification
According to the Occupational Safety and Health Administration (OSHA), a stand up forklift is classified as a Class I Electric Motor Rider Truck. In this category, stand up forklifts are known as "Lift Code 1" industrial vehicles. OSHA organizes powered industrial vehicles into certain categories, which enables the organization to better manage training programs, safety initiatives and more.
Stand up forklifts are just like every other forklift in your fleet, in this regard: any of your employees operating a stand up forklift require the latest stand up forklift certification. CertifyMe.net offers an affordable, streamlined training session for everybody in your company who operates a stand up forklift.
How to Drive a Stand Up Forklift
Stand up forklifts are easy and efficient to use in a number of applications. But they require certain procedures to drive them safely since they are often used in narrow aisles and closed quarters that are otherwise impossible or risky for conventional forklifts to maneuver.
Here are the steps for driving a stand up forklift:
To start a stand up forklift, simply turn the key after checking the forks to ensure they are drawn backwards.
When moving without loaded forks, tilt the forks slightly upwards, but not raised up into the air.
Use the control handle to control the steering. When you want to move forward, tilt it forward, and tilt it back to move backwards.
To pick up a load from up on a rack, use the control handle to lift the forks. Position the forklift in front of the rack of the pallet you need to access. Extend the forks before approaching the pallet, and move in closer to the rack.
Once the forklifts are firmly placed inside of the pallet and positioned to hoist it evenly, raise the pallet off the rack slowly and retract the forks.
Reverse the forklift always making sure no worker or truck is behind you.
If transporting a load to a different location, elevate the forks about two inches off the ground for clearance.
When placing a load onto a rack, reverse the process for picking a load up.
These are just some of the tips and tricks to properly operate a stand up forklift. For complete stand up forklift training and certification, sign up with CertifyMe.net today!

Stand Up Forklift Training from CertifyMe – Comprehensive Instruction, Affordable Price
If your employees have to know how to drive a stand up forklift, they're going to need OSHA-compliant training. CertifyMe, the leader in online training classes, has a stand up forklift training class that's perfect for beginners and veteran operators alike.
Just like our entire course catalog, our stand up forklift certification training includes a convenient, learn at your own pace format. Plus, you'll enjoy free 3-year renewals, which OSHA requires for forklift recertification.
To learn more about our stand up forklift certification, or if you'd like to learn how to drive a stand up forklift, please visit our pricing and course page. You can also call our OSHA stand up forklift consultants at 888-699-4800.
If you're ready to get started today and have urgent compliance gaps to address, we're here to improve your company's safety platform. Click here to sign up for a stand up forklift training class and other helpful OSHA-compliant training courses today.
Thanks for considering CertifyMe for all of your stand up forklift certification requirements.
Standup Forklift FAQs
What is a stand up forklift?
Unlike conventional sit down forklifts, stand up forklifts have the operator standing while operating the lift, reducing operator fatigue and reducing the amount of time they spend getting up and out of the lift to perform duties.
What is a Stand Up Forklift Used for?
CertifyMe.net offers stand up forklift training classes and other OSHA compliance courses to improve your company's safety program. Sign up today and see how we can help!
Stand up forklifts are one of the most commonly used powered industrial trucks in use today. This popular type of vehicle is used in a wide variety of commerce applications, including:
Cargo transport. From warehouses to stockyards, stand up forklifts are one of the most popular types of vehicles for moving, storing and retrieving cargo for shipment.
Construction. Interior construction projects typically require a flexible, rapid means of moving material from point A to point B.
Retail. From grocery stores (Sam's Club) to retailers (Amazon, Target, etc.), stand up forklifts are important for filling orders, accessing pallets, transporting products and much more.
That's just scratching the surface. Stand up forklifts are becoming more prevalent on a daily basis. If your company has any driver not sure how to operate a stand up forklift, CertifyMe.net can close your training gaps, increase safety, and ensure your workplace is 100% OSHA compliant with all powered industrial trucks!
Is it hard to drive a stand up forklift?
Not really, The basics of how to operate a stand up forklift aren't that much different from traditional lifts. With training from CertifyMe.net, you'll know how to drive a standup lift in no time.
How do you steer a stand up forklift?
The steering mechanism is a bit different for standup lifts. A knob is used to control the lift, instead of a typical wheel.
How to use a stand up forklift?
In order to learn how to operate a stand up forklift, training is required. CertifyMe.net has a complete line of OSHA compliant training courses to show you how to safely drive a standup lift.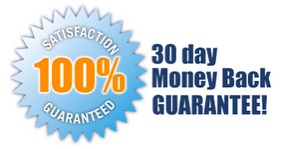 5 EASY STEPS!
Follow step-by-step instructions to get OSHA compliant!
This low-cost program can be completed anytime, anywhere!

Get Started Now By Registering Your Company For Free!
FREE 3 Year Renewals
Instant Access 24/7
Print Your Proof of Training
OSHA Accepted Nationwide
*If you are an individual not currently employed by a company use your personal name in
the 'Company Name' field.