Limited Time Offer! Free Covid-19 safety course with purchase of any Forklift or Aerial Lift Certification!
Access your free Covid-19 safety course in your members area once you have completed your purchase.

Stand Up Forklift Certification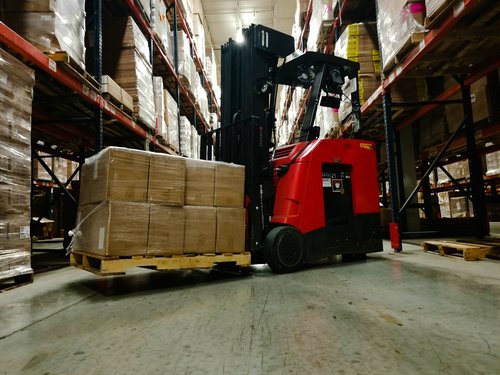 Are you a warehouse manager looking to efficiently manage your workforce and protect them from potential safety risks? Providing stand-up forklift certification training should be the first priority on your list. With proper stand-up forklift training, your workers will know how to safely use this equipment while also increasing productivity in the warehouse. CertifyMe offers top-notch training from industry experts. Our courses are up-to-date with the latest safety regulations and standards. We ensure operators are well-prepared to handle stand up forklifts.
How to Get Stand Up Forklift Certification
Employers should choose a licensed provider like CertifyMe for stand up forklift certification. Enroll your operators in the stand-up forklift training program on our website. The training program includes lessons, videos, and quizzes. Once the training is complete, the operator needs to pass a written test. One of your certified in-house safety trainers must also perform a hands-on evaluation.
Once operators pass these tests, they will get their certification. This shows they understand safe stand up forklift operation. They also prove they know how to follow workplace rules.

Where Can I Get OSHA Forklift Certification?
There are several options for getting OSHA stand up forklift certification. Many vocational schools, community colleges, and private training centers offer in-person courses. These classes usually involve hands-on practice with actual forklifts and classroom instruction.
Some employers provide on-site training, often using experienced operators as instructors. Another popular and convenient option is online courses like those offered by CertifyMe. Online courses can be completed from the comfort of one's home or workplace. These courses are perfect for busy individuals. They provide flexibility in scheduling and self-paced learning.
Choosing an online certification course has many benefits. You can pick the best time for the training, so it won't interfere with your job or other plans. You can learn at your own speed, making sure you understand everything well before moving on. Plus, you can access the course from anywhere with internet access, so you don't need to travel.
If you search for "stand-up forklift certification near me," you can find training centers in your area. But you can still go for online certification courses if there's no local center.
Requirements for Forklift Certification
Stand up forklift certification has specific requirements to ensure proper training. Operators attend a comprehensive program covering equipment operation, safety, and workplace rules. They must pass written tests and hands-on evaluations to show their understanding. Physical fitness and good vision are also crucial for safe operation. The process aims to equip operators with secure and efficient forklift handling skills.
OSHA's rules for forklift training and certification are vital for workplace safety. Employers must provide formal training covering different forklift types, characteristics, and hazards. Operators need hands-on training to show they can operate forklifts without danger. Employers must keep records of training to follow OSHA's regulations.
If you want forklift certification for stand-up reach forklifts, follow OSHA's training rules. Training should cover the skills for safe operation. Online courses like CertifyMe meet OSHA standards.
Stand-Up Forklift Certification Training
Comprehensive stand up forklift certification training is essential for operators. It gives them the skills and knowledge to handle these machines. With this training, they understand how forklifts work, how to handle loads, and how to follow safety rules. The workplace becomes safer for everyone by reducing accidents, injuries, and damage to things.
Online courses are great for forklift operators because they are convenient and accessible. Operators can learn at their own speed and fit the training into their busy lives. They can access the courses from anywhere with the internet. It's easier to get certified without interrupting their work or personal life.
Forklift operators benefit the most from comprehensive and accessible training. Online courses give them the skills to operate stand-up forklifts. This improves their job chances and makes the workplace safer and more efficient. CertifyMe offers online certification courses designed for forklift operators. It's easy for them to become certified professionals.
Stand Up Forklift Certification FAQs
With the basics of stand up reach forklift certification covered, let's address a few of the questions we're most frequently asked about:
What class are stand up forklifts?
Stand-up forklifts belong to Class I: Electric Motor Rider Trucks. They can be equipped with pneumatic tires for outdoor use and have a lifting capacity of 8,000 lbs or more. Class I forklifts include various types, from stand-up riders to sit-down models. You'll need to earn your stand up forklift certification before using them.
How do you pass a stand up forklift test?
To pass a stand-up forklift certification test, one must prove safe and proper equipment handling. Ensure you wear a seat belt and a helmet for protection while operating the forklift. Use appropriate hand signals or indicators to communicate your intentions while making turns. Show the correct technique for loading materials. Ensure the load is evenly distributed and stable. Move the load from point A to point B without issue.
How fast does a stand up forklift go?
Most forklifts can go up to 10 miles per hour. Many businesses limit their speed to 5 mph. This creates a safe space in busy areas with people and other equipment. Going too fast on a forklift can be dangerous. It can cause problems. Problems include difficulty steering, tipping over, or being unable to stop quickly. It can also lead to fines and penalties.

Start Your Stand Up Forklift Training Now
Stand-up forklift certification is essential for workplace safety. It will help reduce workplace accidents and injuries. Proper training ensures operators handle forklifts correctly and adhere to safety rules. Enroll in CertifyMe's online stand-up forklift certification for comprehensive training. It's convenient and ensures you become a skilled and certified operator. The course follows OSHA standards, providing valuable skills and knowledge for a safer workplace. Contact CertifyMe for forklift certification today!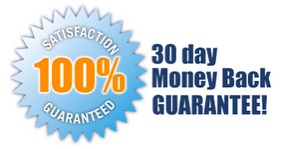 5 EASY STEPS!
Follow step-by-step instructions to get OSHA compliant!
This low-cost program can be completed anytime, anywhere!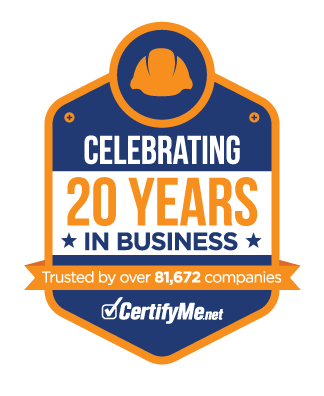 Get Started Now By Registering Your Company For Free!
FREE 3 Year Renewals
Instant Access 24/7
Print Your Proof of Training
OSHA Accepted Nationwide
*If you are an individual not currently employed by a company use your personal name in
the 'Company Name' field.