Limited Time Offer! Free Covid-19 safety course with purchase of any Forklift or Aerial Lift Certification!
Access your free Covid-19 safety course in your members area once you have completed your purchase.

Side Loading Forklifts and Their Uses
Posted by: admin on September 17, 2018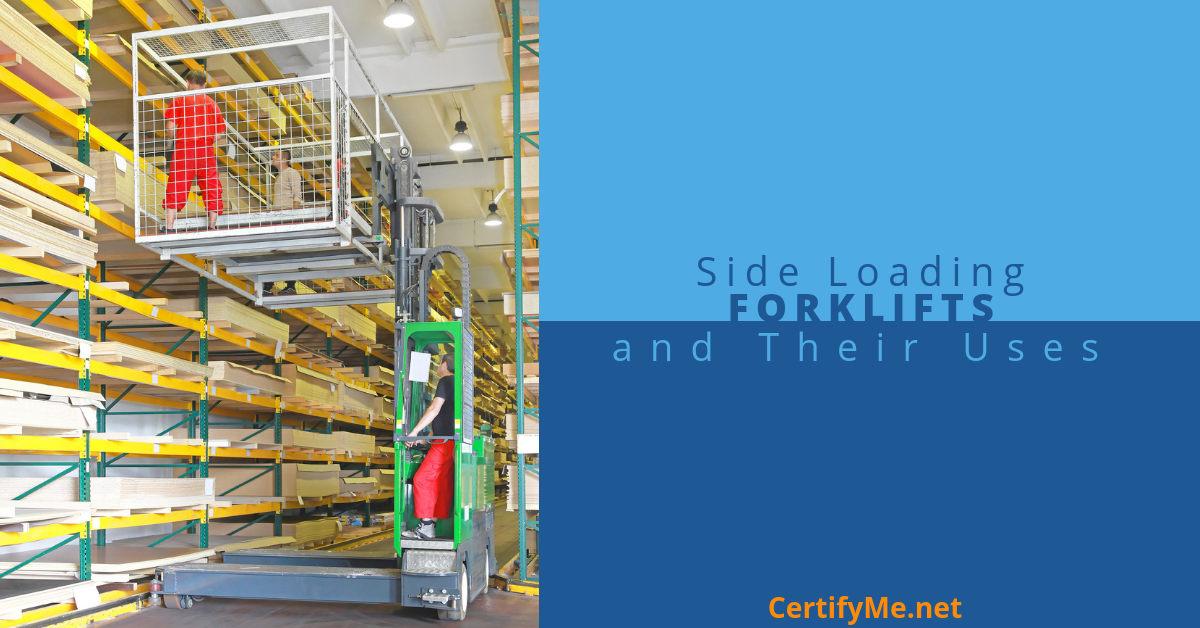 Side loading forklifts, which are also known as sideloader lift trucks, are used for lifting, transporting and unloading long, heavy and awkward loads through narrow warehouse aisles. Around since the 1950s, side loading forklifts are typically found in steel service centers, lumber yards and other businesses where lengthy or bulky items need to be moved through tight passages. Unlike ordinary forklifts, the side loading lift operator stands sideways in the lift's cabin, which gives him or her a clear view in all directions. Side loading forklifts have also come to be known sideloaders because unlike standard forklifts, their forks are located on the side rather than the front.
More About Side Loading Forklifts
Some side loading forklifts can carry very long, unwieldy loads. Depending upon the make and model, they're able to lift and transport loads of anywhere from a few thousand pounds to several tons. They're ideal for moving long, heavy loads like:
Bar stock
Laminates
Tubing
Lumber
Furniture
Rolls of carpet
Since side loader forks are extended with a scissor mechanism, they never need to turn in an aisle. This means they can be almost the same width as the aisle itself. Intended primarily for indoor use, side loaders can also be used outside.
Side loading forklifts come in both man up and man down models. Cabins on man down forklifts are fixed to the vehicle's body, while cabins on man up side loaders are raised and lowered with the forks. Man up sideloaders allow the operator to combine pallet handling tasks with order picking and inventory retrieval. When used for order picking, the man up version has the additional advantage of placing the operator near the items being retrieved.
Sideloader bed lift lengths are adjustable, and can be configured to perform various tasks. Most sideloaders can also be adjusted for lift capacity, mast height and fork length. Optional accessories include lights, mirrors and similar add-on safety equipment. Side loading forklifts come in models powered by batteries, diesel or liquefied petroleum gas (LPG). Benefits of sideloaders over regular forklifts include faster travel speeds and better maneuverability in tight spaces. Because they give the operator greater visibility, they're also safer to operate.
Side Loading Forklift Advantages and Disadvantages
In addition to the operator's increased forward and rearward visibility, their unique design gives side loading forklifts some advantages over conventional forklifts. These include:
Ability to move alongside storage racks or trucks for easier loading and unloading
They're able to move down narrow aisles and through narrow doorways
A flat cargo bed on the side of the lift helps stabilize the load when it's being moved
Because their loads face the direction the lift is moving, long and awkward loads can be handled more safely and easily
Some newer models allow operators to steer each of the lift's four wheels separately, which lets them move in all four directions
There are also some disadvantages to sideloaders. With the exception of when working in narrow aisles, side-loading forklifts are generally less maneuverable than standard forklifts. Because they're specialized pieces of equipment, it's sometimes necessary to purchase accessories or attachments for handling and moving different load weights and types of materials.
Variations of Side Loading Forklifts
Multi-directional forklifts provide a one-vehicle solution that can be used for a variety of tasks. They combine the features of sideloaders, very narrow aisle (VNA) vehicles and counterbalanced forklifts in a single piece of equipment. As with sideloaders, multi-directional forklifts are available in battery-operated, diesel and LNG powered versions. Since they're suitable for both indoor and outdoor work, multi-directional forklifts reduce or eliminate the need for keeping multiple vehicles onsite, which minimizes the size of the company's fleet. Multi-directional vehicles also free up storage space and improve overall operating efficiency. Some examples of multi-directional forklifts are those made by Combilift, Manitou and Bendi.
Becoming a Certified Side Loading Forklift Operator
As with other forklift and aerial lift workers, OSHA requires side lift operators to be properly trained and certified before they're allowed to use the equipment. It's the responsibility of the employer to ensure that all side lift operators have been properly trained. Failure to do so can result in substantial fines from OSHA. Worse yet, side loading lifts in the hands of untrained workers can result in workplace accidents causing serious injuries or even death.
The fastest most convenient and affordable way to certify side lift operators is through CertifyMe.net's online forklift operator training. Our 100% OSHA-approved program can train and certify your employees in as little as an hour using a smartphone, tablet, laptop or other digital device. All class materials are available online 24/7, so training can be completed any time and anywhere that's convenient, so long as there's an internet connection available. CertifyMe graduates also receive free three year renewal training, which OSHA requires every three years. To get started today, contact us online or call us at (602) 277-0615.
Welcome to CertifyMe.net
CertifyMe.net has offered online forklift certification since 1999. With Our Convenient online program. your employess can earn their certification in an hour or less.
Browse Online Certifications:
This low-cost program can be compeleted anytime, anywhere!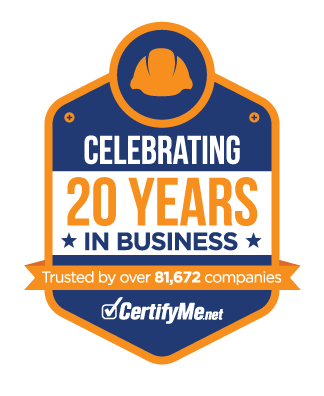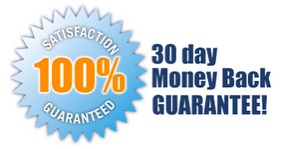 Connect with Us


Get Started Now By Registering Your Company For Free!
FREE 3 Year Renewals
Instant Access 24/7
Print Your Proof of Training
OSHA Accepted Nationwide
*If you are an individual not currently employed by a company use your personal name in
the 'Company Name' field.