Limited Time Offer! Free Covid-19 safety course with purchase of any Forklift or Aerial Lift Certification!
Access your free Covid-19 safety course in your members area once you have completed your purchase.

What Is a Forklift Warehouse Accident?
Posted by: admin on March 15, 2021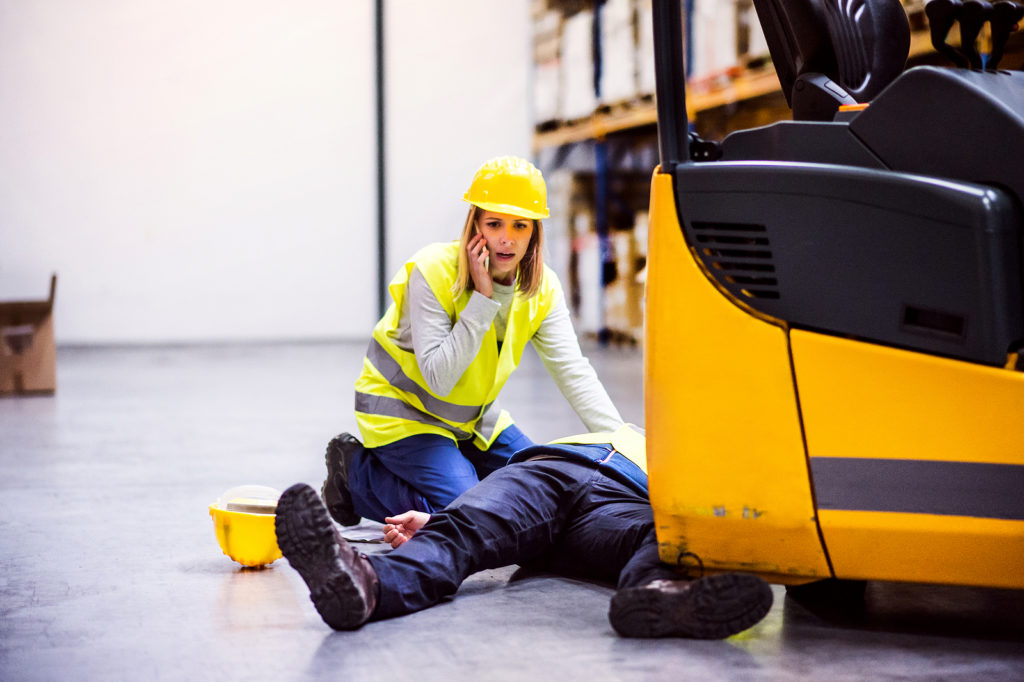 A forklift warehouse accident can happen at any time and result in an injury or death. You must plan for forklift warehouse accidents. Otherwise, you put your business and its workers in danger.
What Causes a Forklift Warehouse Accident?
Common reasons why forklift driver warehouse accidents occur include:
Driver has not been properly trained to operate a forklift
Speeding
Forklift malfunction
Dim lighting
Forklift is carrying a large, elevated load
To prevent a forklift in warehouse accident, you must comply with OSHA requirements. This enables you to implement appropriate warehouse safety protocols.

OSHA Warehouse Accident Forklift Safety Protocols
OSHA offers the following recommendations to help businesses guard against forklift warehouse accidents:
– Teach, evaluate, and certify that all operators can use a forklift safely.
– Ensure that no one under the age of 18 uses a forklift.
– Perform regular forklift maintenance.
– Ensure workers only use a forklift in safe work environments; there should be no hazards present any time a forklift is being used.
– Follow safe procedures to pick up, put down, and stack loads.
– Slow down when driving a forklift in congested areas or on slippery surfaces.
– Ensure an operator wears a seatbelt.
– Never drive a forklift up to a person standing in front of a wall, stacked materials, or any other fixed object.
– Understand the forklift's load capacity and do not handle loads that exceed this amount.
– Keep a defective forklift out of service until it is repaired; if an operator identifies any problems with a lift, the machine must be taken out of service immediately.
– Ensure there is sufficient room in aisles for forklifts to travel and at locking docks or passages where lifts are used.
– Maintain adequate ventilation to keep concentrations of noxious gases from a forklift's engine exhaust below acceptable limits.
– Provide workers with covers and/or guardrails to protect them against falls.
– Teach workers about the dangers associated with carbon monoxide and other forklift combustion byproducts.
Along with complying with OSHA requirements, you can use proven techniques to lower the risk of forklift warehouse accidents.
Tips to Avoid Forklift Warehouse Accidents
Here are three tips to help you avoid forklift warehouse accidents.
1. Clean and Organize Your Warehouse
Perform regular cleaning across your warehouse. Remove trash and other obstructions from aisles. Also, ensure all areas of your warehouse are well-lit.
A neat, tidy warehouse promotes safety and productivity. Forklift operators can safely travel around your warehouse. In addition, they can perform everyday tasks without endangering themselves or others.
2. Maintain Your Forklifts
Conduct routine forklift safety inspections. Ensure forklift operators always inspect a lift for leaks and proper tire inflation before they use it. Furthermore, forklift operators should visually inspect the fork mechanism, engine belts, and hydraulic hoses before use.
If a forklift identifies any issues with a lift, the machine must be taken out of service. Any forklift repairs should be performed by a qualified mechanic.
3. Standardize Loading and Unloading Procedures
Require forklift operators to stack pallets in a uniform fashion. Forklift operators should account for the weight and height of stacked pallets. They should also use extreme caution when loading and unloading loads.

Teach Your Workers About Forklift Warehouse Accident Dangers
A forklift certification program lets workers learn about forklift accidents and the dangers associated with them. CertifyMe.net offers an OSHA-compliant program that lets your workers earn their forklift certification in as little as one hour. In doing so, our program makes it easy to teach your workers about forklift safety. For more information about our program, please contact us online or call us today at 1-888-699-4800.
Welcome to CertifyMe.net
CertifyMe.net has offered online forklift certification since 1999. With Our Convenient online program. your employess can earn their certification in an hour or less.
Browse Online Certifications:
This low-cost program can be compeleted anytime, anywhere!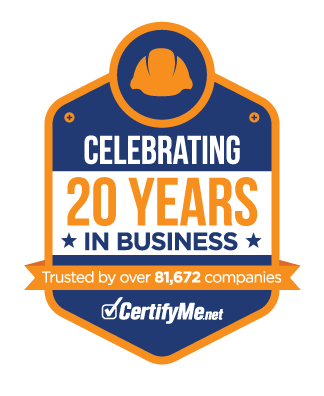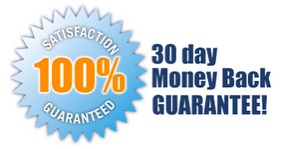 Connect with Us


Get Started Now By Registering Your Company For Free!
FREE 3 Year Renewals
Instant Access 24/7
Print Your Proof of Training
OSHA Accepted Nationwide
*If you are an individual not currently employed by a company use your personal name in
the 'Company Name' field.