Slippery When Wet: Warehouse Trip and Slip Hazards
Posted by: admin on August 16, 2018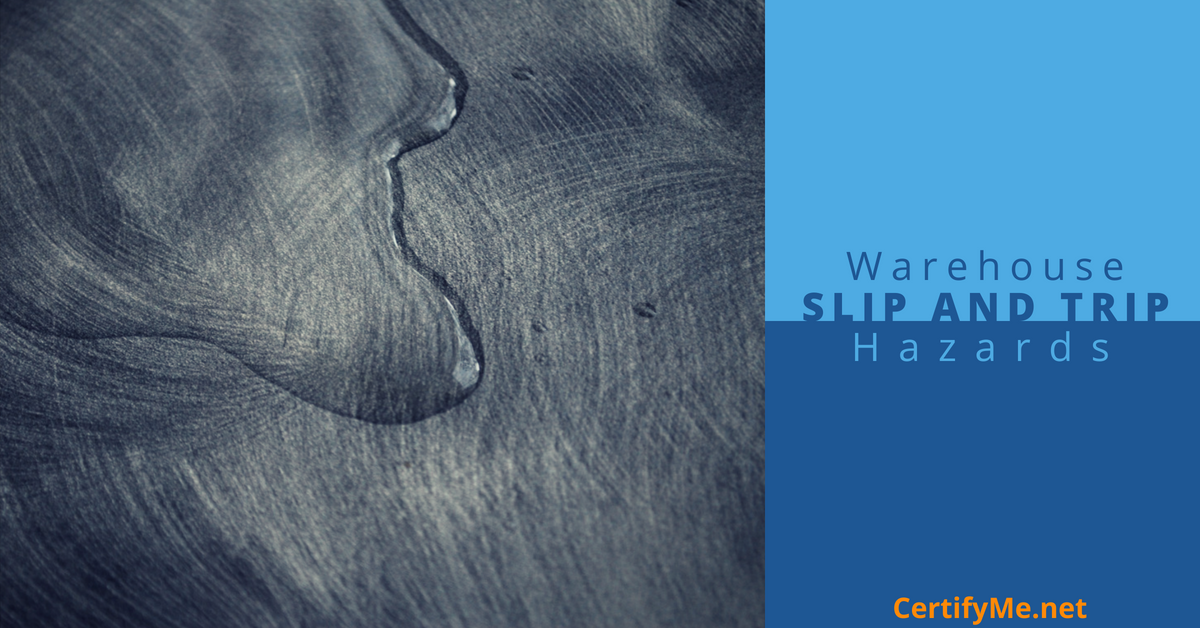 A warehouse is a work environment, just like many other workplaces. But unlike offices and most indoor facilities, warehouses are more likely to have injuries and accidents. A number of factors contribute to this:
Forklifts. With so many powered industrial trucks moving everywhere, accidents are more likely to happen – even though you can reduce those odds with training from us!
Ignoring safety rules. The Occupational Safety & Health Administration (OSHA) sets guidelines and standards for workplace safety. When these rules are ignored or neglected, bad things happen. Sure, this can happen in any workplace, but when they occur in a warehouse, the potential damage is greater.
Slips & trips. Warehouses come in many shapes and sizes – and also different floor surfaces. From refrigerated storage facilities to outdoor warehouses, workers need to be cautious at all times.
For this article, let's focus on warehouse trip and slip hazards. We'll look at common causes for each type of hazard, and also offer some suggestions to keep your warehouse as clean, clutter-free, and safe as possible!
Preventing accidents and injuries is just one important part of a well-rounded forklift driving skill set. At CertifyMe.net, our training courses review important safety information, including the best ways to promote a safer, more efficient workplace. Sign up for our forklift training and become OSHA compliant today!
Hazards Ahead: Trip and Slip Accidents in the Warehouse
Trips, slips, and falls happen more often than you think. Aside from the obvious personal injury involved, there is also the possibility of an OSHA audit. These types of accidents can be extremely costly for individuals and companies. Knowing how trip and slip hazards happen is important for any warehouse. So is knowing what to do in order to avoid them.
Warehouse Trip Hazards
Pallets. They're one of the most common items in warehouses, so it's understandable if a few get lost in the shuffle. Both empty and occupied pallets are serious trip hazards for anyone walking through a warehouse, including forklift drivers dismounted from the control cabin.
Merchandise. The typical warehouse contains thousands of pallets of products. If – when – a pallet spills or falls, literally hundreds of trip hazards are created right away. Safer product placement is an obvious way to avoid this, and forklift certification from CertifyMe.net can help in this regard.
Bad visibility. If you can't see a trip hazard, it'll probably cause a fall. Ensure your warehouse has adequate lighting for everyone – forklift drivers included.
Warehouse Slip Hazards
Water and ice. Slick surfaces and forklifts aren't a good combination. The same goes for pedestrian foot traffic. Minor spills can become major problems in any warehouse, so make sure any spill or area with water is quickly cleaned up.
Oil slicks. It's not a problem for warehouses that use electric forklifts, but most standard forklifts eventually leak a little bit of oil. Tell your safety supervisor immediately about any oil slicks.
Spilled product. For environments like frozen food distribution centers, spilled products pose serious slip hazards. Example: frozen beans on a warehouse floor act like miniature ball bearings. If any product is spilled in your warehouse, clean it up ASAP.
Don't Trip During Your Forklift Certification Test – Sign Up with CertifyMe Today!
Now that you know how to avoid certain trip and slip hazards, it's time to gain a solid footing with your forklift certification. CertifyMe.net offers customized training packages for forklift drivers of any skill level. Sign up today – become OSHA compliant in no time. It's the best move you can make for your forklift driving career!
5 EASY STEPS!
Follow step-by-step instructions to get OSHA compliant!
This low-cost program can be completed anytime, anywhere!



Get Started Now By Registering Your Company For Free!
FREE 3 Year Renewals
Instant Access 24/7
Print Your Proof of Training
OSHA Accepted Nationwide
*If you are an individual not currently employed by a company use your personal name in
the 'Company Name' field.