Limited Time Offer! Free Covid-19 safety course with purchase of any Forklift or Aerial Lift Certification!
Access your free Covid-19 safety course in your members area once you have completed your purchase.

Proper Forklift Maintenance to Increase Operator Safety
Posted by: admin on April 8, 2014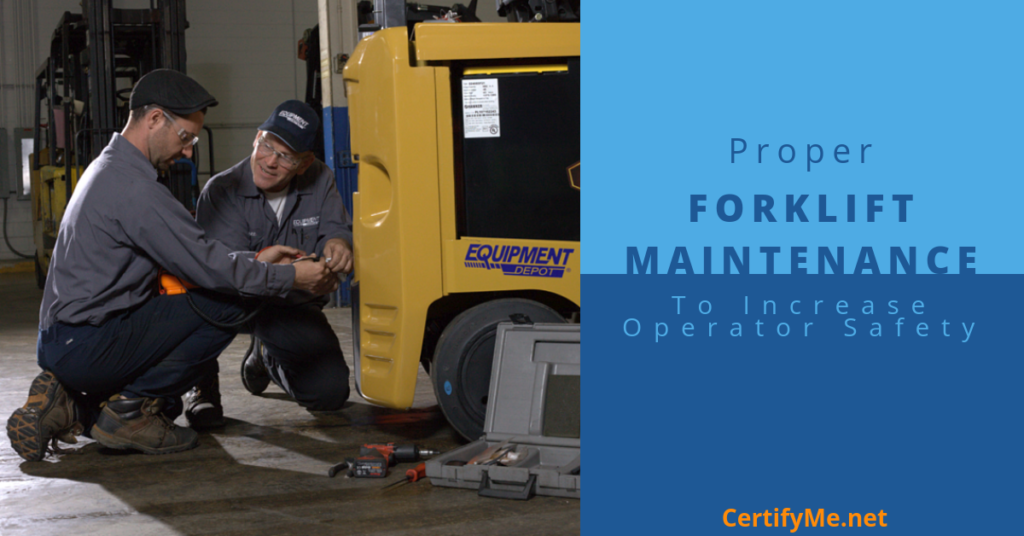 Forklift maintenance is important, but it is often overlooked.  An inattentive forklift operator may make mistakes that lead to accidents. Yet, many forklift accidents also occur due to the fact that a forklift is not performing at its typical levels. 
Are Regular Forklift Maintenance Checks Necessary?
Forklift accidents can sometimes be avoided thanks in part to regular maintenance checks.
According to OSHA, failing to adhere to a regular forklift maintenance schedule can cause costly accidents. Step-by-step forklift maintenance procedures are in place for a reason, too. By teaching your employees the proper forklift maintenance procedures, you can lower the risk of forklift accidents.
Forklift Maintenance Requirements
OSHA offers a forklift maintenance guide that provides forklift maintenance essentials. Along with using this guide, it is always a good idea to create, maintain, and update your forklift maintenance schedule and keep up with forklift preventative maintenance.
Many mishaps with forklifts can be avoided altogether with a sensible, easy-to-follow forklift maintenance plan. In fact, forklift maintenance can help with:
✓ Accident prevention: Poorly maintained forklifts can contribute to workplace accidents. If you want to avoid accidents on the job, keeping a regular forklift maintenance checklist and schedule is highly recommended.
✓ OSHA inspections: When OSHA officials visit your company, they'll want to make sure all of your forklifts meet the latest safety standards. If you don't have a forklift maintenance checklist or plan in place, your chances of being cited or fined increase dramatically. So, a forklift maintenance plan can save your company money in the long run. Some OSHA citations can reach tens of thousands of dollars in fines and penalties, so you should do everything you can to try to avoid these citations.
✓ Overall safety: A well-trained forklift driver is safer and more efficient than an untrained one. Safe drivers + safe equipment = a well-oiled machine!
Craft a forklift preventative maintenance plan — you'll be glad you did. This plan allows your business to comply with OSHA requirements and further protect your workers against forklift accidents.

Forklift Maintenance Tools
Some companies hire mechanics who possess forklift maintenance tools to ensure their forklifts are running well. Other (smaller) companies may not have a dedicated maintenance department, but there are still things these businesses can do to properly maintain their forklifts.
Regardless of whether your business has a forklift preventive maintenance crew, you can use these tips to assess your forklifts and maximize their performance:
1. Check the Tire Pressure 
Forklift maintenance requirements start from the ground up – literally. Deflated tires can cause load shifts, bad turns, and other accidents, so you'll want to address under-inflated tires right away.
You can find the recommended pressure for a forklift tire on the tire itself or in the owner's manual. It's recommended to keep your forklift tire pressure equal to or just below the recommended pounds per square inch (PSI) rating.
In colder months, aim for fully inflated tires. If your forklifts operate outdoors in hot climates, it's OK to keep the tire PSI just below the recommended rating. For example, if your forklift tires have a 26 PSI rating, you can fill up the tires to 24 PSI, since the interior air pressure will expand slightly, especially in warm temperatures.
2. Prioritize Safety
Inspect your forklift's turn signals, backup signals, and horn. If your turn signals or any other advance warning lights aren't working properly, fix them immediately.
3. Conduct Regular Inspections
Most forklifts have their own maintenance schedule, but it can be beneficial to conduct your own regular (or random) inspections. How are the fluids? What's that noise when you make a left turn? Stay on top of the little things, and the big picture will take care of itself. Going above and beyond your company's suggested forklift maintenance checks provides an extra layer of safety.
4. Check for Leaky Hoses
Even if you see a slight leak somewhere that does not look like a big problem, identify where the issue is coming from and repair it. Remember, leaks only get worse over time, and hose checks should be part of your forklift maintenance schedule. If you're unsure about which hoses to check or suspect a hose is faulty, check with your site safety supervisor immediately. Your company should always have the proper forklift maintenance tools to replace leaky hoses as well.
5. Assess the Forks
Your lift's forks keep loads stable and help move and transport thousands of pounds of cargo. However, even one small bend in the forks will impact their performance and safety. Ensure the forks are good to go – if not, repair or replace them.
6. Read Your Forklift Manual
Every powered industrial truck comes with a step-by-step forklift maintenance process, and you should learn this process. Following the process allows you to contribute a safe workplace and extend the life of your forklift.

Learn About Forklift Maintenance Requirements from CertifyMe.net
Just like a forklift requires good maintenance, so does a well-run safety program. If your company is behind on forklift training and safety, your employees could get hurt on the job.
At CertifyMe.net, OSHA-compliant forklift training is our specialty. We offer forklift safety training courses to novice and veteran forklift operators, and our classes are the preferred choice of small, mid-sized, and large companies across the United States. To learn more about our forklift safety training classes, please contact us online or call us today at 1-888-699-4800.
This article was originally posted in 2014 and updated in 2020 to provide more tips and recommendations.
Welcome to CertifyMe.net
CertifyMe.net has offered online forklift certification since 1999. With Our Convenient online program. your employess can earn their certification in an hour or less.
Browse Online Certifications:
This low-cost program can be compeleted anytime, anywhere!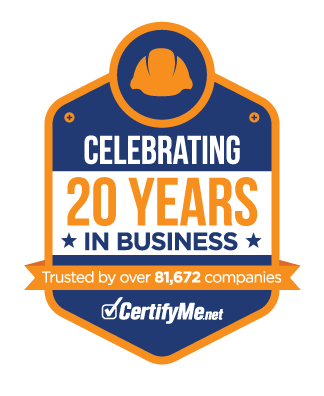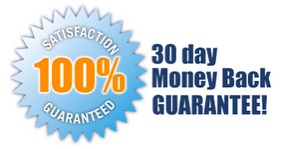 Connect with Us


Get Started Now By Registering Your Company For Free!
FREE 3 Year Renewals
Instant Access 24/7
Print Your Proof of Training
OSHA Accepted Nationwide
*If you are an individual not currently employed by a company use your personal name in
the 'Company Name' field.