Limited Time Offer! Free Covid-19 safety course with purchase of any Forklift or Aerial Lift Certification!
Access your free Covid-19 safety course in your members area once you have completed your purchase.

Forklift Recertification
Forklift Certification Renewal
Does your company have a forklift safety program and are you confident that it's effective? We receive plenty of questions from HR personnel and safety supervisors about forklift training regarding OSHA's renewal certification requirements, and we have the answers.
Why Recertification is Important
During an OSHA inspection, an operator with an expired forklift can cause your company to be penalized and fined. As the employer, it's your responsibility to see that your forklift operators renew their expired forklift certifications on time. CertifyMe.net provides the best online forklift training available, and we can also help with all your other lift license renewal requirements! It's part of our pledge to deliver the most comprehensive and affordable OSHA compliant forklift training and recertification program you'll find anywhere.

Here are some of the benefits that come with our renewal and recertification training:
✓ Convenience:
Our forklift renewal certification is online, so it can either be taken at your facility or anywhere that's convenient and there's an internet connection. As soon as the training is completed, renewal certificates can be immediately downloaded and printed. Our training is designed to work around your schedule, and not the other way around. It doesn't get more convenient than when you choose to renew forklift licenses online with CertifyMe.net!
✓ Safety:
With a forklift license renewal from CertifyMe.net, your workers are better prepared to properly handle workplace hazards. More than being a federal requirement, renewal training simply makes good sense from a safety standpoint for both forklift drivers and employers alike. If you're not sure how to have your workers renew their forklift licenses, you've come to the right place to learn!
✓ Cost:
Concerned about the forklift renewal cost to recertify your drivers? Don't be. With CertifyMe.net, there's no need to worry, since our comprehensive forklift training courses include free three year renewals.
✓ Peace of mind:
OSHA citations can carry heavy penalties. When you have your drivers take forklift recertification training through CertifyMe.net, you'll rest easier and have the peace of mind that comes with knowing your workplace is safer and your company is OSHA compliant.
Why OSHA Requires Forklift Recertification Training

The primary purpose behind OSHA's regulations is worker safety. As a business owner, you already know about OSHA's involvement in your everyday operations. They set the laws and regulations you need to follow if you want to stay in business. This includes requiring all forklift operators to receive certification training, as well as follow-up recertifications a minimum of every three years. Here are more of the many benefits your company will derive from OSHA's forklift certification requirements followed up by license renewal training every three years:
✓ Reduced number of workplace injuries and fatalities
✓ Staying up to date on the latest safety and operating practices and procedures
✓ Saving money by having fewer property and equipment repair and replacement bills
✓ Having a competitive edge in your industry by attracting the very best equipment operators
✓ Increased workplace productivity and revenues through more efficient workers and fewer accidents

FAQs
There are plenty of questions, and CertifyMe.net has the answers! Some of the issues we're often asked: about forklift operator certification and renewal training are included below, along with our answers.
Q: How long is a forklift certificate good?
A: Three years after a forklift operator's initial certification, OSHA regulations require forklift drivers to renew their operator cards. CertifyMe.net has affordable and convenient forklift recertification programs that are perfect for all business types and sizes. Renewal training may be required sooner than three years if a driver is seen operating a forklift in an unsafe manner, is in an accident involving a forklift or there are changes in the working environment or type of lift equipment.
Q: How and where do my employees renew their forklift licenses?
A: Here's how our forklift recertification program works and what's involved in a forklift license renewal. CertifyMe.net offers exclusive three year renewal programs for all of our client companies. If your forklift operators were originally trained and certified through our school, where to renew forklift licenses is just a few keyboard clicks away, and with CertifyMe.net are free for life. As your forklift drivers reach the three year mark since their initial certification or last renewal, simply have them log in to our website, take the forklift renewal certification training, pass a hands on evaluation and they'll have a renewed operator certificate and wallet card with a three year expiration.
Q: How Long is a Forklift Certification Good For?
A: After your workers complete CertifyMe.net forklift operator training, their operators' licenses and certifications are valid for three years. OSHA established the renewal requirement to ensure that employers always have qualified and properly trained drivers on the job. Regardless of whether your workplace is a warehouse, construction site or anywhere else forklifts are used, your operators will need to be recertified after 36 months. Our free three year renewal training is another reason to enroll your drivers in CertifyMe.net's online program!
For more information about renewing a forklift license, check out this blog post.
Q: Is a Forklift Renewal Certification also good for three years?
A: Other than the standard three year period, there are events that can require your forklift drivers to renew their operator certifications sooner than three years. These include a driver being seen operating a forklift in an unsafe manner or is involved in an accident while driving a forklift. Renewal training is also required whenever there's a change in the type of equipment being used or when operations are relocated or a facility is modified in a manner that affects safety regulations.
Sign up with CertifyMe.net Today So Your Workers Can Renew Forklift Licenses Online!
Don't let an operator with an expired forklift license put your company on the wrong side of OSHA inspectors – have them renew their lift licenses today! If you're not sure how to have your forklift drivers renew their licenses, the time to get help is now! Don't wait for OSHA inspections that can result in paying thousands of dollars in fines and penalties.
CertifyMe.net makes it easy for your workers to renew their forklift licenses online. Just have them log into your company account, work through the training modules and print their updated operator cards and operator evaluation forms, which will show the date of the renewal training. It's that easy, and with CertifyMe.net renewals are totally free for life.
The choice is easy. Sign up today with CertifyMe.net – we've been the country's number one web-based forklift training provider since 1999, so enroll your workers in our online forklift license renewal class now! We're with you every step of the way from initial certification to renewal training and beyond! Register your company with CertifyMe.net and let us take care of all your forklift license renewal needs.

If you have more questions about renewing forklift licenses or scheduling forklift license renewal courses, contact us online, which a great way to get in touch. You can also call us at (888) 699-4800 or reach us by email at sales@certifyme.net.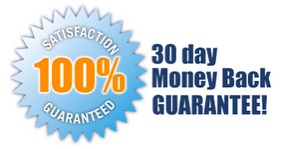 5 EASY STEPS!
Follow step-by-step instructions to get OSHA compliant!
This low-cost program can be completed anytime, anywhere!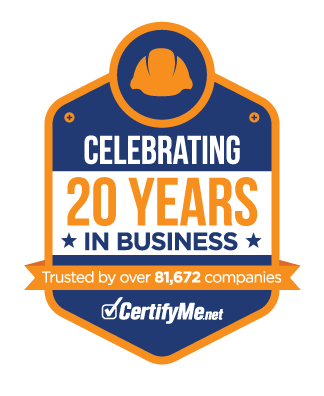 Get Started Now By Registering Your Company For Free!
FREE 3 Year Renewals
Instant Access 24/7
Print Your Proof of Training
OSHA Accepted Nationwide
*If you are an individual not currently employed by a company use your personal name in
the 'Company Name' field.