How You Can Ensure Safety on the Job
Posted by: admin on January 29, 2016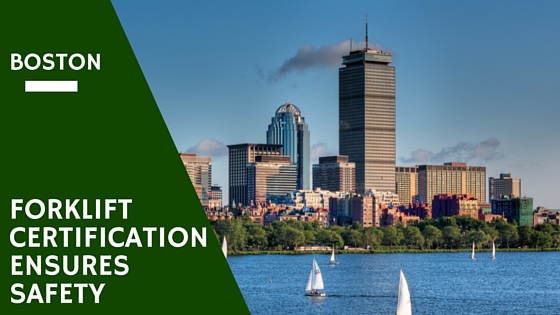 As the largest city in Massachusetts, Boston is home to many happy residents and booming businesses. Founded in 1630, it is one of the oldest cities in the U.S., making Boston full of historic charm and unique architecture. Boston was named #55 on Forbes' list of the best places for businesses and careers.
Boston is a bustling city with busy workplaces and warehouses involving large equipment. In the effort to keep up with expansion and change, many businesses and employees skip ongoing education and forklift certification in Boston. However, this lackadaisical approach to training has a big impact on the safety and function of a large city.
Forklift Certification in Boston Ensures Safer Workplaces and Communities
Boston is a busy city. Repairs need to be made on a daily basis throughout the city, and new buildings need to be constructed to keep Boston modern. Forklift certification is the number one way to regulate these various projects and ensure they don't result in injury, fatality, and destruction. In fact, high-quality equipment training is the best way to reduce accidents from occurring on job sites.
Boston Man Killed in Warehouse Forklift Accident, December 2015
A man from Brockton, Mass. was killed in a forklift accident at a warehouse where he worked, Pharmasol. The man became pinned between a forklift and a large pallet when he attempted to get the pallet down for another employee and backed into a shelving unit. The forklift went under the shelving and pinned the man against it. The man died shortly after arriving at the hospital. It isn't known if the man had been trained, but such accidents can be prevented with proper certification and preparation for situations like this. Certification teaches workers the importance of checking their surroundings before operating an aerial lift.
January 2016 Forklift Accident in Massachusetts Causes Man to Be Airlifted
On January 13, 2016, a printing warehouse employee suffered from a severe forklift accident and had to be airlifted and helicoptered to a hospital in Boston. The victim was injured after the forklift he was operating fell from a 12-foot high platform. It isn't clear what caused the forklift to fall, but it is possible the worker was distracted or wasn't following proper safety protocol.
Boston Forklift Accident Attorneys Stress the Importance of Forklift Training in Boston
According to Boston forklift injury lawyers, forklifts are some of the most hazardous pieces of equipment. They can cause severe injury and fatality to both the operator and those nearby. OSHA requires employers only to hire workers with forklift certification training to operate machinery. When employees disregard these regulations, they are putting everyone in that worksite at risk. Some of the most common causes of forklift accidents are equipment malfunctioning, improperly maintained equipment, and operating a forklift on uneven terrain. For employees to understand the protocols that come with operating forklifts, and how to assess the equipment, they need to complete training.
CertifyMe.net offers employees the most convenient and affordable way to complete their essential forklift training. The online program takes only one hour to complete, and it costs only $59.95 per operator. Sign up today and prevent accidents, like the tragic ones mentioned above, at your workplace.
5 EASY STEPS!
Follow step-by-step instructions to get OSHA compliant!
This low-cost program can be completed anytime, anywhere!



Get Started Now By Registering Your Company For Free!
FREE 3 Year Renewals
Instant Access 24/7
Print Your Proof of Training
OSHA Accepted Nationwide
*If you are an individual not currently employed by a company use your personal name in
the 'Company Name' field.