Limited Time Offer! Free Covid-19 safety course with purchase of any Forklift or Aerial Lift Certification!
Access your free Covid-19 safety course in your members area once you have completed your purchase.

DOT HAZMAT Training & Certification
Online DOT HAZMAT Training – Sign Up With CertifyMe.net Today!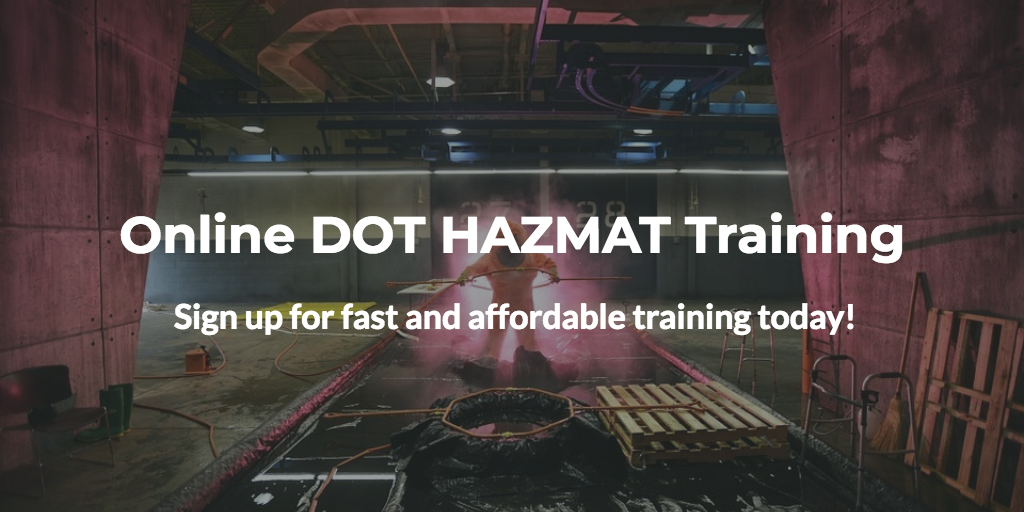 CertifyMe.net is known as the industry's leading provider of lift operator training and certification. What many people don't know is that CertifyMe also provides the same fast, convenient and affordable HAZMAT training that's required for working with hazardous materials. Take care of your DOT HAZMAT training requirements with CertifyMe.net today!
Register your company today for 100% OSHA compliant forklift and HAZMAT training.

Why Your Employees Need DOT HAZMAT Certification
The Department of Transportation (DOT) defines hazardous materials (HAZMAT) as substances or materials that could harm or endanger hazmat employees or the general public. DOT defines a hazmat employee as any person or entity involved with the handling or transportation of hazardous materials, including businesses and self-employed people.
Why is DOT HAZMAT Training Important?
DOT online HAZMAT training and online HAZMAT certification are important, and it's also required. It's the employer's responsibility to see that all hazmat employees are properly trained. This required training includes DOT HAZMAT general awareness, safety, and security classes. Failure to comply means substantial penalties, including hefty fines. In extreme cases, criminal fines of up to $500,000, five years in prison or both can be imposed. All required DOT online HAZMAT training is available online through CertifyMe.net, whose interactive training courses are 100% OSHA approved.
DOT Online Hazmat Training Requirements
If your company needs DOT HAZMAT certification or you're not sure about your current training matrix, contact CertifyMe.net. We'll ensure your DOT HAZMAT training requirements and other associated DOT HAZMAT training is up to date. You can't afford the cost of non-compliance!
If your employees have asked, "How do I find online HAZMAT training near me," the answer is simple: CertifyMe.net. We're everywhere you need to be – the nearest internet connection!
HAZMAT Regulations
If your employees need HAZMAT certification and training, here are a few regulations to keep on your radar:
✓ General awareness training
Overview of different HAZMAT regulations & requirements (classifications, labeling, packaging, shipping, etc.)
✓ Job-specific HAZMAT certification
For forklift drivers, one area is properly handling & storing HAZMAT cargo.
✓ Security training
Each facility has their own hazmat regulations, above and beyond minimum OSHA standards.
✓ And much more.
If your company needs hazmat certification and training (or OSHA compliant forklift training, too), sign up with CertifyMe.net today. We'll handle all of your OSHA training requirements!
Our Online DOT HAZMAT Certification Courses:
✓ DOT HAZMAT General Awareness Training 
It is intended for all employees who handle and transport hazardous materials. It's designed to make employees aware of situations under which they might encounter chemicals and other dangerous materials, along with the risks related to working with them. As with our other interactive courses, DOT HAZMAT General Awareness Training combines audio, video, text and graphics for a truly immersive learning experience. We make your DOT online HAZMAT training requirements easier than ever. The General Awareness Training can be taken by itself or in combination with our DOT HAZMAT Safety Training course.
✓ DOT HAZMAT Safety Training
Covers how to safely handle hazardous material and comply with the regulations that control these activities. DOT HAZMAT Safety Training covers how to respond to emergencies and protect employees from exposure to hazardous materials. The online HAZMAT certification course also includes procedures for avoiding accidents both in the workplace and while being transported.
✓ DOT HAZMAT Security Awareness Instruction
Focuses on making employees who work with hazardous materials aware of the security risks associated with transporting them, including ways to increase security while they are being transported. CM's Security Awareness Training also includes a section on how to recognize and react to potential security threats.
✓ DOT HAZMAT In-Depth Security Training
Goes beyond basic Security Awareness. Like our other courses, It includes establishing security objectives, organizing the internal security structure and implementing security procedures.  The course also covers how to assign security-related duties and responsibilities to individual employees, as well as the actions employees are to take if a breach in security should occur.
HAZMAT Training – FAQs
Q: What is HAZMAT training?
A: Hazardous materials (HAZMAT) training covers all critical safety aspects related to the safe handling of dangerous substances to protect their company, the environment, co-workers, and others from harm. OSHA requires HAZMAT training for all employees involved in the handling of hazardous substances.
CertifyMe.net offers OSHA compliant online HAZMAT certification at a great price. If your company needs online HAZMAT training, or you're always asking, "Where can I find online HAZMAT training near me," CertifyMe.net is here to help today. Sign up for our online HAZMAT certification today!
Q: What Will You Learn With Our Online HAZMAT Training?
A: With our online HAZMAT training, your employees will learn how to:
Prepare HAZMAT for transportation
✓ Store HAZMAT
✓ Properly handle HAZMAT (load, unload, etc.)
✓ Follow updated OSHA guidelines related to HAZMAT
✓ Operate vehicles related to HAZMAT handling
✓ Label, mark and organize HAZMAT
✓ Get proper DOT / security requirements for HAZMAT work
✓ Handle emergency situations with HAZMAT
✓ And much more
Q: How long is HAZMAT training?
A: Training only takes a few hours with CertifyMe.net!
Q: How often is Online HAZMAT training required?
A: HAZMAT certification expires after three years. At this time, you'll need to have your employees retrained – not a problem with CertifyMe.net, thanks to our online HAZMAT certification renewals!
Sign Up for OSHA-Compliant DOT HAZMAT Certification & Training
All new HAZMAT employees or those who change job functions are required to complete DOT online HAZMAT training within 90 days. These employees can work with hazardous materials before they've completed the courses, provided they're under the direct supervision of a properly trained and qualified HAZMAT employee. All hazmat employees are required to receive DOT HAZMAT recertification every three years.
The fastest, easiest and most affordable way for you or your employees to receive OSHA approved DOT HAZMAT certification training and recertification is through CertifyMe.net's Online HAZMAT Certification Courses. Call us today at 888-699-4800 or contact us online to get started on your way to becoming OSHA and DOT compliant and making the workplace safer for all concerned.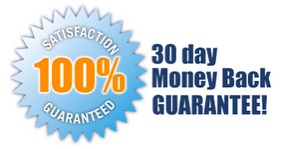 5 EASY STEPS!
Follow step-by-step instructions to get OSHA compliant!
This low-cost program can be completed anytime, anywhere!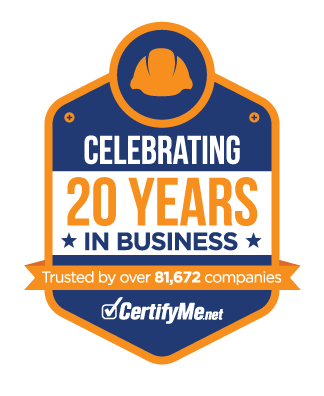 Get Started Now By Registering Your Company For Free!
FREE 3 Year Renewals
Instant Access 24/7
Print Your Proof of Training
OSHA Accepted Nationwide
*If you are an individual not currently employed by a company use your personal name in
the 'Company Name' field.