Limited Time Offer! Free Covid-19 safety course with purchase of any Forklift or Aerial Lift Certification!
Access your free Covid-19 safety course in your members area once you have completed your purchase.

How to Handle Hazardous Materials on Forklifts
Posted by: admin on January 10, 2022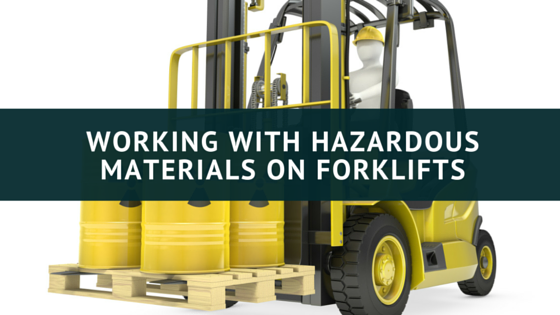 Operating a forklift can be risky, even when moving everyday products.  When the job involves moving hazardous materials, the risks increase. Even one minor spill can result in a serious injury.  Forklift workers and employers need to know how to recognize hazardous material signs and handle them safely. They also need to protect themselves from exposure to toxic chemicals and waste. With a little education and training, your entire team can guard themselves against many of the dangers associated with hazardous materials.
What Are Hazardous Materials?
OSHA defines a hazmat as any substance or chemical that is a health or physical hazard. This includes carcinogenic chemicals, toxic agents, irritants, corrosives, and more. For a complete list of all types of hazmats, read the Hazardous Materials Regulations guide at the U.S. Department of Transportation (DOT) web site.
Hazardous Materials Regulations
Five U.S. agencies are involved in creating hazardous materials regulations. Each has its own definition of hazmats. Each regulates different aspects of the materials.
Environmental Protection Agency (EPA) regulates hazardous waste and hazardous material disposal.
Pipeline and Hazardous Materials Safety Administration (PHMSA) regulates the movement of hazmats by all modes of transportation, including pipelines.
OSHA regulates the handling of hazardous materials as it relates to worker health and safety.
DOT regulates transporting hazardous materials by highway and other means.
Nuclear Regulatory Commission (NRC) regulates commercial activities and nuclear power plants.
Hazardous material regulations often overlap from these five agencies. When in doubt, contact the agency that deals with type of hazmats you handle.

Transporting Hazardous Materials
Forklift workers are involved in the handling and storage of hazmats, so it's important to train them in these areas. Chemical hazards and toxic substances can be harmful to one's health. They also pose a threat to the environment if they are flammable, corrosive, or reactive. Unsafe handling of compressed gasses can result in fires, explosions, and exposure to toxic gas. Driving a forklift with combustible fuel in a poorly ventilated area can lead to toxic buildups of carbon monoxide or carbon dioxide.
Having trouble picturing the kinds of hazardous materials you might run into in your workplace? Examples of hazardous materials include things like fire extinguishers, chlorine bleach, brake fluid, antifreeze, and batteries. Even if your organization isn't solely dedicated to the stocking or removal of hazardous materials, odds are good that you'll transport some kind of potentially dangerous substance at one point or another. That's why it's so important to establish clear policies surrounding the handling of such materials. 
Rules for Safe Handling of Hazardous Materials
Clear expectations and safety standards can help protect workers who handle hazardous materials. Keep these recommendations in mind as your organization develops its own policies and procedures. Hazardous materials regulations should always include the following rules for workers:
Follow all established policies

Think ahead to prevent accidents

Always wear required PPE

Properly label materials and place them in an appropriate container

Review Safety Data Sheets to understand risks before using a material

Use materials only for their intended purpose

Refrain from eating or drinking while handling hazardous materials

Read labels to determine how to properly handle, store and clean up materials

Store materials in a cool, dry place

Keep work areas clean and sanitize surfaces at least once per shift

Learn about emergency protocol and how to respond in case there is a spill or leak

Keep emergency eyewash stations clean and in good working order
While your organization may add to this list, these rules are a great jumping off point for creating safety standards in your workplace. 
Hazardous Materials Signs: How to Determine a Hazardous Load

Any load containing hazmats is a hazardous load. Forklift workers that move these types of loads need special training to handle them safely. But loads can be hazardous even when moving items that aren't dangerous. Any load becomes hazardous if packaged and shaped in a way that makes the forklift unstable. For example, the load is off-center. The load exceeds weight limits. The load is damaged, not secured, or has loose parts. Forklift workers need to be on the lookout for signs of unstable loads even when they aren't transporting hazardous materials.
Hazardous Material Disposal: How to Handle a Warehouse Spill
Even when forklift workers follow hazmat safety guidelines, spills can happen. That's why OSHA requires a written hazmat spill plan that includes:
Safety data sheets for all job site chemicals
What PPE is on hand and how to use it
Who to contact when a spill occurs
How and when to evacuate
Steps to contain, clean up, decontaminate, and safely dispose of the spilled hazmats
When a spill occurs, follow these hazardous material disposal steps:
Identify the spilled hazmat. Materials oozing from marked containers are easy to identify. For unknown spills, workers should keep a safe distance away, then contact someone who can identify the spill.
Help the injured. If a worker has been injured, call 911. Spill responders should remove and treat the injured worker until help arrives. Hold frequent training drills so people know what to do in an emergency.
Protect workplace responders. The responding workers must know the type of PPE needed for the spill. If the hazmat can't be identified, use all PPE available.
Contain the spilled hazmat.To keep the spill from spreading, place dikes around the edges of the spill. Depending of where the spill is coming from, turn off spouts or valves. You may also need to patch a seam or roll a leaky drum so the leak is on the top. Any drains near the spill should be covered.
Clean up the spill. Make sure the spill is stopped at the source. When cleaning, work from the outside in toward the center. Use mops, shop towels, mats, and other absorbent items to mop up small spills. Shop vacs can be used for larger spills.
Decontaminate the spill site. Set up a decontamination area before entering the spill site. Thoroughly clean the entire area. Finish by cleaning the tools and equipment used to clean up the spill.
Report the spill. Not all spills need to be reported. Consult the Code of Federal Regulations for the amounts and types of hazmat spills that must be reported.

Improve Safety With Forklift Training From CM
All forklift workers should be trained and certified. When they know how to recognize hazardous material signs and what to do, they will be prepared to handle a hazmat emergency. The online program with CertifyMe.net offers a fully OSHA-compliant certification course. Workers can take the course anywhere they have access to the Internet.  It only takes about 60 minutes to complete the course. After passing the course, workers can print their certification card right away.
The training includes everything workers need to know, including what are hazardous materials.  Other topics include how to recognize a hazard, communicate for help, and take appropriate action. With our training, workers can stay safe on the job. Employers get peace of mind knowing their people are safe and their business is compliant with OSHA guidelines.
To begin your training, click here or dial 1-888-699-4800 for more information. 
Welcome to CertifyMe.net
CertifyMe.net has offered online forklift certification since 1999. With Our Convenient online program. your employess can earn their certification in an hour or less.
Browse Online Certifications:
This low-cost program can be compeleted anytime, anywhere!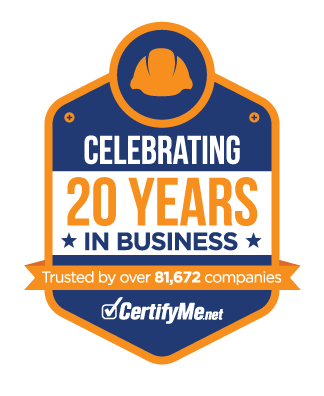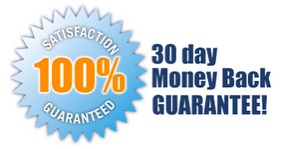 Connect with Us


Get Started Now By Registering Your Company For Free!
FREE 3 Year Renewals
Instant Access 24/7
Print Your Proof of Training
OSHA Accepted Nationwide
*If you are an individual not currently employed by a company use your personal name in
the 'Company Name' field.