Limited Time Offer! Free Covid-19 safety course with purchase of any Forklift or Aerial Lift Certification!
Access your free Covid-19 safety course in your members area once you have completed your purchase.

The Process of a Forklift Certification
Posted by: admin on October 15, 2013
These days, there are more forklifts than ever being used in many diverse industries. From warehousing to construction, retail and more, you can expect to find a forklift on the job. Lift trucks are very efficient tools for moving items from one place to another. But due to their size, weight and lifting heavy loads, operating a forklift involves risk. That's where forklift certification enters the picture.
OSHA requires all employers to ensure their forklift workers have their forklift certifications.  This creates safer job sites for warehouses, outlets and other industrial settings. Training and certifying forklift workers might seem like a daunting task. But it's easier than you think. And thanks to online training, it's also quicker and more affordable.
The Need for Forklift Safety and Performance Standards
OSHA first enacted forklift certification requirements in 1999. This was due to two factors. One was the rapid growth in the use of forklifts on job sites. The other was the high rate of accidents involving lift trucks.
Forklifts don't move very fast. Their top speed is less than 20 mph. So it might seem like the risk of accidents is low. In fact, thousands of forklift accidents occur in the U.S. every year. These accidents cause an average of 85 deaths each year. They also result in 35,000 serious injuries and more than 61,000 minor injuries.
There are many reasons for forklift accidents. These include slick surfaces, driving too fast in cramped areas, inattentive drivers and more. However, in many cases, the underlying cause of forklift accidents is lack of training. OSHA estimates that 70% of forklift accidents could be prevented with proper training. When workers understand forklift safety and performance standards, it greatly reduces the chances of an accident.
Understanding the Forklift Certification Process
The key to forklift safety is having well-trained operators. The certification is the result of the training. It shows the forklift worker has completed training that complies with OSHA forklift safety and performance standards. It also helps protect employers in case a forklift accident occurs.
If the accident involves an untrained worker, OSHA can levy costly fines. If the worker is trained and certified, OSHA doesn't usually levy a fine unless the employer has violated other safety guidelines.
Forklift certification lasts for three years. At that time, workers are required to get recertified. In some cases, workers need to get recertified before the three years are up. Common reasons include:
✓ Switching to a different type of forklift
✓ Getting involved in an accident
✓ Engaging in unsafe behaviors when operating a truck
✓ The job site environment has changed
Forklift Safety Compliance Is Easy With Online Certification
There are three basic ways to get forklift certification. One is to send workers to offsite training. You can conduct training sessions at your job site. Or, you can certify your forklift workers online. Of these three options, online forklift certification is the quickest and easiest. It involves five steps:
Company Registration. This is important for assessing what particular forklift certification standards apply to you.
Operator Registration. With your forklift fleet in the system, it's now time to register each worker. This process is designed to keep training records for all your forklift operators.
Student / Operator Login. With a user ID and password, each forklift worker can take the required training classes. The sessions are online, so they can be taken at any time – 24/7, 365 days per year.  All you need is the ability to connect to the Internet.
Online Learning and Testing. Content is provided to study and take forklift certification The data is available to all your operators or students.
Temporary Certification Cards. Upon completing the training, students can print a temporary forklift certification OSHA will accept these cards in the event of an inspection. Permanent cards will arrive in the mail in a week or two.
The CertifyMe.net Difference
Many companies offer online forklift training. But there's only one CertifyMe.net  Here's what makes us a leader in the industry.
We have successfully trained workers in more than 28,000 companies. Our forklift certification courses take about an hour to complete. If students get interrupted during the training, they can log out and come back later without having to start over.
Our training provides everything you need in one complete package. There are no extra books or DVDs to buy. We also offer "train the trainer" courses for foremen and managers. We even offer free lifetime recertification, which is required by OSHA every three years.
Our prices are surprisingly affordable. You can certify any number of workers. You pay only for the certifications you need. And our online certification training comes with a 30-day money-back guarantee. Don't let the fear of high training costs prevent you from getting the forklift training your workers need. For cost-effective training that helps protect your people and your business, visit CertifyMe.net online today.
Welcome to CertifyMe.net
CertifyMe.net has offered online forklift certification since 1999. With Our Convenient online program. your employess can earn their certification in an hour or less.
Browse Online Certifications:
This low-cost program can be compeleted anytime, anywhere!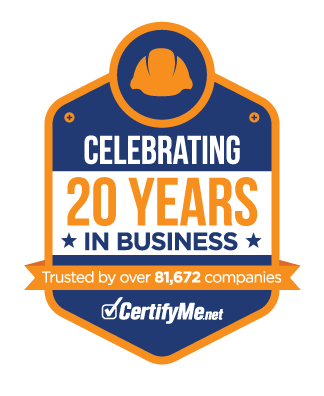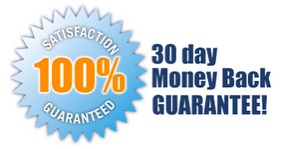 Connect with Us


Get Started Now By Registering Your Company For Free!
FREE 3 Year Renewals
Instant Access 24/7
Print Your Proof of Training
OSHA Accepted Nationwide
*If you are an individual not currently employed by a company use your personal name in
the 'Company Name' field.