Limited Time Offer! Free Covid-19 safety course with purchase of any Forklift or Aerial Lift Certification!
Access your free Covid-19 safety course in your members area once you have completed your purchase.

Study Reveals In-House Forklift Training Programs Aren't Effective
A new study reveals most businesses use in-house training and materials, yet 52% of participants are seeing forklift accidents at least a few times per year. Learn why leveraging OSHA compliant third party training programs are the best solution to being OSHA compliant
For industrial workplaces, proper training is one of the most important initiatives. The U.S. Occupational Safety and Health Administration (OSHA) sets training standards and guidelines for all work environments, especially for those with powered industrial trucks – forklifts, pallet jacks, and other cargo-carrying equipment.
While OSHA creates, monitors, and enforces safety codes, the ultimate responsibility for training forklift drivers is with employers. Per OSHA Standard 1910.178, employers are required to provide training and evaluation.
Surprisingly, many companies aren't up to speed with their training requirements. Not surprisingly, most of these firms cite lack of knowledge, money, and time for their training gaps.
How does a lack of training impact workplace safety, and what are the best training methods to become OSHA compliant?
In order to find out why training and compliance deficiencies exist, and what companies can do about the problem, one of the leading online OSHA-compliant forklift training firms looked into the issue.
CertifyMe.net, a premier OSHA training and compliance training company, recently conducted a comprehensive workplace safety survey. This in-depth research included more than 100 managers, supervisors, training coordinators, and other personnel involved with heavy machinery operation.
"Our survey offers eye-opening insight into the importance of OSHA compliant training," said Tom Wilkerson, CEO of CertifyMe.net. "Given OSHA's considerable visibility and strong presence regarding workplace safety, there are compliance issues that can't just be brushed under the rug. Lack of training leads to accidents and injuries. Our research gets into the 'what' of training and compliance problems, but more importantly the 'why' as well."
Some key findings include:
More than half of surveyed companies admit to more than one yearly accident involving powered industrial trucks.
Less than one-third of polled companies aren't sure of their own internal safety plans, policies, and procedures.
Training location (in-house, 3rd party location, etc.) plays a critical role in determining how companies fulfill (or fail) their compliance requirements.
Nearly half of companies in the survey failed to recognize what attributes define a "certified" forklift driver or pallet jack operator.
Many companies are still not aware that employers are responsible for forklift training.
In-house training materials are preferred over 3rd party content for most employers surveyed.
A quarter of companies aren't certain their safety program would pass on OSHA audit.
The research and analysis from CertifyMe.net offer a glimpse into how companies address their training and compliance needs – and also offers suggestions and recommendations to gain OSHA compliance for any employee using powered industrial trucks.
Yearly Accident Statistics
From the 103 total companies surveyed by CertifyMe.net, 54 answered "a few per year," while another 41 said "at least one per year." Any workplace incident or accident is a serious issue, particularly when they involve powered industrial trucks.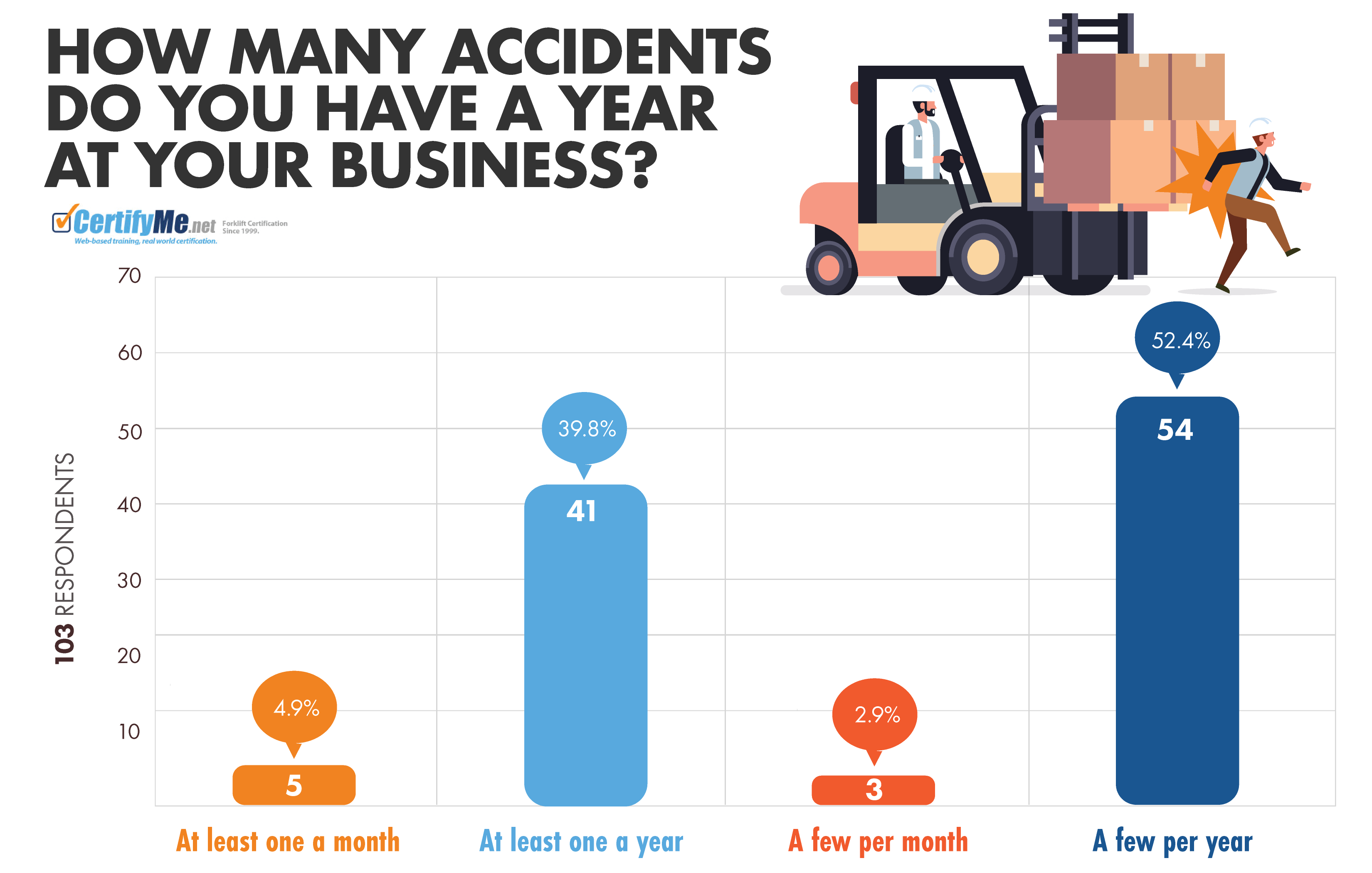 "What these numbers illustrate is that accidents happen probably more often than most people think," said Mr. Wilkerson. "Yet despite these significant accident rates, training gaps continue to plague companies all across the United States."
Alarmingly, a handful of companies reported frequent workplace accidents, at least one per month.  Part of the problem is due to the fact that many facilities lack the in-house expertise necessary to avoid accidents and injuries. OSHA's directive concerning employer-supplied training states, "All training and evaluation must be conducted by persons with the necessary knowledge, training and experience to train powered industrial truck operators and evaluate their competence."
Internal Training Programs – What You Don't Know Can Harm You
When companies try the "solo act" with their OSHA compliance needs, deficiencies invariably surface. For many facilities that have issues with OSHA training and compliance, part of the problem is due to the lack of an in-house expert who is familiar with the latest safety guidelines. In other words, they require a Train the Trainer solution. CertifyMe.net offers this training package to achieve – and more importantly, maintain – 100% OSHA compliance for every employee who uses a forklift, pallet jack, or other powered industrial truck.
CertifyMe.net asked foreman, safety supervisors and others whether their companies have a formal training program for their forklift trainers.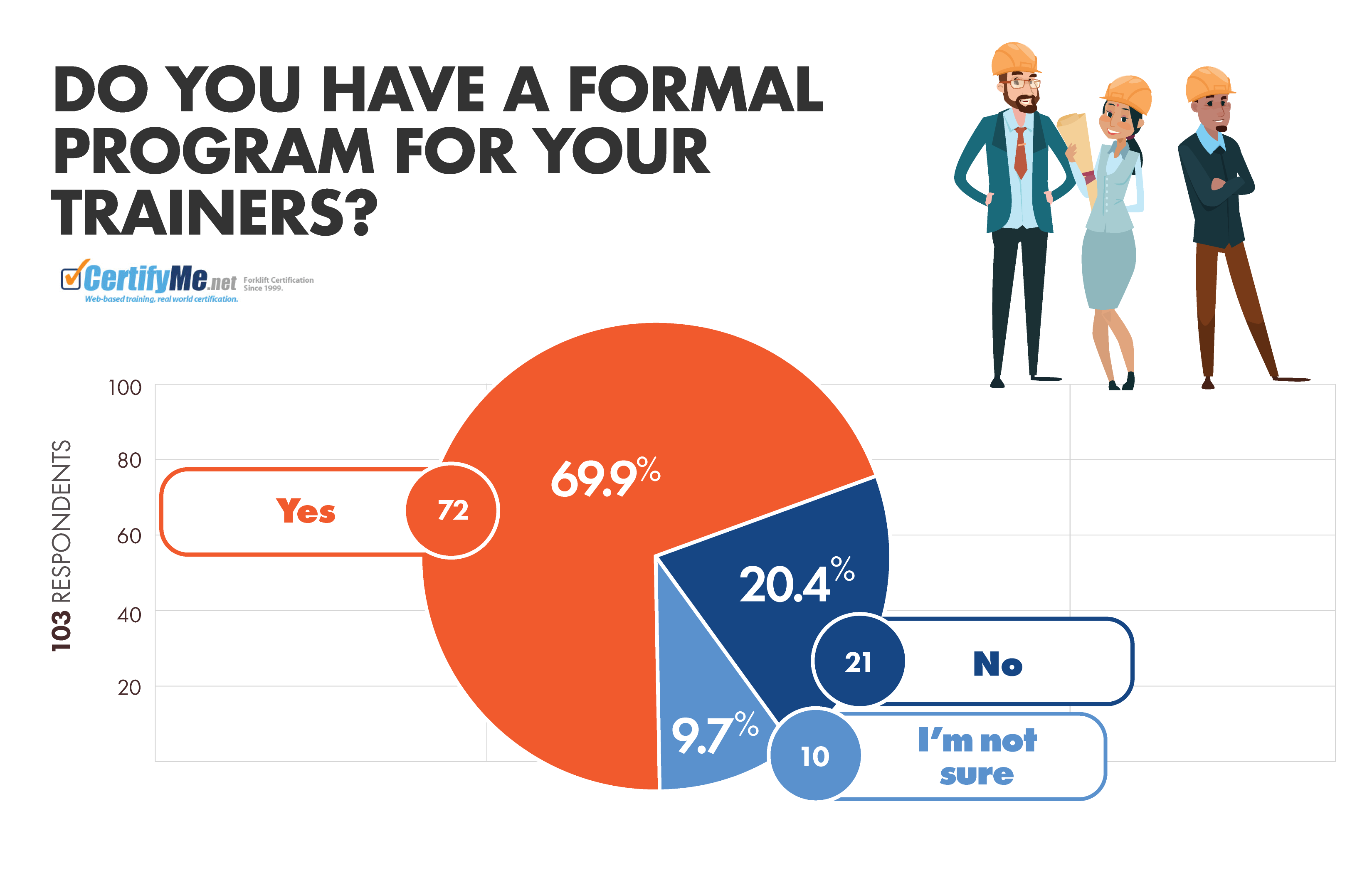 Nearly one-third couldn't definitively say whether their company had such initiatives in place. And that's a major root of the problem. If accidents or injuries occur involving forklifts or pallet jacks, a likely OSHA audit or investigation follows. If a company doesn't have the proper training records in its employees' HR files or lack the documentation to prove training took place, heavy fines and penalties are levied.
"Without a Train the Trainer plan or program to properly instruct trainers, it's only a matter of time before the inevitable happens: injuries, accidents, negative PR, and expensive OSHA fines," said Mr. Wilkerson. "It's simply not worth the hassle, not to mention the considerable safety hazards involved. By training your trainers to become OSHA-compliant safety resources, you're giving yourself and your facility one thing that's hard to put a price tag on: the safety-first knowledge and resources required to avoid disasters in the first place."
Training Providers – In-House or External Assistance?
Who and where provides OSHA compliant training is a significant factor when it comes to safety on the job. That's true for office workers, blue-collar professions, and certainly forklift drivers. About 25% of companies polled by CertifyMe.net would rather seek 3rd-party assistance for their OSHA training and compliance requirements – even if this "solution" costs more money and takes more time to accomplish.
With an on-site training resource able to handle ever-changing OSHA safety requirements – available through an evaluator/instructor training program offered by CertifyMe.net – safety supervisors, managers, and other personnel enjoy an affordable, efficient training solution.
"We've found our Train the Trainer course enables any facility to effectively manage their OSHA compliance, right at the source," Mr. Wilkerson said. "It's difficult enough ensuring every employee is compliant, and many off-site training classes complicate the matter. With CertifyMe.net, we help any company recruit, train, and promote in-house safety expertise whenever it's needed."
The Myth of "Certified" Forklift Operators
One interesting (and perplexing) data point discovered in the CertifyMe.net survey is with so-called "certified" forklift operators. Nearly half (42%) of polled companies suggested they "generally hire certified forklift operators."
There's just one thing wrong with this assessment, especially as it relates to "certified" trainers. It's impossible to hire pre-qualified candidates since companies are responsible for qualifying forklift drivers, pallet jack operators, and on-site safety evaluators and trainers.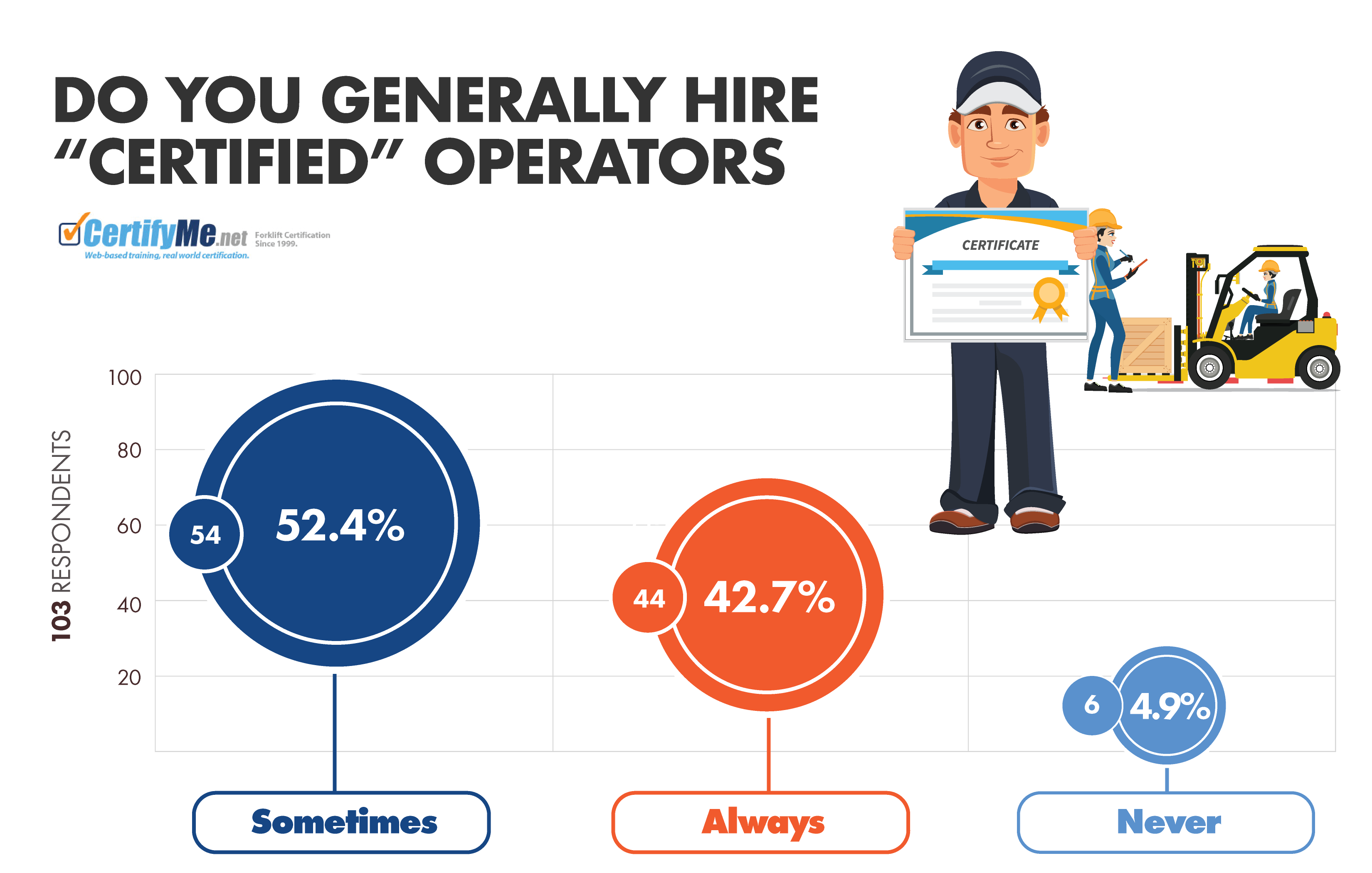 For this segment of the CertifyMe.net survey, it turns out that only five companies answered correctly: Never.
"There is no such thing as hiring an already-qualified trainer," said Mr. Wilkerson. "Employers are responsible for testing and verifying this element of OSHA compliance. One encouraging fact we learned from our research is that an overwhelming majority of safety supervisors realize that they're on the hook for getting their forklift operators and training staff OSHA compliant."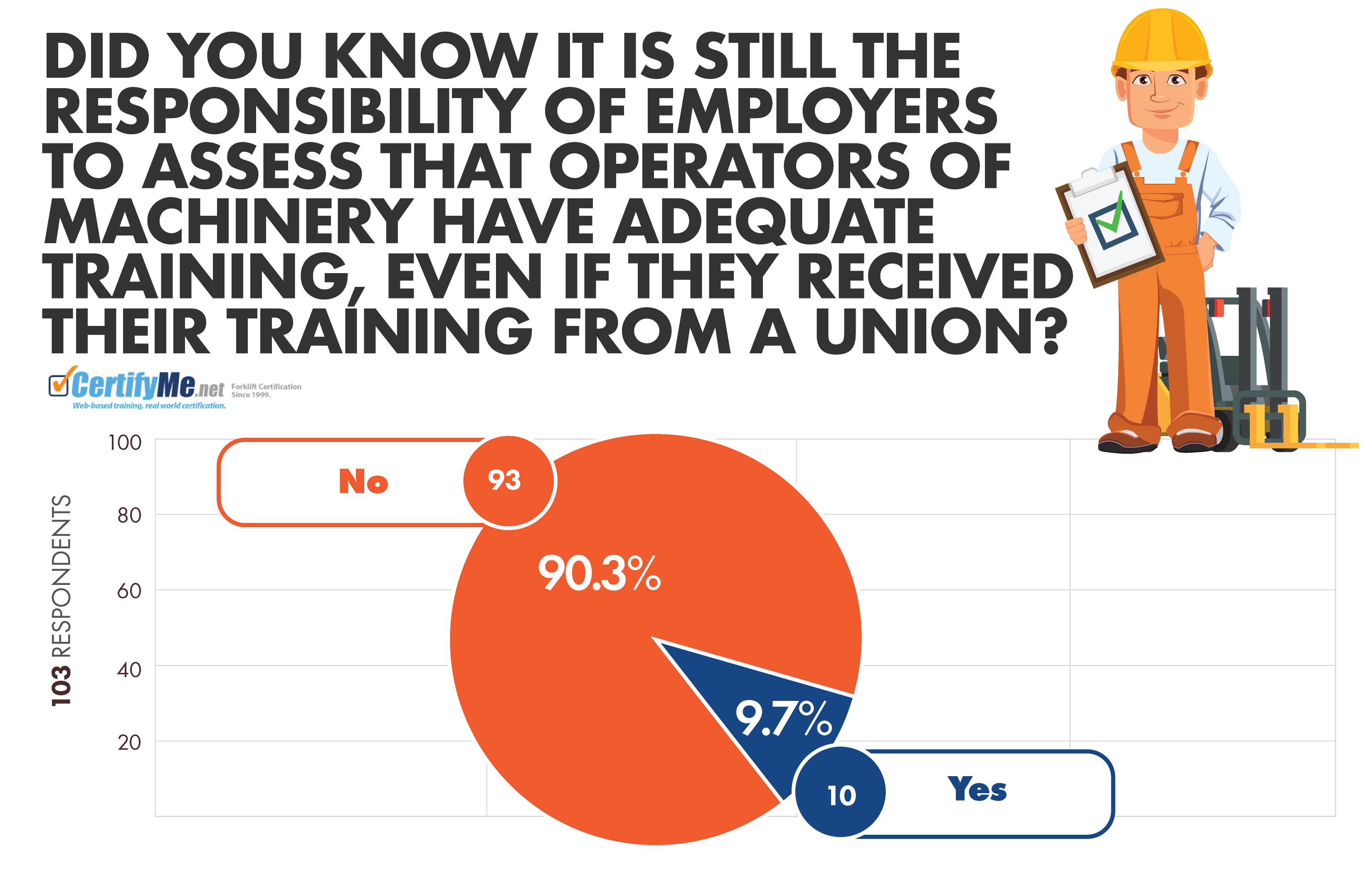 According to the National Safety Council (NSC) Alliance and OSHA, employers should provide training and certification to employees who will operate trucks and ensure forklifts are operated by authorized employees who have been specifically trained on safe operating procedures and hazard recognition.
Is Training Frequency Positively Correlated with Confidence of OSHA Compliance?
 Are companies that frequently train their forklift operators confident they'll pass a typical OSHA audit? The results of the CertifyMe.net research project suggest there's a small correlation between time spent training their trainers and the ability to pass an OSHA inspection.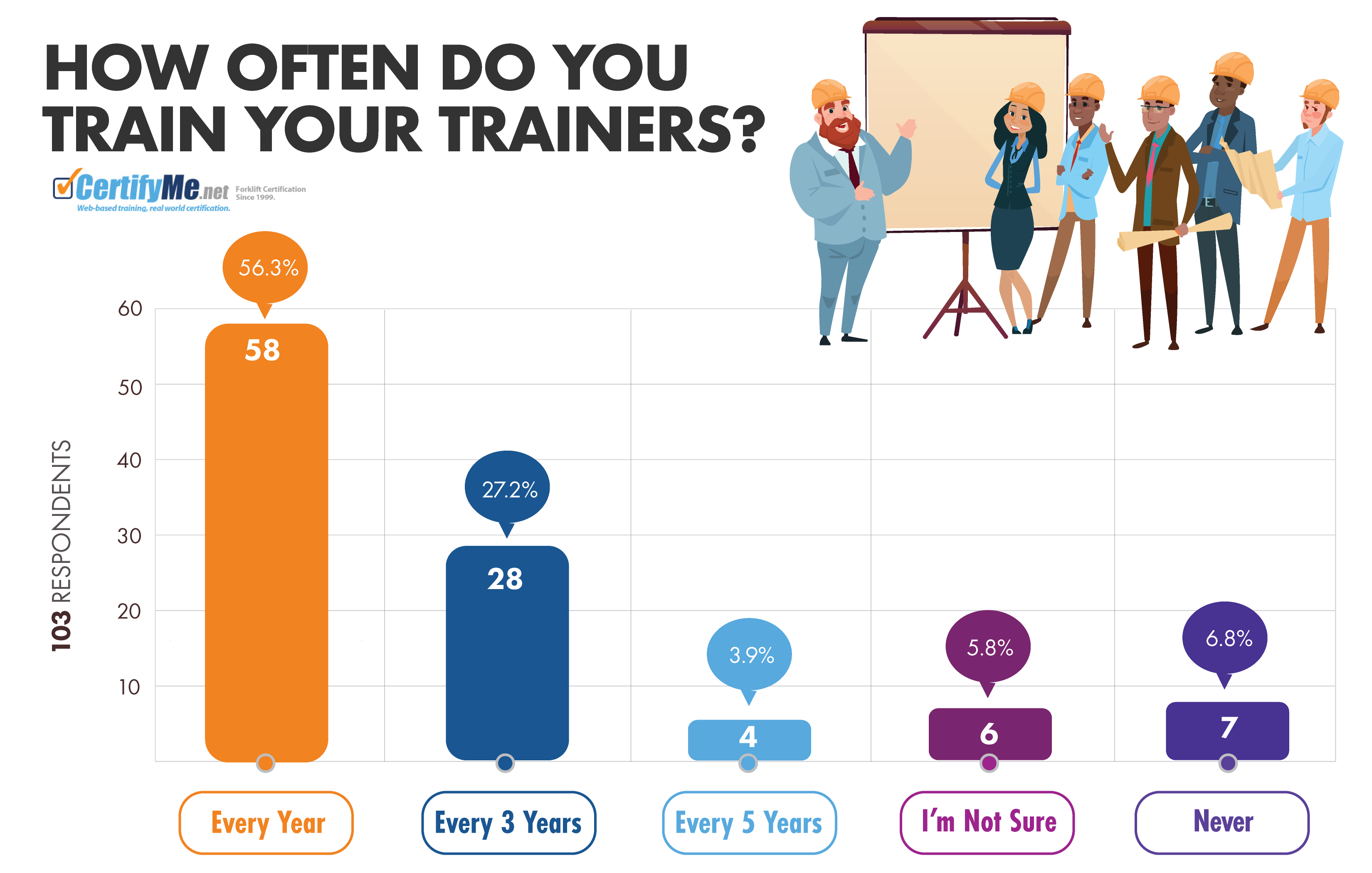 More than half of surveyed companies train their trainers every year. Yet other data presented discouraging trends; a total of 17 companies are clearly non-compliant with their training frequency. These firms answered one of three ways:
Every 5 years

I'm not sure

Never
"It's always a good idea to provide regularly scheduled training for forklift trainers," suggested Mr. Wilkerson. "And with an online resource like our Train the Trainer course, accessibility isn't an issue. This is what prompts many firms to seek an expensive, external training source. However, an OSHA-compliant, reliable, always-ready resource is always available with CertifyMe.net."
Another survey question asked companies how confident they'd be in the face of a hypothetical OSHA inspection.
25% of companies aren't sure their training program will pass an OSHA audit. "With CertifyMe.net and a Train the Trainer program in place, these firms can be 100% sure. That's one of the most interesting things we learned with our research; compliance is achievable, but companies aren't sure where to turn with their OSHA training and compliance needs," said Mr. Wilkerson.
Training Material: Where Are Companies Getting Their OSHA-Complaint Learning and Teaching Content?
More than half of the companies who participated in the CertifyMe.net research project prefer in-house training content to 3rd-party materials.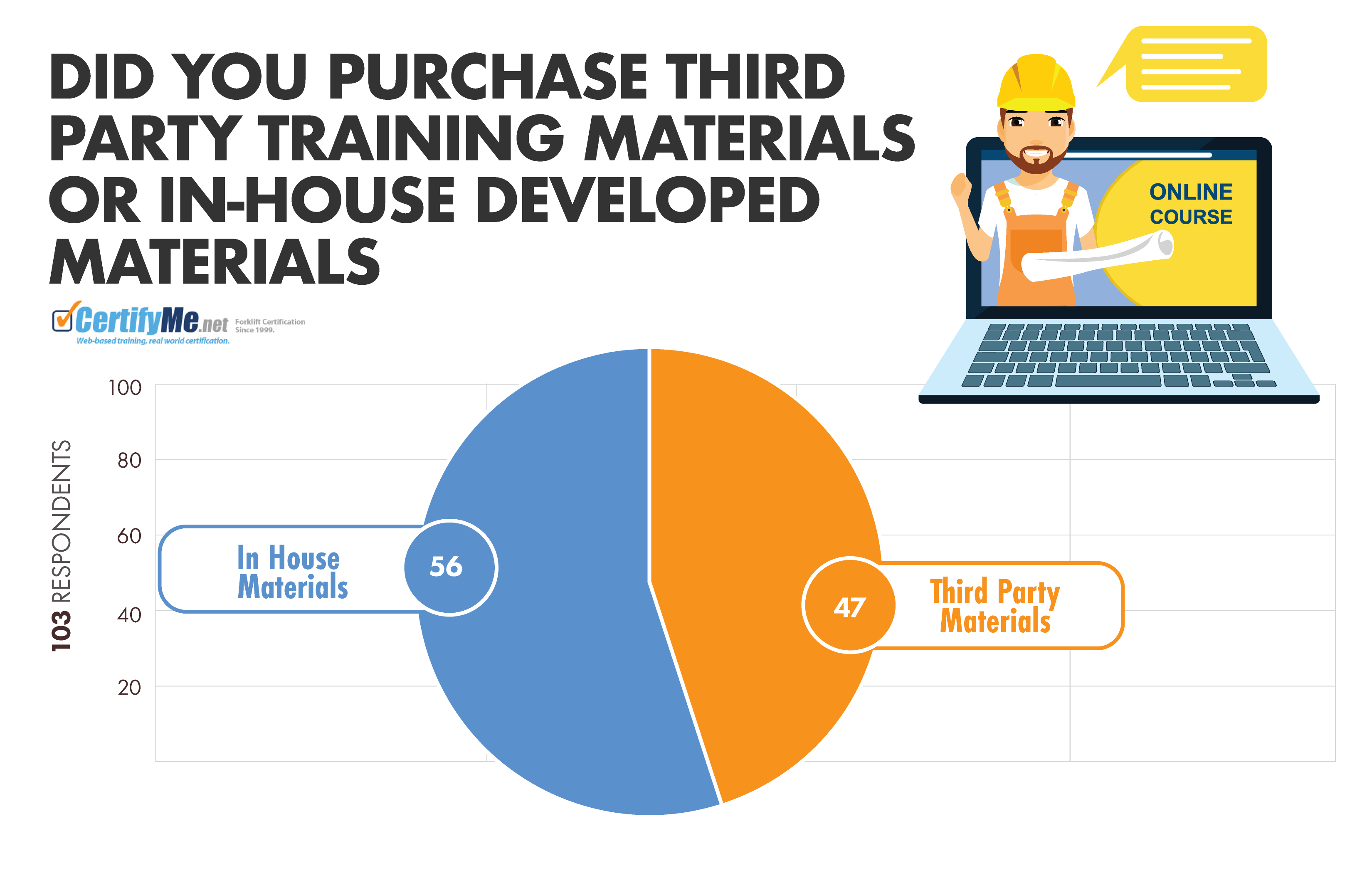 "From our perspective, we'd like to ensure that most – if not all – facilities that use forklifts on a daily basis have the confidence and knowledge to develop their own learning content," said Mr. Wilkerson. "So many safety issues are the direct result of not knowing where to direct talent, energy, and resources. CertifyMe.net empowers every employer to take control of their own OSHA training program."
Simply put, if your company uses powered industrial trucks, you can't afford non-compliance. OSHA is crystal-clear about the employer's responsibility for training their employees. As the CertifyMe.net study shows, concerning training gaps still exist. But that doesn't mean you have to go another day without an on-site, customized training partner – sign up for CertifyMe.net's Train the Trainer program today!
To learn more about  CertifyMe.net, call their training experts directly at 1-888-699-4800, or visit their website. Thank you for considering CertifyMe.net for your complete OSHA training and compliance requirements.

Share this Image On Your Site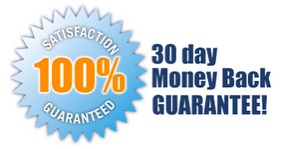 5 EASY STEPS!
Follow step-by-step instructions to get OSHA compliant!
This low-cost program can be completed anytime, anywhere!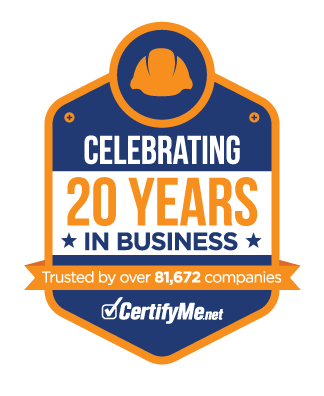 Get Started Now By Registering Your Company For Free!
FREE 3 Year Renewals
Instant Access 24/7
Print Your Proof of Training
OSHA Accepted Nationwide
*If you are an individual not currently employed by a company use your personal name in
the 'Company Name' field.