Limited Time Offer! Free Covid-19 safety course with purchase of any Forklift or Aerial Lift Certification!
Access your free Covid-19 safety course in your members area once you have completed your purchase.

Bakersfield Forklift Certification
Need Forklift Certification in Bakersfield? Sign up with CertifyMe.net for 100% OSHA Compliant Training!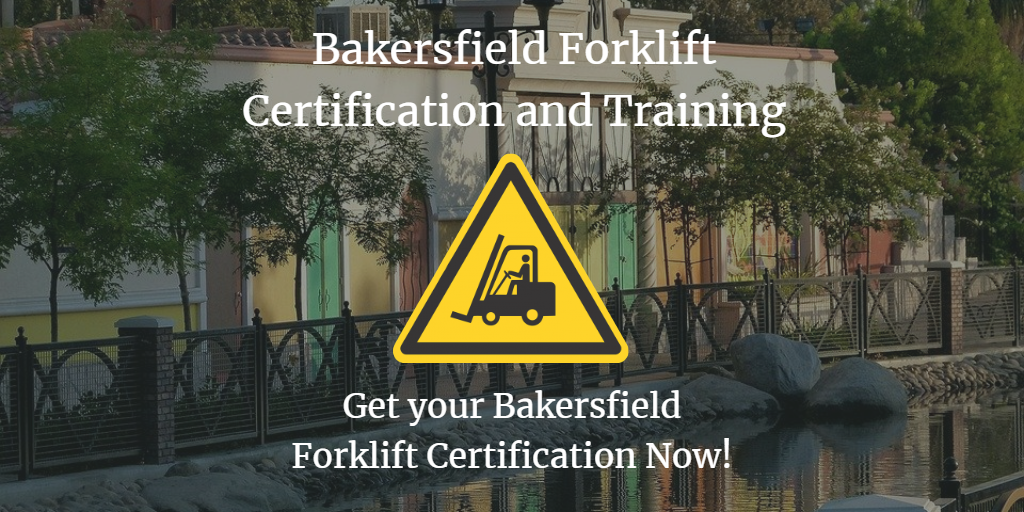 Bakersfield is a city in Southern California and is about 100 miles north of Los Angeles. If your company needs forklift drivers for the city's diverse economy, including oil production, you need Bakersfield forklift certification.
Area industries are always looking for new forklift drivers, and they must provide Bakersfield forklift certification.
OSHA complaint forklift training is required by law in Bakersfield, and throughout California.
CertifyMe.net has all the forklift certification in Bakersfield, CA, you need. What's more, we have free 3-year renewal training and lifetime support. Sign up today and get your forklift certification in Bakersfield – it's the smart and affordable way to get compliant today!

Importance of Forklift Certification in Bakersfield
Due to the type of industries that make up much of Bakersfield's economy, forklift operators are in demand all the time. However, not every employer is able to provide Bakersfield forklift certification on their own.
With CertifyMe.net, you'll have  Bakersfield forklift certification that only takes about one hour to complete. Our trainingis one of the best, easiest, and quickest ways to ensure OSHA compliance for your Bakersfield facility.
Bakersfield continues to grow. With CertifyMe.net in your corner, you'll have your forklift certification for Bakersfield in no time. Get a jump on the competition – and kick-start your f compliance program – with CertifyMe.net today!
What Sort of Companies need Bakersfield Forklift Certification?
Here are some of the most common jobs and industries that require forklift certification in Bakersfield:
✓ Production Operator
✓ Lift Truck Operator
✓ Unload Associate
✓ Loader Operator
✓ Retail Warehouse Associate Warehouse Worker/Forklift Operator
✓ Construction worker
✓ Rough terrain forklift operator
✓ Lift driver for Bakersfield or Kern County municipal authorities
✓ And many more
These industries and business sectors need to provide their forklift operators with Bakersfield forklift certification. CertifyMe.net can help today!
So how does your company obtain a forklift certification? The good news is that it is fast, easy, and convenient with CertifyMe.net. Our online programs can be completed in only about 60 minutes, from anywhere you have an internet connection, and they are 100% OSHA-compliant. We offer three different classes so you can customize your training to the specific equipment your company needs. And each program costs only $49.95!
In just 5 easy steps, you can start your forklift certification in Bakersfield today. It's easier than you ever thought possible – and much more affordable, too. Are you ready to give your employees their forklift certification in Bakersfield? Start your forklift training in right now! Call CertifyMe.net with any questions at 1-888-699-4800. We're here to help with your Bakersfield forklift certification – contact us today!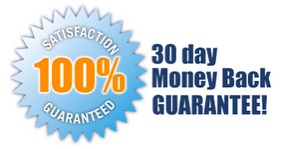 5 EASY STEPS!
Follow step-by-step instructions to get OSHA compliant!
This low-cost program can be completed anytime, anywhere!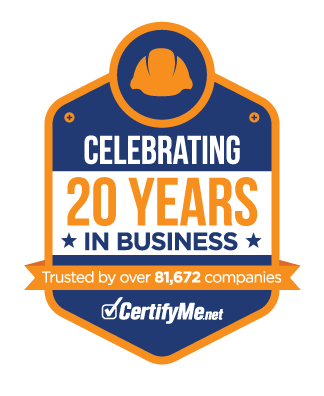 Get Started Now By Registering Your Company For Free!
FREE 3 Year Renewals
Instant Access 24/7
Print Your Proof of Training
OSHA Accepted Nationwide
*If you are an individual not currently employed by a company use your personal name in
the 'Company Name' field.