Limited Time Offer! Free Covid-19 safety course with purchase of any Forklift or Aerial Lift Certification!
Access your free Covid-19 safety course in your members area once you have completed your purchase.

Dallas Forklift Certification 100% Online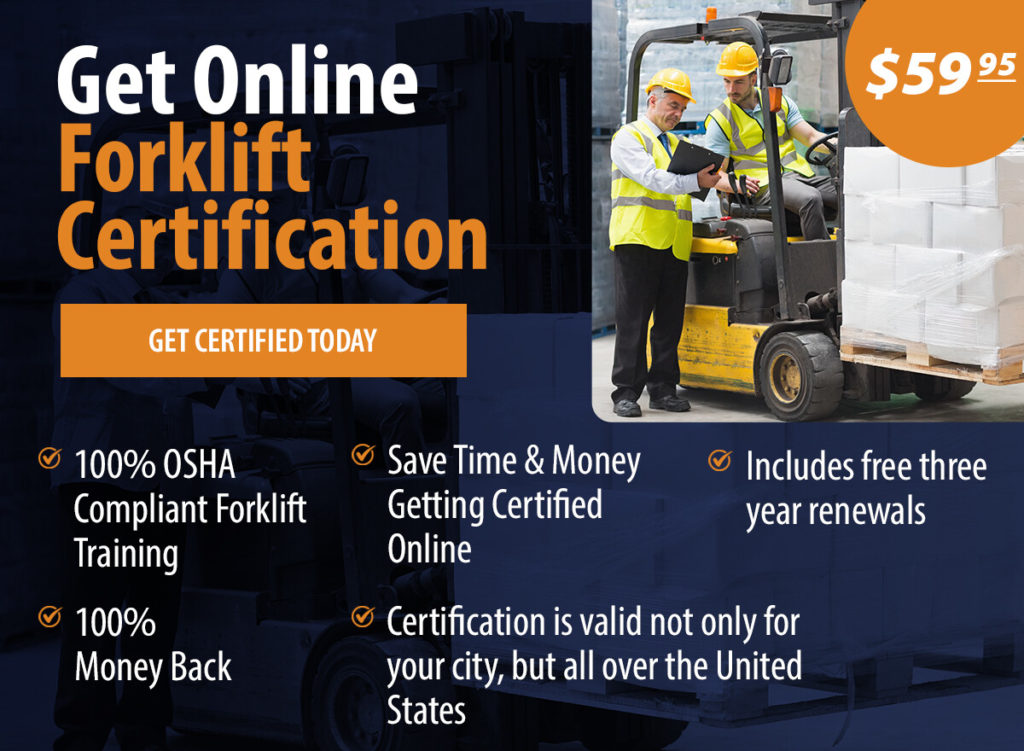 Want to earn your forklift certification in Dallas without ever leaving home? With CertifyMe.net, you can train from anywhere with an internet connection for just $59.95. Once you finish training, you'll have everything you need to operate forklifts not just in Dallas and the Lone Star State, but throughout the entire country, too. Our online forklift certification classes enable you to train from anywhere at any time. Getting certified has never been so easy, quick, or convenient.
How Online Forklift Certification in Dallas Works
It's easy to get Dallas forklift certification, thanks to CertifyMe.net. Skip the time-consuming and expensive off-site training programs. Instead, begin training today by following these steps:
Sign Up

– Employers can sign up employees by creating an account on CertifyMe.net.

Choose Forklift Course

– We feature a range of forklift certifications depending on your needs, including rough terrain forklifts and pallet jacks (see our offered courses below). Choose the courses you need and then check out.

Complete Online Training

– Learners may complete the training in their own time, at their own pace, from any device with an internet connection. Once finished, workers must take and pass an online skills test. There's no pressure, as operators can take the test as many times as necessary.

On-Site Evaluation

– An on-site employee of yours must next provide a hands-on skills evaluation. If you don't have an employee to perform this task, check out our

Train-the-Trainer course

that teaches employees how to train others and offer this evaluation, complete with a comprehensive checklist.

Print Your Operator Card – After completing the first four steps, your operator will have earned their Dallas forklift certification. Employees can print their operator cards and certification directly from our program as proof of their certification.

Why Choose CertifyMe.net for Dallas Forklift Certification
Every forklift operator in the United States must be properly trained in accordance with OSHA standards. Fail to follow their regulations and OSHA may penalize your business with expensive fines. There's also the safety factor to consider – it's just not worth risking the lives of your employees by having untrained workers operate forklifts.
Our convenient forklift certification in Dallas course comes with a range of benefits:
24/7 Access

– this enables employees to learn any time or place that's convenient.

Quick and Simple

– The training module typically only takes about an hour to complete, and the skills test can be taken as many times as an employee needs to earn a passing score.

Certification Cards

– Once training is complete, employees can print their certification cards that prove they've been trained in compliance with OSHA regulations.

Free Renewals

– We're the only forklift training company that offers free lifetime access to our resources. OSHA require recertification every three years. With CertifyMe.net, there's no need to pay again. Revisit the content any time you need a refresher or to keep your certification valid.

Affordable

– At just $59.95, our course saves you time and money by not having to send operators to an off-site location for training.
These perks speak for themselves. Traditional forklift training courses just can't measure up to the convenience and affordability of CertifyMe.net. We even offer a 100 percent money-back guarantee if you're not totally satisfied.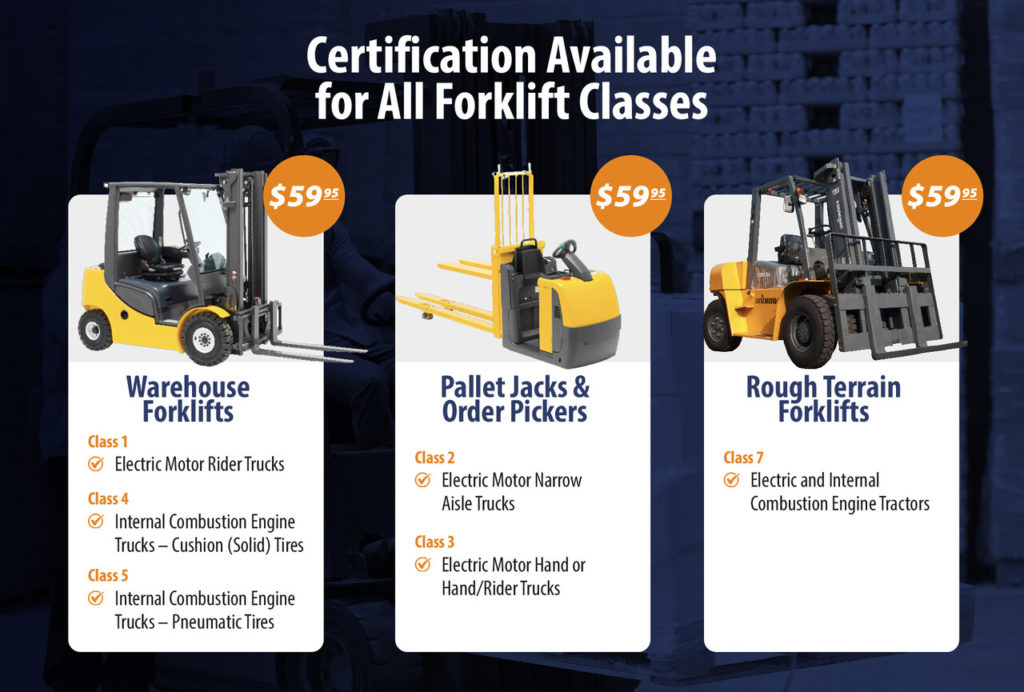 Frequently Asked Questions About Forklift Certification in Dallas
Still curious about how to get forklift certified in Dallas? Allow us to shed some more light by answering a few frequently asked questions:
Do I Need a Forklift License in Dallas?
Yes. OSHA requires all forklift operators be trained and evaluated before they begin working. For more details, see standard 29 CFR 1910.178(I)(1). 
Do I Need Experience to Earn My Forklift Certification in Dallas?
No experience is required to complete CertifyMe.net's forklift certification training.
Can I Register for Training, Or Does My Employer Need to Sign Me Up?
While you can register for yourself and pay the fee to take our course, it may be better to pursue a forklift job first and get certified via your employer. Employers are legally required to provide forklift certification in Dallas for their workers.
What is the Average Forklift Operator Salary in Texas?
The average salary for forklift operators in Dallas is $39,773. With more experience and training, you can expect to earn above average rates for your work as a forklift operator.
Is Forklift Training Really Necessary in Dallas?
If you're hoping to stay in compliance with OSHA and avoid accidents, forklift training in Dallas is definitely necessary. A Texas lumber supplier was recently cited for allowing an untrained worker to operate a forklift. The worker dropped his forklift key, got out to look for it, and was struck and killed by the machine. Quality training saves lives.

Learn More About Dallas Forklift Certification from CertifyMe.net
Do you still have questions about our online forklift operator certification and training classes? Contact CertifyMe.net online or call us today at (888) 699-4800 to speak with one of our OSHA experts.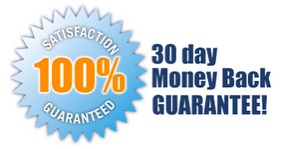 5 EASY STEPS!
Follow step-by-step instructions to get OSHA compliant!
This low-cost program can be completed anytime, anywhere!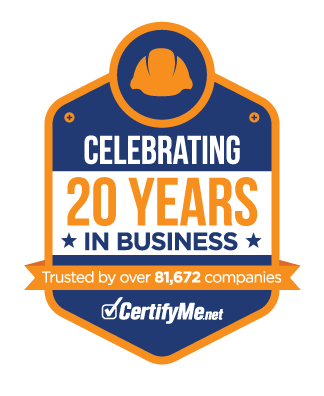 Get Started Now By Registering Your Company For Free!
FREE 3 Year Renewals
Instant Access 24/7
Print Your Proof of Training
OSHA Accepted Nationwide
*If you are an individual not currently employed by a company use your personal name in
the 'Company Name' field.