Limited Time Offer! Free Covid-19 safety course with purchase of any Forklift or Aerial Lift Certification!
Access your free Covid-19 safety course in your members area once you have completed your purchase.

Garland Forklift Certification
Get Forklift Certification in Garland with CertifyMe.net | Online Convenience | Affordable Prices | 100% OSHA Compliant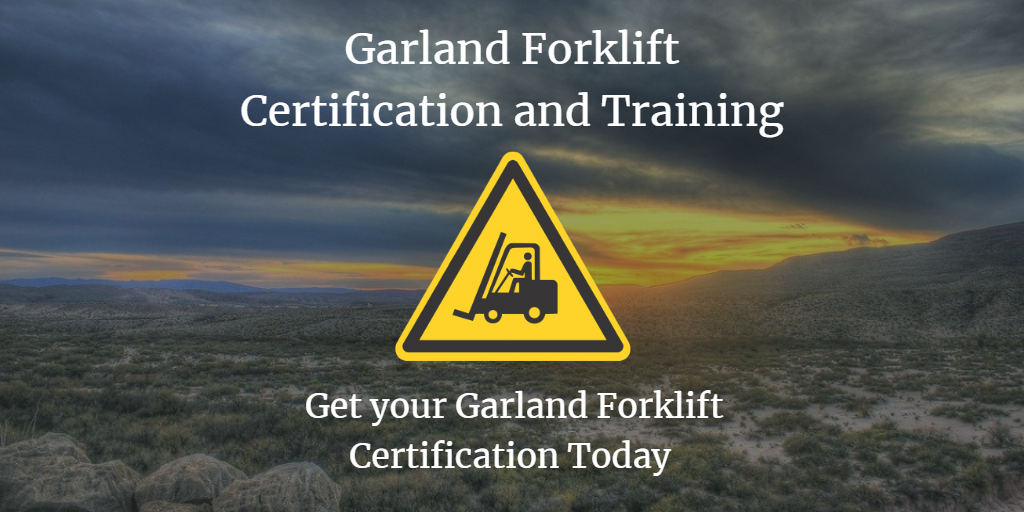 Garland, Texas is one of the important "satellite" cities around the Dallas – Fort Worth metro region. Located in Dallas, Collin and Rockwell Counties, the city is home to over 225,000 people, making it a top-100 U.S. city in terms of population. The city's strong economy – Texas is usually adding jobs to the state labor market – makes it a great place to hire forklift drivers. However, the Occupational Safety and Health Administration (OSHA) will enforce strict Garland forklift certification rules.
if your company needs help with forklift certification in Garland, look no further than the leader in online, OSHA approved training: CertifyMe.net. Register your company today, and ensure your forklift operators have the tools and knowledge to succeed on the job!

The Important of Garland Forklift Certification
If your warehouse, dockyard, construction site or other industrial workplace requires Garland forklift certification, CertifyMe.net is hands-down the best possible option. Many companies in the Dallas-Fort Worth area attempt to run their own forklift safety training program, or hire an expensive 3rd party. With CM, you'll enjoy a cost-effective, totally flexible way to handle your OSHA compliance. Forklift training in Garland has never been easier – or more affordable!
Without forklift certification in Garland, you can't use any forklift operators. A big advantage of using our forklift training courses is that we'll save your company the hassle & headaches of figuring out the latest OSHA requirements. Our staff includes many industry experts, including many with first-hand knowledge of how OSHA works. Because we pass this knowledge on to you, you'll be in a great position to manage all of your forklift certification requirements in Garland, TX and surrounding area!
OSHA compliance is everything with your workforce. With CertifyMe.net,  OSHA compliance is more affordable and accessible than you think!
Get Your Forklift Certification in Garland Today!
Our OSHA forklift safety experts are ready to help you today. Get your Garland forklift certification program off and running today! Just call our safety consultants today at (888) 699-4800, or visit the CertifyMe.net contact page for additional information about your Garland, TX forklift training needs.
To get started with your forklift certification in Garland, click here. Don't put your safety program off any longer. Let the OSHA experts at CertifyMe.net help today. Our affordable prices, online convenience, and lifetime support make us the best option for Garland forklift certification and training!
We're proud to serve the Dallas, Fort Worth, Garland and Northeast Texas areas with the nation's #1 online forklift certification program. Thanks for visiting our website – give us a call today and we'll get your Garlandforklift certification and training safety program OSHA compliant as soon as possible.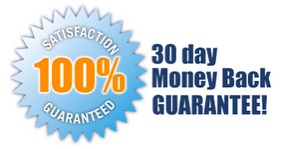 5 EASY STEPS!
Follow step-by-step instructions to get OSHA compliant!
This low-cost program can be completed anytime, anywhere!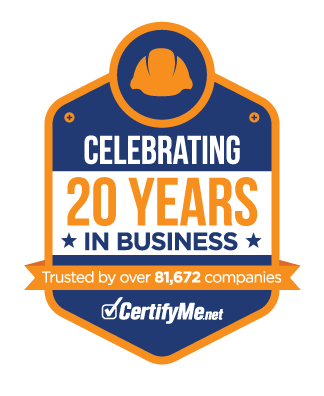 Get Started Now By Registering Your Company For Free!
FREE 3 Year Renewals
Instant Access 24/7
Print Your Proof of Training
OSHA Accepted Nationwide
*If you are an individual not currently employed by a company use your personal name in
the 'Company Name' field.