Limited Time Offer! Free Covid-19 safety course with purchase of any Forklift or Aerial Lift Certification!
Access your free Covid-19 safety course in your members area once you have completed your purchase.

Get Started on Forklift Certification in Santa Fe, CA
Santa Fe Springs is a small city in Los Angles County and is known as a gateway city. One of the unique features of Santa Fe Springs is the number of industrial facilities within the city. Manufacturing companies have opened facilities here for automobiles, aircraft and other industries. Multiple open-air shopping centers and supermarkets have sprung up in the area. Many of these companies need forklift operators to move materials and products from one area to another or to load them up on trucks for transport. Employers have the challenge of getting their workers certified in forklift operation in Santa Fe Springs. CertifyMe.net is the answer to this problem.
CertifyMe.net provides three courses for forklift certification in Santa Fe, CA. Each one is designed for specific jobs and all come with a three-year renewal training, which is free. We also provide lifetime support, so sign up today to get your company in compliance.
Pricing for Forklift Certification in Pomona Courses
Each individual course starts at $59.95, so get your Pomona forklift certification today!
Class 1, Class 4 and Class 5 Warehouse Forklifts – Forklift Certification in Pomona
✓ Class 1: Electric Motor Rider Trucks
✓  Class 4: Internal Combustion Engine Trucks – Cushion (Solid) Tires
✓  Class 5: Internal Combustion Engine Trucks – Pneumatic Tires
You can use this course for every level of worker – beginners and experienced drivers.
Learn more about our warehouse forklift course here.
Pallet Jacks & Order Pickers – Class 2 & 3 Forklift Certifications in Pomona
Get Certification for Warehouses and Distribution Centers!
✓  Class 2: Electric Motor Narrow Aisle Trucks
✓  Class 3: Electric Motor Hand or Hand/Rider Trucks
Learn more about our pallet jack certification here.
Rough Terrain and Construction Forklifts – Class 7 Forklift Certification in Pomona
✓  Class 7: Electric and Internal Combustion Engine Tractors
Learn more about our rough terrain forklift course here.
Qualified Trainer/Evaluator Certification – Pomona Forklift Certification for just $149.00

Why You Need Forklift Training in Santa Fe, CA
Forklift operators must maneuver in some tight spaces and move through heavy foot traffic without causing injury or damage to cargo. Proper training is essential to ensure the worker knows what to do in many different scenarios. Not every employer has the ability to provide certification on their own.
CertifyMe.net takes the responsibility for forklift certification away and provides an easy program to gain the necessary training. The result is certification that meets OSHA regulations and well-trained employees who can prevent accidents with forklifts.
As Pomona continues to grow, the need for certified forklift operators will also grow. CertifyMe.net is here to help your business get compliant with a top of the line certification program.
Who Needs Santa Fe Forklift Certification?
Many industries and jobs require forklift certification for companies in Santa Fe.
Production operator
Loader operator
Retail warehouse associate
Construction worker
Lift driver
And many others
These industries need forklift certification for their employees. They must also make sure that the company is in compliance with OSHA. CertifyMe.net is here to help today!
Fast and Easy Forklift Certification in Santa Fe
If you're worried about how your company will get forklift certification for your employees, you can find the solution with CertifyMe.net. Instead of arranging training around employees' schedules, our online programs can be completed at their convenience, anytime, anywhere. All they need is an internet connection and about one hour of their time. You can choose from three classes to customize it to fit your business. Best of all, each program is just $59.95 and all of them are 100% OSHA compliant. You can even Train the Trainer for just $149.
Get started on your Santa Fe forklift certification today. It's easier than you expected and affordable. Help your employees get their forklift certification today. Get started right now by calling CertifyMe.net at 888-699-4800 with any questions you have. We're here to help you with your Santa Fe forklift certification and training, so contact us right away!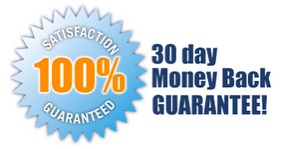 5 EASY STEPS!
Follow step-by-step instructions to get OSHA compliant!
This low-cost program can be completed anytime, anywhere!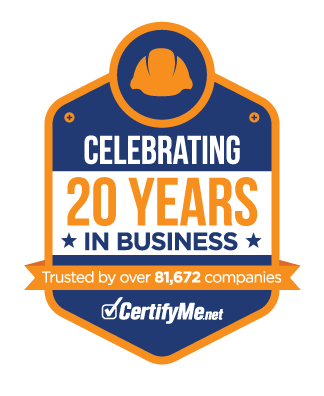 Get Started Now By Registering Your Company For Free!
FREE 3 Year Renewals
Instant Access 24/7
Print Your Proof of Training
OSHA Accepted Nationwide
*If you are an individual not currently employed by a company use your personal name in
the 'Company Name' field.