Limited Time Offer! Free Covid-19 safety course with purchase of any Forklift or Aerial Lift Certification!
Access your free Covid-19 safety course in your members area once you have completed your purchase.

Scaffolding Certification Training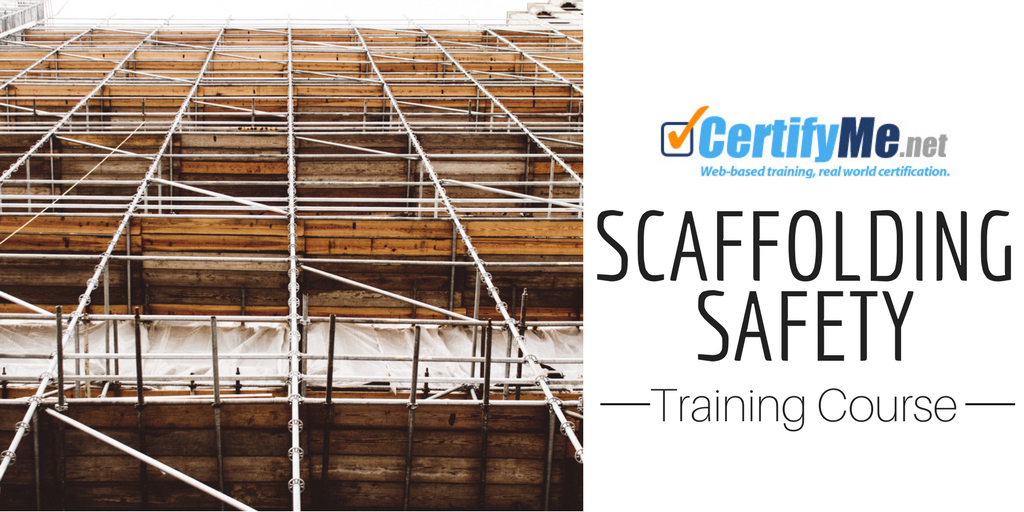 Scaffolding is a temporary structure used on jobsites that gives workers access to overhead work areas. Scaffolding should be used only by professionals with forklift training, knowledge and experience. To prevent serious accidents, only professionals who have completed a scaffolding safety course should work with scaffolds.
Scaffolding safety is closely monitored by OSHA, since scaffolding issues are always among the top 10 workplace safety violations. All workers who use scaffolds are required to have scaffolding certification training. CertifyMe.net offers complete scaffolding training for your employees who need this specialized instruction. CM.net makes it easier than ever to have your employees certified and OSHA complaint in less time than you think!

The Importance of Scaffolding Training
OSHA sets stringent scaffolding requirements, and for good reason. In 2017, scaffolding related incidents were the third most common safety violation; every year, there are dozens of fatalities and hundreds of injuries that could be prevented through OSHA-approved scaffolding safety courses.
Scaffolding safety is closely scrutinized by OSHA, which emphasizes the importance of proper scaffolding training. Knowing how to properly set up and use scaffolding can mean the difference between a job well done and disaster. CertifyMe.net has a comprehensive OSHA scaffolding training program that's designed to make your-workers aware of the various safety hazards related to scaffolding use. CertifyMe.net offers four interactive courses designed to teach workers the various aspects of scaffolding safety.  Choose the course that meets your company's needs and have your workers trained to reduce the number of accidents in your workplace.
Why Your Employees Need Scaffolding Training
Scaffolding can be unsafe in untrained hands. It's an employer's responsibility to ensure their workers have a hazard-free working environment and to provide the training they need to protect their safety on the job. CertifyMe.net's scaffolding courses cover all essential components of scaffolding safety through our industry-specific course options, including construction scaffolding, suspended scaffolding and supported scaffolding.
Employers whose businesses use scaffolding can benefit from our courses as well. Comprehensive OSHA-compliant training will help keep your workers safe by making them aware of potential safety hazards, which will reduce the number of worksite accidents and help you avoid OSHA fines and costly litigation.
Summaries of Our OSHA Compliant Scaffolding Certification! Courses
Course #1:
Supported Scaffolding Safety. This interactive online course teaches workers how to safely use supported scaffolding and helps your company remain compliant with OSHA's Scaffolding regulation 29 CFR 1926.451. Improper use of scaffolding is the cause of more than 10,000 workplace injuries every year, including multiple fatalities. It's imperative for construction and maintenance workers to receive this specialized training on how to safely set up and use scaffolding platforms in order to prevent accidents. Workers will learn how to recognize hazards and reduce the risks of working with scaffolds through a combination of video, audio, text and graphics. Workers receive the information they need in an effective format designed for quick learning and maximum retention. If scaffolding is used regularly in your business, sign them up for our OSHA-approved scaffolding course today!
Course #2:
Supported Scaffolding Safety in Construction Environments. Construction workers will receive the industry-specific scaffolding training they need through our online Supported Scaffolding Safety in Construction Environments course. Workers will learn how to safely erect and use scaffolding and recognize dangers and comply with OSHA's Scaffolding regulations through this effective and cost-efficient program that can help reduce the number of fatalities and serious injuries that occur on construction sites every year. Here are various types of work that will benefit from OSHA suspended scaffolding training:
✓ Residential construction
✓ Industrial construction
✓ Maintenance situations
✓ Highway construction and other outdoor jobs
✓ Heavy-duty equipment cleaning & assembly
✓ And many more
Course #3:
Suspended Scaffolding Safety. CertifyMe.net's Suspended Scaffolding Safety course fulfills OSHA's scaffolding certification requirements for working with suspended scaffolding. It's used to help prevent accidents and reduce the number of injuries and fatalities involving scaffolding, which amount to over 10,000 incidents every year. Whenever a worker leaves the ground to complete tasks, both the risk and severity of accidents is increased.
Our Suspended Scaffolding Safety course covers all OSHA scaffolding requirements, will make your business OSHA compliant and is ideal for all your training needs. Our self-paced training is online and delivers the information in a manner that ensures it's easily absorbed and  retained.
Course #4:
Suspended Scaffolding Safety in Construction Environments. Construction presents unique challenges, including properly using scaffolding. This course offers a summary of using scaffolding for construction work, so if your employees use suspended scaffolding, this online course is for you. Your workers will receive a comprehensive overview of everything they need to know about erecting and using scaffolding safely, recognizing dangers and preventing accidents.
Whenever a worker leaves ground level, the potential for serious accidents increases significantly, To comply with OSHA's Scaffolding regulations, employers must provide their workers with scaffolding certification training that teaches the essentials of scaffolding safety in a format that's easy to follow, understand and retain. There's no other suspended scaffolding safety course available that offers OSHA compliance, quality training and the convenience of online learning than CM.net's scaffolding courses!
FAQs
Here are a few questions we're frequently asked, along with our answers:
Does scaffolding need to be certified?
Although there are minimum standards regarding the assembly, use and disassembly that must be met, there aren't specific requirements for the scaffolding equipment itself to be certified. All persons who erect, dismantle or otherwise work on or with scaffolding, however, must receive OSHA-approved scaffolding certification training such as is offered by CertifyMe.net.
How much time does a scaffolding course take?
Scaffolding certification training with CM.net is fast, easy and affordable. Although there are no time limits, many of our students complete the online course in about an hour. The exam is "open book" so if a student is unsure of an answer, he or she is free can refer to then training materials during the test.
Is fall protection required on scaffolding?
According to the Bureau of labor Statistics, falls are the primary cause of construction worker fatalities, which is one of the reasons fall protection is required. When working from scaffolding, if a worker is more than 10 feet above the ground, fall protection is required, which is usually in the form of guardrails.
Call Us Today to Get Started!
Sign up Now to Get Your Employees the Scaffolding Certification and Safety Training They Need!
Here are some of the benefits employers and workers receive when they enroll in our affordable online training courses:
✓ Flexible, self-paced online training that can be completed in as little as an hour anywhere there's an internet connection
✓ Step-by-step instructions ensure workers fully understand and retain the course material
✓ Your company will save money and your workers will save time and by not having to travel to an offsite training facility
✓ Scaffolding certifications can be downloaded and printed immediately upon completion of a course
CertifyMe.net gives your workers everything needed to become scaffolding safety experts and prevent workplace accidents.
Regardless of the conditions under which your company uses scaffolding, we're here to help you become OSHA compliant. If you have questions or would like to speak with one of our OSHA experts about our scaffolding training, call CertifyMe.net today at (888) 699-4800.or click here to contact us online.

Thanks for visiting CertifyMe.net! We look forward to helping you with all your scaffolding safety training and other OSHA compliance requirements!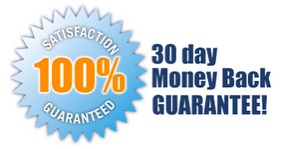 5 EASY STEPS!
Follow step-by-step instructions to get OSHA compliant!
This low-cost program can be completed anytime, anywhere!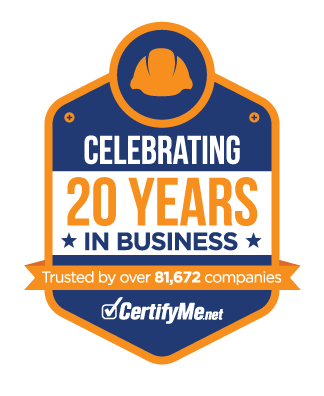 Get Started Now By Registering Your Company For Free!
FREE 3 Year Renewals
Instant Access 24/7
Print Your Proof of Training
OSHA Accepted Nationwide
*If you are an individual not currently employed by a company use your personal name in
the 'Company Name' field.