Limited Time Offer! Free Covid-19 safety course with purchase of any Forklift or Aerial Lift Certification!
Access your free Covid-19 safety course in your members area once you have completed your purchase.

Chicago Forklift Certification Is The Path to OSHA Compliance
Chicago Forklift Training – Get Employees Certified in 1 Hour Today!
If you hire forklift drivers in Chicago, OSHA compliance is mandatory. Every Chicago company who is involved with recruiting, hiring and training forklift drivers needs to have all their bases covered when it comes to OSHA regulations in the Windy City.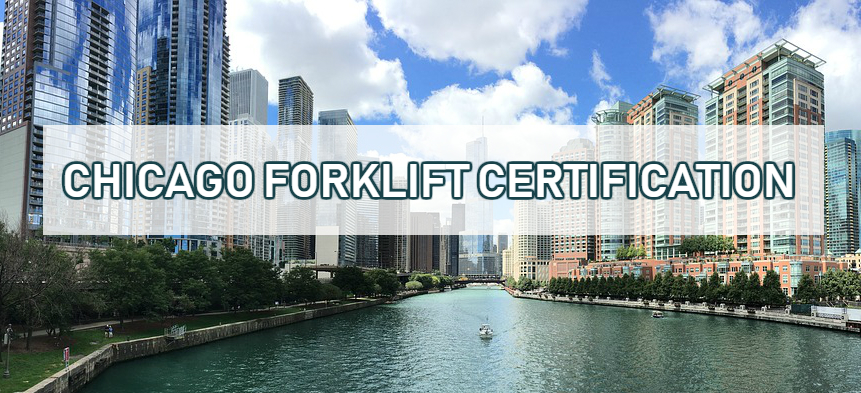 You can't afford to skip your Chicago forklift certification. Sign up with CertifyMe.net, and discover a convenient, comprehensive way of training your employees the right way! We're the leader in forklift certification for Chicago, and we'll get your company trained and up to speed in no time at all! Browse our courses and get the Chicago forklift certification you need!
Our forklift training in Chicago, IL offers the following benefits:
Affordable prices

Online, anywhere, anytime access –

the most convenient f

orklift training in Chicago

you'll find anywhere

Outstanding customer service

And much more
Chicago Forklift Training & Certification – Course Catalog
We offer equipment-specific forklift certification in Chicago so you can purchase what you need and not what you don't. Here is our course lineup:
Warehouse Forklifts – Forklift Certification in Chicago: Class 1, 4 and 5 Forklift Certifications
Class 1:   Electric Motor Rider Trucks

Class 4:  Internal Combustion Engine Trucks – Cushion (Solid) Tires

Class 5:  Internal Combustion Engine Trucks – Pneumatic Tires
Learn more about our warehouse forklift course.
Class 2 & 3: Pallet Jacks & Order Pickers – Class 2 & 3 Forklift Classes in Chicago
Class 2:  Electric Motor Narrow Aisle Trucks

Class 3:  Electric Motor Hand or Hand/Rider Trucks
Learn more about our pallet jack certification.
Chicago Rough Terrain Forklifts – Forklift Certification for Class 7 Forklift Certifications
Class 7:  Electric and Internal Combustion Engine Tractors (great for Chicago construction companies)
The aforementioned courses are available for $59.95 each. 
Qualified Trainer/Evaluator Certification
Chicago Forklift Certification: only $149.00
Get all pricing here for your Chicago forklift training! Sign up today with CertifyMe.net and ensure OSHA compliance for your entire forklift fleet!

Warehouse Forklift training involves how to operate electric motor riding trucks or internal combustion engine trucks with cushion tires, or pneumatic tires. This forklift training in Chicago  is used by many employers throughout the region.
Pallet Jacks and Order Pickers are for those who use electric motor narrow aisle trucks, and electric motor hand or hand/rider trucks. If you need OSHA compliance and forklift certification in Chicago for distribution centers, our training has you covered!
Rough Terrain Forklifts refers to operating machinery in construction, docks and yards, timber forestry, builder's merchants, and many other workplaces.
For the easiest, fastest and most stress-free Chicago forklift certification and training for yourself or your employees, look no further than our forklift certification in Chicago.
Importance of
Forklift Training in Chicago, IL
It's hard to overstate the importance of forklift certification in Chicago. OSHA always investigates serious accidents involving forklifts, and if your company has one, the first thing OSHA will do is check training records. 
And if their audit shows your driver never had forklift classes in Chicago, severe fines and penalties will result. With CertifyMe.net, our forklift training in Chicago, IL shows proof of training and 100% compliance. 
But that's not all…beyond the obvious compliance and money-saving benefits of our forklift certification in Chicago, your employees will have the skills, knowledge and complete confidence to perform their forklift duties with full awareness of OSHA safety regulations. 
Clearly, our forklift training in Chicago is a win-win for Windy City employers like you, along with every forklift driver in the city. As an employer, OSHA requires by law that you provide a safe workplace for employees, and that you ensure all forklift operators are competent to operate forklifts through the successful completion of training. That's why Chicago forklift certification is so important!
According to OSHA, a forklift training program should include the following:
Formal instruction, practical training, and

hands-on evaluation.

Training on the actual forklift and the various controls and operational practices; driving in the workplace, and safety training. This is the employer's responsibility. Read all OSHA training requirements

here.
Our forklift certification in Chicago covers these OSHA requirements. A comprehensive, OSHA-compliant forklift training in Chicago course will provide operators all the information they need to be safe and productive workers, and employers with the most qualified employees to help them prevent accidents in the workplace. Get your Chicago forklift certification today!
Enjoy these benefits with our
forklift certification in Chicago, IL
:
✓ Renewal training included with purchase
After 3 years, your lift operators need renewal training. We provide this for FREE!
✓ Affordable prices for any company
Instead of spending thousands for expensive training, how does $59.95 for our Chicago forklift certification sound?
✓ Anywhere, anytime training
Your employees can login wherever, whenever to complete their forklift certification in Chicago.
✓ No waiting for paperwork
Forget waiting for the mail for your OSHA forklift licenses and papwork. Just print them out when your employees are finished with training!

It's Easy to Sign up for
Forklift Classes in Chicago
!
CertifyMe.net provides a virtual training solution to off-site forklift certification in Chicago. Just sign up and register your company today – it's really that simple!
If you're not sure of your company's current compliance or training situation, it's critical to make sure you address these issues immediately. Forklift accidents can happen at any time. They're less likely to happen if your employees are well-trained and up-to-date with current OSHA safety regulations. Complete your company's forklift training in Chicago now – it's against the law to have anyone operate a lift without proper training. 
Check out our complete line of Chicago forklift certification and training classes, and sign up your company today. CertifyMe.net is the #1 training provider for companies throughout Chicago, the state of Illinois, and across the country.
Need forklift classes in Chicago? See why we're the preferred certification solution for small, medium, and large companies. If you have any questions about our forklift certification in Chicago, feel free to visit our contact portal or call us today at 1-888-699-4800.
Thanks for considering CertifyMe.net for all your forklift training in Chicago, IL. We look forward to hearing from you soon!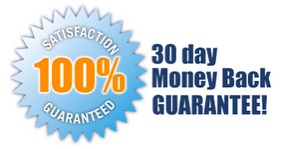 5 EASY STEPS!
Follow step-by-step instructions to get OSHA compliant!
This low-cost program can be completed anytime, anywhere!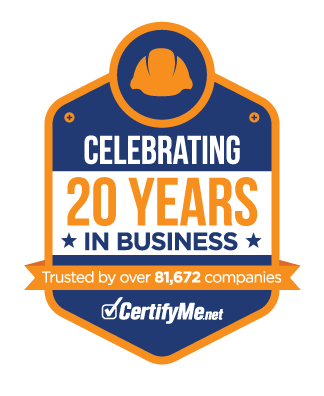 Get Started Now By Registering Your Company For Free!
FREE 3 Year Renewals
Instant Access 24/7
Print Your Proof of Training
OSHA Accepted Nationwide
*If you are an individual not currently employed by a company use your personal name in
the 'Company Name' field.