Limited Time Offer! Free Covid-19 safety course with purchase of any Forklift or Aerial Lift Certification!
Access your free Covid-19 safety course in your members area once you have completed your purchase.

Denver Forklift Certification – Your Employees Deserve the Best
We Make Online, OSHA Compliant Forklift Certification Easy & Affordable – And Less Than 60 Minutes!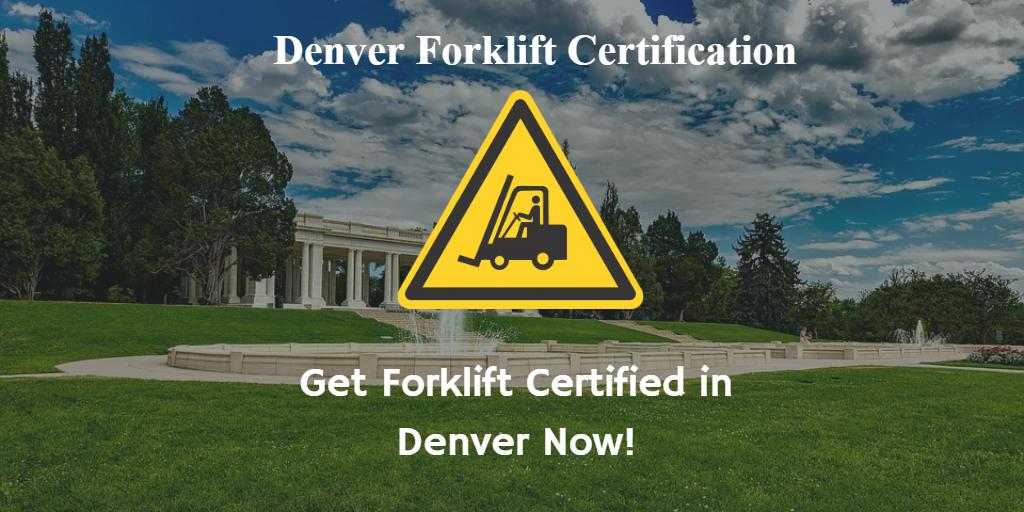 The Mile High City, Denver, is known for its panoramic views of the Rocky Mountains and growing economy. If your company hires forklift drivers, you need Denver forklift certification. It's against law to have unqualified and untrained forklift drivers in Colorado and across the United States. Fortunately, forklift certification in Denver is easier than you might think, thanks to CertifyMe.net!
CertifyMe.net is a great choice for both employers and forklift operators. We provide forklift certification in Denver for anyone – or any company – that needs to become OSHA compliant. OSHA requires that all powered industrial truck operators have safety training. We have a full selection of courses that offer:
Convenient online access

Budget-friendly prices

Lifetime support

Free renewal training

And much more
Enjoy all the advantages of forklift certification in Denver – sign up today with CertifyMe.net. Our forklift certification in Denver provides every employee with the training and skills they need to become – and remain – compliant. Best of all, our training takes less than an hour and features convenient online access!
Choose a Denver Forklift Certification Course Today with CertifyMe.net
CertifyMe.net covers everything operators need to know to operate forklifts safely, and we are 100% compliant with all OSHA regulations. Choose from one of these specific forklift courses and receive your printable forklift certification in Denver:
Warehouse Forklifts, Classes 1, 4, 5
Learn more about our warehouse forklift course.
Pallet Jacks & Order Pickers, Classes 2, 3
Learn more about our pallet jack certification.
Rough Terrain Forklifts, Class 7
Learn more about our rough terrain forklift course.
All classes listed above are just $59.95. For just $149.00, we also offer a Qualified Trainer/Evaluator Certification – Denver Forklift Certification
Don't delay with your forklift certification in Denver. The cost of non-compliance is simply too high, and your employees deserve the safest working environment possible. Sign up with CerityMe.net today!

Why Choose Denver Forklift Certification?
Denver's growing economy, reasonable cost of living index, high quality of life, wide-open spaces, and entertainment options make the Mile High City a great place to do business. If you need Denver forklift certification, sign up with CertifyMe today.  
Choosing forklift certification in Denver is required for OSHA compliance in Denver. Forklift accidents happen every day to those who aren't properly trained, and receiving your license can allow you to recognize and avoid hazards that can cause accidents. Our Denver forklift certification benefits both employers and individual employees.
✓ Free renewal training
When you purchase Denver forklift certification from CertifyMe.net, it doesn't stop with initial training. Free 3-year renewal training is included!
✓ Save money 
Where else can you find OSHA compliant Dever forklift starting at just $59.95 per course? Choose CM and forget the so-called training experts that charge thousands of dollars!
✓ Updated training content
As OSHA rules & regulations evolve and change, so does our Denver forklift certification!
✓ Easy online access
With a regular internet connection, your employees have 24/7 access to CM"s Dever forklift certification & training.
✓ Complete OSHA compliance
Your Denver forklift certification is completely OSHA compliant, so you know you're getting the best training possible!
Sign Up for Forklift Certification in Denver from CertifyMe.net!
In only about one hour from any device with an internet connection, trainees can work through the online modules at their own pace and print their forklift operator card immediately after completing the course. Once that's finished, all that's left is the in-person evaluation, which can be done at your own workplace. No need to pay more to travel to an offsite facility.
Whether your company works indoors, outdoors on a construction site, or in the dockyard next to large ships, we have the OSHA forklift certification in Denver courses you need to be certified and compliant. Get a true Mile High advantage with CertifyMe.net – were the top choice for Denver forklift certification!
Create an account on our website and receive your or your workplace's Denver forklift certification this afternoon! If you need additional assistance with your forklift certification in Denver, you can review our courses and pricing, or give our OSHA compliance experts a call at 1-888-699-4800.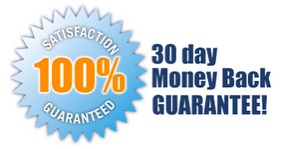 5 EASY STEPS!
Follow step-by-step instructions to get OSHA compliant!
This low-cost program can be completed anytime, anywhere!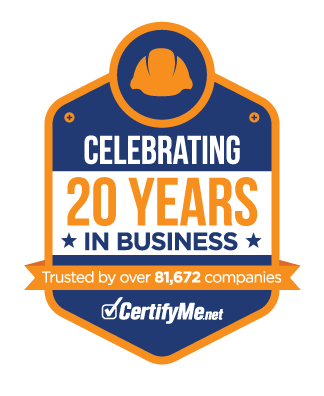 Get Started Now By Registering Your Company For Free!
FREE 3 Year Renewals
Instant Access 24/7
Print Your Proof of Training
OSHA Accepted Nationwide
*If you are an individual not currently employed by a company use your personal name in
the 'Company Name' field.