Limited Time Offer! Free Covid-19 safety course with purchase of any Forklift or Aerial Lift Certification!
Access your free Covid-19 safety course in your members area once you have completed your purchase.

Detroit Forklift Certification, 100% Online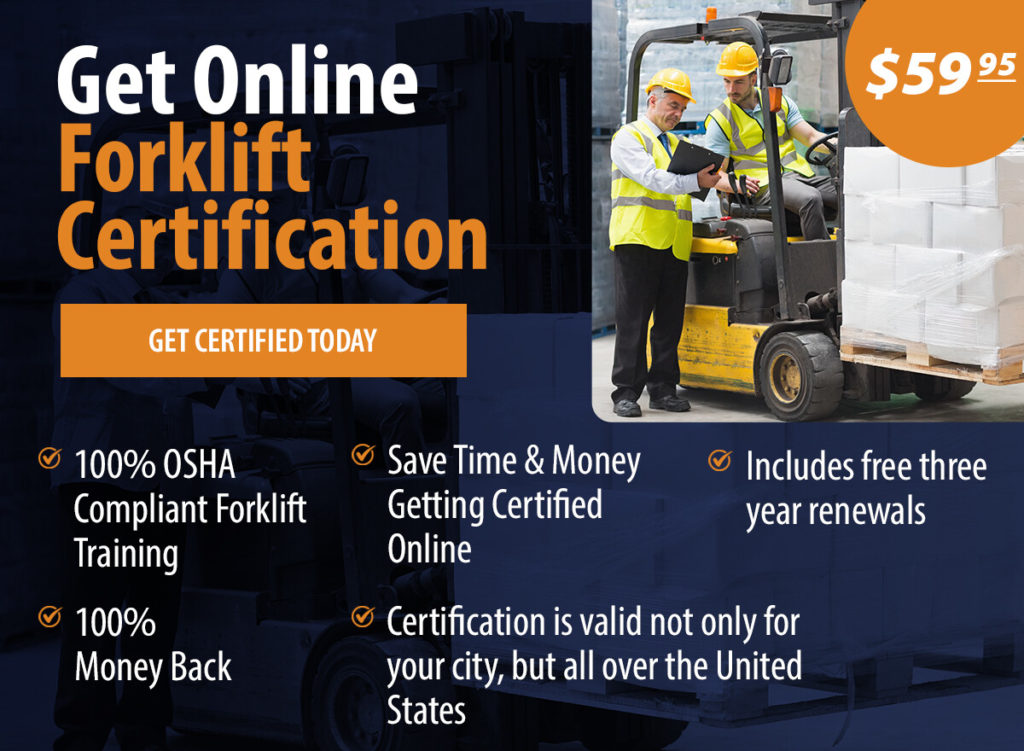 There's never been a better time to earn your forklift certification. Thanks to advancing technology, you can master the fundamentals of forklift operation from any device with an internet connection. If you're on the hunt for forklift certification in Detroit but want to skip out on expensive, time-consuming in-person classes, CertifyMe has the resources you need. Getting certified with us means you'll be able to legally operate forklifts throughout Michigan and the rest of the United States. At just $59.95, our course is an excellent investment that pays for itself in no time.
How Online Forklift Certification in Detroit Works
Wondering how to get forklift certified in Detroit? It's easier than you might expect. Online certification programs make it convenient to learn new skills from anywhere. Follow these simple steps and you'll be ready to operate forklifts in no time:
Employer Registration:

Click here to register your employees

in need of forklift certification.

Choose Your Course:

Select the class that best applies to your needs. After adding it to your cart, you can check out.

Complete the Material:

Once registered, employees can complete the online course material. Most people find they can work through the content in about an hour.

Take the Online Test:

After completing the course, trainees must take an online skills test. Don't worry – you can take the exam as many times as necessary to earn a passing score.

Complete the Hands-On Skills Evaluation:

An on-site, experienced employee should oversee the hands-on evaluation portion of training. Don't have anyone in mind? Our

Train the Trainer course

can help equip your employees with the skills necessary to perform the evaluation.

Print Proof of Certification:

Operator cards are available to print immediately after the hands-on skill evaluation is complete.
At this point, employees are fully trained and certified in the eyes of OSHA. Should an inspector pop in for a surprise visit, you'll have everything you need to demonstrate compliance. Printed certification cards can be kept in your employee files.
Why Choose CertifyMe.net for Forklift Certification
Detroit forklift certification online is a convenient, affordable solution to many of the most frustrating challenges of hiring forklift operators. OSHA requires all operators to be fully trained and certified before they begin using forklifts on the job. Fail to abide by this rule and your organization may be subjected to thousands of dollars in fines. Even if you manage to avoid OSHA fines, the odds of workplace accidents increase significantly when untrained lift operators are behind the wheel. To protect your team, make certification a priority. CertifyMe.net simplifies the process.
24/7 Access:

Employees can train from any time and any place. As long as they have a device connected to the internet, they can learn the fundamentals of forklift operation.

Quick and Simple:

Most people find themselves completing training in about an hour.

Immediate Proof of Certification:

Once training and evaluations are complete, you can immediately print off certification cards as proof of training.

Free Renewals for Life:

OSHA requires all forklift operators recertify after three years. CertifyMe.net offers users free renewal training for life.

A Great Value:

At just $59.95, our training is one of the best investments you can make in your organization.
Still debating whether to sign up for Detroit forklift certification? Be confident in your decision – we offer a 100 percent money-back guarantee. Our reviews speak for themselves!
Detroit Forklift Certification FAQs
What is a Hi Lo Forklift?
Hi-Lo forklift is a regional term for forklifts used to transport materials over short distances. They are commonly found in warehouses, manufacturing facilities, and other industrial spaces.
Is Driving a Forklift Dangerous?
Without proper training, driving a forklift can be quite dangerous. A tragic accident in Sterling Heights, Michigan resulted in one fatality. Quality training can help make operators more aware of the risks and how to avoid them.
How Long is Forklift Certification Good for in Michigan?
Once certified, you can legally operate forklifts for three years. At that point, you'll need to complete refresher training. CertifyMe offers free renewals for life.
Get Forklift Certification and Training In Detroit Today!
Whether your company works indoors, outdoors on a construction site, or in the dockyard next to large ships, we have the OSHA forklift certification in Detroit courses you need to be certified and compliant.
Create an account on our website and receive your or your workplace's Detroit forklift certification this afternoon! If you need additional assistance with your forklift certification in Detroit, you can review our courses and pricing, or give our OSHA compliance experts a call at 1-888-699-4800.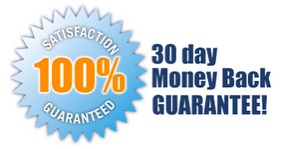 5 EASY STEPS!
Follow step-by-step instructions to get OSHA compliant!
This low-cost program can be completed anytime, anywhere!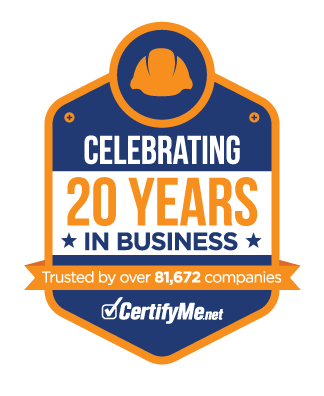 Get Started Now By Registering Your Company For Free!
FREE 3 Year Renewals
Instant Access 24/7
Print Your Proof of Training
OSHA Accepted Nationwide
*If you are an individual not currently employed by a company use your personal name in
the 'Company Name' field.