Limited Time Offer! Free Covid-19 safety course with purchase of any Forklift or Aerial Lift Certification!
Access your free Covid-19 safety course in your members area once you have completed your purchase.

Forklift Training Guide
OSHA Forklift Training Guide & Resources
Forklift training is the first essential step to operating a forklift safely and efficiently. Whether you're an operator or an employer, forklift training will help you create a safer workplace, reduce accidents, and be more productive.  It will also help you avoid costly OSHA fines, legalities, and serious accidents that come with multiple consequences.
If you're looking for the right forklift training program for you, you'll find our forklift training guide and forklift certification study guide very helpful.
Forklift Training Manuals Free from CertifyMe.net

The online trainer program from CertifyMe.net was created to teach experienced operators and personnel how to lead the in-person portion of forklift training for operators. It allows employers to have their own in-house instructors who can train employers on the schedule that works best for them, without having to pay the price for travel to an offsite training facility with a third party training company.
---
Are employees properly trained in the use of the type of industrial truck they operate?
Are only trained personnel allowed to operate industrial trucks?
Is substantial overhead protective equipment provided on high lift rider equipment?
Are the required lift truck operating rules posted and enforced?
Is directional lighting provided on each industrial truck that operates in an area with less than 2 foot candles per square foot of general lighting?
Does each industrial truck have warning horn, whistle, gong, or other device that can be clearly heard above normal noise in the areas where it is operated?
Are the brakes on each industrial truck capable of bringing the vehicle to a complete and safe stop when fully loaded?
Does the parking brake of the industrial truck prevent the vehicle from moving when unattended?
Are industrial trucks that operate where flammable gasses, vapors, combustible dust, or ignitable fibers may be present approved for such locations?
Are motorized hand and hand/rider trucks designed so that the brakes are applied and power to the drive motor shuts off when the operator releases his or her grip on the device that controls the truck's travel?
Are industrial trucks with internal combustion engines that are operated in buildings or enclosed areas carefully checked to ensure that such operations do not cause harmful concentrations of dangerous gases or fumes?
Are safe distances maintained from the edges of elevated ramps and platforms?
Are employees prohibited from standing or passing under elevated portions of trucks, whether loaded or empty?
Are unauthorized employees prohibited from riding on trucks?
Are operators prohibited from driving up to anyone standing in front of a fixed object?
Are arms and legs kept inside the running lines of the truck?
Are loads handled only within the rated capacity of the truck?
Are trucks in need of repair removed from service immediately?
Forklift Training Guide Information
Why Should You Get Your Forklift Drivers Trained and Certified?
When the new administration took office, OSHA was instructed by the Department of Labor to conduct more frequent inspections and impose heavier fines. According to the Bureau of Labor Statistics, 94 forklift operators have lost their lives in on-the-job incidents. OSHA rules demand that all forklift drivers be properly trained and licensed. Employees are required to undergo both formal as well as hands-on training. We provide both, in addition to a forklift certification study guide with all courses.
Why Should You Use CertifyMe.net for your Online Forklift Training and Certification Needs?
We provide everything you need to make compliance with OSHA training laws convenient and easy, in addition to a forklift license study guide that helps you be the best possible operator. We have more than 12 years of experience helping companies comply with OSHA regulations. Online training is fast, affordable and can be accomplished by anyone. Our forklift training guide and our OSHA forklift training guide provide all the necessary information and are just some of the forklift training resources we make available to your employees when they are logged in to CertifyMe.net.
A trainee can complete the formal online training and testing in about an hour. This can take place before shift, during an extended lunch hour or while on a break. Class is always in session!
Jump Right into the Forklift Training You Need with CertifyMe.net
CertifyMe.net makes it easy to train and certify new hires. Three-year renewals are free. Among the forklift certification resources we make available online include a self-inspection checklist for compliance with OSHA forklift safety, a "train-the-trainer" forklift training guide, an OSHA small business handbook, a forklift test study guide, and more. Looking for how to get forklift certification? You found us!
While being totally OSHA-compliant, our forklift training classes can be accessed from any device with an internet connection. Operators complete the training at their own pace and on their own schedule. This takes out the need to schedule the training for all of your operators and require them to travel and take time out of their schedules and your work hours to finish their forklift training.
In only about one hour, your operators can complete one of these forklift classes to receive their forklift license:
Warehouse Forklifts, Classes 1, 4, 5
Pallet Jacks and Order Pickers, Classes 2, 3
Rough Terrain Forklifts, Class 7
Each of these classes provide a forklift certification study guide and all forklift training manuals free. Once they've finished the online modules, they'll receive a forklift test study guide to use for the written test and the in person evaluation.
Your employees will have everything they need to confidently complete their training and feel prepared to operate forklifts safely and efficiently.
Train the Trainer

for Your Own In-House Forklift Training
We also have the expertise to offer an additional level of OSHA compliance in the form of Qualified Trainer/Evaluator training and certification. The forklift training guide for this course includes instruction in hazard recognition and requirements for OSHA safety compliance. We can train your safety officer, shop foreman, warehouse manager, supervisor, branch manager or even your company owner to fulfill the requirements of a Qualified Trainer/Evaluator. Our OSHA forklift training guide and other forklift training resources, including the forklift license study guide, make this quick and simple while maintaining a high standard of training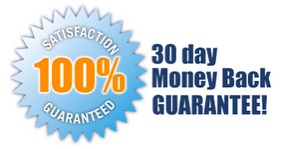 5 EASY STEPS!
Follow step-by-step instructions to get OSHA compliant!
This low-cost program can be completed anytime, anywhere!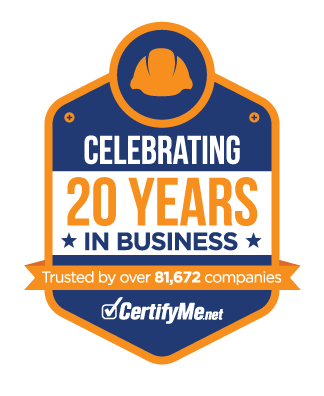 Get Started Now By Registering Your Company For Free!
FREE 3 Year Renewals
Instant Access 24/7
Print Your Proof of Training
OSHA Accepted Nationwide
*If you are an individual not currently employed by a company use your personal name in
the 'Company Name' field.