Limited Time Offer! Free Covid-19 safety course with purchase of any Forklift or Aerial Lift Certification!
Access your free Covid-19 safety course in your members area once you have completed your purchase.

5 Most Important Parts of a Forklift
Posted by: admin on August 26, 2015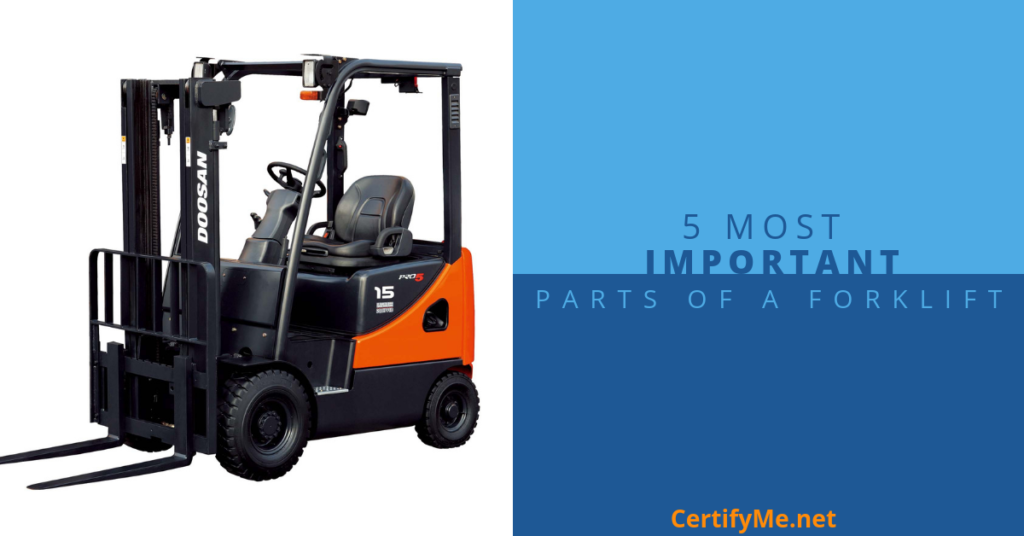 Every part of a forklift is "important" in some way, but which ones are most important? To answer this question, let's consider the different parts of a forklift, how they work, and how to maintain them.
Forklift Components: What You Need to Know
Forklift components are designed for different reasons. Each forklift part is constructed from heavy-duty materials, and each plays a key role in forklift operation. Additionally, forklift parts can impact workplace safety.
Businesses that evaluate forklift components regularly are well-equipped to identify potential problems. They can also address these problems before a forklift part deteriorates or malfunctions — and otherwise puts a forklift operator and others in danger. 
Remember, forklift safety is paramount, and correcting issues that hamper the performance of forklift parts can help prevent malfunctions that may otherwise lead to accidents. With forklift education from CertifyMe.net, your employees can learn all they need to know about the parts of a forklift, safe work practices, OSHA guidelines, and more.

Most Important Forklift Parts
To determine the most important forklift parts, we asked our team for their input, and here are their responses:
1. Tires
There are basic types of forklift tires:
Pneumatic: These tires are usually required in outdoor environments. Rough terrain lifts and other heavy-duty applications use pneumatic tires.
Polyurethane: For superior traction, exceptional durability, and great strength-to-weight-ratio, polyurethane forklift tires fit the bill. They're common forklift components for indoor and electric forklifts and pallet jacks.
Solid Rubber: One of the most popular and widely used types of forklift tires, solid rubber tires may be used indoors and outdoors.
Forklift tires should be able to support nearly 10,000 lbs. As one of the most critical parts of a forklift, your tires must be strong and sturdy.
If your forklift has bald, cracked, or worn-down tires, a forklift disaster may be imminent. Driving on tires that need to be replaced can make your forklift unstable. Without proper tire care, you're in danger of falling out of the vehicle and dropping your load.
In addition to cracking, look for distress over the wear line of your forklift's tires. When your tires are worn past the wear line, it's time to replace them. Also, if chunks of tire are falling off or tearing or there are flat spots, you should replace your tires.
2. Warning Indicators
Warning indicators' standard colors include yellow, red, blue, and white. Many of today's high-tech forklifts use LED warning lights for better visibility in all types of conditions. The pre-start inspection that forklift operators must perform before each shift allows these operators to find out if their turn signals, horn, and any other safety controls are malfunctioning. If there are any issues with a forklift's safety controls, they need to be tuned up or replaced.
3. Forks
The forks are the two pieces located at the front of a forklift, near the tires, and they extend outward to lift and carry loads. A forklift's forks are crucial safety components. If they are damaged or defective, your forklift may malfunction if you try to handle a heavy load.
Forks are made of metal, but they can get damaged if they are misused or during an accident. When the forks are cracked, bent, or otherwise damaged, they affect the forklift's ability to handle a load and the safety of the operator and nearby workers. Damaged forks can cause loads to fall, crush workers, create obstructions, and cause other problems.
4. Cockpit Controls
Malfunctioning cockpit controls could be the difference between a safe day at work and an OSHA investigation. The controls in the cockpit allow a forklift operator to control the machine and avoid dangerous situations. If the cockpit controls are malfunctioning or an untrained worker is operating a forklift, dangerous situations may arise.
5. The Driver
By far, the most important part of a forklift is the operator. "Give me a great driver with an average forklift over an average driver with a great forklift any day of the week," said one warehouse manager. And we agree with him.
Forklift accidents frequently happen at warehouses and worksites, and the most common cause of these accidents is operator error due to lack of proper forklift training. With forklift training, workers can learn how to operate the different types of forklifts in their workplace, inspect their equipment and work environments, and avoid hazards.

Want to Learn About the Different Parts of a Forklift? Enroll in Forklift Safety Training from CertifyMe.net
CertifyMe.net is the smart choice for forklift safety training. Our training modules cover the different parts of a forklift and various forklift terms, definitions, and concepts to teach your employees how to become safe forklift operators. To learn more or to sign up for forklift safety training classes, please contact us online or call us today at 1-888-699-4800.  
Welcome to CertifyMe.net
CertifyMe.net has offered online forklift certification since 1999. With Our Convenient online program. your employess can earn their certification in an hour or less.
Browse Online Certifications:
This low-cost program can be compeleted anytime, anywhere!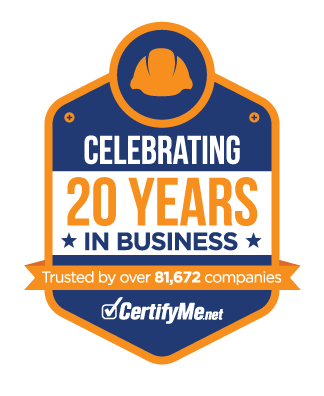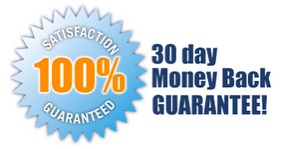 Connect with Us


Get Started Now By Registering Your Company For Free!
FREE 3 Year Renewals
Instant Access 24/7
Print Your Proof of Training
OSHA Accepted Nationwide
*If you are an individual not currently employed by a company use your personal name in
the 'Company Name' field.