Limited Time Offer! Free Covid-19 safety course with purchase of any Forklift or Aerial Lift Certification!
Access your free Covid-19 safety course in your members area once you have completed your purchase.

The Basics of Forklift Insurance
Posted by: admin on September 7, 2018
(Updated July 2020)
Mobile heavy equipment can be unsafe in the hands of untrained workers. This is especially true with forklifts. These bulky machines may look safe compared to aerial lifts and other equipment. But, their weight and the loads they carry make them risky to operate.
Forklift insurance is not required by every state, but it is a must-have for businesses that use forklifts every day. To understand the value of forklift insurance, let's examine some of the key concerns and questions surrounding this type of insurance.
Forklift Insurance Basics
Forklift insurance and auto insurance are not identical. So, if your business has an auto policy, the policy will not necessarily apply to your forklifts.
Many business owners assume their forklifts are covered by the company's auto insurance. This is true only if the policy classifies the forklift as a street-legal vehicle.
Most general liability insurance covers workplace property damage and bodily injury. However, the rules can be confusing, and they sometimes seem to contradict one another.
Whether you own a forklift or rent one, forklift truck insurance is a good idea. It will protect you and your company against liability for worker injuries or deaths and pay for damages to property or equipment. The bottom line: the savings associated with forklift insurance far outweigh its cost.
Does a Forklift Need Insurance? Factors to Consider
Some states require companies that use forklifts to carry forklift insurance. Even in states that don't require forklift insurance, most construction contracts require basic forklift liability coverage.
To find out if your business needs forklift insurance, check your state regulations and contract requirements. Then, you can explore forklift insurance options and find a policy that corresponds to your state regulations and contract requirements.
Even if you're not required to have forklift truck insurance, it's typically a good idea to purchase this type of insurance. Forklift insurance protects your trucks against damage, destruction, vandalism, or theft. It also covers most operating risks, including liability claims made by third parties.
The following list highlights other types of coverage included in a forklift insurance policy:
General Liability:Protects against personal injury or property damage claims made by a third party
Physical Damage: Pays full value for forklifts that get damaged or destroyed.
Theft: Pays to replace forklifts that are stolen and not recovered.
Inland Marine: Covers equipment that can't be permanently affixed to one location.
Most forklift insurers offer "add on" coverages to expand the policy. These include:
Equipment Floater: This can be added to inland marine coverage, and it covers forklifts and other equipment while in transport between jobs and applies to rentals. It also covers theft while in transit.
Rented/Leased Equipment: Pays for the cost of renting a forklift while yours is being repaired. It also covers damage to a rented forklift while it is in use.
Equipment Breakdown: Covers damage excluded by other insurance policies, such as explosions or other disasters.
Excess Liability: Increases your general liability limit to pay for damages resulting from lawsuits.
Auto Liability: Covers forklifts while driving on public roads. The need for this coverage depends on the state and the type of forklift being driven.
Learn about the forklift insurance coverage options at your disposal. This allows you to determine the right forklift insurance coverages to accommodate your business needs.

Auto vs. Forklift Insurance: Why Are They Different?
Forklift truck insurance differs from auto insurance for many reasons, such as:
Cars are used mainly for transportation; forklifts are used to move heavy loads.
Cars are designed to drive on public roads; forklifts are not.
Cars are held to be personal vehicles; forklifts are considered mobile equipment.
Any vehicle that meets the following criteria must get heavy equipment insurance:
Designed and intended to be used off public roads
Used exclusively on a worksite
Moves on treads
Used to transport heavy equipment
Has permanently mounted equipment
Is a cherry pickers that is not self-propelled
Not used to transport people or cargo
It is important to recognize the differences between auto and forklift insurance. Because, if your business has insurance in place for its cars and forklifts, your company can ensure that all of its vehicles are protected against damage, theft, and other dangers.
Insurance for Driving on Public Roads
Liability insurance may cover forklift accidents that occur at a company's headquarter or at a jobsite. It does not cover forklifts traveling on public roadways. Some states require insurance for mobile equipment when they are driven on public roads. This includes forklifts being driven to and from a jobsite.
Forklifts are considered automobiles while they are driven on public roads. Therefore, they should be added to a commercial auto insurance policy. This will protect against liability from accidents while the forklift is on a public roadway. Rules vary from state to state, so be sure to check with your insurance firm before you update your commercial auto insurance policy.
How to Lower Your Forklift Insurance Cost
As with any insurance policy, the cost of forklift insurance is a major factor. But, there are several things you can do to lower your forklift insurance cost, including:
Get quotes from several different insurers.
Hire a licensed insurance broker to negotiate the cost for you.
Don't accept the first proposal from the insurer.
Request a copy of a Product Disclosure Statement and read it carefully.
Know what a policy does and doesn't cover to avoid paying for coverage you don't need.
Along with these tips, forklift safety training can help your business reduce its forklift insurance cost.
Insurance companies may offer discounts to companies that require workers to complete forklift safety training. They may also reduce the cost of your forklift insurance policy over time, particularly if your company does not submit any forklift accident or injury claims.

Enroll in Forklift Safety Training from CertifyMe.net
CertifyMe.net is a leading provider of forklift safety training. We offer an extensive training program to teach workers of all skill and experience levels how to properly operate a forklift. Moreover, our training program complies with OSHA requirements, and it ensures that workers can quickly learn what it takes to identify and address forklift safety issues.
We are happy to provide additional insights into our forklift safety training program and help your workers become OSHA-certified forklift operators. To learn more or to sign up for forklift safety training, please contact us online or call us today at 1-888-699-4800.
Welcome to CertifyMe.net
CertifyMe.net has offered online forklift certification since 1999. With Our Convenient online program. your employess can earn their certification in an hour or less.
Browse Online Certifications:
This low-cost program can be compeleted anytime, anywhere!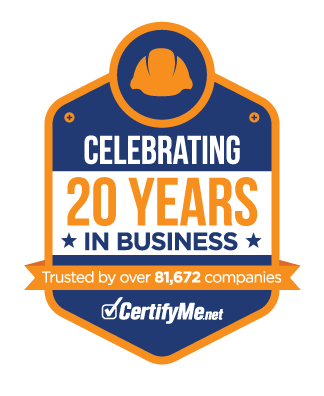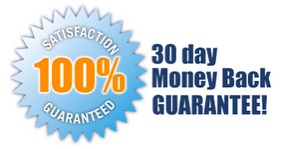 Connect with Us


Get Started Now By Registering Your Company For Free!
FREE 3 Year Renewals
Instant Access 24/7
Print Your Proof of Training
OSHA Accepted Nationwide
*If you are an individual not currently employed by a company use your personal name in
the 'Company Name' field.