The Basics of Forklift Insurance
Posted by: admin on September 7, 2018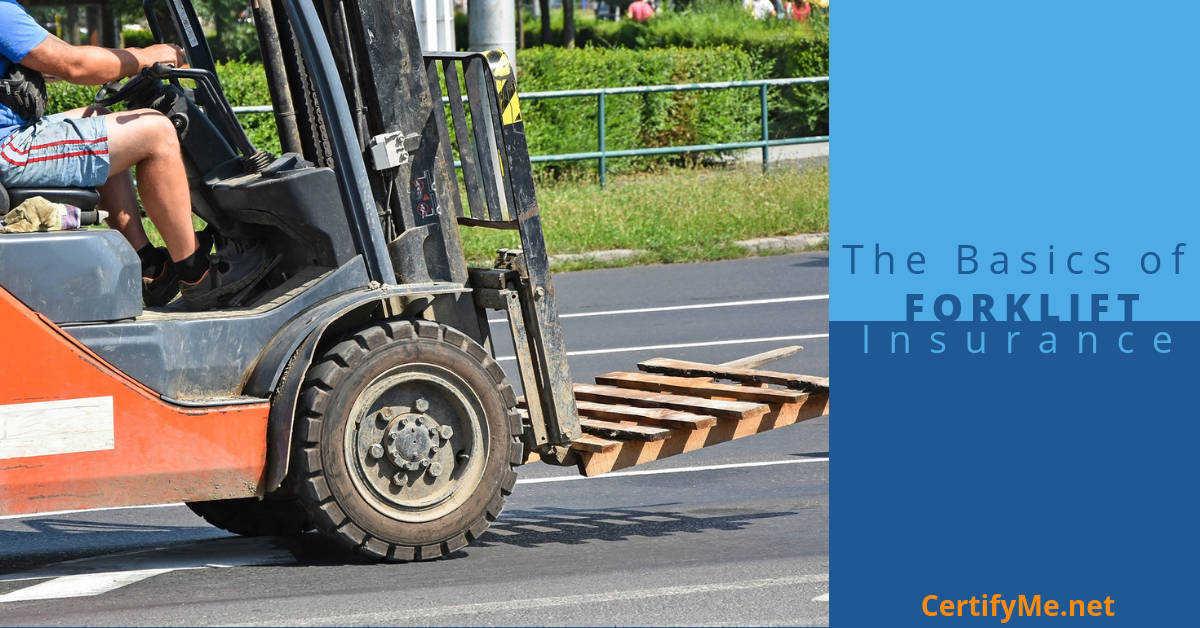 Mobile heavy equipment, which is sometimes also called moveable machinery, can be dangerous in the hands of untrained or uncertified operators. Mobile heavy equipment includes everything from backhoes and cranes to aerial work platforms and forklifts. Business owners sometimes assume forklifts and other mobile equipment are insured under the company's automobile coverage. This is true only if the insurer classifies the equipment as street legal vehicles.
Although regulations differ from state to state, forklift owners and operators usually aren't required to carry forklift insurance. Most comprehensive general liability (CGL) policies provide basic coverage against workplace property damage and bodily injuries. The rules, however, can be confusing, and sometimes seem to conflict.
Because of the dangers of operating forklifts, it's probably a good idea to arrange coverage. Even if you don't own a forklift but occasionally rent one, forklift insurance will protect you and your company against liability for accidental worker injuries or deaths and damages to property or equipment. It's best to check with your insurance carrier to be sure you're covered for all potential risks.
What is Forklift Insurance and Why is it Needed?
Forklift insurance protects business owners and operators from liability claims or lawsuits arising from workplace accidents. Claims for worker injuries or deaths, damage to workplace or job site property and the forklift itself are all covered under forklift insurance
Most construction contracts require at least basic liability coverage for forklifts and other heavy equipment used on their job sites. Optional additional coverage will protect your business against expensive repairs, equipment replacement, and lawsuits. Forklift insurance can be arranged to also cover the cost of temporarily renting a forklift while your equipment is being repaired.
How Are Forklifts and Other Moveable Machinery Different From Autos?
Insurance Services Offices (ISO) provides actuarial, underwriting and claims information to the insurance industry. They define an automobile as a motorized land vehicle used to transport people or property over public roadways. Mobile equipment is intended to be used off public roads. It may, however, be driven on public roads while traveling to and from job sites, even though transportation isn't its primary purpose. Here are some features that make a vehicle mobile equipment rather than an automobile for insurance purposes:
Designed and intended to be used off public roads, such as farm machinery, diggers, or forklifts
Used exclusively onsite. An example is a maintenance truck that never leaves the premises.
Vehicles like excavators that move on treads
Used to transport heavy equipment such as loaders, diggers, and pavers
Vehicles with permanently mounted equipment, such as compressors, pumps or cherry pickers that aren't self-propelled. These types of vehicles are considered autos if they're self-propelled.
Any vehicle not covered above that isn't used to transport people or cargo is considered mobile equipment
Driving on Public Roads
Although the business's liability insurance may cover forklift accidents while on company premises or at a job site, additional coverage might be needed for traveling to and from jobs on public roadways. Several states have made laws that require insurance coverage for mobile equipment when driven on public roads, including forklifts driven to and from a job site.
Forklifts and other mobile equipment are temporarily considered autos when they're operated on public roads. They should be named on the company's commercial automobile insurance policy to protect against liability from accidents while the forklift is on a public roadway. Since rules vary from state to state, it's a good idea to check with your insurance carrier. This is especially important if your forklift is used at job sites outside your home state.
Keeping Forklift Insurance Premiums Low
When additional insurance for forklifts and other mobile equipment is required or recommended, operators should be properly trained and certified to keep premiums low.  CertifyMe.net provides OSHA-approved training that helps operators safely operate forklifts and avoid job site accidents and injuries. Here are a few examples:
A forklift tipping over and crushing the operator between the vehicle and the surface
Injuries from a forklift colliding with another vehicle
A forklift striking or running over a worker
Objects falling from a forklift and injuring a worker below
A worker falling from a raised platform on the vehicle's forks
A general liability policy will protect against claims for bodily injury or property damage resulting from owning or operating forklifts and other mobile equipment. The coverage applies both on premises and at a job site. An accident occurring while traveling on a public road to a job, however, may not be covered. In some states, it may be necessary to carry separate insurance that specifically covers accidents on public roads. Since forklifts drive on public roads while traveling to and from job sites, they should be included on the company's auto liability policy. Whatever forklift coverage you need, CertifyMe.net's online Forklift Operator Training and Certification can help keep accidents at bay and premiums low.
Make the Workplace Safer Through CertifyMe.net's Forklift Operator Training
Becoming a certified forklift operator is fast, convenient, and affordable when you choose CertifyMe.net's OSHA-approved training. Using a smartphone, tablet or laptop, you or your employees can complete the training in as little as one hour. Since all class materials are available online 24/7, training can be completed any time and anywhere that's convenient. What's more, our graduates receive free lifetime renewal training as required by OSHA every three years.
To get started, contact us online today or call us at (602) 277-0615. You'll rest easier knowing your forklift operators will soon be properly trained and your workplace will be safer!
References:
https://www.thebalancesmb.com/liability-insurance-for-mobile-equipment-462587
https://www.trustedchoice.com/commercial-vehicle-insurance/truck-coverage/forklift-insurance
5 EASY STEPS!
Follow step-by-step instructions to get OSHA compliant!
This low-cost program can be completed anytime, anywhere!



Get Started Now By Registering Your Company For Free!
FREE 3 Year Renewals
Instant Access 24/7
Print Your Proof of Training
OSHA Accepted Nationwide
*If you are an individual not currently employed by a company use your personal name in
the 'Company Name' field.