Limited Time Offer! Free Covid-19 safety course with purchase of any Forklift or Aerial Lift Certification!
Access your free Covid-19 safety course in your members area once you have completed your purchase.

Can a Deaf Person Drive a Forklift? What You Need to Know
Posted by: admin on December 1, 2020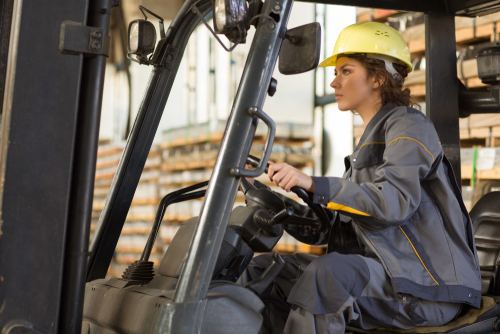 A deaf person can drive a forklift as long as their doctor determines that he or she is capable of safely doing so. In order to safely leverage a lift, however, a deaf person may require a hearing aid.
Along with hearing requirements, there are vision requirements that employers need to consider relative to using a forklift. If businesses ensure that their forklift operators can hear and see clearly, they can minimize the risk of lift accidents.
Are There Vision Requirements for Forklift Drivers?
OSHA does not have forklift vision requirements. Instead, businesses must establish minimum vision requirements for forklift drivers. These requirements must ensure that forklift operators have peripheral vision and depth perception — both of which are vital for safe use of a lift.
Peripheral vision refers to the ability to see around the body without turning the head or moving the eyes. Forklift operators can use their peripheral vision to identify hazards out of the corner of the eye, which can help prevent lift crashes that lead to injuries, and fatalities.
Comparatively, depth perception is the ability to see things in 3D and determine their distance from the eyes. With adequate depth perception, forklift operators can identify jobsite hazards based on their distance from a lift.
Together, peripheral vision and depth perception play key roles in a forklift operator's ability to work safely. To determine if a forklift operator's peripheral vision and depth perception are sufficient, he or she must undergo an eye examination. If the operator has a vision problem that hampers their ability to see clearly, eyeglasses or other treatments may be necessary to correct the issue. Or, if an operator's vision is permanently damaged, he or she may be ineligible to drive a forklift, depending on their employer's forklift vision requirements.

How Often Should Forklift Operators Have Their Hearing and Vision Tested?
There is no set amount of time that dictates how frequently employers must require forklift operators to undergo hearing and vision tests. But, the American Speech-Language Hearing Association recommends adults between the ages of 18 and 40 years old get their hearing tested every three to five years, while eye care professionals typically recommend an eye exam be performed every one to two years.
As an employer, it is always better to err on the side of caution. So, your business may benefit if it requires its forklift operators to undergo annual hearing and vision tests. Your forklift operators can use these tests to assess their hearing and vision and identify any potential health issues before they get out of hand. Meanwhile, your business can leverage hearing and vision tests to verify that your forklift operators can perform everyday tasks safely, every day.
Learn More About Vision and Hearing Requirements for Forklift Operators
At CertifyMe.net, we offer a forklift safety training certification program that teaches workers about forklift hearing and vision requirements and other safety topics. Our program is accessible via smartphone, tablet, laptop, or desktop computer, and it enables workers to become OSHA-certified forklift operators in as little as one hour. To learn more or to enroll your workers in our program, please contact us online or call us today at 1-888-699-4800.
Welcome to CertifyMe.net
CertifyMe.net has offered online forklift certification since 1999. With Our Convenient online program. your employess can earn their certification in an hour or less.
Browse Online Certifications:
This low-cost program can be compeleted anytime, anywhere!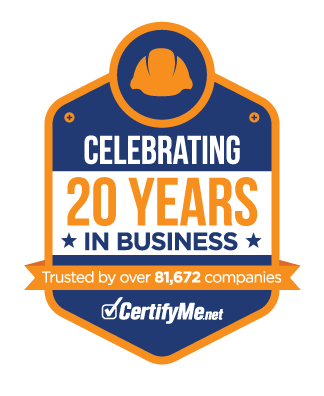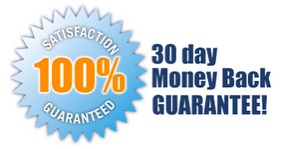 Connect with Us


Get Started Now By Registering Your Company For Free!
FREE 3 Year Renewals
Instant Access 24/7
Print Your Proof of Training
OSHA Accepted Nationwide
*If you are an individual not currently employed by a company use your personal name in
the 'Company Name' field.