Limited Time Offer! Free Covid-19 safety course with purchase of any Forklift or Aerial Lift Certification!
Access your free Covid-19 safety course in your members area once you have completed your purchase.

How to Clean a Warehouse Ceiling
Posted by: admin on March 10, 2021
Regular cleaning is an important part of warehouse safety. You need to clean all areas of your warehouse regularly — even the ceilings.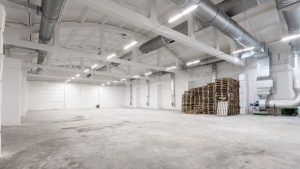 How to Clean High Ceilings in a Warehouse
Dust can accumulate on high ceilings in your warehouse. If left unaddressed, dust can cause respiratory problems for workers who are regularly exposed to it.
Safety is crucial when you clean high ceilings in your warehouse. In order to safely clean your warehouse ceilings, you'll need the following equipment:
1. Telescopic Cleaning Pole
You can adjust a telescopic cleaning pole to every area of a warehouse ceiling. Plus, a telescopic cleaning pole usually extends from 5-30 ft. and lets you clean dust while your feet are firmly planted on the floor.
2. Forked Duster
A forked duster is a great option to clean warehouse ceiling fans. The duster can be easily attached to a telescopic cleaning pole. Meanwhile, the duster lets you use a single movement to instantly remove dust from both sides of a fan blade.
3. Googles
Dust particles can fall as you are cleaning your warehouse ceilings, resulting in eye abrasions or infections. Fortunately, by wearing goggles, you can protect your eyes as you clean your ceilings.
4. Ladder
Use a ladder only if a telescopic cleaning pole does not offer sufficient reach to remove dust from your warehouse ceilings. If you require a ladder, do not stand on the top rungs or lean over the side as you clean. Also, never use a ladder if it shows any signs of wear or tear.
Once you have the following equipment at your disposal, use the following tips to safely clean your warehouse ceilings:
✓ 

Empty Your Warehouse
Clean your warehouse when no one is around. This ensures you can avoid disrupting warehouse workers while you clean.
✓

Illuminate Your Warehouse Ceilings
Turn on the lights and ensure you can see your warehouse ceilings clearly. If necessary, use additional lighting to illuminate dark areas on your ceilings.
✓

Clean Slowly and Cautiously
Move from ceiling to ceiling in your warehouse. Verify your results with each ceiling you clean. Then, move on to the next one until all of your ceilings are dust-free.
✓ 

Clean the Walls
Clean high walls in your warehouse after you clean the ceilings. Dust can accumulate on walls and needs to be removed accordingly.
After you clean your warehouse ceilings and walls, it can be beneficial to clean the floors. This is due to the fact that dust may have inadvertently reached the floors as you cleaned the ceilings and walls.
Make it a point to conduct regular cleaning of your warehouse ceilings, walls, and floors. This ensures you can maintain a clean, tidy warehouse where workers can perform their best.

Maintain a Clean and Safe Warehouse
Along with performing regular cleaning, it is crucial to promote warehouse safety best practices. One of the best ways to establish a clean and safe warehouse: enroll your workers in forklift safety training from CertifyMe.net.
CertifyMe.net offers a safety training program that teaches workers how to work safely on a forklift. Our program is OSHA-compliant and can help you improve warehouse safety. For more information about our forklift safety training program, please contact us online or call us today at 1-888-699-4800.
Welcome to CertifyMe.net
CertifyMe.net has offered online forklift certification since 1999. With Our Convenient online program. your employess can earn their certification in an hour or less.
Browse Online Certifications:
This low-cost program can be compeleted anytime, anywhere!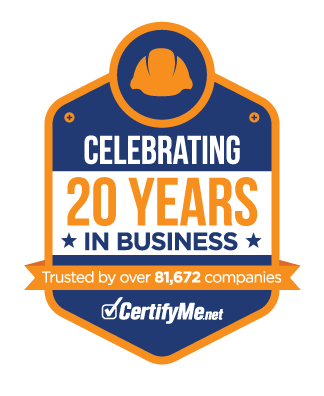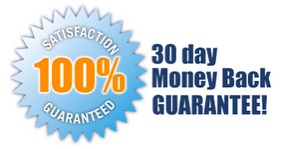 Connect with Us


Get Started Now By Registering Your Company For Free!
FREE 3 Year Renewals
Instant Access 24/7
Print Your Proof of Training
OSHA Accepted Nationwide
*If you are an individual not currently employed by a company use your personal name in
the 'Company Name' field.