Electric Pallet Jack Safety: Tips & Tricks on the "Other" Forklift
Posted by: admin on July 29, 2015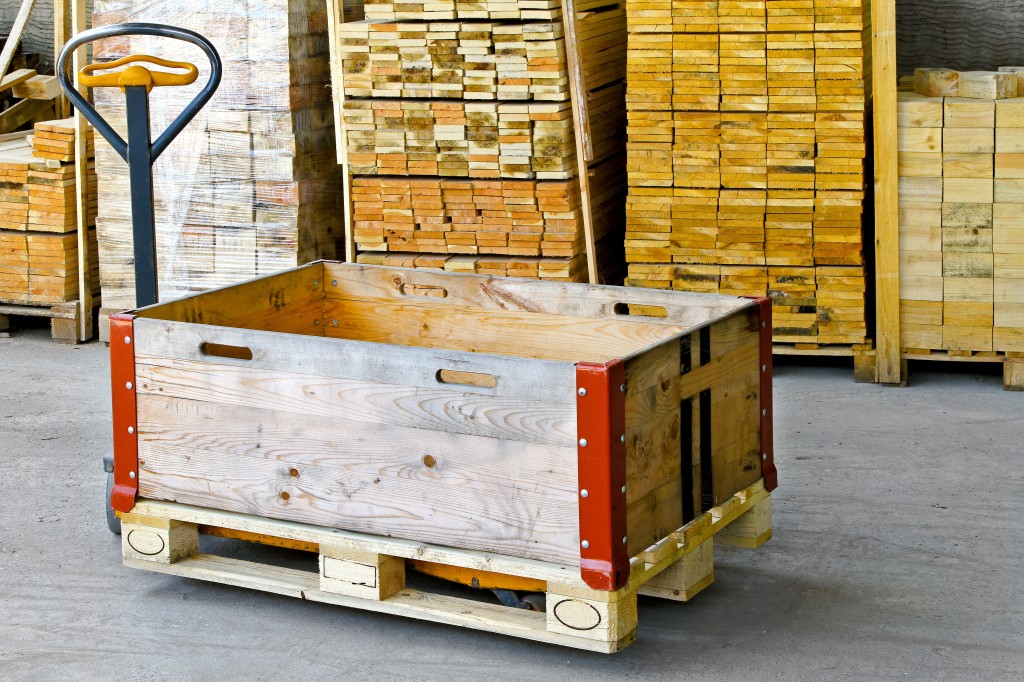 In all the talk about forklift safety, electric pallet jacks sometimes get lost in the shuffle. Electric pallet jacks are used mainly in warehouses and other places that require pallet transportation. However, there's no "lift" at all – the pallet jack only elevates the pallets enough to clear the ground.
So, do pallet jacks come with any hazards? Are the differences between forklifts and electric pallet jacks THAT different? As you'll see, pallet jack safety practices are mostly common sense, with some specific equipment factors thrown in for good measure. But they're still important. Learn more about pallet jack safety and why it's important for preventing a pallet jack accident.
A Pallet Jack Accident is Possible
Even though a pallet jack may seem much simpler and easier compared to operating a forklift, accidents can still happen. In fact, they may be more likely to happen with a pallet jack because the operator may be less likely to take pallet jack safety protocols seriously, and may be more casual with operational practices.
A pallet jack accident can occur when the operator isn't aware of weight limitations, proper usage techniques, and their surrounding environment. Workers may not be aware of hazards nearby, like other workers, machines, and moving forklifts. When a pallet jack operator doesn't know the correct limitations of the equipment, they are more at risk for being struck by and crushed by the machine, and the materials they're handling.
According to OSHA's records, many workers have been seriously injured by improper pallet jack safety. Some past accidents include one worker being fatally crushed by a falling load from a walk behind pallet jack when he moved from the driving position over to the forks to attend to the load. It's unknown whether or not the load was stabilized properly.
Another worker had to have all four small toes on his left foot amputated when he was driving a pallet jack, dropped the pallet, and backed away directly into the path of an oncoming forklift. The forklift ran over the worker's foot, crushing his toes.
Other accidents involve workers having their legs crushed, bones broken, and being pinned between pallet jacks and stationary objects. Without proper pallet jack safety training, workers aren't prepared to recognize and avoid hazards, and the likelihood of a pallet jack accident isn't too far off.
Pallet Jack Safety – 5 Important Tips              
Don't overload the machine.
Similar to forklifts, mega-loads can be extremely unsafe. Check your electric pallet jack's load specifications before using.
Ensure the cargo is secure.
And for pallet jacks, that includes the pallets, not just the product on the pallets. Improper engagement of the pallets on the jack's forks can result in a cracked or damaged pallet, and a pallet jack accident.
Watch your speed.
See a theme developing here? You guessed it – this is another safety practice that applies to all industrial equipment. Even though pallet jacks have limited acceleration, too much speed could spell doom.
Pay attention to warehouse entries and exits.
Some warehouses have large plastic "flaps" for doors. Use caution when approaching. New drivers, not familiar with traffic flow, could accidentally exit and entry – or vice versa.
Maintenance is important.
Today's electric pallet jacks require regular battery charges and regular checkups. Much like forklifts, a pallet jack won't perform like it should without regular maintenance.
Additional Pallet Jack Safety Tips to Prevent Accidents
In addition to the safety tips described above, there are other steps workers can take to prevent pallet jack accidents. The majority of pallet jack accidents can be prevented, but not without a few essential safety practices and the right pallet jack training for operators.
Here are a few more simple guidelines for preventing a pallet jack accident:
Never place feet underneath the pallet jack
Never pull the pallet jack, always push it, unless moving on an incline
Move in reverse down an incline
Be aware of pinch points to keep hands safe
Pallet Jack Safety Training from CertifyMe.net
For the best safety training around, CertifyMe.net has everything you're looking for. We offer outstanding training modules for a variety of skill levels – beginners, experienced drivers and even experts. With OSHA fines for unsafe work practices in the tens of thousands of dollars, you can't afford a failed audit or workplace accident. OSHA inspects workplaces, looking for any untrained operators, and that include workers who use pallet jacks. You can keep your workplace safe and avoid costly fines from OSHA with the pallet jack safety training from CertifyMe.net.
Invest only $299 into the OSHA-compliant program that you can use for life to train your workplace. Think of the thousands of dollars you can save by reducing the number of injuries and fatalities on your worksite, and the expensive equipment damages and reductions in your productivity that come with a pallet jack accident. We keep your workplace safe and efficient, so you can build your business and boost your bottom line.
In only about one hour from any device with the internet, workers can complete their pallet jack safety training and receive their forklift certification.
In addition to pallet jacks, you can also certify your workers in the following:
Warehouse Forklifts, Classes 1, 4, 5
Rough Terrain Forklifts, Class 7
Learn more about pallet jack certification to get your fleet on track with their safety program and get started today!  The CertifyMe pricing page has additional info about training programs, costs and more.
Thanks for reading the CM blog!
5 EASY STEPS!
Follow step-by-step instructions to get OSHA compliant!
This low-cost program can be completed anytime, anywhere!



Get Started Now By Registering Your Company For Free!
FREE 3 Year Renewals
Instant Access 24/7
Print Your Proof of Training
OSHA Accepted Nationwide
*If you are an individual not currently employed by a company use your personal name in
the 'Company Name' field.