Ramping Up the Safety Factor: Forklift Ramp Safety Techniques
Posted by: admin on June 15, 2018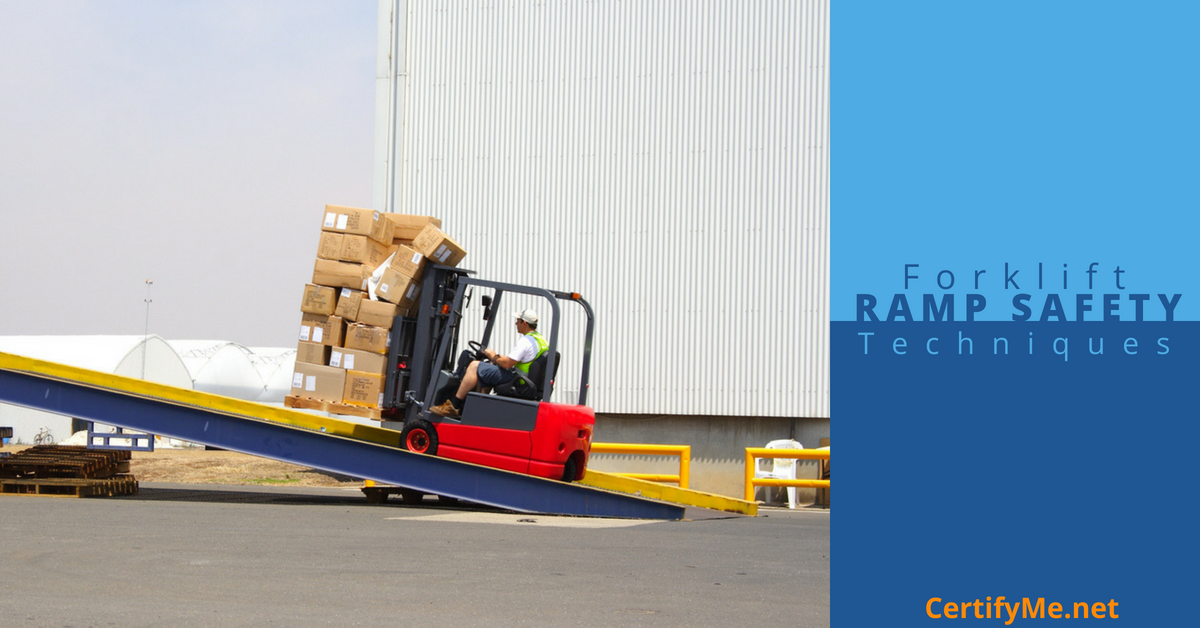 Forklift safety techniques typically focus on "normal" operating conditions. Flat ground, indoors, a well-lit warehouse – driving a forklift safely is much easier when your surroundings are all okay.
But what happens when external factors – weather, poor lighting, etc. – impact your ability to drive a forklift?
One of the most common hazards encountered by forklift drivers is a ramp. Forklift ramp safety is important to keep you and your co-workers away from injuries and accidents. A forklift ramp slope can be dangerous if you don't know how to drive on them. And even if you're an experienced forklift driver, forklift ramps can be tricky. Ramp accidents can be a cause of forklift tip-overs.
OSHA's forklift safety requirements cover the entire scope of efficient, safety-first operation for powered industrial trucks. And so does CertifyMe.net, a preferred forklift training provider for companies all across the United States. Since ramp safety is a critical skill for any forklift driver, we created this article to review certain forklift ramp safety techniques and why they're so important. We included some other helpful information related to forklift ramp slopes, too.
Ramp Safety 101 – Basics of Forklift Ramp Safety
Forklift ramp safety – like most other safe driving practices – begins with an alert driver. While any ramp or slope presents a safety challenge, they're made worse by a distracted operator. Always be aware of your surroundings when you're approaching, on, or exiting a ramp area.
Knowing how to travel on ramps and slopes is so important, OSHA created a helpful e-learning tool just for this subject!
Here are some ways to safely travel on any forklift ramp slope:
Pay attention. We said it already, but it's worth mentioning again. A safety-first, attentive forklift driver is a better forklift driver. That's doubly true when you're on a forklift ramp or slope.
Keep your wheels straight. Forklift ramp safety is compromised when turns are made. Simply wait to turn when you're back on level ground.
Don't run up to the edge. Even if your workplace's ramp area has guardrails and other safety aids, OSHA recommends staying away from the edges of a forklift ramp.
Drive in reverse down a forklift ramp. Here's something every forklift driver should learn: when going down a forklift ramp, safety starts in reverse! That's right – always drive in reverse when traveling down slopes and ramps.
Watch for ice, water, and other hazards. A forklift ramp can be dangerous enough. Add ice, oil, water, or other substances to it, and it suddenly becomes an accident waiting to happen. If you notice hazards, check with your site's safety supervisor and fix the problem immediately. Until it's fixed, don't travel on any hazardous slopes. This is one of the first rules of forklift ramp safety!
Get the OSHA Safety Training You Need – Contact CertifyMe.net Today!
CertifyMe.net offers customized forklift training courses for all types of powered industrial trucks. From rough terrain lifts to pallet jacks and regular indoor warehouse forklifts, we have the OSHA instruction you need to become certified – in less time (and for less money) than you might think!
From forklift ramp safety to basic operating techniques, CertifyMe.net provides a complete and comprehensive overview of everything you need to learn. Plus, our training experts apply real-world situations to better help you learn the training content.
Ramp safety is just one of the things you have to pay attention to. Make sure you have the safety training that you and your employer are required to have – contact CertifyMe.net today. Click here for course pricing, or call us at 1-888-699-4800.
5 EASY STEPS!
Follow step-by-step instructions to get OSHA compliant!
This low-cost program can be completed anytime, anywhere!



Get Started Now By Registering Your Company For Free!
FREE 3 Year Renewals
Instant Access 24/7
Print Your Proof of Training
OSHA Accepted Nationwide
*If you are an individual not currently employed by a company use your personal name in
the 'Company Name' field.