Limited Time Offer! Free Covid-19 safety course with purchase of any Forklift or Aerial Lift Certification!
Access your free Covid-19 safety course in your members area once you have completed your purchase.

Which Forklift Ramp Safety Techniques Work Best?
Posted by: admin on January 15, 2021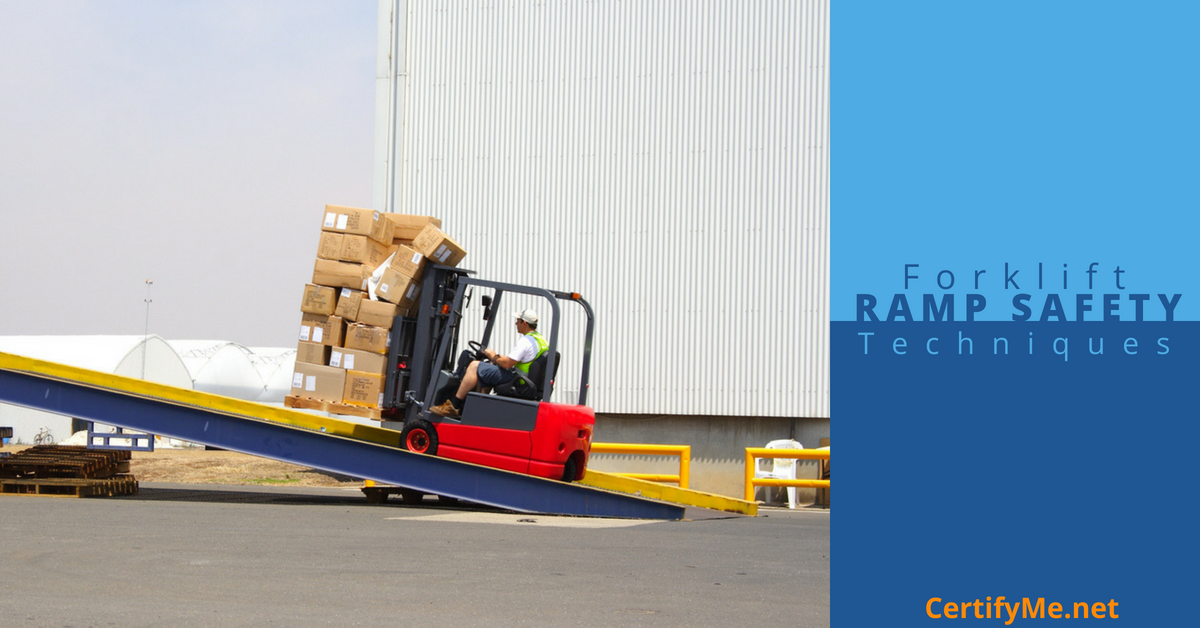 Safe operation of a forklift is crucial. Businesses must teach their forklift operators about all aspects of lift safety. That way, lift operators can take precautions to avoid forklift accidents.
Forklift safety mainly focuses on operating the truck, including:
Driving, lifting, and lowering loads
Changing propane tanks
Identifying and understanding jobsite hazards
Meanwhile, operating a forklift on a ramp, slope, or incline may seem simple. Yet, it can be hazardous and lead to forklift tip-overs.
Do Your Employees Need Forklift Ramp Safety Training?
A forklift ramp can be dangerous, which is why forklift ramp safety should be included in your forklift operator training program. This is especially true if your employees frequently drive a forklift on inclines, slopes, and ramps.
With extensive training, your employees can learn best practices for how to drive a forklift on a ramp. They can also receive insights into OSHA forklift ramp requirements, comply with these requirements, and avoid OSHA penalties.

OSHA Forklift Ramp Requirements
OSHA defines any area where forklifts operate that exceed an angle of 10° as a ramp, incline, or slope. When driving a forklift on a ramp, OSHA CFR 1910.178 sets these standards:
Grades shall be ascended or descended slowly.
When driving on a grade that exceeds 10%, loaded trucks must drive with the load facing upward, regardless of whether a truck is traveling up or down a ramp.
A load must be tilted back across all grades, if applicable. The load should be raised only as much as necessary to clear the driving.
The formula to determine a ramp's angle is simple: divide the amount of rise by the amount of run, then multiply the number by 100. The rise is the height of the ramp from the base of the ramp to its tallest part. Comparatively, the run is the total length of the ramp.
In other words, the formula is (5/50) x 100 = degree of angle. To better understand this formula, let's assume you have a 5-ft. high ramp that runs for 50 ft. In this instance:
5 / 50 = .1
100 x .1 = 10
The bottom line: the ramp has an angle of 10°, so it is subject to OSHA ramp safety guidelines.
How to Operate a Forklift on an Incline
Driving a forklift on an incline can be challenging, regardless of an operator's experience. Fortunately, forklift operators who complete safety training can learn about the risks associated with driving a forklift on an incline. Perhaps best of all, these operators can receive insights into best practices for driving a forklift up and down ramps and grades.
To operate a forklift on an incline, a driver should review the lift's operations manual. The maximum allowable slope varies based on the forklift, so a driver should find out the gradeability of their lift.
Gradeability refers to the grade in which a forklift can climb and stop at full capacity. The highest gradeability forklifts may have a gradeability of 40%.
Some forklift manufacturers guide against the operation of order pickers on an incline. If a manufacturer offers instructions regarding the operation of order pickers on inclines, the instructions should be followed to minimize the risk of accidents.
A forklift driver should also comply with OSHA mandates for operating a forklift on a slope. OSHA encourages forklift operators to maintain a slow speed when they use a lift on an incline. This practice should be followed even if the forklift is unloaded.
Tips for Operating a Forklift on an Incline
Forklift operators should continuously proceed with caution as they drive a lift on an incline. Some of the best practices to follow include:
When carrying a load, keep the forks pointed upward; this helps prevent a load from falling off the forks.
If no load is being carried, keep the forks pointed downward; this helps improve the lift's braking and traction.
Avoid sudden directional changes.
Forklift safety training teaches drivers how to safely operate a lift on an incline. Thanks to this training, forklift drivers can consistently find ways to limit risk when operating lifts on inclines for themselves and others.
How to Drive a Forklift Down a Ramp
Forklift ramp safety requires a forklift driver to be alert. So, a driver must be aware of their surroundings when approaching, on, or exiting a ramp area.
Keep in mind that the two biggest hazards when driving on ramps are forklift tip-overs and losing a load, too. As such, forklift operators must know how to travel on ramps and grades, which is why OSHA created a helpful e-learning tool about this subject.
Basic forklift ramp safety guidelines include:
Stay alert.
Always look in the direction of travel.
Avoid turns on a ramp or incline; to place forks in the proper direction, turn before getting on a ramp.
Keep a safe distance from the edge of a ramp.
Avoid travel on-ramps with angles that exceed the forklift manufacturer's recommendation.
Additionally, when traveling with a load, always point the load upward, even when going down a ramp. When going up a ramp, drive forward with the forks pointed upward.
If a load is blocking a forklift driver's view, use a spotter to guide the truck. When going down a ramp, drive in reverse with the load and keep the forks pointed up the slope.
When traveling without a load, the forks should always point down the slope. The forklift operator should also drive in reverse up the ramp or drive forward when going down the ramp.
Other forklift ramp safety tips include:
1. Keep Your Wheels Straight
Forklift ramp safety can be compromised when turns are made, so wait to turn when the ground is once again.
2. Avoid the Edge
Stay away from the edges of a forklift ramp, even if the ramp area has guardrails in place. You should also avoid open edge ramps.
3. Watch for Ice, Water, and other Ramp Hazards
If you notice hazards on a forklift ramp, check with your site's safety supervisor and fix the problem right away. Avoid travel on any hazardous slopes until the problem is fixed.
Forklift Ramp Safety: Best Practices for Traveling with a Load
When traveling on a ramp, forklift operators must drive cautiously, particularly if they are traveling with a load. If operators ignore forklift ramp safety best practices for traveling with a load, they risk a tip-over that results in injuries. During a tip-over, a forklift operator also risks losing or damaging their load.
When going up an incline with a load, a forklift operator should:
Keep the forks pointed upgrade.
Move the lift forward slowly and carefully.
Ask for assistance from a spotter; a spotter can help an operator keep an eye out for hazards that block their view.
When going down an incline with a load, a forklift operator should:
Travel in reverse.
Keep their head and face pointed downgrade.
Keep the forks pointed upgrade.
The aforementioned tips can help forklift operators safely travel on an incline and minimize their risk of accidents and injuries.
Forklift Ramp Precautions: Best Practices for Traveling Without a Load
When traveling without a load on an incline, there is still a risk of a tip-over. To avoid a tip-over when driving without a load on a ramp, a forklift operator should keep the forks pointed down, regardless of whether he or she is going up or down.
As a forklift operator travels up a ramp without a load, he or she should drive in reverse and keep their head and face pointed up. Comparatively, when traveling down a ramp without a load, a forklift operator should drive forward and keep their head and face pointed upgrade.
Forklift Ramp Safety: Smart Ramp Design
Following OSHA forklift ramp requirements can help reduce the risk of forklift accidents, injuries, and fatalities. Building safety features into loading dock ramps can also help mitigate these issues.
Various safety features are commonly incorporated into ramps, including:
1. High-Traction Surfaces
Loading docks get a lot of forklift traffic. They are also exposed to the elements, which can cause loading docks to become oily and grimy. Building ramps with open steel grating reduces moisture buildup and provides better traction for forklift wheels.
2. Low-Angle Slopes
Steep ramps increase the risk of forklift tip-overs or losing a load. Longer ramps create a shallow grade to reduce or eliminate these hazards.
3. Tall Ramp Curbs
Forklift drivers should always keep a safe distance from the edge of a ramp. When they don't, steel curbs along the edge of the ramp can provide extra protection. The curbs should be tall and strong enough to stop a forklift when a driver misjudges the edge of a ramp.
4. Extra Anchorage
Accidents can occur if ramps or dock plates shift when forklifts are on a ramp. Doubling the number of anchors at the ground level can help prevent shifting.
Smart ramp design may help improve forklift operator safety, as well as prevent forklift accidents, injuries, and fatalities before they happen. It requires hard work and patience, but in the long run, may benefit your business and its employees.
Forklift Ramp Safety FAQs
For businesses that are uncertain about how to educate their workers about safe use of forklifts on ramps, help is available. Here are answers to common forklift ramp safety questions.
Q: What is the safest position for your forklift when you are driving down a ramp with an empty forklift?
A: When driving down a ramp with an empty forklift, travel in reverse and keep the lift's forks pointed downward.
Q: Why should a lift truck not be turned on a ramp?
A: Forklift stability is key, particularly when driving a lift on a ramp. If an operator turns their lift too quickly or sharply, he or she could inadvertently cause a tip-over.
Q: How steep can a forklift ramp be?
A: There is no measurement to determine the gradient that a forklift can handle. Generally, a forklift can safely travel on a ramp with a gradient between 5% and 12.5%. But, it is always best to err on the side of caution. If a ramp looks too steep, forklift operators should avoid it.
Q: How long does it take to stop a forklift on a ramp?
A: When traveling on flat ground, a forklift driving 7 mph will need approximately 16 ft. to come to a complete stop. Comparatively, on a ramp, it takes additional time for a forklift operator to stop their lift. As such, forklift operators should give themselves extra stopping time when they drive on an incline or decline. Otherwise, if operators do not account for braking distance, they risk driving too fast or traveling too close to bystanders or objects. This can lead to forklift accidents, along with serious injuries or fatalities.
Forklift ramp safety is a top consideration for companies that employ forklift operators. By teaching their forklift operators how to safely use a lift on an incline or decline, these businesses can comply with OSHA standards.
Safety Training for OSHA Forklift Ramp Requirements
OSHA's forklift safety requirements cover all aspects of forklift operation. At CertifyMe.net, we do the same, and we provide custom forklift training courses for all types of forklifts.
CertifyMe.net offers training courses that can teach your employees how to properly operate a forklift on slopes, inclines, and ramps. Our courses are accessible anywhere an internet connection is available, and employees can complete them any time they choose, too. Plus, our training classes allow your employees to become OSHA-certified forklift operators, and they can easily renew their certification every three years with us as well.
We are happy to provide additional details about our forklift safety training classes. To learn more, please contact us online or call us today at 1-888-699-4800.

Welcome to CertifyMe.net
CertifyMe.net has offered online forklift certification since 1999. With Our Convenient online program. your employess can earn their certification in an hour or less.
Browse Online Certifications:
This low-cost program can be compeleted anytime, anywhere!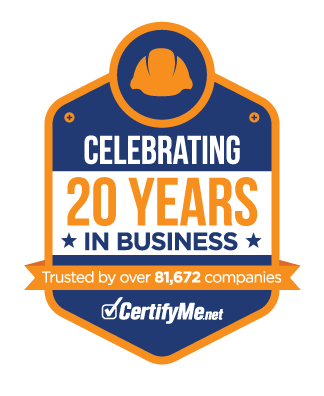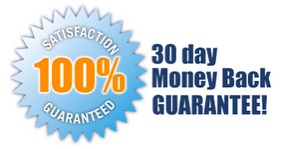 Connect with Us


Get Started Now By Registering Your Company For Free!
FREE 3 Year Renewals
Instant Access 24/7
Print Your Proof of Training
OSHA Accepted Nationwide
*If you are an individual not currently employed by a company use your personal name in
the 'Company Name' field.