Limited Time Offer! Free Covid-19 safety course with purchase of any Forklift or Aerial Lift Certification!
Access your free Covid-19 safety course in your members area once you have completed your purchase.

Forklift Tires: Cushion Vs. Pneumatic
Posted by: admin on November 5, 2018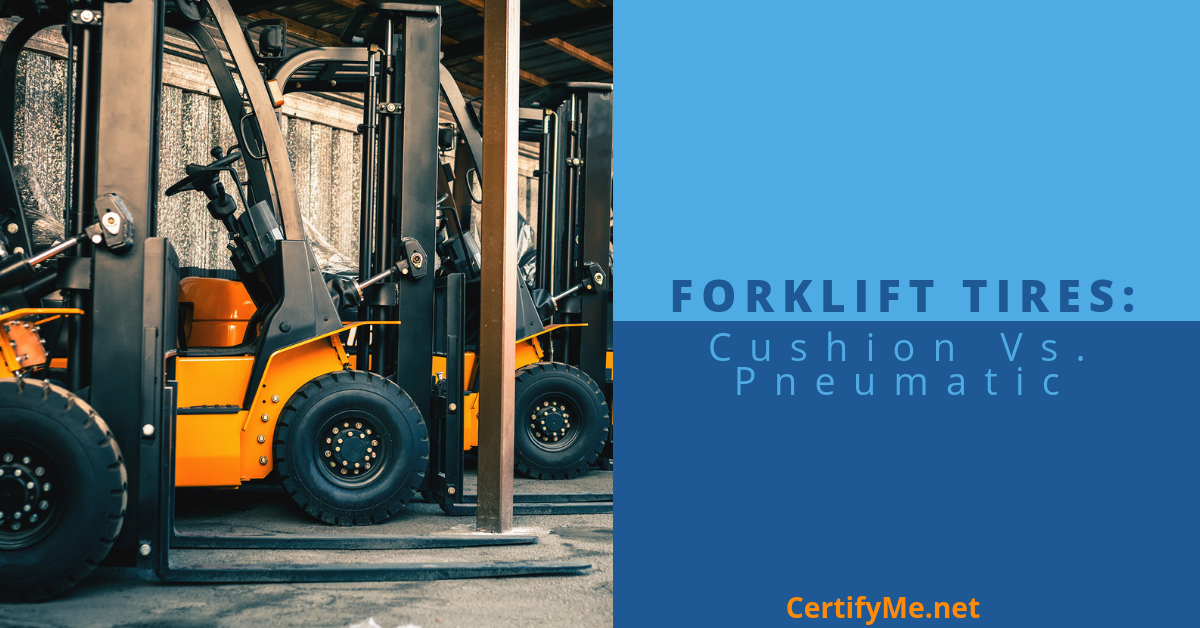 When operating a forklift, safety is the first priority. That's why it's so important to get the right kind of tires for your forklifts. There are many different types of tires to choose from, and most are designed for a specific type of forklift and/or job function. Matching the right type of tire to your forklift will improve safety and handling.
The two most common types of forklift tires are "cushion" and "pneumatic." Each is designed for different types of forklifts and work situations. Both can handle almost any load as long as they are fitted on the forklifts they are designed for.
Knowing how to handle all forklift tires is critical for job safety. With OSHA compliant forklift training courses for your company, CertifyMe.net offers affordable, 100% compliant solutions for any sized company. Get your company registered today and don't delay with your forklift tire safety!
Pneumatic Forklift Tires
Pneumatic forklift tires are mainly for outdoor use.  They can be used indoors, but their durable rubber and deep treads make them more suited to outdoor work sites. Pneumatic forklift tires also have more ground clearance than cushion tires. This makes it easier for the forklift to maneuver on gravel and other rough surfaces.
Most pneumatic forklift tires are air-filled. However, some are made with solid rubber wrapped around a steel band. The solid type is designed to withstand nail punctures and other sharp objects. This makes pneumatic forklift tires ideal for work areas that have a lot of debris on the ground, such as a construction site or lumber yard.
Pneumatic forklift tires require a larger frame than cushion tires. As a result, they tend to cost more. However, their ability to work on a variety of surfaces justifies the higher price.
Cushion Forklift Tires
Forklift cushion tires are mainly used for indoor work situations on smooth surfaces. Their smaller turning radius makes cushion forklift tires ideal for warehouses, manufacturing plants and distribution centers. Loading docks are another common application. Cushion tires can be used outdoors on asphalt, but only for light applications.
Cushion tires are made with smooth, solid rubber that fits around a metal band.  They tend to be smaller than pneumatic tires, and usually cost less. They're also easier to maintain. However, their traction isn't as good as pneumatic tires, especially when used outdoors.
Forklift cushion tires contain more rubber, which results in a safer, more comfortable ride for the operator. It also contributes to a longer service life for the tires. However, forklift cushion tires also fit into a smaller frame, making the forklift more maneuverable. In a warehouse, this allows the driver to navigate narrower aisles. This, in turn, allows the racking to be placed closer together to increase warehouse capacity.
Keep in mind that cushion and pneumatic tires require different frames. This means the tires can't be switched out if the work changes. Cushion tires go on forklifts designed for them. Pneumatics go on forklifts designed for pneumatics. There is no interchanging.
Smooth vs. Traction
Once you have the right type of tire for your forklift, you still have options in terms of tread styles. These include:
– Smooth. Best for dry indoor applications and all-steer axles.
– Traction. Work well in a wide variety of applications.
– Grooved. Typically used with large-capacity trucks with large loads and extreme operating conditions.
– Wide-track. Designed for all-season use, indoors or outdoors.
Traction tires are the best choice for wet surfaces, especially indoors. When using a cushion tire forklift outside, traction tires grip the surface better and help reduce tire "chunking." This occurs when pieces of tread fall off the tire due to overheating. Never use traction tread tires on ramps with metal teeth, as severe damage can result.
Smooth forklift tires tend to last longer than traction tires. They are easier to maintain, and the risk of puncture is lower. Smooth tires are also better for the environment. Because they are often used with battery-powered forklifts, they produce no harmful emissions. These forklifts are also quieter to operate than propane or diesel forklifts.
Proper Maintenance: Things to Do with Forklift Cushion Tires & Pneumatic Forklift Tires
Here are some things to do with all types of forklift tires (including forklift cushion tires and pneumatic forklift tires):
– Do keep up with recommended manufacturer maintenance checks.
– Do inspect tires regularly.
– Do visual pre-check and pre-shift driving tests on a regular basis.
– Do pay attention to floor hazards (debris, liquids, etc.) that compromise forklift tire safety.
The "don'ts" are just as important with your forklift tires:
– Don't skip any regularly scheduled maintenance.
– Don't ignore telltale signs of tire wear (worn treads, unsafe braking, etc.).
– Don't delay in inflating pneumatic forklift tires.
– Don't operate any forklift (with pneumatic forklift tires, forklift cushion tires, and more) without OSHA compliant training.
Forklift Tire Safety
As with any forklift tires, forklift cushion tires and pneumatic forklift tires should be well-maintained and have enough tread at all times. When a tire has worn away 40% or more of the tread, the forklift and the driver will absorb 84% of the shock on a rough surface. Worn tires also cause the forklift transmission to work harder to turn the tires. This can lead to accidents and costly breakdowns.
Damaged or worn out tires threaten the safety of the machine and the operator. Look for these signs:
– Less than one inch from the lettering to the top of the tires
– The tires have worn down to the visible safety line
– Clear signs of chunking, tearing or cracking
– Flat spots on the tire
Don't forget another critical safety feature – training and certification for your forklift operators!
Sign up today with CertifyMe.net. From common sense maintenance for pneumatic forklift tires and forklift cushion tires to proper operating techniques to hands-on evaluation, no other online training sources gives you the value, complete OSHA compliance, and lifetime support of CertifyMe.net.
If you have any questions about our training packages, forklift tires, or anything else, call our forklift safety experts at 1-888-699-4800.
Updated June 2019
Welcome to CertifyMe.net
CertifyMe.net has offered online forklift certification since 1999. With Our Convenient online program. your employess can earn their certification in an hour or less.
Browse Online Certifications:
This low-cost program can be compeleted anytime, anywhere!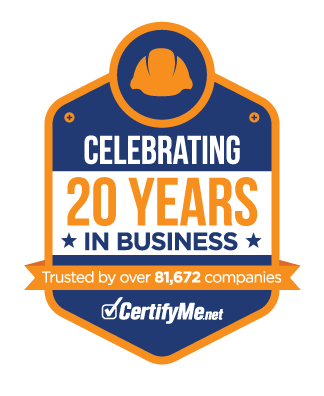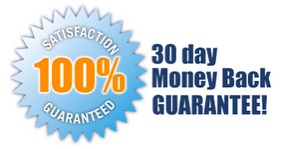 Connect with Us


Get Started Now By Registering Your Company For Free!
FREE 3 Year Renewals
Instant Access 24/7
Print Your Proof of Training
OSHA Accepted Nationwide
*If you are an individual not currently employed by a company use your personal name in
the 'Company Name' field.