Getting to Know Rough Terrain Forklifts
Posted by: admin on May 24, 2016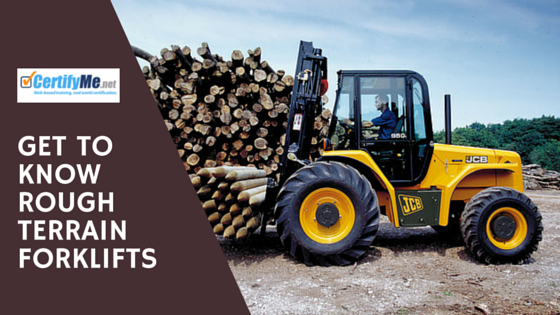 Rough terrain forklifts are Class 7 forklifts according to OSHA classifications. Rough terrain forklifts are equipped with durable tires and are designed to handle uneven terrain outdoors, improving the functionality and safety of a work site.
There are three main types of class 7 rough terrain forklifts, and all are designed a little differently for varying purposes. The majority of all rough terrain forklifts will have pneumatic tires since they are designed for traveling outdoors, such as on gravel or in yard work. Also, all rough terrain forklifts are fitted with a protective cage to cover and shield the operator from debris and dust. Here are the main differences between these rough terrain forklifts and how they are used in work sites.
Vertical Mast Rough Terrain Forklift
A vertical mast rough terrain forklift is designed with two large tires at the front of the machine with two smaller tires at the rear. It is ruggedly built to be used primarily outdoors on natural to uneven terrain. Because rough terrain vertical mast forklifts are larger and made to handle heavier loads than vertical mast counterbalanced forklifts (classes 1, 4 and 5), they require more space to operate as well as a sturdy surface that offers substantial support. Operators need to always be wary of soft, muddy ground. All workers need to be trained to operate rough terrain vertical mast forklifts to learn about safe load handling and load weight-to-lift height capabilities.
Variable Reach Rough Terrain Forklift
This type of rough terrain forklift is vehicle-mounted and fitted with a telescopic boom lift, which allows this machine to pick up and transport loads at various distances and heights. The boom can reach out directly in front of the forklift, and it can be extended to raise directly above it. Variable reach rough terrain forklifts were originally built for residential and commercial masonry trades. This machine is designed with a low stowed height to allow for superior maneuverability through entryways. Due to the presence of the boom lift, this machine is considered a partially loaded truck even without a load on the attachment. Workers need to be trained in proper load management before operating this forklift.
Truck/Trailer Mounted Rough Terrain Forklift
A truck or trailer mounted rough terrain forklift is a portable, self-propelled design that is most often transported to a work site. This forklift is mounted on a carrier which is attached to the back of the truck or trailer and is used to unload heavy loads from the truck or trailer. It can be used on natural, unimproved outdoor terrain and disturbed terrain on a work site, but it is important to note that not all truck or trailer mounted forklifts are considered to be rough terrain. Forklift certification training covers the various types of truck/trailer mounted forklifts and their primary differences.
If you need to complete your forklift safety training, which includes how to operate all types of rough terrain forklifts, check out CertifyMe.net. They are an online training program which allows operators to complete their training in about one hour, immediately print their certificate after completion, and pay only $59.95 for each section.
Sources:
https://www.osha.gov/SLTC/etools/pit/forklift/types/classes.html#class7
http://www.ivestraining.com/resources/counterbalanced-rough-terrain-vertical-mast-forklifts-one-and-the-same-mostly/
http://www.herculift.com/variable-reach-rough-terrain-forklifts
http://www.ppsa.org/assets/TechnicalReferences/rough_terrain_forklift_trucks.pdf
http://www.aldenequipment.com/custompage.asp?pg=navigator
http://www.forkliftamerica.com/blog/difference-between-pneumatic-and-cushion-tires/
5 EASY STEPS!
Follow step-by-step instructions to get OSHA compliant!
This low-cost program can be completed anytime, anywhere!



Get Started Now By Registering Your Company For Free!
FREE 3 Year Renewals
Instant Access 24/7
Print Your Proof of Training
OSHA Accepted Nationwide
*If you are an individual not currently employed by a company use your personal name in
the 'Company Name' field.