Limited Time Offer! Free Covid-19 safety course with purchase of any Forklift or Aerial Lift Certification!
Access your free Covid-19 safety course in your members area once you have completed your purchase.

Perfect Forklift Drivers Gifts
Posted by: admin on October 21, 2022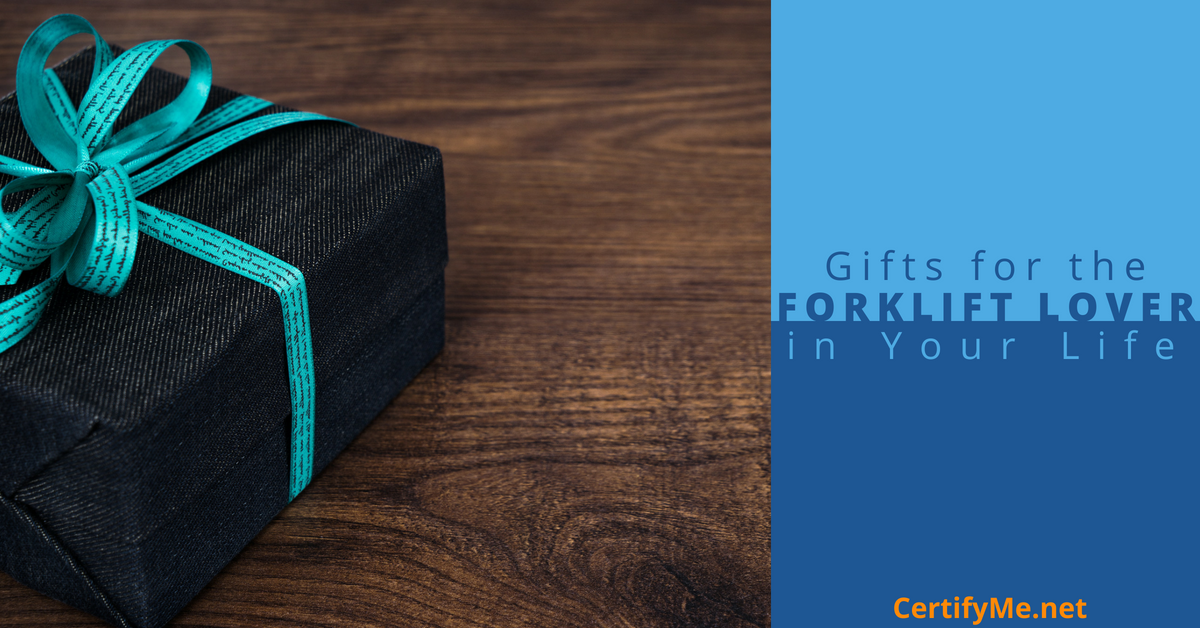 Do you have a forklift driver on your gift list? How about someone who simply loves driving powered industrial trucks? Forklift lovers aren't exactly the easiest people to buy for – there's not a huge market of gifts for forklift operators.
We've done some research here at CertifyMe for forklift gifts, and you'd be surprised at how many gifts are out there! From toys to greeting cards and more, there's a warehouse-worth treasure trove of presents available that'll satisfy any forklift lover you have to buy for.
So what type of people would love a forklift gift?
Veteran drivers. If someone has been driving a forklift for years, there's a good chance they love the work. Experienced operators are ideal gift recipients!
Beginners. For any driver that just completed their forklift training from CertifyMe.net – we have a handful of classes to help anyone become OSHA compliant – a forklift gift is a great way to usher in a new career!
Kids. With so many fun and whimsical forklift gifts to choose from, kids everywhere will love the novelty of a forklift-themed gift. Children of forklift drivers are also prime candidates to receive these gifts.
Deserving employees. If you're in charge of a warehouse, shipyard, or another facility that employs forklift drivers, it's always a good idea to reward a job well done. From consecutive accident-free days to stellar attendance records, give those high-achieving drivers a forklift-themed gift!
Christmas, birthdays, or work anniversaries are the perfect time to celebrate your favorite forklift driver with a fun gift.
Fun, Forklift Driver Gifts Everyone Will Love
Here are a few gifts for forklift operators in your life!
Novelty t-shirts
This bold graphic t-shirt is just one of the many forklift-themed tees up for grabs. Another popular shirt features the saying, "I Get Paid to Fork Around." Get some for your employees or co-workers. Everyone can always use an extra shirt!
Forklift Coffee Mug
If you're on the lookout for economical gifts for forklift lovers, a mug offers a budget-friendly option. You can purchase a coffee mug that features an image of a forklift with a personalized message or the gift recipient's name on it. There is a terrific "I Do All My Own Stunts" coffee mug. You can even pick up a "Yoda Best Forklift Operator" coffee mug for those who appreciate both forklifts and Star Wars. 
Pedal-Powered Forklift
Any child who aspires to become an OSHA-certified forklift operator is sure to enjoy this pedal-powered forklift. The lift is designed for kids age 3 and up. It includes a removable operator's cab, adjustable stroke stand, lockable seat carrier, and other great features. The lift can be used both indoors and outdoors, too.
Custom Forklift Driver Cartoon Portrait
Among the best forklift lovers gift ideas: a cartoon that can depict anyone behind the wheel of a lift. With this gift, an artist requires a photograph of a family member, friend, or coworker. From here, the artist uses the image to produce a drawing that depicts an animated version of the gift recipient as a forklift operator. When the gift is complete, the recipient can display it proudly at home, work, or anywhere else.
Greeting cards
You might not know it, but there are plenty of forklift-themed greeting cards available for any occasion. Reward employment milestones, celebrate birthdays, and mark all kinds of special occasions with a forklift greeting card!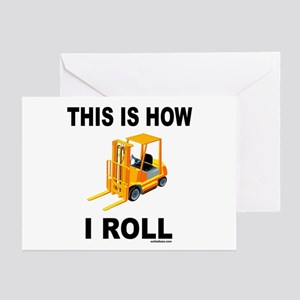 Image via Cafe Press
Forklift toys
Want to inspire a future forklift driver? Check out this popular forklift toy, complete with removable pallet, customized fork positioning, and more!
Forklift coloring pages
Available for free download, forklift coloring pages allow any child to put their own personal imprint on a variety of forklift pictures.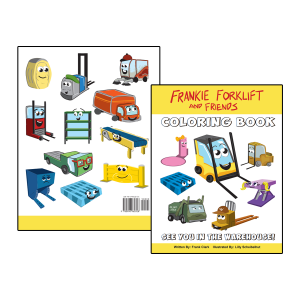 Image via Frankie Forklift
Forklift keychain
Unique style meets bold industrial accents with this forklift keychain. It's an outstanding gift choice for any forklift driver. It can also be used as a door prize at company events and holiday parties!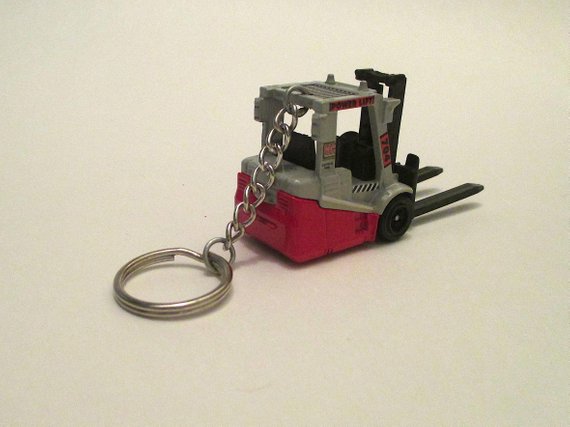 Image via Etsy
Remote control forklifts
No, not remote control forklifts for the warehouse – OSHA probably wouldn't approve anyway – but how about a remote control car for kids? With realistic movements, industrial-sized attention to detail, and other accessories, this Top Race JUMBO forklift is a great gift idea for kids of all ages!
Forklift daily inspection checklist book
For the experienced and seriously-safe forklift driver, there's nothing better than a classy daily forklift inspection booklet to keep track of repairs and maintenance.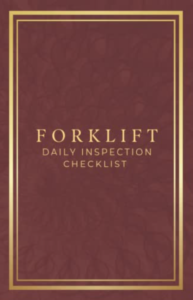 Forklift certified bumper stickers
Celebrate your loved one's getting forklift certified with this proud forklift bumper sticker! A perfect decoration for hard-hats or lunch boxes that shows everybody in the warehouse they're a smooth and safe operator.
Select the Best Gifts for Forklift Lovers
As you explore gifts for forklift lovers, consider the recipient. Then, you can select one or more forklift lover gifts that bring a smile to the recipient's face. 
If you want the best gift for a forklift lover, you may need to think outside the box, too. For instance, you may want to consider a keychain, coffee mug, or other gifts that a recipient can hold in their hand. Or, you may want to evaluate certification training that a recipient can use to become an OSHA-approved forklift operator. If you know someone considering a career as a forklift operator, call us at 1-888-699-4800 to arrange their certification. The best gift you can give is safety! 

Want More Forklift Gift Ideas? Offer Certification Training!
There is no shortage of quality forklift gifts available for men, women, and children. Weigh the pros and cons of different forklift gift ideas. This ensures you can evaluate a wide range of forklift gifts. And you can choose one that hits the mark with your recipient. 
If you want to go one step beyond a traditional forklift gift, another idea to consider for your employees, co-workers…or even yourself: forklift certification training from CertifyMe! We offer forklift training that lasts a lifetime. 
With a variety of training courses for all types of forklift operators, our training includes expert instruction, three-year renewal training, and ongoing support. We also make it simple for anyone to earn their forklift certification online. Plus, this gift won't break the bank – CertifyMe training is some of the most affordable, easily accessible training available anywhere. 
Give the gift of CertifyMe's forklift certification training – and any forklift lover will appreciate it. Sign up today!
Welcome to CertifyMe.net
CertifyMe.net has offered online forklift certification since 1999. With Our Convenient online program. your employess can earn their certification in an hour or less.
Browse Online Certifications:
This low-cost program can be compeleted anytime, anywhere!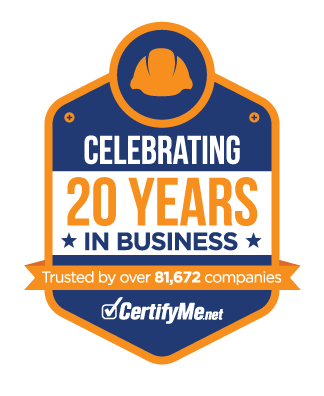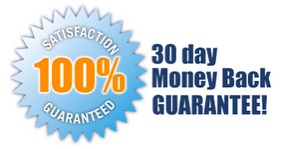 Connect with Us


Get Started Now By Registering Your Company For Free!
FREE 3 Year Renewals
Instant Access 24/7
Print Your Proof of Training
OSHA Accepted Nationwide
*If you are an individual not currently employed by a company use your personal name in
the 'Company Name' field.