How to Organize Your Warehouse for Optimal Efficiency, Safety & Productivity
Posted by: admin on February 22, 2019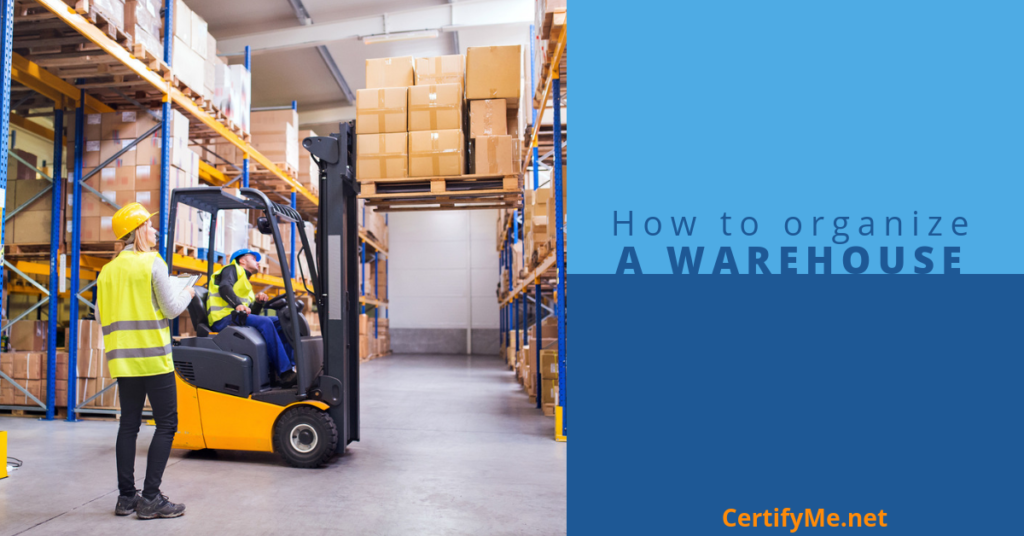 Like any other workspace, a warehouse is only as efficient and productive as its overall organization. If a warehouse doesn't have an orderly layout, detailed safety plan or a clean & safe environment, not only will productivity suffer – worker safety will, too.
Unlike other working areas, however, a warehouse has safety concerns that far exceed office spaces, cubicle areas and other white-collar environments. From powered industrial trucks (forklifts) to heavy cargo to shipping & receiving, a warehouse has plenty of "built-in" issues that every site supervisor, safety manager and regular worker should be aware of.
Many (if not all) problems that impact productivity and safety are accounted for with a strong, well-defined organizational structure. When a warehouse is organized, everything simply works better, including:
Maintenance (including forklift maintenance)
Safety & training
Scheduling (organization doesn't just apply to workflow or shelf layout)
Regular day-to-day activities
And much more
Simply put, it pays to have an organized warehouse. That's meant literally – you'll pay your warehouse back in the form of greater efficiency, less accidents, and a happier, more productive workforce. Everyone from forklift drivers to office personnel benefits from organization!
CertifyMe.net is here to assist with one part of your enhanced organization plans: training. With a great assortment of OSHA compliant training courses for any type of forklift operator (standing forklifts, rough terrain lifts, pallet jacks, etc.) and full lifetime support (we'll help with renewal training and any other issues that come up), we'll get your training program organized for anything that comes your way – even an OSHA audit or investigation!
What steps can you take to get your warehouse on path toward optimal organization? Glad you asked, let's take a look!
Warehouse Organization: It's Easier than You Think!
Your warehouse is a big place, with many moving parts. That's one reason why many managers put off organizing – there's simply too many things to worry about now, in the present moment. But think about it: just a little bit of upfront organization will enable your warehouse to become more productive and much safer in the future.
Invest some time organizing now, and reap the benefits down the road. That's a pretty simple plan. And the thing is, organizing a warehouse isn't that difficult – you just have to know what to do. Our safety experts here at CertifyMe.net understand the importance of warehouse organization, and we know what works.
Follow these steps and enjoy the benefits of an organized warehouse:
Mind your maintenance. Organization is impossible without a well maintained workspace. This means regularly scheduled maintenance for forklifts, shelves, HVAC units, and everything else in your warehouse. Skip your maintenance, and organization will go downhill. Here's one example of how maintenance impacts organization: if your staff skips regular workplace maintenance (ensuring floors are clear of debris, cleaning up, etc.), forklifts could slide or tip over, causing serious accidents and injuries. Stick with your maintenance plan – it's important for staying organized.
Optimize shelving. Your warehouse organization starts with the best shelf and storage units for cargo. If you don't have the best shelf layout or structure, forklift drivers will run out of room to store and retrieve pallets, or look for shortcuts to organize themselves. Don't put that burden on your forklift drivers; assess your current shelves / racks / storage bins / etc. and implement a system that fits your process like a glove. You'll be surprised how this simple step can make such a huge difference with organization.
Keep training in focus. Safety training helps all warehouse employees contribute to a more productive, safer working environment. One of the biggest causes of warehouse accidents and injuries is lack of training. Obviously, the most important part of warehouse training involves powered industrial trucks (pallet jacks, forklifts, etc.). CertifyMe.net takes care of all your forklift training, and keeps you OSHA compliant. But don't forget other training aspects to stay organized, like hazard avoidance, proper equipment usage, etc. Remember – training and organization go hand-in-hand!
Conduct regular audits. Just because you have plan in place, don't assume organization will just happen. With regular audits and self-inspections, you'll know exactly what areas you're doing well in, and where you could improve your warehouse organization. Quarterly inspections are a good idea, but if your warehouse is falling behind in the organization department, monthly or even bi-weekly audits will help you get up to speed quickly.
Stay Organized and OSHA Compliant with CertifyMe.net
As you can see, training is one of the cornerstones of a well-organized warehouse. CertifyMe.net handles all of your forklift training needs, from initial certification to retraining and everything else you need. Remember, it's against the law to employ any forklift driver without proper training.
Sign up today and see how CertifyMe.net can assist with your training and organization. Warehouse managers, safety supervisors and other related personnel rely on CertifyMe.net for their entire forklift training requirements. We offer an affordable – and ultra-organized – solution for your compliance issues. We look forward to hearing from you – and thanks for visiting CertifyMe.net!
5 EASY STEPS!
Follow step-by-step instructions to get OSHA compliant!
This low-cost program can be completed anytime, anywhere!



Get Started Now By Registering Your Company For Free!
FREE 3 Year Renewals
Instant Access 24/7
Print Your Proof of Training
OSHA Accepted Nationwide
*If you are an individual not currently employed by a company use your personal name in
the 'Company Name' field.