Limited Time Offer! Free Covid-19 safety course with purchase of any Forklift or Aerial Lift Certification!
Access your free Covid-19 safety course in your members area once you have completed your purchase.

How to Organize Your Warehouse for Optimal Efficiency, Safety & Productivity
Posted by: admin on February 22, 2019
(Updated July 2020)
Like any other workspace, a warehouse is only as efficient and productive as the organization behind it. Without an orderly layout, detailed safety plan, or a clean environment, warehouse productivity and safety will suffer.
A warehouse has safety concerns that often exceed those associated with office spaces, cubicles, and other white-collar work environments. From powered industrial trucks (forklifts) to heavy cargo to shipping and receiving, a warehouse has plenty of "built-in" issues that every site supervisor, safety manager, and regular worker should consider.
Many (if not all) problems that impact productivity and safety are accounted for with a strong, well-defined organizational structure. When a warehouse is organized, there may be noticeable improvements in many areas, including: 
Maintenance (including forklift maintenance)
Safety and training
Scheduling (organization doesn't just apply to workflow or shelf layout)
Everyday activities
Simply put, it pays to have an organized warehouse. That's meant literally – your warehouse will be more efficient, resulting in fewer accidents and a happier, more productive workforce.

How to Organize a Warehouse: Factors to Consider 
You don't need to be a warehouse organization expert to keep your workspace neat and tidy. In fact, if you engage warehouse workers at all levels, you can quickly and easily organize your workhouse and maintain a safe, efficient work environment now and in the future.
There are many reasons to encourage employees to collaborate with one another to organize a warehouse, including:
You can foster productive relationships among workers. Warehouse workers must communicate and collaborate with one another to achieve the best-possible results. If you promote warehouse organization, you can lay the foundation for productive relationships among these workers.
You can develop and implement best practices for organizing a warehouse. There is no surefire formula on how to organize a warehouse. But, employees who work together to organize a warehouse can find the best ways to improve their work environment. They can also create best practices for warehouse organization, implement them, and explore ways to improve them over time.
You can boost warehouse safety. Employees who prioritize warehouse organization can uncover ways to eliminate on-the-job dangers. As a result, they can lower the risk of warehouse accidents and injuries. Plus, warehouse workers can minimize the risk that your business will experience OSHA violations associated with warehouse safety incidents.
With a consistent approach to warehouse organization, your employees can thrive. Furthermore, if you organize your warehouse, you can take your business' productivity to the next level, reduce the risk of workplace accidents and injuries, lower your operating costs, and more.  

Warehouse Organization: It's Easier than You Think!
Your warehouse is a big place, and there are lots of moving parts. Although you may have put off organizing your warehouse, committing the time, energy, and resources to organize your warehouse today can deliver long-lasting benefits for your business and its employees.
Organizing a warehouse can be easy  – follow these steps, and you can enjoy an organized warehouse:
1. Maintain Your Warehouse
Maintain your forklifts, shelves, HVAC units, and everything else in your warehouse. Otherwise, if you forgo regular maintenance, you could put your workers at risk of on-the-job accidents and injuries.
2. Upgrade Your Shelves
Your warehouse organization starts with the best shelf and storage units for cargo. If you don't have the best shelf layout or structure, forklift drivers will run out of room to store and retrieve pallets, or they may look for organization shortcuts that inadvertently do more harm than good. Don't put that burden on your forklift drivers; instead, assess your current shelves, racks,  and storage bins and implement a system that complements your operating processes.
3. Offer Training
Remember, training and organization go hand-in-hand. Safety training helps warehouse employees contribute to a productive, safe work environment. If you provide regular safety training to your warehouse workers, they can learn how to consistently find ways to minimize risk in your warehouse.
4. Conduct Regular Audits
Don't assume warehouse organization will happen on its own. With regular audits and inspections, you can identify your warehouse organization strengths and weaknesses and find ways to transform any weaknesses into strengths.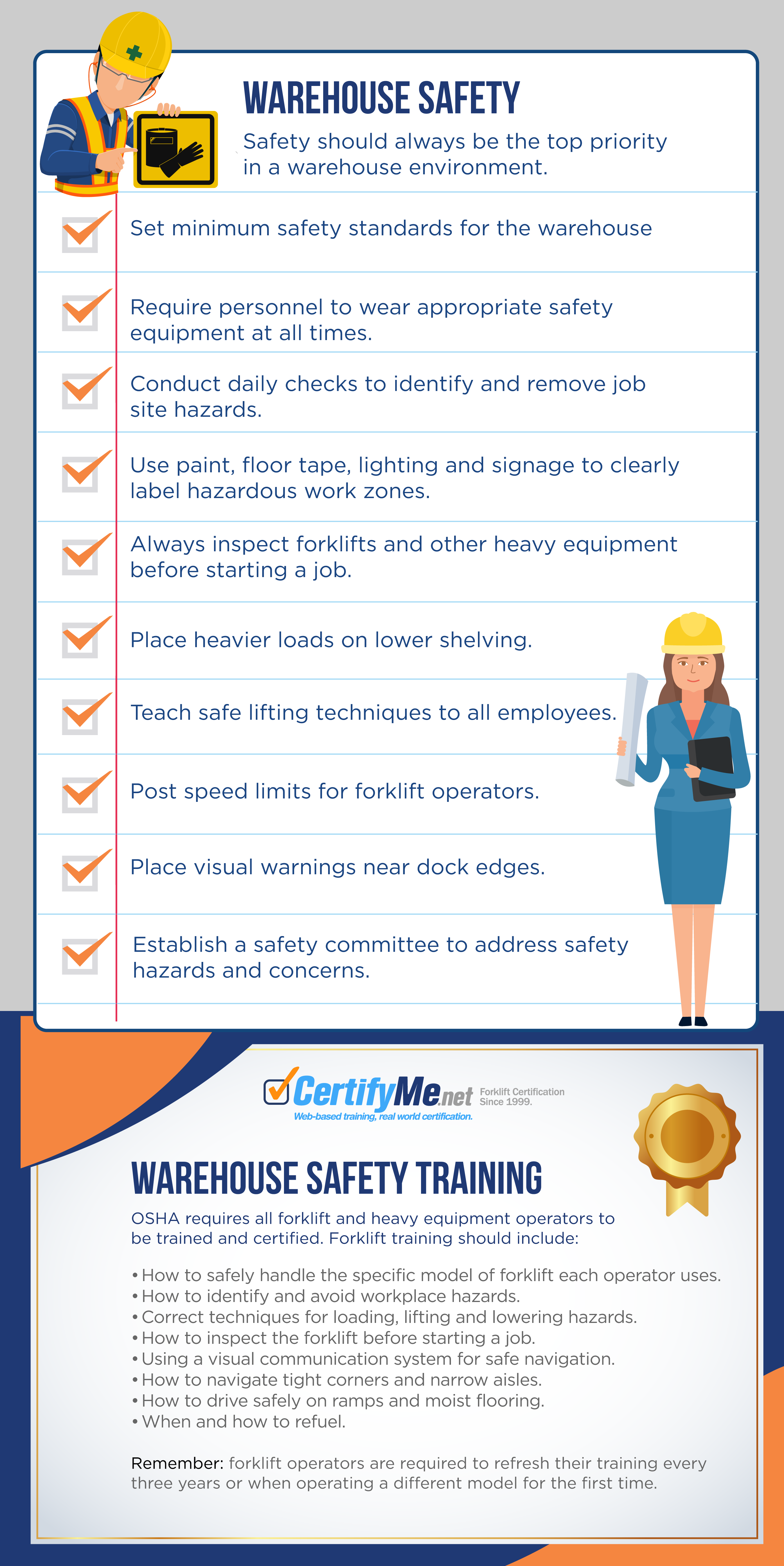 Gain Warehouse Organization Insights from CertifyMe.net
Organizing your warehouse may seem like a long, arduous process, but help is available. By enrolling in a safety training course from CertifyMe.net, your warehouse workers can gain comprehensive warehouse organization insights from industry experts. They can also receive tips and recommendations to improve safety across your warehouse. To learn more about our safety courses or to sign up one of our courses, please contact us online or call us today at 1-888-699-4800.
Welcome to CertifyMe.net
CertifyMe.net has offered online forklift certification since 1999. With Our Convenient online program. your employess can earn their certification in an hour or less.
Browse Online Certifications:
This low-cost program can be compeleted anytime, anywhere!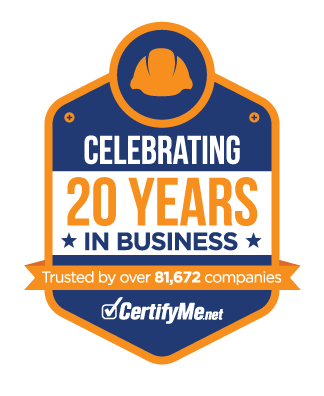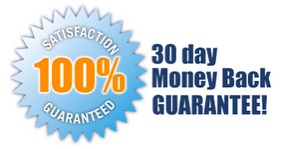 Connect with Us


Get Started Now By Registering Your Company For Free!
FREE 3 Year Renewals
Instant Access 24/7
Print Your Proof of Training
OSHA Accepted Nationwide
*If you are an individual not currently employed by a company use your personal name in
the 'Company Name' field.